Market Intro


CNBC: Friday close for Asian markets
Large cap US indices (SPY, DIA, QQQ) whipped around a decent amount on Thursday, but ultimately closed pretty close to unch. The same cannot be said for the Russell 2k (IWM), which shed 1.5% of its value.

SectorSPDR
S&P futures only a couple sessions ago traded up near 2700, but quickly caved down to the 2630 region. Global growth concerns (ACWX, EFA, EEM) is the proximate cause for the most recent bout of falling prices according to financial media.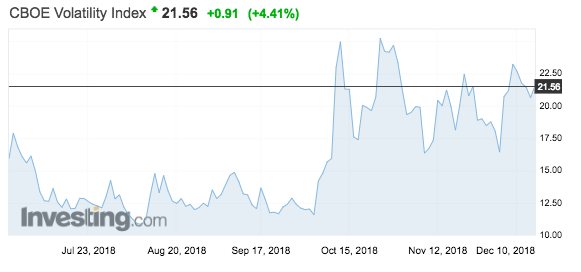 VIX prints at 21.6, and simply hasn't done a very convincing job of trading below 19 or so for very long over the past month. I continue to assert that VIX's range is likely to trend higher.
Thoughts on Volatility

The Russell has been puking lately. Contrast this with the past summer, when the index was on an absolute tear. Indeed, the steady blockbuster performance of Russell was credited as being one of the main reasons that realized SPX vol calmed down so much between June and September.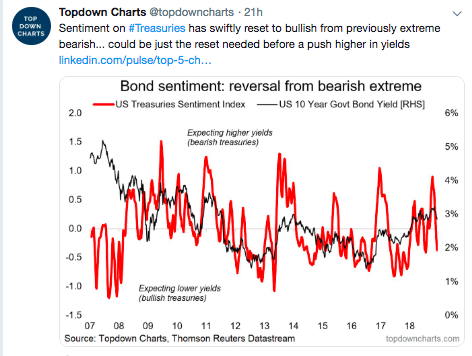 Treasuries have seen something of a reversal of fortune to be sure. A lot of this comes down to chicken-and-egg: I assert that quickly rising yields stokes volatility across a wide array of assets, but then the panic in those risk assets can cause a flight to quality, which has the effect (at least temporarily) of bringing Treasury yields (IEF, TLT, AGG) down once more.

Definitely we're in a bear environment, if not a bear market. Those 52-week closing lows include the events of February through April, months that in their own right were no walk in the park.
Investors seem to be re-writing the script about the potential for a near-term recession. Many companies are therefore taking it on the chin. It's worth bringing up that, for all the fireworks, the S&P basically trades today about where it did a year ago.
Term Structure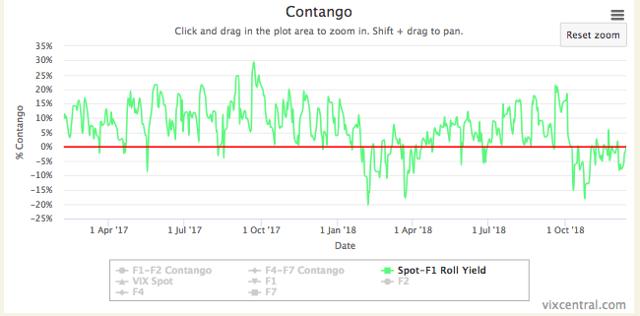 Roll yield between the December contract (which expires Wednesday morning at the open) and spot VIX is essentially flat at present. While in absolute terms roll yield is toward the bottom of its range going back to early 2017, the current conditions are considerably more generous to vol shorts (SVXY) relative to October and much of November.

MarketChameleon: VXX implied volatility
VVIX has been trading low throughout most of December, and a look at VXX implied volatility demonstrates that the gap between realized vol and implied vol is reasonably wide at the moment.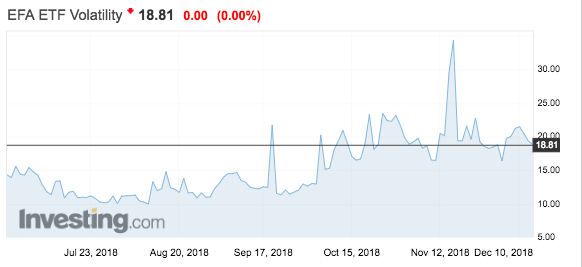 The US economy has come under increasing scrutiny from US investors. But I think it is fair to say that the headlines today have it correct, and that growth concerns from Europe or parts of Asia are more likely to cause bumps in the road than for the US.
I find it quite interesting that EFA VIX prints below S&P VIX here. I understand the increased geographic diversification benefit, but the discount surprises me all the same.
Conclusion
If this is your first time reading Market Volatility Bulletin, thanks for giving it a try. If you're a regular, I thank you for your ongoing contributions in the comments section.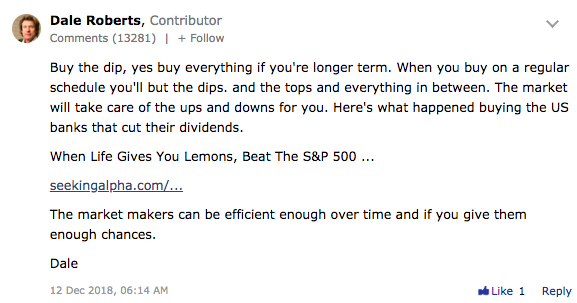 Dale Roberts suggests in his comment that if you just keep buying, the market will take care of the rest. This is true so long as the market maintains an uptrend.
The issue is that for most people, what's at stake is their retirement savings. Prolonged and devastating bear markets are absolutely possible, and as such most cannot afford the luxury of just sweating it out. So I think the advice above depends a great deal on where an investor is in his or her retirement cycle.
Thank you for reading.
Please consider following.