Summary
OPEC's production agreement does not go far enough.
Based on OPEC's supply and demand numbers, a substantial glut will develop.
Only hope for battered oil bulls is that reductions from Iran and Venezuela add to the cut.
But Trump will pressure the Saudis if that happens.
Saudi ARAMCO may be planning a trick to fool oil traders, but it will simply not be believed and may backfire into NOPEC becoming law.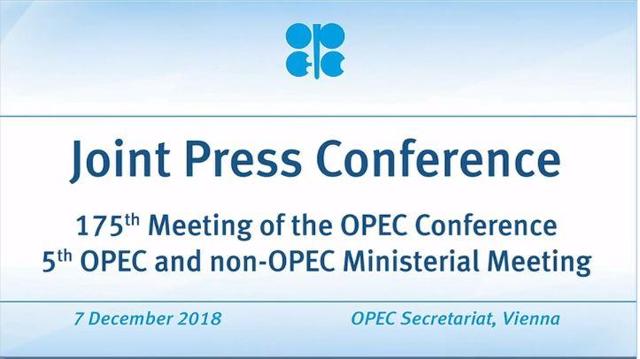 Source: OPEC.
At the conclusion of OPEC's meeting with non-OPEC producers, OPEC announced that it would cut its production by 800,000 b/d beginning in January for the first six months of 2019. Non-OPEC producers were assigned a cut of 400,000 b/d, with Russia pledging to cut about 230,000 b/d. No table was provided for how much of the reduction each producer would contribute, but the Saudi energy minister said KSA's production would drop to 10.2 mmbd in January, 439,000 b/d lower than its October output.
No other non-OPEC countries have publicly stated they would cut, and Russia's cut may not come until April, if ever, since it was publicly against any cut leading up to this meeting.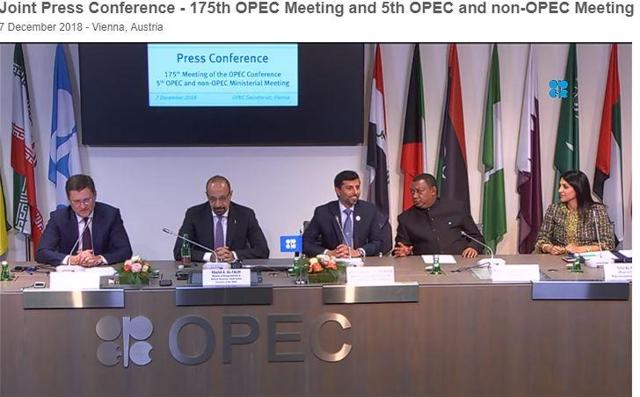 Source: OPEC.
The OPEC cut would be based on October production of 32.976 million barrels per day, which would bring output down to 32.176 mmbd.
In the latest of his series of tweets about OPEC prior to that announcement, President Trump had urged the group to keep the taps open and prices down.
Following OPEC's announcement, Rep. Bob Goodlatte, a sponsor of the U.S. "No Oil Producing and Exporting Cartels Act of 2018" (NOPEC) said it was "the last thing Americans need around the holidays" during an antitrust subcommittee meeting Dec. 12.
Hopefully, the administration will double down on this and come up with a position in support of the American consumer and making it easier for the antitrust division to take action when there are price-fixing matters going on in a basic commodity that affects the standard of living of virtually every American," Goodlatte said. He believes that White House support could enable "a bipartisan victory (for NOPEC) before this term of Congress ends." President Trump backed this type of legislation in his 2011 book, Time to Get Tough.
Back in June, Goodlatte had said during a hearing, "The fact that OPEC is not being held accountable for its anti-competitive behavior makes a mockery of U.S. antitrust law."
OPEC's Supply and Demand
I read two articles by huge investment firms over the weekend on Seeking Alpha, first by Tortoise Capital and then by PIMCO. They say the agreement will stabilize or increase oil prices. But neither source provided supply/demand data in support.
OPEC published its own supply/demand balance for 2019 in its December Monthly Oil Market Report on Dec. 12. It shows a "call" (demand) for OPEC production averaging 3.144 mmbd for 2019.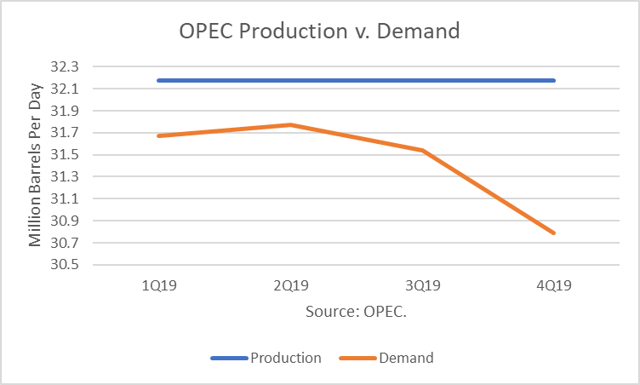 It doesn't take an economics degree from Harvard to conclude that the oil market inventories will grow to glut proportions in 2019, even with OPEC's cut, assuming the demand for OPEC oil is accurate. Global oil stocks would build by 264 million barrels!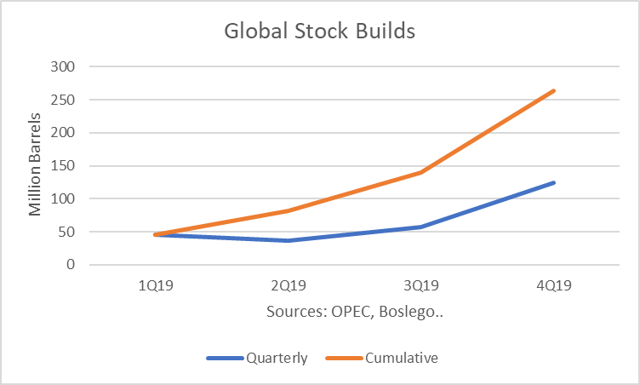 But the International Energy Agency assumes that reductions in Iran and Venezuela will effectively double OPEC's cuts in 2019.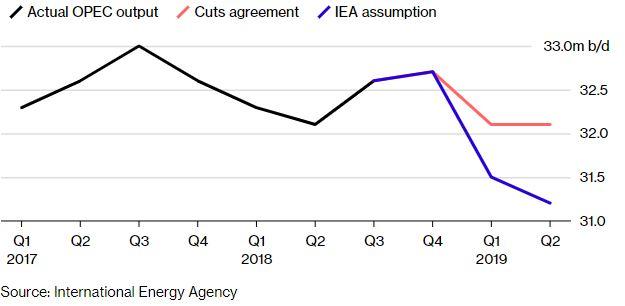 That assumption is questionable because Venezuela is expected to use its $5 billion loan from China to shore up its production in 2019. The new OPEC president is from Venezuela and has been instructed by his president to ask OPEC for help if necessary in restoring its production.
President Trump has granted waivers to Iran's buyers to keep the oil flowing. Trump can pressure Iran's economy in two ways: Either through restricting its ability to export oil, or by ensuring that enough oil flows to glut the market, reducing prices and Iran's export revenues in the process. It's also likely, in my opinion, that he will cut a deal in 2019 with Iran, which would remove the sanctions, enabling Iran's production to be restored completely.
ARAMCO'S Plan to Fool Oil Traders
On Dec. 13, Bloomberg reported that Saudi ARAMCO (ARMCO) is planning to target its exports to the U.S. for steep cuts. The idea would be to fool oil traders into believing global stocks are lower than they actually are, if cargoes are diverted to locations where reporting is less transparent.
But such a plan is likely to backfire because refiners can source cargoes from other countries, such as Iraq. Also, the IEA compiles global inventory balances, which would show inventories building at non-U.S. locations.
Andy Hall's Take
Veteran oil trader Andy Hall made an appearance on Bloomberg TV on Dec. 13 saying,
I think with prices hovering around or a little over $50 a barrel, I think you would have to have a pretty negative outlook on the global economy to believe that prices will continue their downward trajectory. So I think on balance, if you want to place a bet on oil right now, you're probably better off betting on it going up than going down."
Hall closed his Astenbeck hedge fund in August 2017 after losing about $3 billion of the $5 billion invested, maintaining his bull thesis that shale oil production would wither by 2019. Instead, U.S. production of crude and liquids rose by an astounding 3 million barrels per day in September 2018, compared to a year earlier. His thesis was totally flawed.
I wrote a series of articles on Seeking Alpha, called debating Andy Hall. When he gave up, SA author Andrew Hecht wrote:
Robert Boslego, another contributor for Seeking Alpha, has been a consistent critic of Hall's thesis stating that he suffered from "confirmation bias, picking facts that supported his thesis, and ignoring facts that countered it." He also took issue with "a lack of risk management at Astenbeck that did not contain losses to reasonable levels." With hindsight, Mr. Boslego was 100% correct in his assessment and kudos to him."
Conclusions
If production in Iran and Venezuela do not double OPEC's cuts, the global oil market will be glutted in 2019. If oil output is slashed in those two countries, Trump can be expected to pressure the Saudis to pump up their production as an offset.
ARAMCO's "sleight of hand" to starve the U.S. market by diverting cargoes elsewhere is unlikely to fool anyone or succeed. And it may be enough to anger President Trump and Congress to get NOPEC passed quickly. If NOPEC becomes law, no OPEC member wishing to do business in the U.S. will remain within OPEC, and it will effectively dissolve without Saudi Arabia.
Are you pleased with your energy sector returns?
To guide investors interested in profiting from outstanding opportunities in the energy sector, I provide a service on Seeking Alpha's Marketplace oriented toward individual investors, Boslego Risk Services. A long/short Model portfolio is continuously updated, along with on-going analysis of the oil market.
I am now accepting new members to Boslego Risk Services and invite you to sign-up. There are monthly and annual pricing options as described here. You may also read reviews posted by members here.
February 7, 2017-December 12, 2018

Boslego

58.7%

XLE

-10.2%

SPY

16.0%
Disclosure: I/we have no positions in any stocks mentioned, and no plans to initiate any positions within the next 72 hours. I wrote this article myself, and it expresses my own opinions. I am not receiving compensation for it (other than from Seeking Alpha). I have no business relationship with any company whose stock is mentioned in this article.