Living in Canada we are bound by the tax laws of our country which are maximized when we invest in Canadian companies. With that in mind there is an incentive for us to build a diversified portfolio using Canadian companies in the most tax efficient way possible. In order to build a diversified portfolio you need to span geographic areas and cover different sectors of the economy in order to spread your risk. Although my portfolio consists of far more than 3 companies I am asking the question; if I had to build a 3 stock diversified portfolio of Canadian companies, which 3 would I choose and why? For me the choices would be Bank of Nova Scotia (BNS), Enbridge (ENB), and Canadian National Railway (CNR-OLD) and here is why.
It's not what you make but what you keep
Having run my own business for many years I learned that just because you are making a lot of money doesn't necessarily mean that the money is making its way into your bank account. When I worked in the corporate sector I thought that I was making good money but at the end of every pay period it was kind of disheartening to see the taxes and other deductions that were making their way into someone else's pocket. When I started working for myself my income was less but at the end of the day I was able to do a lot more because of taxes.
I won't get into the tax advantages of being self-employed but suffice it to say that they exist and can be quite substantial. The same is true with investing. When you invest there are many different ways that you can make money. You can invest within or outside of a registered account; you can earn income in the form of interest, dividends or capital gains; you can invest in stocks, bonds or through mutual funds; you can invest in Canadian or international companies. The options are numerous and how you choose to receive your income will have differing tax implications.
In my case I recognized that being self-employed meant that I would be creating my own pension which would be primarily in the form of Canadian dividend paying growth stocks. I chose dividend paying growth stocks because dividends and capital gains are the two most tax preferred forms of income. Eligible Canadian dividends and capital gains are taxed at half the tax rate of regular or interest income. That made them the perfect form of income for me as the majority of my portfolio is invested in non-registered accounts.
I also prefer dividend income because it provides a steady source of cash flow without having to sell down my principal. In the past year I have watched many of my holdings decline in value due to uncertainty in the market yet my overall income has increased by 7.5% due to dividend increases and I expect the same for 2019. I find trying to decide when to take capital gains is one of the most difficult decisions for investors to make so dividends are my preference.
Creating Diversification in a focused economy
Creating diversification in your portfolio means identifying companies that are geographically diverse and provide exposure to different sectors of the economy. In Canada that is a challenge because financials and energy stocks make up such a disproportionate percentage of the economy as shown in the chart below.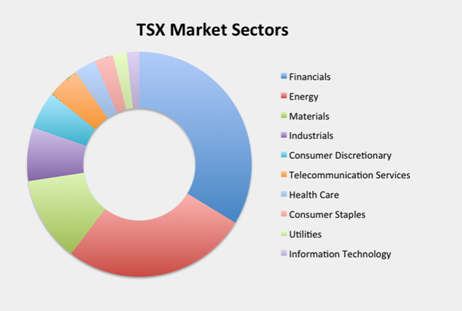 Source: Canada's Economy Still Ticking Along, But Don't be Fooled
Yet there are ways to invest that allow you to cross many sectors and access international markets using Canadian companies. There are Canadian companies that do benefit from many sectors of the economy and at the same time offer you geographic diversification. In this category I would include any of the Canadian Banks or a company like CN Rail. For this article I will focus on Scotiabank because not only does it provide access to the Canadian Banking System but as I highlighted in a previous article, it also provides exposure to significant markets in Latin America.
Scotiabank
The thing that I like most about banks is that they offer incredible diversification within their operations. From a business sector component banks play an integral part in the success of almost every industry. That means they have an interest in everything from the smallest retail store in Toronto to massive energy and infrastructure projects in Alberta. With total assets approaching $1 trillion they touch the lives of millions of Canadians and their ability to consistently execute has led to another year of record profits surpassing $9.1 billion.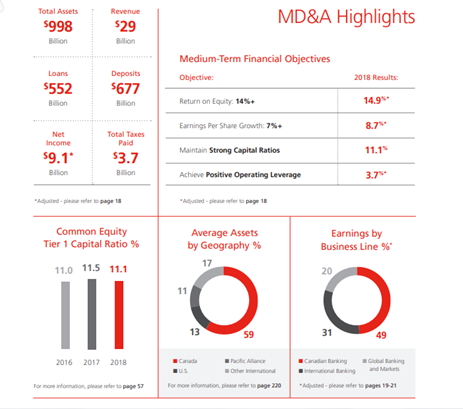 Source: BNS 2018 Annual Report
Geographically their operations span the country but what differentiates Scotiabank from its other Canadian competitors is its exposure to international markets around the world but more specifically in Latin America. With leading positions in the Pacific Alliance Countries of Mexico, Chile, Peru and Columbia BNS has access to more than 223 million potential customers in this region. They also have extensive operations in the Caribbean as well as Asia making them Canada's most international bank.
In the short term there are potential concerns with the emerging market economies that have had a negative impact on valuations. In the case of the Pacific Alliance Countries they get lumped in with other far more unstable countries which may not be warranted. With a current PE of 10.6 BNS is one of the most inexpensively priced Canadian Banks and their strong capital position leaves them room to grow should they so choose.
As an income investor I enjoy the fact that they are currently offering a yield of 4.75% which has increased more than 8% during the past year. Record profits, a dividend history that goes back more than 150 years and a very manageable payout ratio ensure that the dividend will continue to grow in the years to come as well.
CN Rail
CN Rail is the engine that drives the North American economy. As one of the largest railways in the world CN Rail provides access to the Pacific, Atlantic and Gulf Coasts in North America and forms the backbone of our transportation industry. This Canadian company earns close to 50% of its earnings in the US connecting key industrial markets in mid America to import and export terminals on the coasts. The portfolio is very well diversified offering protections to investors with their ability to adapt to almost any market condition.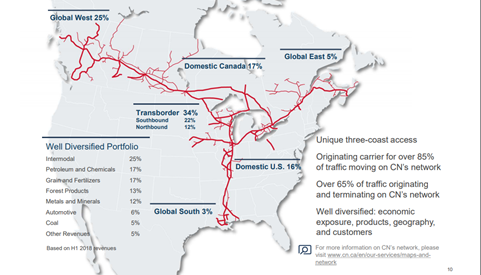 Source: CN Investor Presentation
In addition to the irreplaceable nature of their assets CN enjoys competitive advantages that their North American competitors can't match. CN is the most efficient of all of the Class 1 railways in North America, an advantage they have enjoyed for many years. They also enjoy a significant advantage when moving freight through the busiest rail hub in North America, Chicago.
Chicago is arguably America's most important railway hub as all six Class 1 railways intersect in the city and freight is interchanged among the various carriers, up to 25% of all American rail traffic moves through the city. As a result of this congestion it can take up to 72 hours for freight to move through this choke point. In 2009 CN purchased the Elgin, Joliet and Eastern Railway which was very important because it included a section of track that allowed CN to go around the congestion of the inner core providing greater fluidity and created a significant time and efficiency advantage. In an era where time is money and connecting to your customers in the most efficient means possible CN is a leader.
Another important advantage that CN enjoys is the Port of Prince Rupert in BC. Prince Rupert is the closest deep water sea port to Asia and as such provides the most cost efficient option for imports and exports to this key market. CN as the principle provider of rail service to this port enjoys a great advantage and significant new investments in this port over the next couple of years will only serve to grow this advantage.
In the short term CN is currently facing some adversity primarily related to uncertainty being created by trade tensions between the US and China. A trade war would not be good for CN who relies heavily on moving imports and exports from the country. Although this has impacted stock prices recently it may also create an opportunity to buy at a more attractive entry point. With a current PE of 13.3 the company is attractively valued considering its long history of outperforming the market.
With a dividend yield of only 1.74% it is not my favorite for steady income but the dividend has been growing at a double digit rate for several years and the stock has consistently outperformed its index. It is one of the only company I regularly tap for capital gains and the strategy has worked well. Recent declines due to concerns over China have provided additional opportunities to pick up this great Canadian company.
Enbridge
Enbridge is North Americas largest energy infrastructure company with earnings of more than $12.5 billion in 2018. Geographically speaking they have 60% of their assets located in the US and connect the major oil and gas producing regions of the continent to most of the largest population centers in Eastern Canada and the Eastern US. In addition to being geographically diverse Enbridge also is diversified by product as well with 45% of their business moving natural gas combining with 50% in liquids pipelines and a growing presence in renewable energy as well.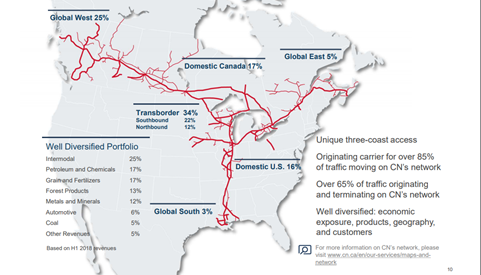 Source: CN Investor Presentation
What I like about Enbridge is their business model. Their inventory of long life, low maintenance pipelines operates like a toll road across the continent. 98% of their business is contracted almost ensuring profitability for their shareholders and it insulates them from the dramatic price fluctuations that we see in the oil and gas commodity sector. As a matter of fact the dramatic price swings we are seeing have at least some impetus from the tremendous demand for additional space on Enbridge's system creating a shortage of supply. This shortage of supply is driving an a aggressive capital investment phase for the company which will see profits and dividends increase by 10% through 2020 and by 5-7% annually following that.
With Enbridge the greatest challenge they face is their ability to complete their capital projects as planned. There is significant opposition from environmental groups who would prefer oil and gas remain in the ground. The reality is that our demand for oil and gas continues to grow and will for decades to come however this is of little consolation to the company facing ongoing challenges to many of their projects.
Offering a current dividend yield of more than 7%, attractively priced with a P/E of 15 and having significantly reduced its debt profile in the past year Enbridge is well positioned for growth. As a matter of fact Enbridge has been an analyst darling for years despite their poor stock performance as many wait for this powerhouse to explode as fundamentals overcome the emotion that has seemed to keep the stock price down.
You can be diversified while staying within the Canadian Market
I often read how it is impossible to be diversified investing exclusively within Canada. If you look at the last few years gauging the Canadian markets by the performance of the TSX you might agree. With its disproportionate waiting in energy the index has lagged and that is part of the reason I have avoided oil and gas companies choosing instead to focus on the infrastructure part of the business instead. It is also why I try to be more of a stock picker in the Canadian market versus using an index fund like (XIU).
By being selective there are many great Canadian companies out there that would allow you to easily build a 10-20 company diversified portfolio that gives you exposure to not only Canada but the world. In fact the Canadian banks, Enbridge and CNR have historically outperformed their indices which include the Dow and are poised to do so again in the future. Remember that the markets run in cycles and a down cycle for the TSX can easily be forgotten as cycles revert to the norm.
Disclosure: I am/we are long ENB, BNS, CNR. I wrote this article myself, and it expresses my own opinions. I am not receiving compensation for it (other than from Seeking Alpha). I have no business relationship with any company whose stock is mentioned in this article.
Editor's Note: This article covers one or more microcap stocks. Please be aware of the risks associated with these stocks.