With the end of the year looming, I thought I'd share my watch-list of stocks that I would love to own going into the new year. Most of these stocks are at or near 52-week lows, offer at least a decent dividend yield, and have no risk of going out of business as they are all stalwarts in their sectors. I'm not saying that the share price pain won't continue or other names won't beat these names in terms of total return, but these are relatively safe, conservative holdings that should revert to the mean. I've ordered the companies from low to higher risk.
JPMorgan Chase (JPM)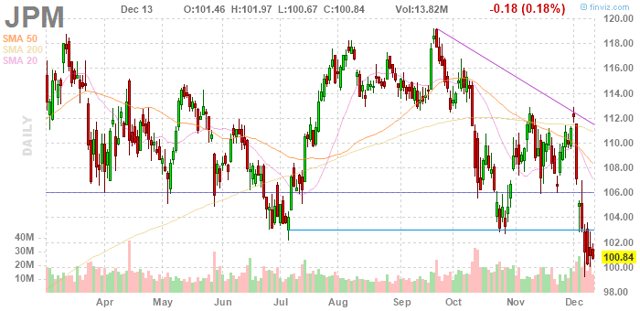 Image from finviz.com
Consistently leading the pack of US big banks in terms of operating metrics such as efficiency ratio(~57%), JPM remains my top pick in the financial sector. Consistent dividend growth over the years coupled with the stock market sell-off have resulted in a yield of 3.2%. With near-ubiquitous branches and a debut into the asset management space with zero or near zero commissions on many ETFs, JPM should continue to see its user base and deposits grow.
Many quarters of double digit revenue growth are great to see, and while they have their share of lawsuits and controversies, they look great compared to the still-frozen Wells Fargo (WFC). A recession will certainly drag down the share price and assets under management a bit, but that's true for most stocks.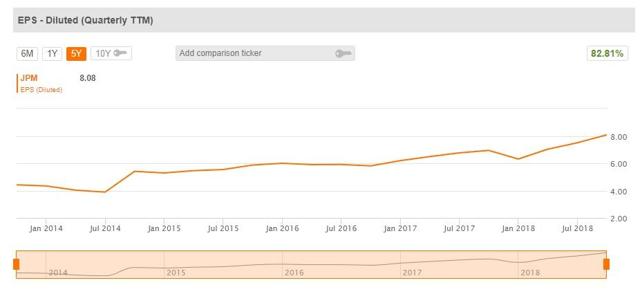 Image from Seeking Alpha
The last time that JPM was this cheap was over a year ago in November 2017. Since Q3 '17, JPM has increased EPS by 33%, yet its share price today is at the same level. That fact screams value to me and I will be looking to pick up shares under $100.
Altria (MO)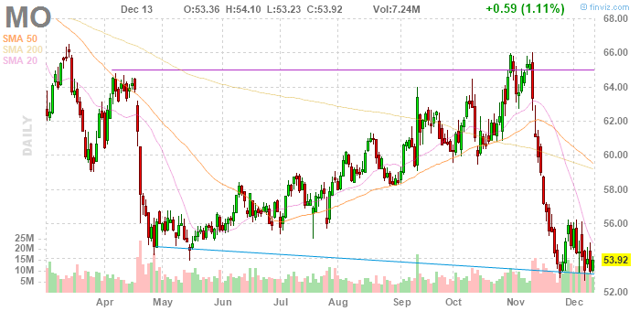 Image from finviz.com
Moral investing decisions aside, Altria ironically represents safety in the investment space. As a purveyor of "vice products" such as alcohol through their Anheuser-Busch InBev (BUD) stake and wineries, traditional cigarettes through brands like Marlboro, smokeless tobacco like Skoal, vaping products and pending IQOS heatsticks, MO has an abundance of wonderfully branded and popular products. Despite the fact that cigarette use among US citizens is among all time lows, the demand for these products is not going to drop due to a recession. MO has wisely diversified its product line with recent investments into cannabis and Juul, which is currently in talks with Altria over a stake in the company.
The main worry with Altria in my opinion remains the FDA's reluctance to play ball with cigarette companies. I can't say I blame them, but some of the decisions by the FDA are happening rather randomly. One week it's issuing warnings on e-cigarettes, the next it's banning menthol flavored products, then it's seizing documents at Juul.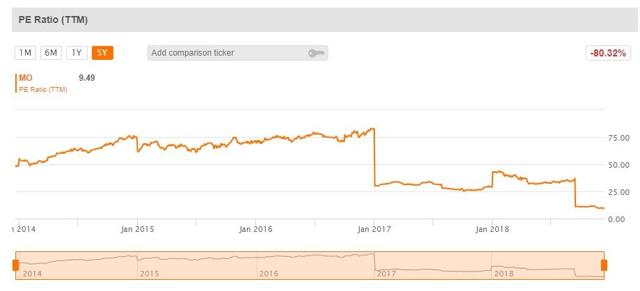 Image from Seeking Alpha
Despite the headline whiplash, Altria has shown consistent EPS growth and share count reduction. With an oft-repeated goal of a payout ratio of 80%, management has been and will continue to be incredibly shareholder friendly. The dividend yield is now at 6% which has historically only happened during or immediately after a market crash. A PE ratio of below 10 represents great value for a stock that should effectively be recession-resistant. We will have to see if they overpay for some of these recent acquisitions, but barring that this stock should remain solid for the foreseeable future.
Walmart (WMT)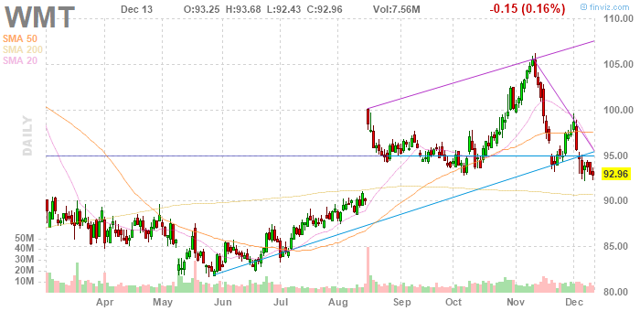 Image from finviz.com
The investment thesis for Walmart hasn't changed; the retail giant is still making billions of dollars while aggressively trying to fight off Amazon (AMZN) for e-commerce traffic. Huge investments in e-commerce such as in India with the Flipkart majority stake show the commitment to achieve growth. Hopefully this will pay off for the company better than its other global investments which have been relatively poor performing. In the short term the deal will be a drag on EPS, but the long-term potential is there. Dividend yield of 2.2% isn't anything to write home about, but it helps fight inflation.
When I hear about how Walmart can't keep up with Amazon, I just look at this table and laugh:

Image taken from article by The Investment Strategist published 4/28/18
Great performance metrics and traffic growth popped the stock upwards only to be whittled back down by trade war and tariffs concerns. Perhaps most importantly, WMT managed to grow online sales by 43% for the latest quarter which beat the prior quarter of 40%. That figure alone tells me that their efforts are already being successful. Anecdotally, I managed to find everything that I was going to purchase on Amazon at either the same price or lower on Walmart.com. With comparable shipping speeds that don't require a costly membership, I would not be surprised if WMT shows another blowout online sales quarter.
Other tailwinds for WMT include retailer bankruptcies like Toys R Us which should cause many of those shoppers to go to Walmart or Target instead. Potentially easing trade tensions should also help remove the cloud over the share price. If a recession were to occur, Walmart might even see more shoppers than normal, a la 2009, as people with less money in their pockets want the best price possible.
New Residential (NRZ)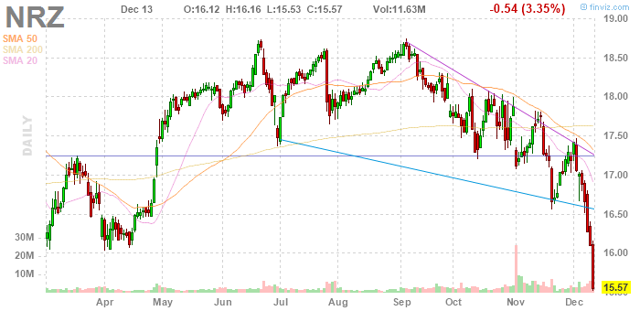 Image from finviz.com
As an investor that loves REITs, I couldn't help but put one on the list. New Residential is not a traditional mortgage REIT, but rather one that services the mortgages in exchange for a small fee. Magnify that fee by half a trillion dollars worth of mortgages and you can quickly see how NRZ makes more than a pretty penny. In addition to these mortgage servicing rights, NRZ also makes consumer loans and servicer advances. These assets produce a fantastic yield on cost, with the main issue being that the assets are depreciating in nature. As more and more of the loans are repaid, assets shrink. While NRZ has been brilliant at replacing these assets, there is concern out there that someday the magic will fade.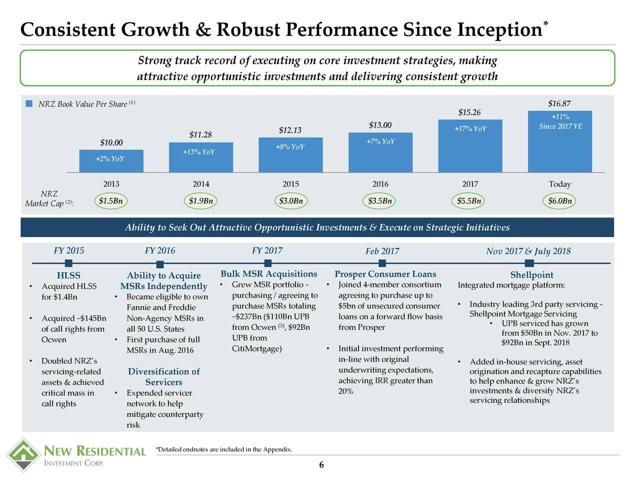 Image from Q3 Earnings Slides
I do not believe that it will, and my article history shows that I have been a long-term believer in this company. Book value continues to rise in an environment that has seen virtually every peer dwindle, and core earnings of $0.63 easily out-earn the generous $0.50 dividend (yield is 12.4% at time of writing).
If this stock is so great, then what has happened to the share price lately? Other than the secondary offering of 25 million shares, there are sector jitters about the profitability of the mREIT sector with such a flat yield curve. As long as consumers continue to make payments, NRZ will be in fantastic shape. High mortgage rates, with the fixed 30-year rate near 4.8%, have also meant that no one in their right mind would refinance their mortgage. Lower refinance rates help extend the lifespan of NRZ's mortgage servicing rights, which leads to greater returns.
NRZ has recovered quickly after every drop, and with the more than $400 million of dry powder from the secondary offering on the balance sheet, we should soon hear of the next great addition to NRZ's portfolio.
Western Digital (WDC)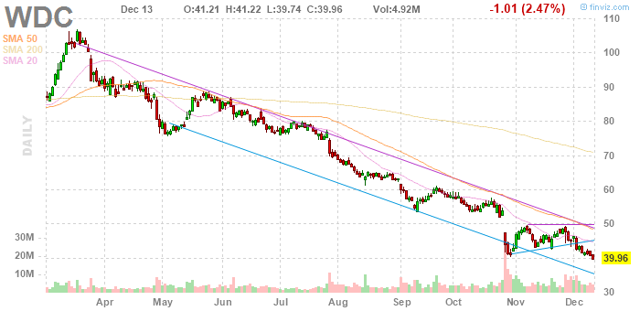 Image from finviz.com
Western Digital does not get much love from Mr. Market, as tech, semiconductor and flash memory companies are in the toilet. That chart looks absolutely atrocious, and the main cause of the massive 62% decline from 52-week highs is due to deteriorating average sales price of flash and storage products. The trade war with China has also thrown a wrench into plans for a recovery due to tariffs and reduced market access. Micron (MU) has been struggling right there alongside WDC and has a similar looking chart.
I believe that the punishment is overdone. I made a similar call when shares were in the high 50's, and I was too early. The company is priced like it isn't cash flow positive, and WDC makes plenty of money. Gross margins remain at 38 percent FCF comes in a touch under $500 million for the quarter. The $0.50 quarterly dividend remains easily covered and the yield is now at 5%, which is a historic high for the stock.

Image from Seeking Alpha
With new products like MAMR, superior to HAMR from Seagate (STX), which will increase storage potential and decrease costs, the future is bright for WDC. In an increasingly data-heavy and connected world, storage will continue to be vital. If you can put up with seeing red for a little while longer, the long term share price growth seems like a good bet.
Bonus Stocking Stuffer
Robinhood recently announced a no-fee online checking and savings account. Interest on holdings will be 3%, and will be paid daily. With this upcoming service, you can have income, safety AND liquidity on funds while you debate whether or not the market will crash. For those of us already using their brokerage services and with less than $250,000 this represents a great deal. I'll be eagerly watching for new details to emerge.
Disclosure: I am/we are long NRZ, WDC. I wrote this article myself, and it expresses my own opinions. I am not receiving compensation for it (other than from Seeking Alpha). I have no business relationship with any company whose stock is mentioned in this article.