The S&P 500 And You: Why Most Investors Did Not Beat The Market In 2018
Summary
2018 has been a typical year: Nearly 60% of S&P 500 companies did not match index returns.
In fact, the median S&P 500 component return trailed the S&P 500 by nearly 3.5%.
There were clear trends in what worked and what did not in 2018. As is usually the case, retail investors likely bought too early against overwhelming negative sentiment.
Underperformed your benchmarks this year? There are quite a few reasons why that likely occurred – most of which are reoccurring. As we get into the close of what has been a very tough Q4, I wanted to disseminate the data I generally put together each December on S&P 500 (SPY) component performance. While proponents of ETF investing use similar findings as a cornerstone of why they recommend passive investing, those of us seeking true alpha generation try to take lessons away from what worked and what did not. A normal distribution curve of stocks held within the S&P 500 can yield a treasure trove of data on the driving forces behind markets and investor sentiment.
Normal Distribution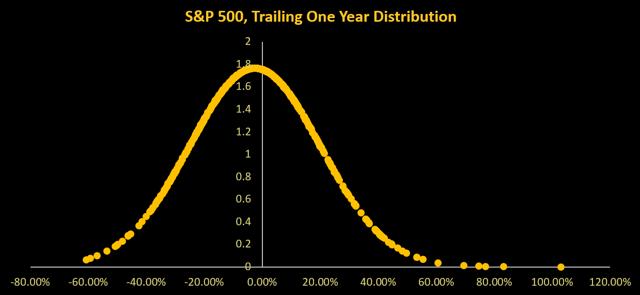 *Source: Author-Created Graphic
First off, remember that the S&P 500 is a market capitalization weighted index. As a caveat, I've also not controlled for any in/out activity as constituents have come in or out of the index this year, so there might be some incremental survivorship bias embedded here. Nonetheless, with the data I have, these are the results:
Reported S&P 500 return: -0.46%

Average S&P 500 return: -2.51%

Median S&P 500 return: -3.90%
Just owning an S&P 500 index fund in 2018 (excluding the impact of the annual expense ratio) would have returned a small loss of -0.46%. Basically a wash year - no harm, no foul, other than the lost value of time in the market. However, the average S&P 500 stock fared far worse (205bps) and the median turned in an even worse performance vs. a simple "buy the index" strategy (344bps). What drove this? Several factors:
The average S&P 500 return was impacted by the fact that the largest components of the index (market weighted) performed far better this year than smaller companies. This large-cap outperformance has been seen all over the market - the Russell 2000 is trailing the S&P 500 by 500bps in 2018.
As always, market returns are skewed right. A handful of stocks drive a large portion of overall index performance. In fact, 58% of S&P 500 components did worse than the average. This is about the historical norm for the stock market and was actually looking far worse earlier in the year. Finding, identifying, and holding long-term outperformers is a key component of a successful buy and hold strategy for those who employ it.
Market pessimists have often said that the market is like a coin flip. It's actually worse. Picking a stock at random within an index will more than likely result in underperformance vs. peers that outperform. So what has been the secret sauce to outperforming the S&P 500 this year? Being in the right sectors:
Healthcare is up

[11.2%] this year followed by Utilities [7.1%] and Consumer Discretionary [6.0%].

On the negative side, Materials have been obliterated

[-13.6%] as well as Energy [-12.3%] and Financials [-11.6%].
As well as the right types of investments (measured by quartile):
High debt/EV firms are down

[-8.5%] this year. Low debt/EV is up [4.0%].

High beta is

[-5.8%] in 2018. Low Beta has performed well [2.1%].

High yield has collapsed a stunning

[-10.5%]. Low yield is up [7.4%].
Noticing a trend? Low debt, stable companies that are retaining cash have performed well this year. These companies are avoiding the bogeyman of the year: Fears of higher interest rates, potential refinancing risk heading into a recession, and retaining cash to further improve the balance sheet vs. paying it out to shareholders. Healthcare and Utilities fare well during market weakness (demand resiliency) while Energy and Financials do poorly in economic fallout. All an investor had to do was recognize the shift in sentiment and not try to buy in on weakness: Don't fight the tape. Easier said than done when there are perceived "value" opportunities staring at you in the face, but that's the No. 1 lesson investors should have learned this year.
Top 5% Gainers within the S&P 500 (If you want to pat yourself on the back or momentum trade ideas):
Advanced Micro Devices (AMD)
Advanced Auto Parts (AAP)
Twitter (TWTR)
HCA Healthcare (HCA)
Illumina (ILMN)
McComick & Co (MKC)
Chipotle Mexican Grill (CMG)
AES Corporation (AES)

Keysight

Technologies (KEYS)
Twenty-First Century Fox (FOXA)
NRG Energy (NRG)
Discovery (DISCK)
Edwards Life Sciences (EW)
Church & Dwight (CHD)
Netflix (NFLX)
Amazon (AMZN)
Red Hat (RHT)

United Continental (UAH)

Lamb Weston Holdings (LW)
52.58% Average Return
Top 5% Losers within the S&P 500 (As a painful reminder or perhaps buying opportunities)
-43.97% Average Loss
Note: Members of the Industrial Insights community receive access to actionable research ideas like this often. This isn't your average investing resource. Receive deep dive insight into companies that include facility tours, management interviews, and in-person conference coverage. This type of coverage is not publicly available.
Disclosure: I/we have no positions in any stocks mentioned, and no plans to initiate any positions within the next 72 hours. I wrote this article myself, and it expresses my own opinions. I am not receiving compensation for it (other than from Seeking Alpha). I have no business relationship with any company whose stock is mentioned in this article.