Welcome to the weekly natural gas storage report edition of Natural Gas Daily!
EIA reported a storage draw of 77 Bcf for the week ending Dec 7. This compares to the -80 Bcf we projected and consensus average of -83 Bcf. The -77 Bcf was smaller than the five-year average of -79 Bcf but larger than last year's -69 Bcf.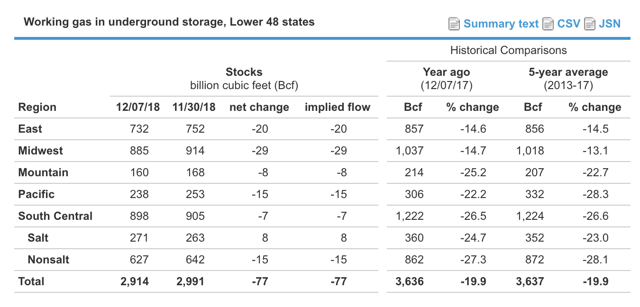 Source: EIA
Next Week's Estimate
For the week ending 12/14, we currently have a forecast of -135 Bcf.
We have April 2019 storage at 1.15 Bcf.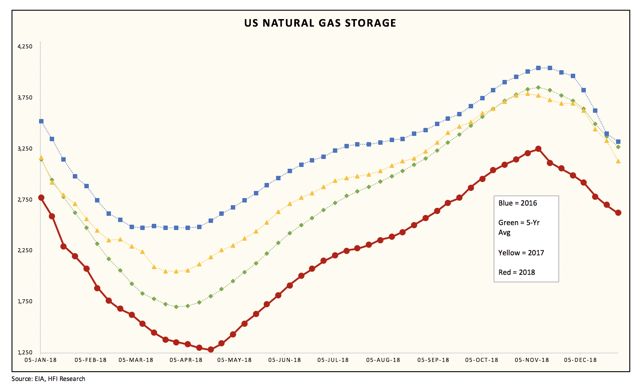 Natural gas bulls lost patience
Last night's ECMWF-EPS long-range outlook was not a favorable one for the bulls. As we wrote in our Tuesday NGD, we said the following:
CWG is using the analog of 2014 and 2002. In both years, November was colder than normal followed up with a warmer than normal December. Both years had weak to moderate El Nino conditions, and both years showed much more bullish January and February weather set-ups.

If such a scenario plays out (above forecast), we think there could be a reasonable downside to our EOS forecast of 1.05 Tcf. We think storage could finish around ~800 Bcf.

But the issue is that if the market is already somewhat expecting a bullish set-up, does it make sense to bet on it today?

This is where we differ strongly from the market. We don't see how the market can currently ignore the increasingly bearish trend toward the end of December while focusing intently on the set up in January.
As you can probably guess by looking at the price action today, the natural gas bulls will have to wait an additional week or more for the bullish set-up in Jan. A good progression of this was captured by this tweet:
As you can see, the models progressively got worse. The ECMWF-EPS 00z also did not help the bulls' cause as HDDs were revised lower and the warmer than normal weather is persisting.
Combine all of these weather forecasts with the technical signal that natural gas prices broke down two days ago, and bulls are losing patience and getting out of their long positions before the weekend: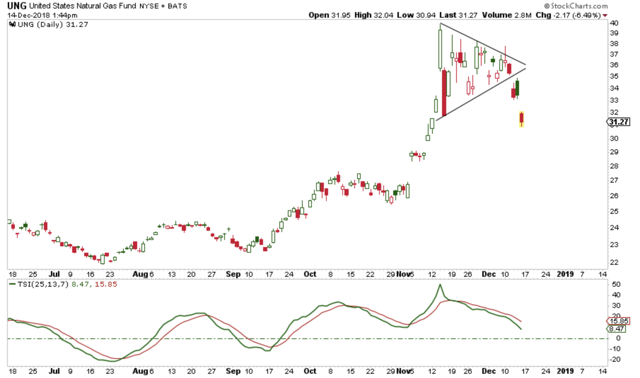 So should you buy the dip?
No, we think this is still far too early. Considering that the first week of Jan is looking neutral to warmer than normal, the catalyst needed to push natural gas prices higher in the near-term just isn't there. Various forecasts from different meteorologists still put the odds of colder than normal January on the table, but as we said in our Tuesday NGD, we want confirmation before taking the long trade.
All the ingredients the bulls have been talking about remains true like storage coming in below the 5-year average by over 600 Bcf going into Jan. And for the bulls, another tailwind may be starting with Lower 48 production disappointing to the downside materially this week: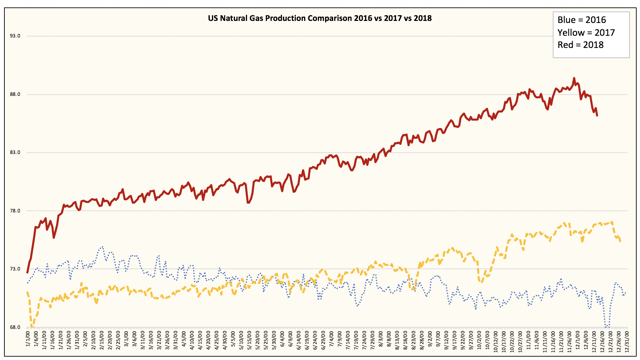 Source: HFI Research
But all of this is for nothing if the weather outlook doesn't flip. It's a sad reality, but natural gas trading in winter is entirely weather dependent. So if you don't have weather model updates, you are flying blind.
For now, we remain on the sidelines. We just don't see the set-up yet.
Author's note: Thank you for reading this article. If you found it insightful, please leave a "Like" below.