A 60:40 allocation to passive long-only equities and bonds has been a great proposition for the last 35 years… We are profoundly worried that this could be a risky allocation over the next 10."
Sanford C. Bernstein & Company Analysts (January 2017)
Bull markets are born on pessimism, grow on skepticism, mature on optimism, and die on euphoria"
Sir John Templeton
Life and investing are long ballgames."
Julian Robertson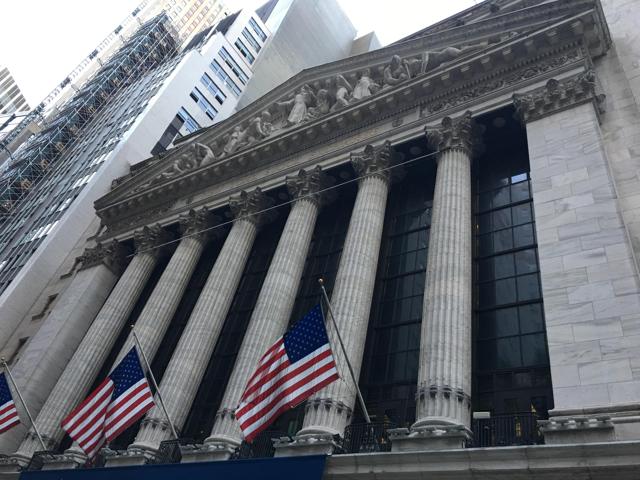 (Source: Authors Photo):
Introduction
After living and breathing the markets the past 25 years, including achieving just about every significant designation you can imagine, studying markets and market history from dusty libraries to under fund managers to running my own firm, working for some of the largest, most prestigious investment firms in the country, and having highs and lows that most cannot even imagine, it is amazing to me the juncture we have come to today.
What do I mean?
Specifically, investors and speculators are so jaded by the price action over the majority of the duration of the current bull market, which is partly due to incentives provided by central banks, which are the ultimate liquidity providers, that similar to the late 1990's, they have mostly abandoned the one thing which is the long-term driver of equity prices, and that is the underlying fundamentals.
As a market historian, and an investor and speculator with real world experience that few can match, let me let you in on a secret.
Fundamentals still matter.
Let me explain.
Investment Thesis
Underlying cash flows, future discounted cash flows, and the present and future values of balance sheets are what drive business values, and ultimately stocks prices. Since almost all have abandoned this approach, following momentum strategies or various technical strategies, the opportunity is extraordinary for those that practice the traditional lost art of security analysis.
Remember This - Julian Robertson's Last Letter
I have remarked on more than one occasion, that today's market environment feels like the late 1990's, and I think the following letter from Julian Robertson, which was his final letter to his investors, dated March 30, 2000, captures the environment back then, and the environment today, where enthusiasm and sentiment have peaked after a long wave of being detached from fundamentals.
TIGER MANAGEMENT (AUTHOR: JULIAN ROBERTSON) RELEASED THE FOLLOWING LETTER ON MARCH 30, 2000 TO ITS LIMITED PARTNERS.

In May of 1980, Thorpe McKenzie and I started the Tiger funds with total capital of $8.8 million. Eighteen years later, the $8.8 million had grown to $21 billion, an increase of over 259,000 percent. Our compound rate of return to partners during this period after all fees was 31.7 percent. No one had a better record.

Since August of 1998, the Tiger funds have stumbled badly and Tiger investors have voted strongly with their pocketbooks, understandably so. During that period, Tiger investors withdrew some $7.7 billion of funds. The result of the demise of value investing and investor withdrawals has been financial erosion, stressful to us all. And there is no real indication that a quick end is in sight.

And what do I mean by, "there is no quick end in sight?" What is "end" the end of? "End" is the end of the bear market in value stocks. It is the recognition that equities with cash-on-cash returns of 15 to 25 percent, regardless of their short-term market performance, are great investments. "End" in this case means a beginning by investors overall to put aside momentum and potential short-term gain in highly speculative stocks to take the more assured, yet still historically high returns available in out-of-favor equities.

There is a lot of talk now about the New Economy (meaning Internet, technology and telecom). Certainly, the Internet is changing the world and the advances from biotechnology will be equally amazing. Technology and telecommunications bring us opportunities none of us have dreamed of.

(Author's Emphasis... Does This Sound Familiar?)"Avoid the Old Economy and invest in the New and forget about price," proclaim the pundits. And in truth, that has been the way to invest over the last eighteen months.

As you have heard me say on many occasions, the key to Tiger's success over the years has been a steady commitment to buying the best stocks and shorting the worst. In a rational environment, this strategy functions well. But in an irrational market, where earnings and price considerations take a back seat to mouse clicks and momentum, such logic, as we have learned, does not count for much.

(Author's emphasis) The current technology, Internet and telecom craze, fueled by the performance desires of investors, money managers and even financial buyers, is unwittingly creating a Ponzi pyramid destined for collapse. The tragedy is, however, that the only way to generate short-term performance in the current environment is to buy these stocks. That makes the process self-perpetuating until the pyramid eventually collapses under its own excess.

I have great faith though that, "this, too, will pass." We have seen manic periods like this before and I remain confident that despite the current disfavor in which it is held, value investing remains the best course. There is just too much reward in certain mundane, Old Economy stocks to ignore. This is not the first time that value stocks have taken a licking. Many of the great value investors produced terrible returns from 1970 to 1975 and from 1980 to 1981 but then they came back in spades.

The difficulty is predicting when this change will occur and in this regard, I have no advantage. What I do know is that there is no point in subjecting our investors to risk in a market which I frankly do not understand. Consequently, after thorough consideration, I have decided to return all capital to our investors, effectively bringing down the curtain on the Tiger funds. We have already largely liquefied the portfolio and plan to return assets as outlined in the attached plan.

No one wishes more than I that I had taken this course earlier. Regardless, it has been an enjoyable and rewarding 20 years. The triumphs have by no means been totally diminished by the recent setbacks. Since inception, an investment in Tiger has grown 85-fold net of fees; more than three time the average of the S&P 500 and five-and-a-half times that of the Morgan Stanley Capital International World Index. The best part by far has been the opportunity to work closely with a unique cadre of co-workers and investors.

For every minute of it, the good times and the bad, the victories and the defeats, I speak for myself and a multitude of Tiger's past and present who thank you from the bottom of our hearts.

(Source: This letter is widely available, investors in Tiger received it, and it can be found here.)
***(Back to Travis...the above letter was from Julian Robertson). If Julian Robertson would have stayed true to his investment strategy, he would have been vindicated, however, as Keynes once said, the markets can stay irrational longer than an investor can stay solvent, and that phrase can certainly characterize the price manias that we have seen the past decade.
Future Returns Are Still Abysmal
I published the following table that I have been putting together on a regular basis in my writing in August.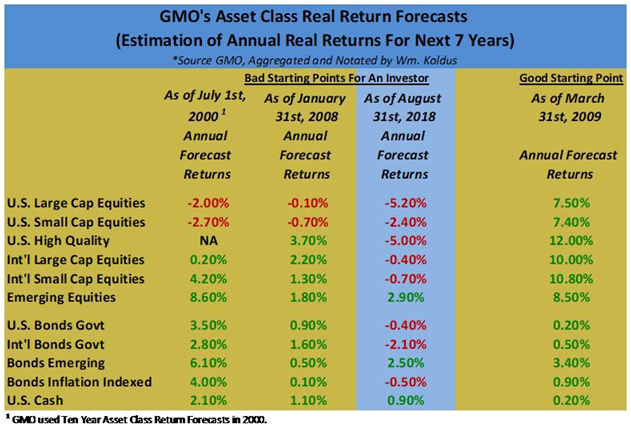 (Source: Author, GMO)
The problem is, nobody cared, because we have all become conditioned to the insanity of today's valuations.
Ponzi Scheme Part I - Technology Stocks
Look at Julian Robertson's letter above, specifically this excerpt.
The current technology, Internet and telecom craze, fueled by the performance desires of investors, money managers and even financial buyers, is unwittingly creating a Ponzi pyramid destined for collapse. The tragedy is, however, that the only way to generate short-term performance in the current environment is to buy these stocks. That makes the process self-perpetuating until the pyramid eventually collapses under its own excess.
The incessant rise of the S&P 500 Index, as measured by the SPDR S&P 500 ETF (SPY) over the past decade, which has been driven by the largest technology companies, specifically Apple (AAPL), Amazon (AMZN), Alphabet (GOOGL), (GOOG), Microsoft (MSFT), Facebook (FB), Netflix (NFLX), has caused most investors to abandon fundamentals and follow trends, or technical price signals.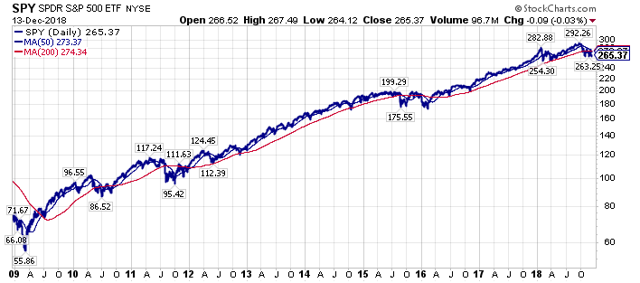 (Source: Author, StockCharts.com)
However, when you look under the surface of a stock like Amazon, which has risen even more than the S&P 500 Index, you will quickly see that perception does not match reality.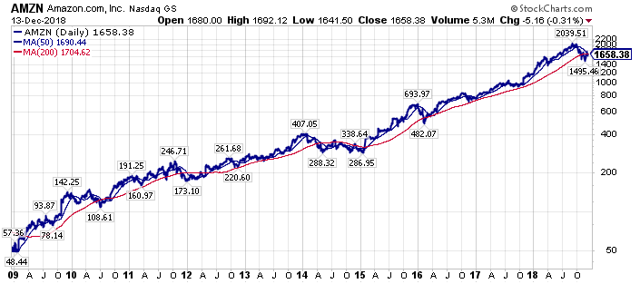 (Source: Author, StockCharts.com)
What do I mean about perception not matching reality?
This is what I mean. Amazon trades at a 3% operating cash flow yield to its enterprise value, and a 2% free cash flow yield to its enterprise value. This is historically expensive, for even the best equities.
Ponzi Scheme Part II - Market Favorites
Do you think the scope of the bubble today is limited to technology stocks?
If so, this is another perception that is different from reality.
Lets take one example of a popular stock today, which has held up well recently, and that is Simon Property Group (SPG), the proverbial blue-chip of REITs.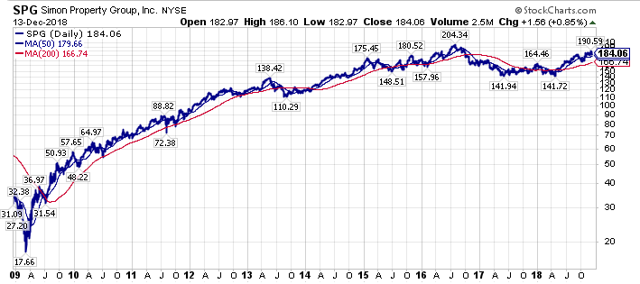 (Source: Author, StockCharts.com)
What is the operating cash flow yield to enterprise value for Simon Property Group, and what is the free cash flow yield to enterprise value for SPG?
Would you guess 4%, and 2%?
These are right on par with Amazon, but at least Amazon has a relatively stronger balance sheet, as Simon Property Group had debt that is roughly 5.5 times is projected 2018 EBITDA, with SPG's balance sheet weighed down by $23 billion in debt. Incidentally, this ratio is actually worse than the much maligned AT&T (T), which has much more debt, but better cash generation.
Closing Thoughts
We are at a point where there is a bubble in nearly everything, where investors have abandoned fundamentals, saying they do not matter, both for the broader market, and individual equities.
Well, I have news for you.
Fundamentals still do matter, and price discovery will eventually return with a vengeance.
While we are just embarking on this journey, we are nowhere near being there yet, and we have a long way to go in our journey to rediscover price discovery.
To close, even though it has been a very difficult stretch for value-oriented investors, I think we are about to enter a golden age for active, value investors, who do the fundamental work, who can find the 15% free cash flow yield companies of today, and the most out-of-favor sectors, and the most out-of-favor equities will be at the forefront of this opportunity.