Thesis
BP (NYSE:BP) is almost done with cleaning up the fallout of its Gulf of Mexico disaster and related payouts will not be large going forward. New projects and successful cost-cutting have made BP highly competitive, and the company will be able to produce attractive cash flows, even with oil trading well below the 52-week high.
It is unlikely that oil prices will decline much further, and BP should be able to easily finance its dividend going forward. With some additional returns from share price gains, BP could deliver attractive total returns over the coming years.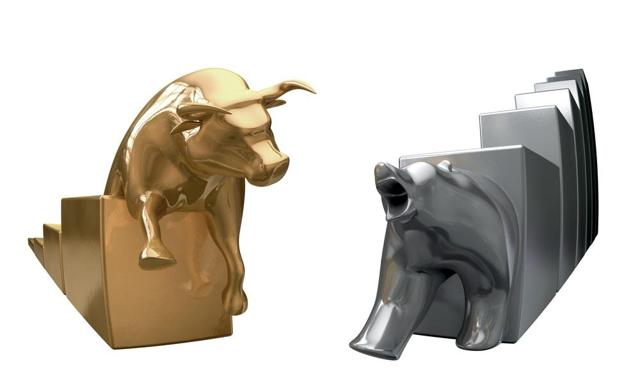 Source: Seeking Alpha image bank
Oil prices are down, but we will likely not see a repetition of 2015/2016
A couple of years ago, oil producers got surprised - none of them had thought that oil prices could decline so violently, the drop from more than $100 to less than $30 per barrel had been an absolute outlier.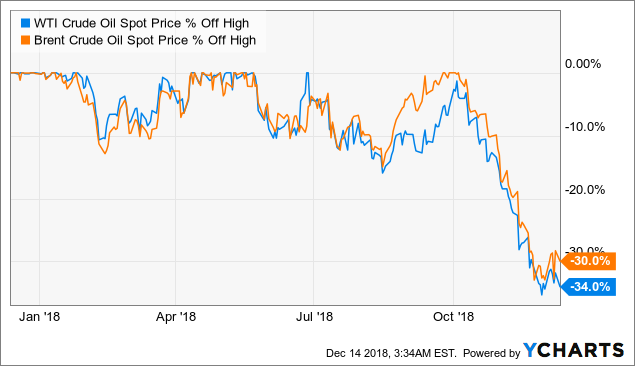 Right now, WTI and Brent trade ~30% below their 52-week highs that were hit this fall, but the strong downwards momentum has stopped, and oil prices might have bottomed out already. It is, in any case, unlikely that oil prices will decline much from the current level, as production cuts (by OPEC and by Canada) will lead to less supply coming to the market. On top of that, Venezuela's oil industry continues to shrink at a substantial pace, which takes additional demand off the market.
Growing demand, especially from emerging markets such as China, will mean that supply and demand will be more in line in the coming quarters, which is why there is not really any good reason why oil prices should drop considerably from the current level.
BP is well-positioned for lower oil prices
Oil markets will not be as harsh as they were during 2015/2016, but there is another reason why oil companies such as BP will do better going forward. They have optimized their operations over the last couple of years, cutting costs and focusing their investments on new projects with low break-even prices.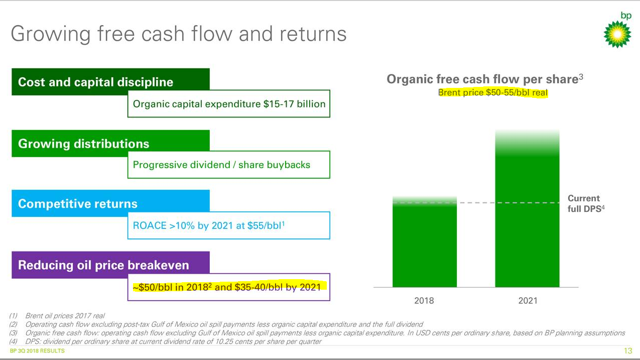 Source: BP presentation
BP has managed to lower its break-even price, defined as the price of oil where the dividend is fully covered by free cash flows, to $50 per barrel of Brent. Brent usually trades a couple of percentage points higher than WTI, thus WTI would likely have to fall to the mid-$40s for BP to break even.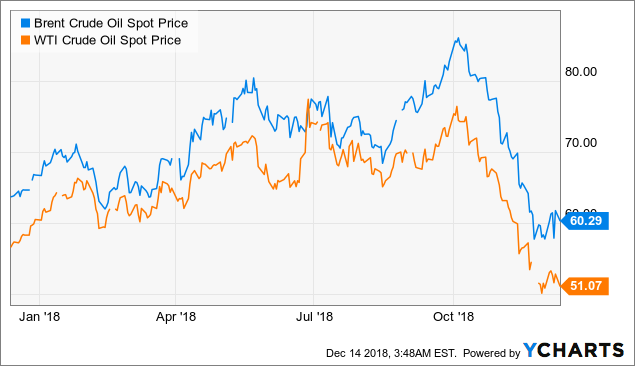 Brent trades 20% above the break-even level right now, which means that BP would be able to generate substantial excess free cash flows (after fully covering the dividend) if oil prices do neither move up or down.
The $50-per-barrel calculation is for fiscal 2018, BP expects that its break-even price will decline going forward. Management expects that the dividend will be fully covered by free cash flows with oil trading at ~$38 in 2021. When we assume that the break-even price declines gradually over the coming years, the 2019 break-even price would be ~$46 per barrel of Brent. Brent trades roughly 30% above that level right now, thus it looks like BP is very well-positioned for the future: Unless oil prices decline massively (which is unlikely), BP will not only be able to fully cover its dividend with free cash flows, the company will produce substantial excess free cash flows on top of that.
These excess free cash flows that are not required to pay for BP's dividend can be used for other measures, primarily inorganic capital expenditures (M&A), debt reduction, and share repurchases.
BP has made a relatively large takeover this year when it acquired the US shale business from BHP Billiton (BHP), it is thus unlikely that there will be another major takeover any time soon. This means that excess free cash flow will likely be utilized for debt repayment or for buying back shares.
Reducing debt levels does not provide an overly large return: Interest rates are in the mid-single digits; when we adjust that for the tax impact, the after-tax return is likely around 3%. Buying back shares at the current valuation provides an after-tax return of more than 6% through the dividend payments that BP does not have to make, on top of that, the excess free cash flow per remaining share will increase. Buybacks thus seem like a more favorable use of money right here.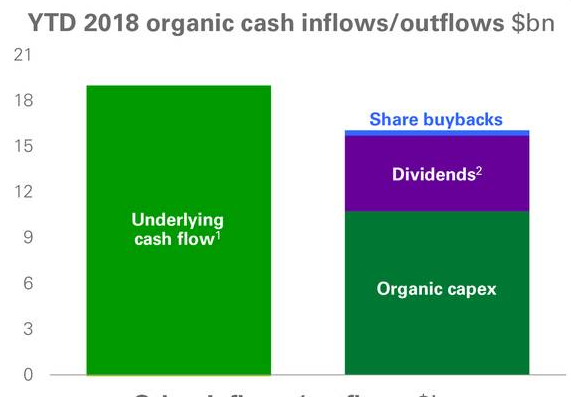 Source: BP presentation
The company has started to repurchase shares this year, and although the amount has not been overly large so far, this sends the right signal: BP's management believes that shares are undervalued right here and that reducing the share count is in shareholders' best interest. Both income investors, as well as those that seek capital appreciation, benefit from a lower share count: Income investors benefit through a safer dividend (total dividend costs decline due to a lower share count), at the same time share prices should rise, all else equal (due to higher earnings/free cash flow per share).
Some risk-averse investors might favor debt reduction, but that is, I believe, not necessary, as BP's balance sheet is not overleveraged at all. The company held long-term debt of $64 billion and cash of $26 billion at the end of Q3, for a net debt position of $38 billion.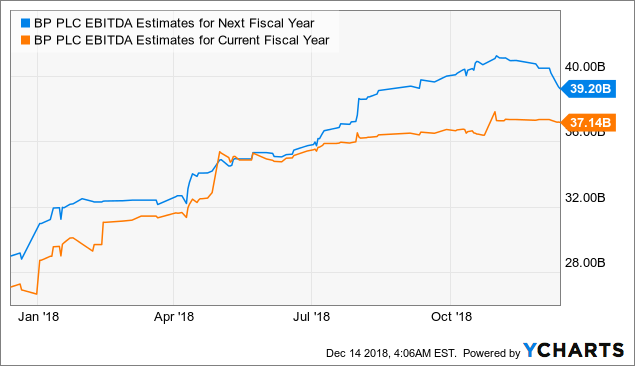 BP will produce EBITDA of roughly $37 billion this year, and according to the analyst community, the company will produce EBITDA of roughly $39 billion next year. BP's net debt thus is roughly as high as its EBITDA during one single year. A net debt to EBTIDA ratio of 1 is relatively conservative and not problematic in any way. As a European company, BP has access to even cheaper debt than most US-based companies (due to the ECB still holding interest rates below 0%). Focusing on paying down this cheap debt is likely not the best idea when share buybacks can deliver significantly higher cash-on-cash returns.
With the quarterly payout standing at $0.615 per ADR, BP offers a dividend yield of 6.3% at a share price of $39.30. This makes BP's shares attractive for income-focused investors, and it provides a huge first step for attractive total returns. Share prices would have to rise by less than 4% a year in order for BP to produce double-digit total returns going forward. Through production growth and rising free cash flows, coupled with share buybacks which drive the free cash flow per share growth rate further, a long-term share price growth rate in the mid-single digits does not seem overly optimistic at all.
I thus believe that there is a good chance that BP's shareholders will benefit from 10%+ annual returns in the long run if they buy shares at the current level of less than $40.
Takeaway
The Gulf of Mexico disaster has negatively impacted BP for years, but the company is mostly done with the GoM-related payments. The company can now focus on its operations, and through cost-cutting and directing its investments into the right direction, BP has lowered its break-even price drastically.
The company will produce ample free cash flows (even after dividend payments) with oil trading at the current level, which means that the company's high-yielding dividend is safe and that BP has room for share repurchases on top of that.
I believe that BP's shares are attractive at the current level for income-oriented investors as well as for those that are seeking substantial total returns.