Ever try to catch a falling knife? When a stock on your watch list suddenly hits your entry price target, it's certainly tempting to jump aboard. Of course, nobody knows how much further it can fall, once the sentiment has turned bearish, and it starts receiving downgrades from analysts.
Such has been the case with Apple (AAPL) and General Electric (GE) over the past few months - AAPL is ~28% below its 10/3/18 high of $232.07 after several of its suppliers reported volume cuts in addition to receiving several analyst downgrades. It's now up just ~1% in 2018: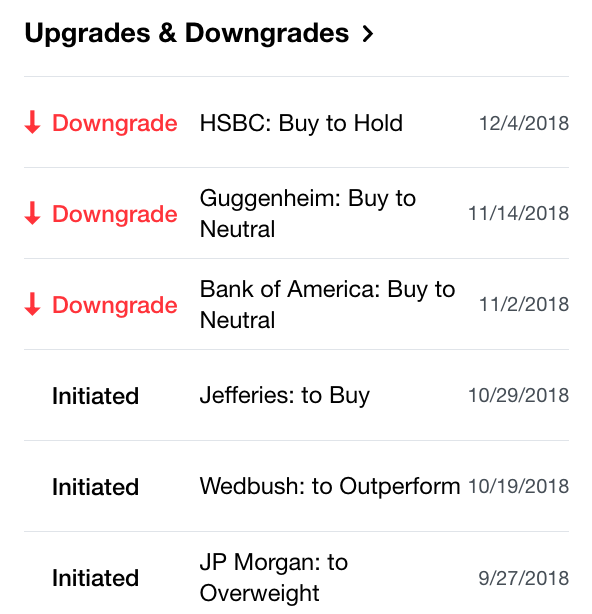 (Source: Yahoo Finance)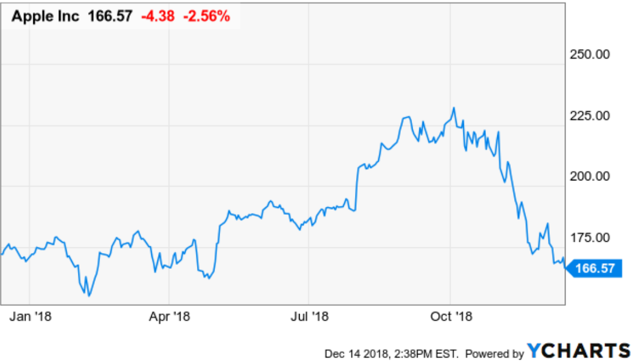 Meanwhile, GE has had an even worse time of it in 2018, having fallen ~63% from its 52-week high, after its series of earnings mishaps, CEO replacement, asset sales, and another dividend cut, from $.12 to $.01/quarter.
GE's recent analyst upgrade history is the reverse of AAPL's - it received several upgrades after its CEO replacement move in October. However, after an early October rise, the upgrades weren't enough to prevent GE from falling ~48% from its early October $13.61 price: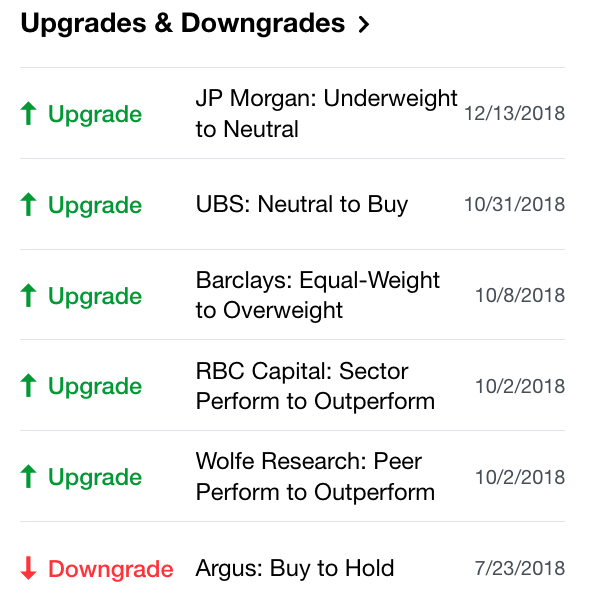 (Source: Yahoo Finance)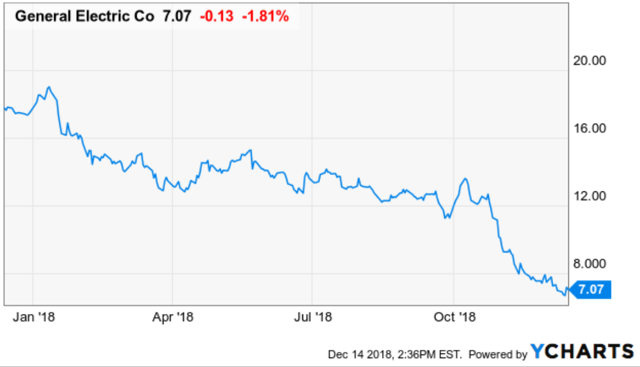 Analyst Price Targets For GE:
Analysts' lowest price target for GE is $6.00, which GE's current price is 17.67% above.

Options:
If you're still bullish on GE at this much lower price level, but you want to try to avoid that falling knife syndrome, you may want to consider selling out of the money cash secured puts below GE's price/share.
We added these three put-selling trades to our free Cash Secured Puts Table, which features more than 35 put trades, which are updated throughout each trading day.
As it happens, GE has a $6.00 put strike, which coincides with the $6.00 price target. The January $6.00 put strike pays $.18, a 3% yield in ~5 weeks, or 31.29% annualized. It gives you a breakeven of $5.82, which is 12.6% below GE's 52-week low.
On a side note, numerologists and fans of creepy numbers may get a chill from GE's $6.66 52-week low. That number has been known in some circles as the "number of the beast." Yikes!

If a $5.82 breakeven is too close for comfort, GE also has a $5.00 put strike. We chose the March $5.00 put strike, which pays $.23 and gives you a breakeven of $4.77, which is 20.5% below that $6.00 lowest price target, and 28.4% below GE's $6.66 52-week low.
This $5.00 put yields 4.6%, over a ~13-week period, or 18.25% annualized:

If you're interested in going out longer term, in order for the new CEO's business plan to start to develop, there's also a June $6.00 put strike. This put option pays much more, $.70, due to the additional time value during this ~25 week period.
The nominal yield is 11.67%, or 22.65% annualized:

Analyst Price Targets For AAPL:
AAPL's price is very close, ~1% above, to analysts' lowest $165.00 price target:

AAPL Options:
If you're comfortable with AAPL's current price level, but you want to hedge your bet, via get paid for call option premiums, there are many covered call trades available for AAPL.
We added this February $170 call option to our Covered Calls Table, where you can see more details for this trade and over 30 others, all of which are updated throughout each trading day.

AAPL's February 2019 $170.00 call option pays $8.10, over 8X AAPL's quarterly $.73 dividend.
In scenario A, AAPL doesn't rise to or above $170.00 around the early February ex-dividend date or the March option expiration date.
The static yield is 5.30%, or 31.22%, comprised of AAPL's $.73 February dividend, and the $8.10 in call premium, for a total of $8.83.
Scenario B details what would happen if your shares get assigned before AAPL's early February ex-dividend date.
Since the $170.00 strike is $3.39 above AAPL's $166.61 price, your total income and gain would be $11.49, a combo of the $8.10 option premium and the $3.39 price gain. This equals a 6.9% nominal yield for this nine-week period, or ~40% annualized.
Scenario C is one in which you collect the $.73 dividend and then your shares get assigned. Your total income and gain would be $12.22, for a 7.33% nominal yield, or 43.6% annualized.
The downside of selling covered calls is that your upside potential is limited to the spread between the stock's price and the call strike. So if you're more bearish on AAPL's eventual price recovery, but you're still looking for some additional income, you may want to sell covered calls at a higher price strike.

We also added this February $160 put-selling trade to our Cash Secured Puts Table. This put pays $6.45, giving you a breakeven of $153.55, which is 2.2% above AAPL's 52-week low and 6.9% below the $165.00 low price target for AAPL:

AAPL goes ex-dividend next ~2/8/19, and GE goes ex ~12/19/18.
At its current $.73 quarterly payout rate, AAPL only yields 1.75%, but, as we detailed above, if you to enhance that income, selling options can certainly help.

Summary:
There are many other expirations and strike price levels for both of these stocks. If you want to be more conservative, you can sell puts even further below their current prices/share, which will offer lower option payouts, but also give you a lower breakeven.
Note: Put sellers don't receive dividends, not that this matters much for GE, with its minimal $.01 quarterly payout, but for AAPL, you should compare the option premiums to the dividend amount.
All tables furnished by DoubleDividendStocks.com, unless otherwise noted.
Disclaimer: This article was written for informational purposes only, and is not intended as personal investment advice. Please practice due diligence before investing in any investment vehicle mentioned in this article.
CLARIFICATION: We have two investing services. Our legacy service, DoubleDividendStocks.com, has focused on selling options on dividend stocks since 2009.
Our Marketplace service, Hidden Dividend Stocks Plus, focuses on undercovered, undervalued income vehicles, and special high yield situations.
We scour the US and world markets to find solid income opportunities with dividend yields ranging from 5% to 10%-plus, backed by strong earnings.
These stocks are often low beta equities that can offer stronger price protection vs. market volatility.
We publish exclusive articles each week with investing ideas for the HDS+ site that you won't see anywhere else.
Disclosure: I am/we are long AAPL. I wrote this article myself, and it expresses my own opinions. I am not receiving compensation for it (other than from Seeking Alpha). I have no business relationship with any company whose stock is mentioned in this article.
Additional disclosure: We're long AAPL, via being short put options