Last month, the US economy/budget continued to set the wrong type of records.
November saw the US recording the largest deficit in history. Government spending rose by 18% last month and reached a level of $411B. Revenues, however, were only up to $206B. Simply put, last month, the US spent $2 on every $1 it earned.
The US deficit in 2018 is expected to be the highest over the past six years, largely due to the tax reform that was introduced earlier this year, reducing corporate tax in the US to only 20%.
According to recent estimates, the US deficit is expected to rise, starting in 2019, to about $1T.
Meanwhile, US national debt continues to rise exponentially, closing down fast on the $22T mark.
The rise of rates/yields (IEF, GOVT, SCHR, VGIT, TIP, SHV, SHY, IEF, TLT) over the past year is giving a much unneeded boost to the deficit, pushing interest payments on US debts up.
As you can see in the below chart, interest payments have doubled over the last two years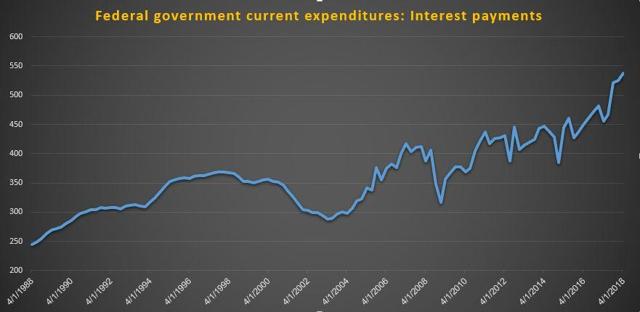 Source: US Treasury, Author
The growing deficit is expected to affect financial markets this week.
During the time left till the end of 2018, the US administration is expected to suck money out of the market, in order to meet its cash reserves target for year-end: $410B.
More than $100B is supposed to be taken out of the markets this coming week (although some of it will return to the market later on this month).
This is an unusually large amount of US dollars (UUP) that is being withdrawn from the market. In turn, this would add more stress to an already-stressed USD funding and could possibly lead to additional sharp fluctuations in the markets (SPY, DIA, QQQ, IWM)
US Treasury year-end cash balance target

Source: US Treasury, Author
Despite the withdrawal of many dollars from the markets, it appears that the US treasury won't be able to reach its own target, i.e. falling short of ending the year with a cash reserve of $410B, due to the lower than expected collection/income.
The solution is likely to be an increase in the number of bond offerings during the first quarter of 2019.
The budget deficit isn't the only problem facing the US treasury. The trade deficit is as big as a headache for the US top economic officials.
Recall that the US President Trump and China's Premier Xi wrapped up their G-20 summit dinner with a temporary truce on trade. Trump agreed to hold off on additional tariff escalation slated for January 1st, while the two sides continue their negotiations for 90-day period.
Thing is that while the two countries continue their trade talks, the deficit keeps on growing to unprecedented levels, over $40B in October.
The increase in the deficit is the result of continued growth in imports, in spite (and perhaps because?) of the tariffs, while exports actually fell.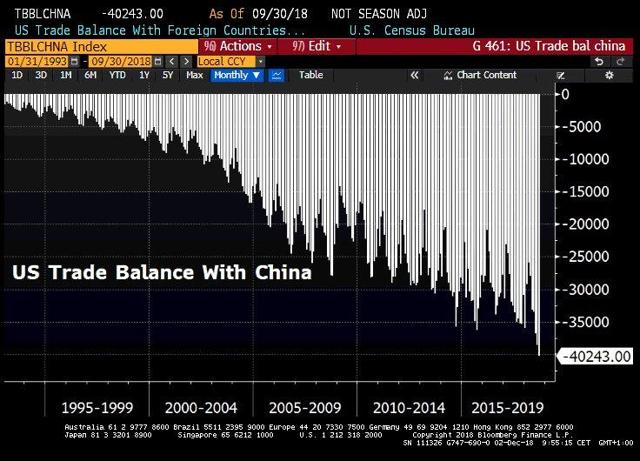 Meanwhile, it has been reported that the US global trade deficit hit $55.5B in October, the highest level since October 2008. Putting it differently, only the peak of the subprime crisis saw the US posting a bigger deficit than it is running these days.
At the current pace - which is likely to get worse, not better - The US trade deficit is poised to reach $600B, for the first time, this year.
The trade deficit has grown by more than $100B, about one fifth of the current total of $503B (for the first 10 months of 2018), from when Trump took office in January 2017.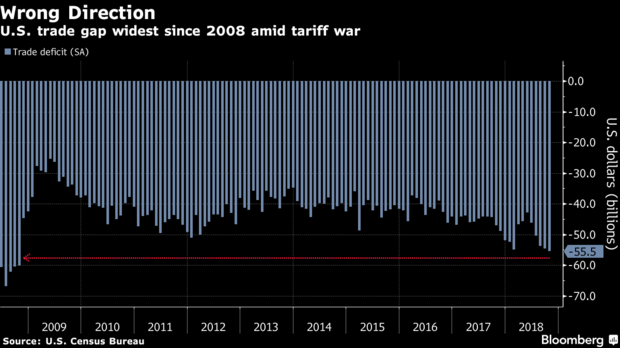 You don't have to study economics to understand that this is neither sustainable nor a viable economic policy.
If you spend twice as much as you earn - your credit (line) eventually exhausts, and/or someone knocks on your door.
If you wonder why President Trump is giving the Fed such a hard time, it's not only because he wishes to see the markets moving higher, but simply because he knows that the current economic policy simply can't hold water for too long.
This is a ticking bomb, and Trump is fully aware that this bomb, unless the current trends (higher deficits) reverse soon, can blow off way before the next Elections.
The MAGA slogan/mission isn't (and can't be) only about employment, jobs, wages, tax cuts, and an admittedly-justified trade war. It must also be about making/producing/gaining more and spending/wasting/losing less.
The deficits in both budget and trade accounts are crying out loud for help. With almost every month that goes by, they set new records. Since we are talking about a competition where the winner is the one who finishes last, that's a record you don't wish to set. Certainly, not over and over again.
If the current 2 (expenses)-to-1 (income) ratio won't move down, quite drastically soon, even the most pessimistic forecasts are likely to materialize quicker and harsher.
The Wheel of FORTUNE is one of the most comprehensive services, covering all asset classes: common's, preferred's, bonds, options, currencies, commodities, CEFs, etc.
Take advantage of our year-end special, which includes significant discounts ($882/year), mega poll with prizes, and a two-week free trial.
Check out our monthly review, where all suggestions since launch appear.
TWoF is a "supermarket of ideas" with emphasis on risk management and risk-adjusted returns. We stock the "store"'s shelves, but you decide what products meet your taste.
Take advantage of this rare offer, before fees rise on (and along the way to) 1/2/2019.
Disclosure: I/we have no positions in any stocks mentioned, and no plans to initiate any positions within the next 72 hours. I wrote this article myself, and it expresses my own opinions. I am not receiving compensation for it (other than from Seeking Alpha). I have no business relationship with any company whose stock is mentioned in this article.