In this article, we examine the significant weekly order flow and market structure developments driving WTI price action.
09-14 December 2018:
As noted in last week's WTI Weekly, the primary expectation for this week was for a buy-side bias following a two-week balance development around the developing high-volume node, 51.23s. While key support continued to hold, our primary expectation did not play out as buy-side phases were met by selling interest within key supply overhead, 52.50s-54s. Following both buy and sell excesses developing in Thursday's auction at range extremes, narrow trade continued in Friday's auction before closing at 51.01s.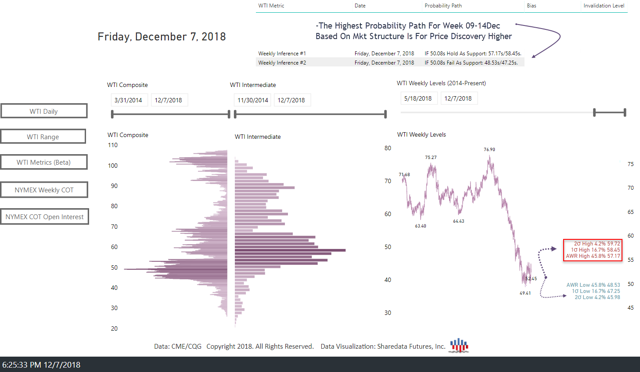 This week's auction saw price discovery lower Monday as selling interest drove price lower from last week's settlement, achieving a stopping point, 50.53s, at/near last week's key demand cluster. Buying interest emerged there, driving price through Tuesday's auction as buying interest emerged, 52.65s, early in Wednesday's auction near the weekly high. A minor probe higher developed to 52.88s, where selling interest emerged as buyers trapped. Price discovery lower developed through Wednesday and the EIA release (-1.2 mil v -2.99 mil expected) into Thursday's auction.
Sellers trapped, 50.50s, as a probe of key support developed in Thursday's auction to 50.35s and was rejected via a buy excess, 50.35s-50.60s. Rotation higher then ensued as short covering inventory adjustment developed again toward the weekly high. A false buy-side breakout ensued there, driving price higher, achieving the stopping point high, 53.27s, which was rejected via a sell excess, 53.27s-52.80s, signaling a structural halt of the buy-side phase. Price discovery lower developed into Friday's NY auction to 51.09s ahead of Friday's close, settling at 51.01s.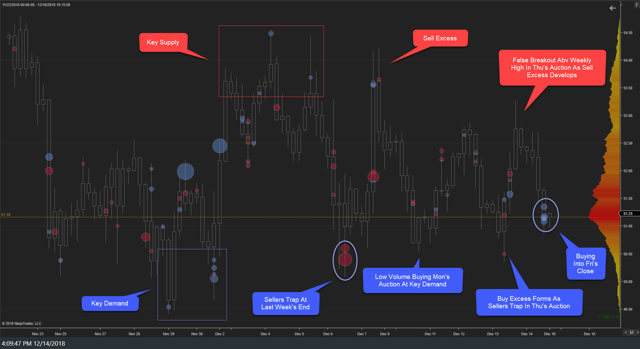 NinjaTrader
As noted last week, this week's primary expectation was for a buy-side bias. This expectation did not play out as balance development continued as consensus continued to build around the high-volume node, 51.63s (55k contracts).
Looking ahead, the current key support continues to hold as the multi-week balance development continues. The balance continues to mature as the high-volume node increases (55k contracts) at 51.23s. This consensus and the maturation of the balance will result in the next directional phase of inventory adjustment. Given the amplitude of the initial corrective phase from the high (approximately -35% as of this writing) and stopping point low development, the primary expectation remains in a buy-side bias near-term (2-4 weeks).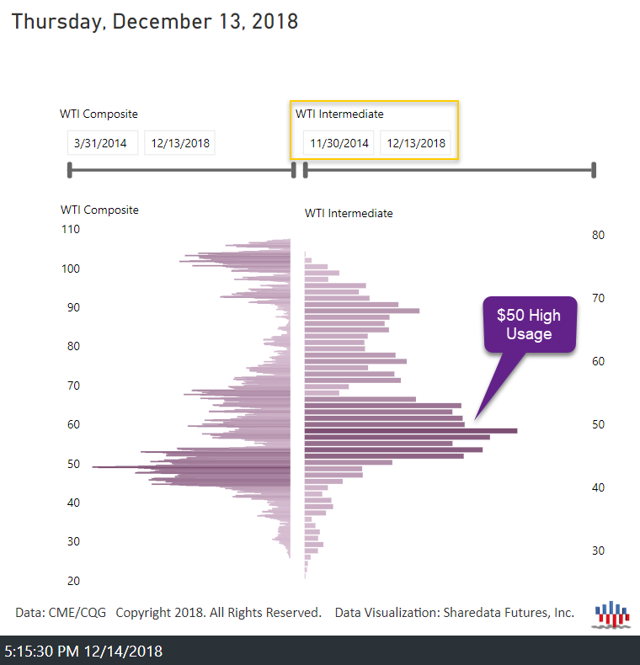 It is worth noting that based on the Commitment of Traders report, Open Interest (OI) increased modestly (2.99 mil contracts) as the deleveraging trend within the WTI market since late August 2018 has paused. Additionally, the Managed Money (MM) net long position which peaked in January 2018 at 495k contracts increased to 119k contracts, the lowest MM net long posture since August 2016. MM short posture increased (-96k contracts). The MM short trend higher may have resumed. Without increasing MM long posture and substantially higher MM short posture, the market will struggle to develop a structural low. However, the market now trades into the period where seasonal lows are developed. Though the intermediate term context remains sell-side, there is the potential for support to develop around the long-term high usage area, $50/bbl, based on the market generated data.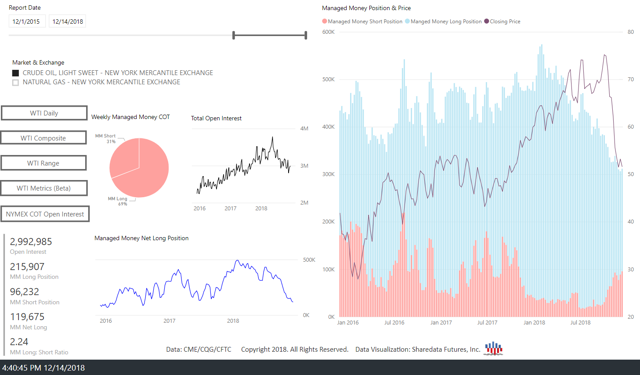 The market structure, order flow, and leveraged capital posture provide the empirical evidence needed to observe where asymmetric opportunity resides.