The yield curve inversion has become one of the most talked about and dreaded subjects recently. It is enough just to do a simple Google search and you will see numerous articles and discussions. And they are mostly from 2017 or 2018. Previous yield curve inversions, which did indeed appear a few quarters before recessions, went almost unnoticed by the media and investors alike. And the debate is getting ever hotter as the yield curve is getting closer to zero.
There is already yield curve inversion going on in the US, though not between the two most followed Treasuries, the 10-year and the 2-year, but between the 2- or the 3-year and the 5-year Treasuries. The yield curve inversion is not serious yet, but it is here already, and it is likely to get deeper. Back in July, I wrote: "As the Fed continues to raise rates more above 2%, it wouldn't be surprising to see at least a slight inversion later this year." We can already say that the 10- and the 2-year yield differential is already flat (in the teens), while some yield differentials, as mentioned earlier, have already gone negative. The yield curve in Japan, with a decades-long history of low interest rates, hasn't turned negative for decades, while it has had many recessions. So, it is possible that the lower the interest rates go, the less likely it becomes to get negative yield differentials, or none at all.
However, with the US still sporting a 10-year Treasury yield of almost 3%, which is much higher than the Fed inflation target of 2%, it is reasonable to expect a 10-year Treasury yield to be able to fall further toward that 2% target, while the current Fed funds rate is already above 2% and likely to go 0.25% higher in a few days. While the short-term rates are stable, because of the central bank, longer-term maturity rates can fall, and this creates the dreaded inversion everybody has been talking about this year.
As investors seem to have suddenly turned optimistic about the China trade deal, again, the real issue facing the markets is a slowing economy in an environment of rising interest rates. President Trump was imposing new tariffs a couple of months ago while threatening much higher tariffs in the future, and nobody seemed to care - the stock market was going higher. By early September, the president had already shown all his tariff cards we have so far seen, but stocks continued to rise and reach new record highs in late September and early October. The market didn't seem to care so much about tariffs back then. It was probably Mr. Powell, the Fed chairman, who ruined the party when he said that interest rates are "a long way from neutral." Stocks tanked after that statement, and they haven't recovered yet. Apparently, the market has already expressed that it cares more about interest rates than trade wars. And, of course, the other much more important issue is the slowing economy which is actually what is causing the "yield curve inversion" phenomenon. Obviously, the market hates, for good reasons, when the economy is slowing and, at the same time, interest rates are rising.
In my article about the yield curve inversion, I wrote: "In case a hypothetical recession would have happened in 2020, the fact that so many investors and money managers (almost all of them) watch the flattening of the yield curve, in case the complete flattening happens this year, the panic that it would cause in itself would likely bring that hypothetical recession closer to 2019." The pessimism is already here, but the panic is not, yet. I just read a recently published survey on WSJ that "more than 80% of U.S. CFOs think a recession will strike by the end of 2020, according to the Duke University/CFO Global Business Outlook survey." Imagine so many people, who really matter, in the US, and even more in the rest of the world, think their businesses will do poorly by 2020 or earlier! It is somewhat irrelevant whether they are right or not, but the simple fact that they are so pessimistic about the future will clearly affect their investment decisions. And this in itself can have negative effects, definitely sooner than 2020, on the economy and the markets.
Does this sound good for the economy, or the stock market, for the near future? Add to all this what the Fed will do in a few days' time! It is almost certain that the Fed will raise rates by another 0.25%, but the most important thing is what the Fed will indicate about its future rate decision trajectory. In case the Fed sounds more hawkish, that will scare the markets. But in case the Fed is really dovish, that will push longer-term yields lower and bring about the dreaded yield curve inversion (the spread between the 2-year and the 10-year yields). No matter how you look at it, it doesn't sound promising. And US markets are historically very expensive. Currently, the S&P 500 has a P/E ratio of more than 21, while it is above 41 for the Russell 2000. These are historically very high numbers, making US stocks expensive, therefore having a lot of room for going lower at pessimistic times. But if you look at the arguably more relevant Shiller P/E ratio (chart below), US stocks are even more expensive. Although stocks are not at record - which was the case for the year 2000 - they are as expensive as they were in October 1929, just before the start of the Great Depression.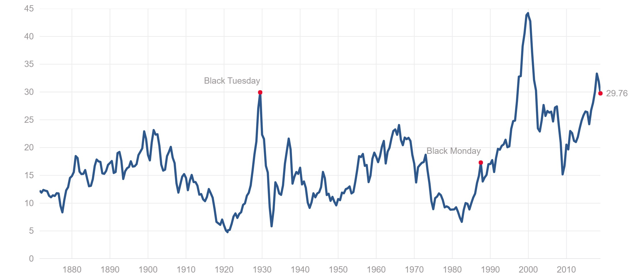 However, for now, stocks seem to be doing OK because of some potential trade agreements between the US and China. I doubt short-term optimism will be able to trump longer-term pessimism for long. As the rather extreme pessimism of the CEOs for 2020, as well as somewhat less pessimistic views for 2019 (almost half of US CEOs believe recession will hit by the end of 2019) shows the real reason stocks aren't falling more is because there is money trying to profit from some short-term technical, or event-based, market movements. Nevertheless expecting positive returns from now to the end of 2019 seems to be not popular at all at this moment. Why are so many investors still buying at current levels? One reason is obviously technical, as investors usually believe that recent history keeps repeating itself. The S&P 500 has bounced back from levels around 2,600 so many times this year (chart below), and when you combine this with good news related to the China trade deal, enough money tries to cash in what they believe will be another bounce to be taken advantage of.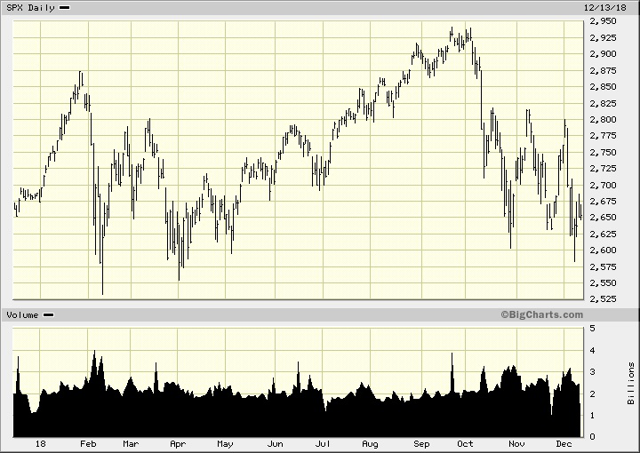 I believe this will be short-lived, and fundamentally negative issues (slowing housing, slowing economy, EM weakness, Europe weakness, and so on), combined with longer-term pessimism, will prevail and cause a crash of the S&P 500 deep below 2,600 rather soon. If the vast majority of CEOs, and major investors, believe that the end of 2019 will not be rosy, they do not wait until the end of 2019 to act upon their conviction. They act much sooner by either selling or at least not buying.
Disclosure: I/we have no positions in any stocks mentioned, and no plans to initiate any positions within the next 72 hours. I wrote this article myself, and it expresses my own opinions. I am not receiving compensation for it (other than from Seeking Alpha). I have no business relationship with any company whose stock is mentioned in this article.