I'm running a little bit late on the November portfolio review. Sorry about that. With the holidays, some bad weather, and basketball season starting up at the local high school, I've been busier than normal. However, now that things have calmed down a bit, I had some time to sit down and re-cap last month's events.
November was a pretty slow month in terms of trades. I only made 3, which are outlined below. For the most part, I was sitting, watching, and waiting for my valuation targets in the market to hit as the major averages sold off. In December, I've already been much more active as high quality names cross below my target thresholds.
Unfortunately, my portfolio underperformed the broader market during November. The market sold off strongly in October, yet several of my biggest holdings, namely Apple (AAPL) and Nvidia (NVDA), apparently decided to wait until November to begin their sell-offs.
This is the first month that I've underperformed the market since I began writing these monthly updates, but thankfully I don't manage with month to month performance in mind anyway, so I haven't lost any sleep over it. My portfolio gained 0.28% on the month while the SPY grew by 1.79%.
With that being said, thus far throughout December I'm beating the broad market indexes once again, so with any hope, November's underperformance will turn out to be an aberration. Looking at the broader picture, I believe I'm well positioned at this point to outperform the broader market on the year as well. If this comes to pass, it will be the 6th year out of the last 8 that my portfolio's performance has beaten that of the S&P 500 (SPY). Here's to hoping!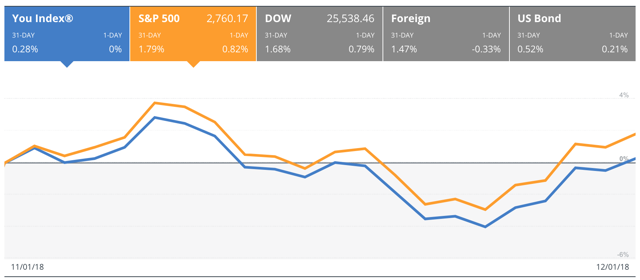 Source: Personal Capital
Monthly Activity
On November 14th, I added to my Apple stake. Even though shares were down ~20% at the time, AAPL was still my largest holding by far. Even so, I decided to add to the heavily overweight position because of my belief that AAPL shares will continue to be some of the best equity assets that dividend growth investors can hold over the long term. Throughout November (and thus far during December as well) there have been copious warnings regarding iPhone shipment slowdowns. Today, leading Apple analyst Ming-Chi Kuo of TF International Securities, who is widely regarded as one of, if not the most, influential AAPL analysts of Wall Street, reduced his estimate for 2018 and 2019 iPhone shipments. The title of his research piece, "2019 iPhone shipments will be less than 190m units" says it all. This figure is well below the current average analyst estimate for iPhone shipments of ~212M for 2019. I obviously don't like seeing negative headlines out there about my largest holding, but at the end of the day, even if AAPL only ships 190M phones, it will still be massively profitable. I think a lot of this phone weakness is priced into the shares that have continued to sell off past my most recent purchase at $186.50. Right now, AAPL shares are trading for ~$168/share. At these levels, they're priced with a TTM P/E multiple below 14x and a ~12.5x forward EPS multiple based upon the average analyst estimate for 2019 EPS. I'm not concerned at all about this sell-off. If shares dip below $160, I will likely add again. Shares yield more than 1.7% at the moment, and I wholeheartedly expect to see high single-digit/double-digit dividend growth for years to come.
To raise cash for this AAPL purchase, I sold my Thor Industries (THO) shares. I hated doing this because I sold THO at a loss, but I was disappointed with the recent earnings report and dividend increase. THO seems incredibly cheap at the moment and I still believe that this company is the leader in its industry, but I also worry that this industry is facing unforeseen headwinds. I decided to part ways with THO at $68.24, locking in 23% losses. I will use these losses to partially offset other gains that I've locked in throughout 2018 for tax purposes. Although this isn't much of a consolation prize, THO shares have continued their sell-off since my sale. Today, they're trading at $55.41, so my selling when I did theoretically saved myself some money. It's rare that I lock in losses. Typically, I'd much rather sell a winner to fund a purchase of a beaten down high quality name (buy low and sell high). However, with so much volatility in the markets lately, I've decided to focus on the most reliable yields and the highest quality companies that I follow. I'm worried about a bear market looming on the horizon and I think it makes sense to take steps to shore up the quality of one's portfolio in times like this.
On November 15th, I decided to take profits on the Bristol-Myers Squibb (BMY) shares that I bought at the end of October. I've written about my BMY trades extensively here at Seeking Alpha. I've made a lot of money trading this company's shares and thankfully this go-around resulted in profits as well. Typically, I've bought shares around $50 and then sold above $60. However, this time I was able to buy shares around $47 and when they shot up to $53 in just a few weeks, I decided not to be greedy and sell some shares. This sale wasn't really based upon fundamentals or anything particular that I saw in the charts. I just knew that we're operating in a choppy market environment and it's probably best to take profits when you can get them in your trading positions. So, at $53.20, I locked in ~11% profits. I'm still long BMY; I didn't sell my entire position, just the shares that I purchased most recently. I still think the company could go higher, but since BMY isn't much of a dividend growth company (it just gave investors another token $0.01/share raise of the quarterly dividend), I was happy to take my gains. This low single-digit dividend growth isn't enough to keep me in the shares long term. This is why I trade them. If BMY dips back below $50, I'll probably start the process all over again.
Dividend Growth
Yet again, November was a great month for me in terms of dividend growth. I am another step closer to financial freedom now and it feels wonderful. This is my favorite part about running a dividend growth portfolio. My focus on passive income allows me to experience joy during otherwise tumultuous times in the market.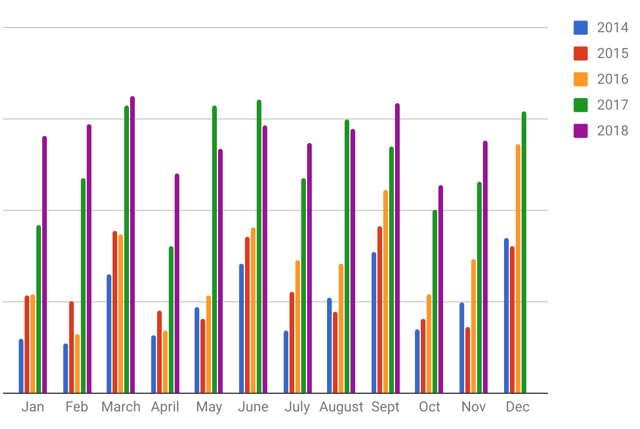 As you can see on the chart above, my November dividend income came in well above 2017's figure. This month my portfolio generated y/y dividend growth of 19.28%. Thus far year to date, my portfolio has generated dividend growth of 11.31% relative to the first 11 months of 2017. Looking ahead and factoring in expected income in December, my 2018 annual dividend growth should be roughly 12%.
This meets my goals of double-digit annual dividend growth. What I'm most proud about as we come to the year's end is the fact that I've been able to grow my passive income throughout 2018 while making withdraws from the portfolio. A combination of income minded active management and the shareholder return benefits of tax reform has allowed for this to happen. It's comforting to see that I can take the reins and achieve my goals in a more active fashion if I need to. This gives me confidence that I will be able to continue my double-digit annual dividend growth trajectory long term. My wife will graduate in the spring of 2019, and once she's working again, we'll be able to start adding new money to the portfolio (for the first time in over 2 years). Once additional cash flows are being added on a regular basis, we'll be able to super charge the compounding process.
Disclosure: I am/we are long AAPL, BMY, NVDA. I wrote this article myself, and it expresses my own opinions. I am not receiving compensation for it (other than from Seeking Alpha). I have no business relationship with any company whose stock is mentioned in this article.