"Bull markets are born on pessimism, grown on skepticism, mature on optimism and die on euphoria." - Sir John Templeton
The stock market has had plenty of trouble trying to break out of its fourth-quarter funk. Commentary rages on as to the whys and wherefores. No need to go over the list, anyone that has been involved in the market now has all of the issues embedded somewhere in their memory banks.
When investors face a corrective phase in the stock market, the first thought that comes to mind is this is the end of the bull market. The price pattern is bearish and the background news emphasizes all of the negatives. Corrections are part of any investment cycle and measuring the indices; the current phase has so far not been especially long or deep.
The S&P 500 index is now down 2.7% on the year, the Dow 2.8% lower, and the Nasdaq is even, but the majority of stocks are in severe downtrends. By some accounts, half of the stocks in the S&P are down at least 20 percent from their highs. Bearish action for sure. Many have already answered the next questions.

Is this a continuation of a topping pattern that started this year or a just a run-of-the-mill rough patch in a bull market? Maybe it is mere sideways consolidation after a big move off the 2016 lows? In what amounts to a two-year time period, the S&P rose 60+% to the January 2018 high. Should the S&P 500 have continued unabated and continued to make new highs without a pause? If so, I'd be hearing about bubbles and overvaluations.
Apparently this is a no-win situation for anyone that isn't selling yet. The market corrects, and a bear market is coming. The market continues to advance and the bubble will burst, ushering in the next bear market.
Savvy investors rarely jump to conclusions, because in all honesty no one has the answer to those questions. Sure, we all have our opinions, some like to make a lot of assumptions when forming those opinions. Others like to let the situation play out, rarely offer speculation, knowing full well how markets work.
Plenty of investors are spoiled now. We could easily say they have been lulled to sleep. So when any turbulence does hit, it is deemed as a critical event. After all, 2017 was a year when any bad news was totally dismissed, and the bears were screaming. If 2017 was among the sturdiest of bull-market years as stocks shook off every excuse to pull back, 2018 has now shaped up to be just the opposite. History does suggest that this type of price action has occurred in the past and isn't so unusual. Markets don't stay "easy" forever.

This is not a market trying to figure out what is going to happen next year. That seems to have already been determined. It's a market mostly driven by fear and emotion. Many are still waiting for that capitulation day when they believe the market will tell them it is all clear, go out and buy stocks. Good luck with that idea. The stock market rarely gives investors what they want. We have seen HUGE reversals in both directions that will drive the best of traders crazy.
The stock market loves to play mind games. So despite what we have heard about protecting portfolios with hedges and playing the short side, this ever present day-to-day whipsaw action we are witnessing is winning the battle of wits now.
Despite all the wild intraday swings in the last week that ended on a down note, the S&P lost 33 points. Sometimes it is better to sit and watch.

Economy
Recession forecasts are everywhere. If it doesn't occur in 2019, we are told most assuredly it will happen in 2020. Growth is forecast to slow down to the 2% range.
Not many are considering a Goldilocks backdrop, the negativity on the economic outlook won't allow that now. But if we look back, history tells us that we muddled along with 1.5% to 2.5% growth for YEARS before the pro-business changes took effect. Since the expansion began in the second half of 2009, there have only been 10 out of 38 quarters where GDP growth exceeded the average level of growth seen at similar points in prior expansions.
During the current expansion, growth has averaged 2.3%. So where are the excesses that recessions are designed to remove?
It surely seems like many people are telling us this time is different.

Macro data does not support the idea that U.S. credit markets are in deep, existential trouble. While somewhat lagging market prices, delinquencies on commercial and industrial loans are not rising; in fact, in Q3 they hit the lowest level since Q3 of 2015.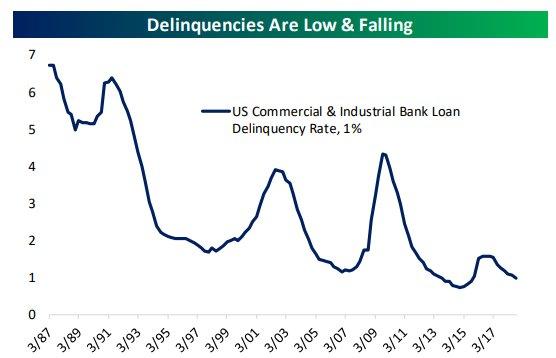 Source: Bespoke
Given the low level of delinquencies on bank loans and their downside momentum, it is odd that pundits are worried about credit performance.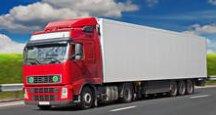 As shown in the chart below, freight volume is at a record, and growth continues to run at a very strong high-single-digit year-over-year pace. Passenger volumes are less cyclically sensitive than freight, but are also growing at a steady pace and are very close to record highs.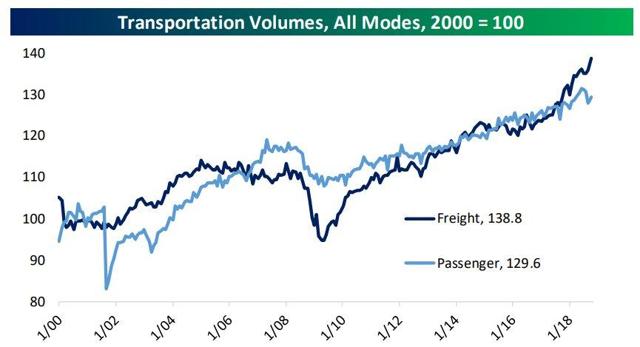 Source: Bespoke
It would not seem plausible that the economy could be on the verge of recession with this kind of remarkably consistent growth in goods transportation.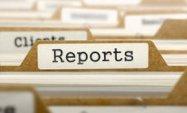 November PPI report revealed slightly stronger-than-expected gains of 0.1% in the headline, and a 0.3% in the core index that left y/y readings of 2.5% and 2.7%.
Small business optimism showed a meaningful pullback in November. While economists were forecasting the headline index to come in at a level of 107.0, the actual reading was 2.2 points lower, making it the weakest report relative to expectations since April and the largest m/m decline since March.
Flash Markit manufacturing PMI fell 1.4 points to 53.9 in December, the lowest since November 2017. It was at 55.1 a year ago. Chris Williamson, Chief Business Economist at IHS Markit:
"The flash PMIs bring signs of the US economy ending 2018 on a softer note. With business activity expanding at the slowest rate for one and a half years, the surveys indicate that the pace of economic growth has faded to 2.0% in December, albeit closer to 2.5% for the fourth quarter as a whole."

"Importantly, although growth remains relatively robust, momentum is being lost and is likely to continue to fade as we move into 2019. New order inflows hit the lowest since April of last year and expectations regarding future business growth have slipped to the lowest for two-and-a-half years."

The October Job Openings and Labor Turnover Survey (JOLTS) came in slightly weaker than expected (7.07 million vs. expectations for 7.1 million). Even with the weaker reading, the labor market remains tight as for the eighth straight month. There were more job openings than workers looking for jobs.

Auto sales, flat yes; roiling over, not just yet.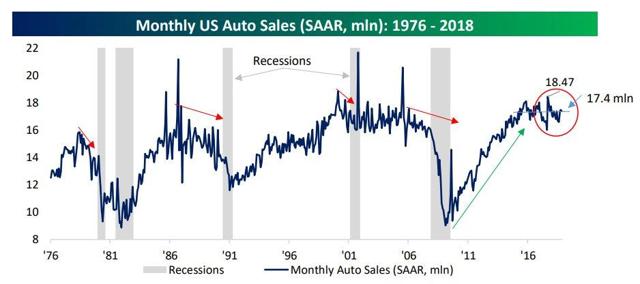 Source: Bespoke
As the graphic shows, this indicator tends to roll over well in advance of a recession.
Global Economy


Eurozone turmoil. In France, President Emmanuel Macron has announced some budget busting concessions in an effort to appease the Yellow Vests protests. As a result, France's budget deficit could reach 3.5% of GDP, which is far higher than Italy's 2.4% deficit. That's unlikely to sit well with Italians who are being pressured by the EU to cut their budget shortfall.
The IHS "Flash " Markit Eurozone Composite PMI fell from 52.7 in November to 51.3 in December, its lowest since November 2014. Chris Williamson, Chief Business Economist at IHS Markit:
"The Eurozone economy saw a disappointing end to 2018, with growth slowing to the weakest for four years. While some of the slowdown reflected disruptions to business and travel arising from the 'yellow vest' protests in France, the weaker picture also reflects growing evidence that the underlying rate of economic growth has slowed across the euro area as a whole."

"Companies are worried about the global economic and political climate, with trade wars and Brexit adding to increased political tensions within the euro area. The surveys also point to further signs that the struggling autos sector continued to act as a drag on the region's economy."
ECB Leaves Rates Unchanged; Will Keep Current Levels Through Summer 2019. They Will End Asset Purchase Program This Month.
German ZEW economic survey was mixed. The index for expectations was not as bad as expected and has been showing some signs of stabilization.

Chinese retail sales were soft, rising by 8.1 percent from a year earlier in November 2018, easing from an increase of 8.6 percent in the previous month, and missing market expectations of 8.8 percent.
Industrial production rose 5.4 percent year-on-year in November, easing from a 5.9 percent growth in October and missing market consensus of 5.9 percent. It was the smallest increase in industrial production since Jan-Feb 2016.

Japan third-quarter GDP shrank at an annual rate of 2.5%, slowest in four years.
Flash Japan Manufacturing PMI increases to 52.4 in December from 52.2 in November. Joe Hayes, Economist at IHS Markit:
"Preliminary PMI data shows that Japan's manufacturing sector closed 2018 with a strong finish. Production expanded solidly in December and at the fastest rate since April. There appears to be no lagged impact on output from the strong contraction in capex spending during Q3. The case for a year-end rebound in GDP looks strong based on PMI data thus far in Q4."

"Survey data does bring some cautious undertones to the fore, however. Export orders declined at the fastest pace in over two years, while total demand picked up only modestly. Confidence also continued to fall, a seventh straight month in which this has now occurred. The prospects heading into 2019 ahead of the sales tax hike still appear skewed to the downside."

In Brexit news, there was a surprise announcement to delay the vote in Parliament. Theresa May is currently on a charm offensive throughout Europe looking to secure any possible concessions to make the deal more palatable to politicians back at home.
EU Commission President Juncker has said, however, that the EU will not renegotiate the agreement that's already been reached, although some "clarifications" are possible.
A sigh of relief for Theresa May, she won her parliamentary confidence vote. She remains England's Prime Minister.

Earnings Observations
FactSet Research Weekly update:
Estimated earnings growth rate for the S&P 500 is 12.8%. If 12.8% is the actual growth rate for the quarter, it will mark the fifth straight quarter of double-digit earnings growth for the index.

Valuation: The forward 12-month P/E ratio for the S&P 500 is 15.1. This P/E ratio is below the 5-year average (16.4) but above the 10-year average (14.6).

Earnings Scorecard: With 3 companies in the S&P 500 reporting actual results for the quarter, 1 S&P 500 company has reported a positive EPS surprise and 2 companies have reported a positive sales surprise.

The Political Scene
The government shutdown debate started again this week and everyone got a glimpse of a discussion between the President and Democrat leaders. Shock, and awe. I even heard some gasps when the reporters rolled out their opinions on the event.
What a surprise the two sides are at odds (sarcasm intended). I wouldn't fear a government shutdown. In fact it might be a good idea to welcome one.
On the trade front, China has suspended future tariff hikes and it removed the additional 25% tariff placed on autos. Corn and soybean purchases from the U.S. will begin anew in January. None of that news was able to offset the continued selling. The herd mentality is in force and, right now, they are net sellers. It also could be the fact that the trade issue isn't the big deal people are making it out to be.

The Fed and Interest Rates
The yield curve is about to invert, and everyone is concerned. Relax. In December 1994, the spread between the 2-year yield and the 10-year moved to a low of 9 basis points, and from that point the S&P rallied some 230% in the next six years. So it is not impossible for stocks to go higher.
It's all about the coming recession now. That is the narrative that fills the notepads of many pundits who insist they have the story correct. Well, maybe they do. I sit around and listen to the many theories and scenarios which are being laid out for us now. It wasn't too long ago (maybe 2-3 weeks) that THE story was the Fed was going to continue to raise rates because it is on a predetermined path. Someone planted that seed and it was the next coming of Jack and the beanstalk. It rose to the sky so fast, investors sold stocks and ran for cover.
Using a tiny bit of common sense might suggest that all of the analysis we have heard on this topic is contradictory. We hear that the economy will weaken and the Fed will be increasing interest rates four times in 2019.
The Fed is on this predetermined path and it will complete its mission. NONSENSE. It was nonsense when we first heard this absurd predetermined story and it's nonsense now. Ironically the villain, Fed Chair Jerome Powell, came out and reiterated what they have said all along. The path they will take on interest rates is data dependent.
I don't expect four rate hikes next year, and see a much less aggressive Fed.

Sentiment
This week's AAII survey saw bullish sentiment plunge. It's now down to 20.9% from 37.9%. That is the lowest reading since May 26, 2016. This was also the third largest week-over -week drop of the current cycle and the largest since mid-November of 2010 when bullish sentiment fell by only half a percentage point more.
From Lipper Research: U.S.-based stock funds post $46 billion outflows in week ended this past Wednesday; and largest withdrawals on record dating to 1992. At prior stock market tops, everyone was rushing into stocks. Either this isn't a market top or this time is different.

Crude Oil
The EIA weekly inventory report showed the second week of declines in the last 11 weeks. U.S. commercial crude oil inventories (excluding those in the Strategic Petroleum Reserve) decreased by 1.2 million barrels from the previous week. At 442 million barrels, U.S. crude oil inventories are about 7%, above the five-year average for this time of year. Total motor gasoline inventories increased by 2.1 million barrels last week and are about 3% above the five-year average for this time of year.
Crude oil traded in a tight range closing the week at $51.17, down $1.47. Traders and investors will continue to look at the $50 level as support.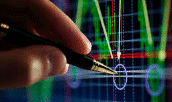 The Technical Picture
Volatility rules now. Since the October top, the S&P 500 has dropped 300, rallied 200, dropped 200, rallied 200, then dropped 200 again, and on and on. These are head-snapping whipsaws. After the initial drop, we have established a 200 point trading range between 2,600 and 2,800.
Great for day traders. But not so great for technicians attempting to uncover an overall pattern. Trying to track this movement with the short-term swings has been a near impossible task. At times this market just seems to bounce between pivots with no identifiable pattern. This leaves the short- to intermediate-term view VERY difficult to forecast.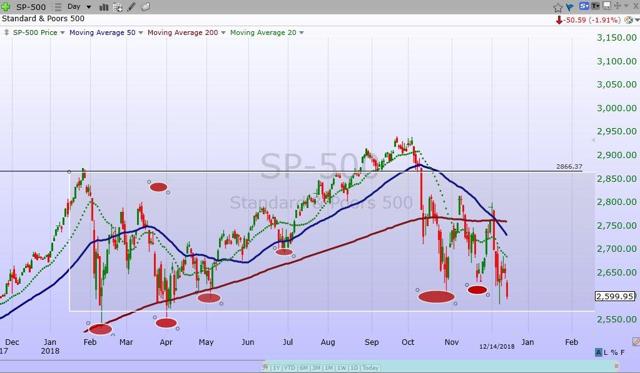 Chart courtesy of FreeStockCharts.com
Despite an undercut low that took the index to an intraday print of 2,583 this week, the index quickly reversed and headed higher. That short quick rally was immediately sold. An intermediate low this week, or just a sign that more selling will follow? Short-term support is at the 2,583 pivot, with resistance at 2,683, which is the descending 20-day moving average (green line). A rather tight range. With all the political problems out there (US, China, Italy, France, and the UK), anything is possible.

There's really not much to like about the chart of the Russell 2000 right now. Of the major U.S. averages, the Russell small cap index was the only one to make a new low on both a closing and intraday basis on Monday.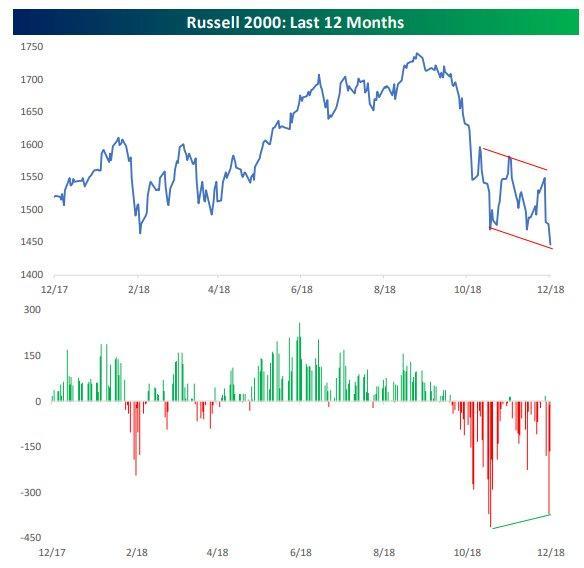 While prices made new lows though, the percentage of stocks making new lows didn't expand any further. It is easy to buy into the idea that the small caps are predicting dire things for the economy and the overall stock market.
We have been down this road before, many positioned themselves for the worst, and then got surprised. Remember the Russell clearly outperformed all indices this year. At the peak, the small cap index was up 28% for the year. The S&P peak gain was 9.6%. That type of out performance often leads to a period of under performance, and that could be the reason why small caps are getting hit hard now.
The same can be said for the Nasdaq composite. It too was up in the neighborhood of 28% this year. It seems the thing to do now to get air time is to pronounce these indices dead, and tell us how they are getting killed. Yet, I never hear the earlier outperformance mentioned. Believe it or not, that has a lot to do with what is happening now.

OK, so the economy is forecast to slow down, we hear that from just about every source now. Slower doesn't does not necessarily mean recession. The price action continues to test the will of investors. As the days go by, many more toss in the towel, move out of stocks and head to the sidelines. The issues are overwhelming most now.
Whatever is happening with the stock market these days, I don't think it has anything to do with earnings. Not so sure it is the trade issue either. We did get headlines that indicated a possible crack in the negotiations with China that was dismissed, and the selling continued. As I have mentioned before, this appears to be a global growth scare similar to 2016.
As an investor, you ALWAYS want to give yourself options. Each has to decide how they want to navigate this difficult market. For myself, I have not raised a mountain of cash. I didn't in 2016 either. I don't possess the "God like" ability that the skeptics seem to have. They seemingly know for SURE that the S&P, and all major indices trading to new all-time highs recently, will now without a doubt breach the February lows.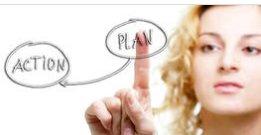 Don't misunderstand me, I am well aware of what the price action and the current technical patterns look like. At the end of 2015 and early 2016, the long-term trend in the S&P looked much worse. Perhaps this market will morph into a situation like that, then roll over, and all of the naysayers will be correct. Anything is possible. If and when that begins to develop, I will deploy the tools and indicators that in my view will tell investors when to start to raise cash, hedge, protect, and finally get outright bearish.
While the S&P is sitting just above the February lows, negative sentiment pervasive and firmly in place, making a decision on how to proceed in the short term gets very tricky. IF and when the test of that low arrives, deciding if it is time to "step in" or realizing that we are indeed going to fall further and enter a bear market will be the biggest quandary for investors going into the end of this year. Then again, many have already made that decision.
It is hard to find anyone that is bullish now, and I do wonder if the words contained in the opening quote regarding how bull markets end will be replaced by "it is different this time." It is always best to take it one day, one week at a time.
Stay tuned, the story gets even more interesting in the days and weeks ahead.

I would also like to take a moment and remind all of the readers of an important issue. In these types of forums, readers bring a host of situations and variables to the table when visiting these articles. Therefore, it is impossible to pinpoint what may be right for each situation. Please keep that in mind when forming your investment strategy.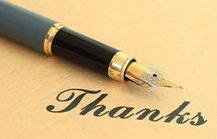 to all of the readers that contribute to this forum to make these articles a better experience for everyone.
Best of Luck to All!
Disclaimer: This article contains my views of the equity market, it reflects the strategy and positioning that is comfortable for me. Of course, it is not suited for everyone, as there are far too many variables. Hopefully it sparks ideas, adds some common sense to the intricate investing process, and makes investors feel more calm, putting them in control.
The opinions rendered here, are just that - opinions - and along with positions can change at any time.
As always I encourage readers to use common sense when it comes to managing any ideas that I decide to share with the community. Nowhere is it implied that any stock should be bought and put away until you die. Periodic reviews are mandatory to adjust to changes in the macro backdrop that will take place over time.