NG Weekly: Buyers Trap Early Week, 4.619s, Before Sell-Side Breakdown Develops To 3.78s
Summary
Buyers trapped early week, 4.619s, within key supply.
Rotation through balance and a subsequent sell-side breakdown developed to 3.78s.
This week's auction saw continued trade around the developing high-volume node, 4.517s, before selling interest drove price lower out of balance.
In this article, we examine the significant weekly order flow and market structure developments driving NG price action.
09-14 December 2018:
As noted in last week's NG Weekly, our primary inference for this week's auction was for continued development of balance. This probability path played out early week as narrowing balance developed this week around the high-volume node, 4.517s, (8k contracts) before selling interest drove price lower out of balance to 3.78s.
This week's auction saw narrow, two-sided trade in Monday's auction near last week's settlement before buying interest emerged, 4.619s, into Monday's NY close. This buying interest failed to drive price higher above the key supply cluster, 4.550s-4.700s, providing indication of potential price discovery lower. With buyers trapped at the weekly high, price discovery lower ensued through Tuesday's auction, trading toward key support, 4.23s, early into Wednesday.
Buyers failed to hold support at 4.348s as a sell-side breakdown ensued. Price discovery lower developed early into Thursday's auction, achieving a stopping point, 4.05s. Low volume buying interest halted the sell-side auction, developing balance, 4.05s-4.307s, through Thursday's EIA release (-77 bcf vs. -84 bcf expected). Buyers again trapped on the uptick, 4.259s, into Thursday's NY close before the sell-side phase resumed. Sell-side continuation developed through 4.05s early in Friday's auction, driving price lower achieving the stopping point low, 3.78s, as large selling interest emerged there ahead of Friday's close, settling at 3.79s.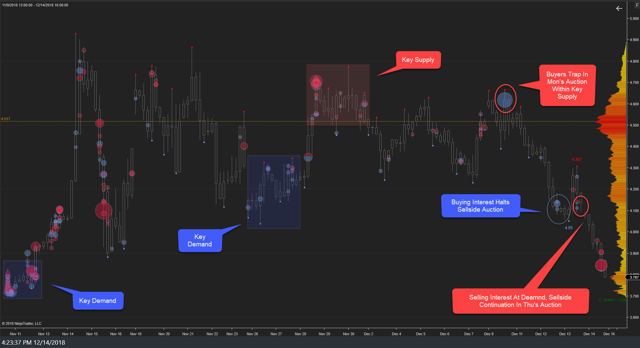 NinjaTrader
As expected, balance development continued early week around the high-volume node, 4.517s, but was followed by a sell-side directional phase out of the upper balance area. June 2014's key supply thus far has held.
Looking ahead, the near-term bias (2-4 week) has now shifted sell-side. The high-volume node, 4.517s, of 8k contracts and this week's early trapping of large buyers at key supply were the structural and order flow catalysts for sell-side price discovery out of balance. The market has entered its next near-term directional phase. From a structural perspective, the highest probability path near-term (2-4 week) is sell-side barring new buy-side order flow and structural developments. It is worth noting that NG's recent parabolic move higher from 3.40 to 4.80 has now begun retracement back toward the starting point of the move (as all parabolic moves do).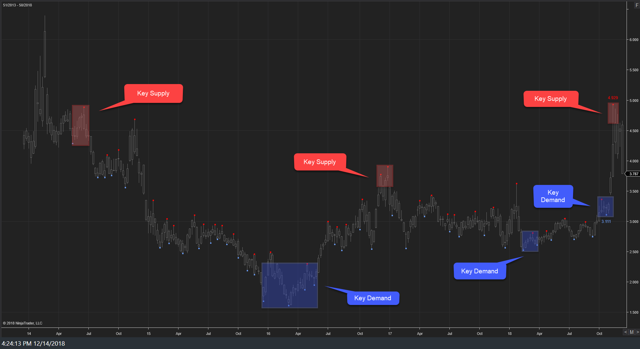 NinjaTrader
It is worth noting that based on the Commitments of Traders report, Open Interest (OI) was largely unchanged this week (1.33 million contracts) as the deleveraging trend appears to have paused. Additionally, the Managed Money (MM) net long position decreased modestly (222k contracts) at/near twelve-year highs. MM short posture increased modestly (-43k contracts), near eleven-year lows. The MM short posture trend remains to the downside as the Long:Short Ratio decreased modestly to 6.12 near a twelve-year high. This data continues to provide evidence of herding within the MM participants. The market has failed at the June 2014 supply. Based on the empirical data, it cannot be argued that this buy-side activity has been the result of short covering inventory adjustment. Quite literally, there are virtually no MM shorts in the market before or during the recent buy-side imbalance. It is likely that recent hedge fund distress (redemption and forced liquidation for margin calls) in the equity and crude spaces may have created contagion effect in NG. While the market structure remains buy-side in the intermediate term (3-6 month), the near-term bias (2-4 week) has shifted sell-side. As expected, the buy-side did encounter headwinds at 2014 major structural resistance.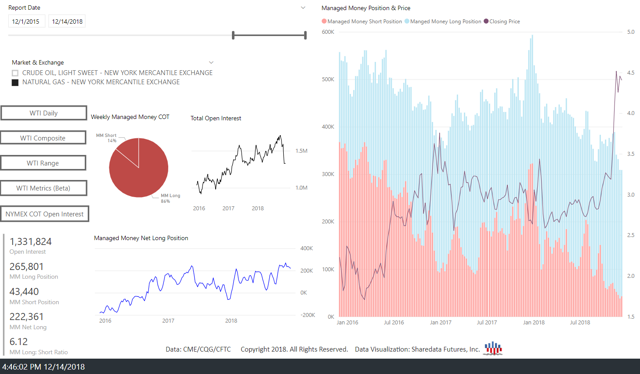 The market structure, order flow, and leveraged capital posture provide the empirical evidence needed to observe where asymmetric opportunity resides.
Disclosure: I/we have no positions in any stocks mentioned, and no plans to initiate any positions within the next 72 hours. I wrote this article myself, and it expresses my own opinions. I am not receiving compensation for it (other than from Seeking Alpha). I have no business relationship with any company whose stock is mentioned in this article.