Part 3 of the stock dump series starts here, with today's focus on Nvidia (NASDAQ:NVDA) (see part 1, The Micron Dump (MU) and part 2 The Netflix Dump (NFLX)).
Again, these articles are designed to help show a multidisciplinary approach to stock trading, investing, and position management. Let's jump right in.
It all started in June when the crypto market cracked and was down over 60%. There were numerous analysts at the time who tried to claim this would not impact the semi space. I took a different view, especially given what we were seeing with the broken trendline in the semiconductor index.
Readers of my work know I like to look for intra-market relationships vs. strict fundamental narratives. In Micron's case it was the auto index that was diverging dramatically, and in Netflix' case, the high-yield bond index was a bigger driver.
In Nvidia's case, it was clear to me that crypto and semis were much more linked than consensus believed.
July 30, 2018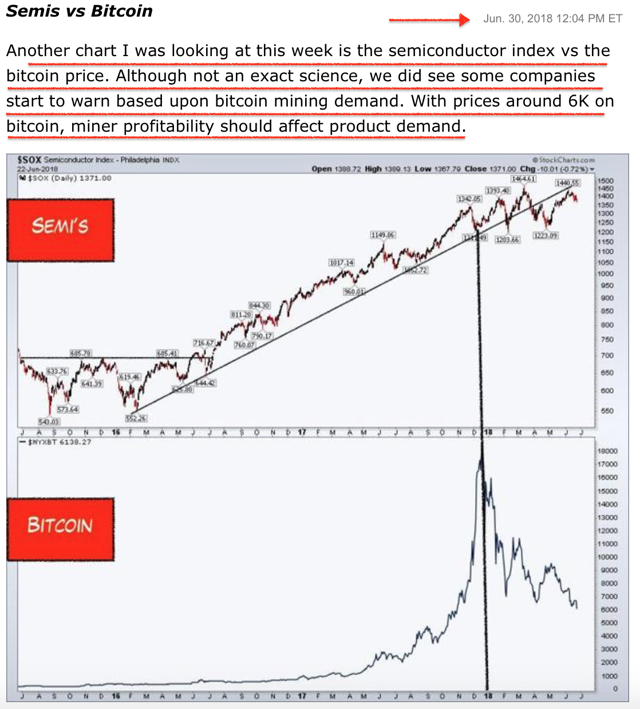 I also took a look at Nvidia which showed numerous technical concerns in the summer. Note both the RSI and volume divergences on a weekly basis, particularly in the context of the two-year return.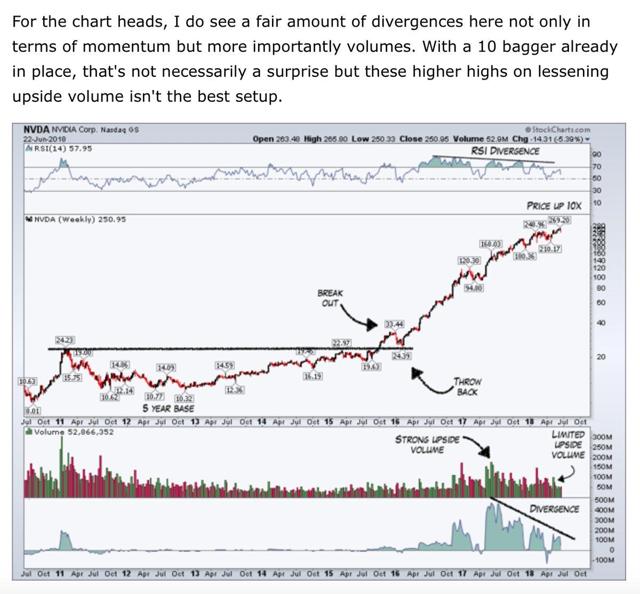 But just because a weekly chart is diverging, that doesn't necessarily mean a trade is set up. It would take months, in fact all the way to October before a meaningful level to break setup.
Oct. 18
On Oct. 18 we finally got a setup that was actionable. This was a combo of the above weekly chart and then a defined level that would certainly cause trouble if broken.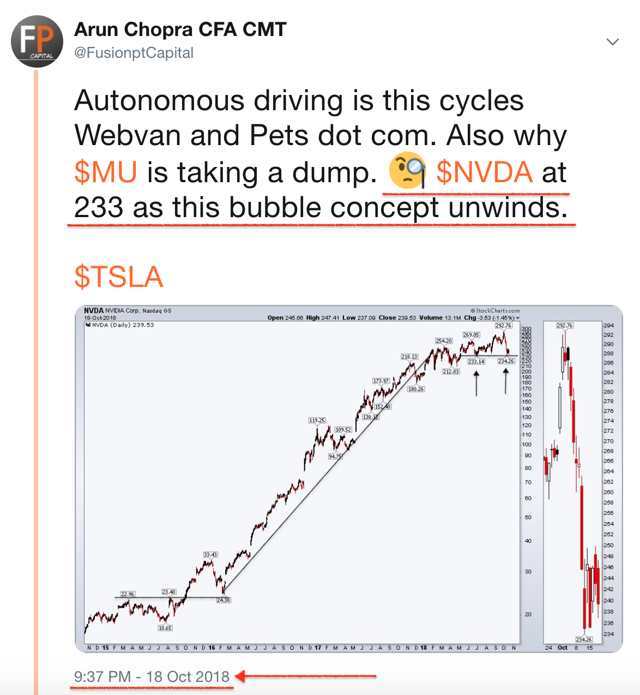 Oct. 24
Four days later on Oct. 24, price not only had broken 233, but I made an important comment about how quickly momentum can unwind.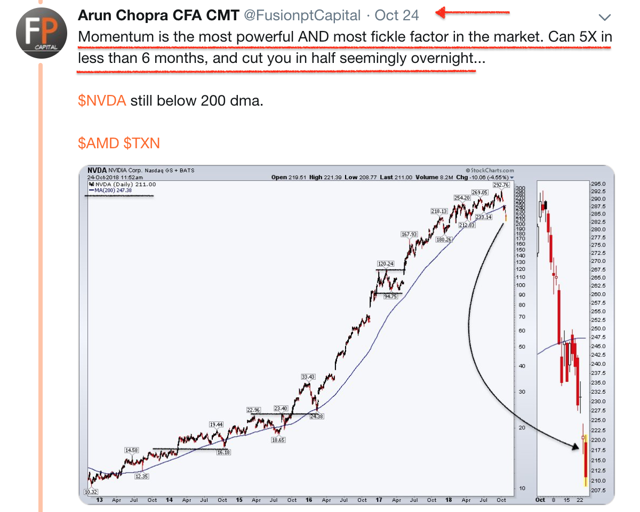 Oct. 29
Over the next five days price would continue to drop. Many claim the charts have nothing to do with this, and although to some extent I agree, it's the combination of valuation, momentum waning, prior returns, and then a defined level that leaves everyone running for the exits.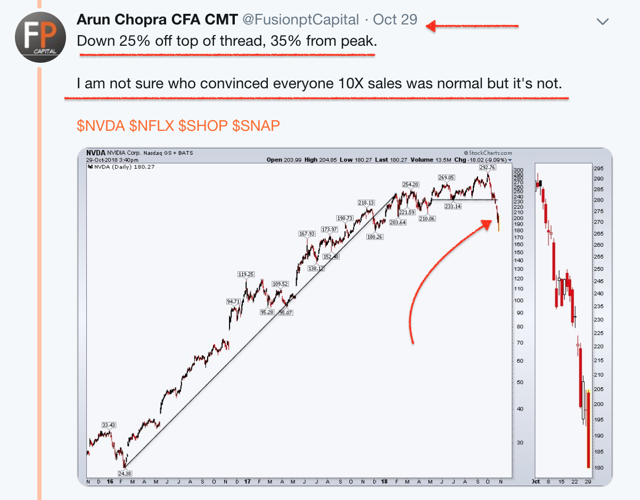 I know many will take issue with all the narratives I throw out in my tweets. I get that Seeking Alpha readers are focused on investing, and that any contrary information to their long run views is often challenged.
That's fair, but the path between an investment theme working and equity pricing can be extremely volatile. Further, with Nvidia, it was so expensive that anything was ready to knock it over. I've seen readers get frustrated as to what I ascribe to the decline, but risk is risk. All one has to know if when it's elevated, and if there's a trade setup.
Nov. 2
On Nov. 2, here's what Tesla's (TSLA) Elon Musk said in an interview with respect to autonomous vehicles. You can clearly see the micro issues vs the macro needs of the product.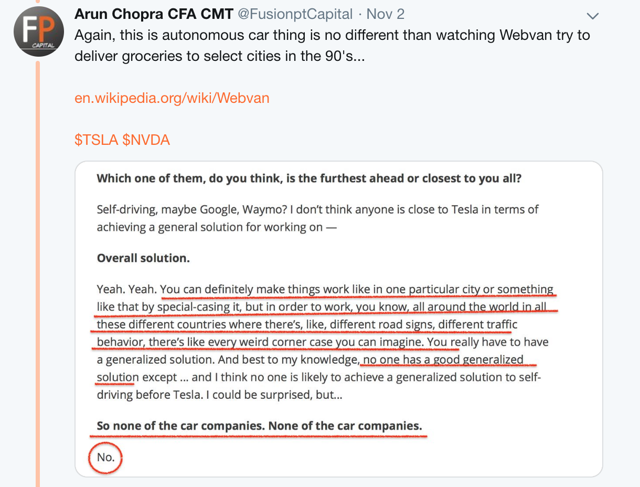 On Nov. 13, Steve Wozniak echoed these concepts, and if anything took it a step further.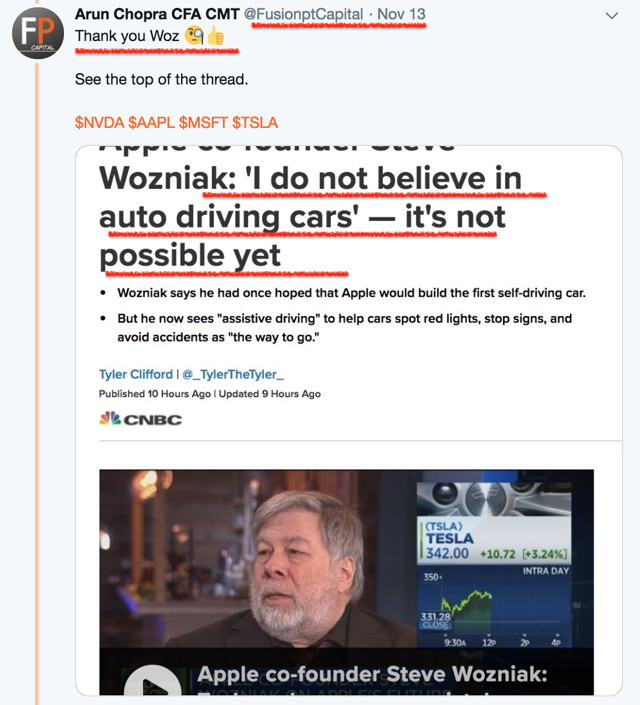 But stepping back to the valuation argument, at the time I commented that the valuation was still absurd.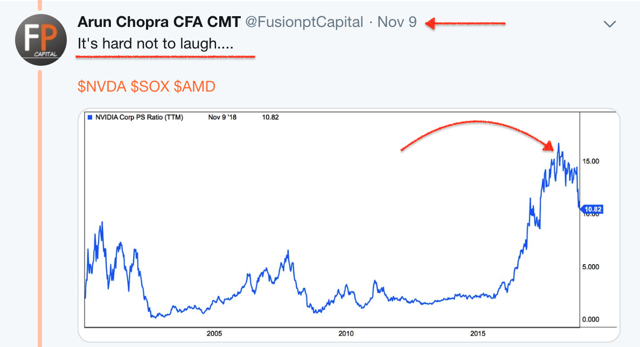 Nov. 15
On the 15th, sure enough we saw not only a miss on the topline, but the company guided lower. Basically a double whammy for a momentum name.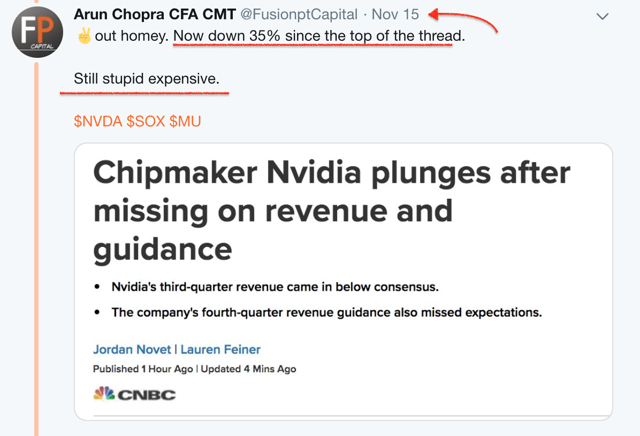 I made the simple point that it wasn't some sort of skill that led the price higher, it was simply momentum, and in my view driven by assets like Bitcoin, which once they corrected, set the stage for the bigger Nvidia decline (see intra-market). This is effectively the old adage don't confuse brains for a bull market.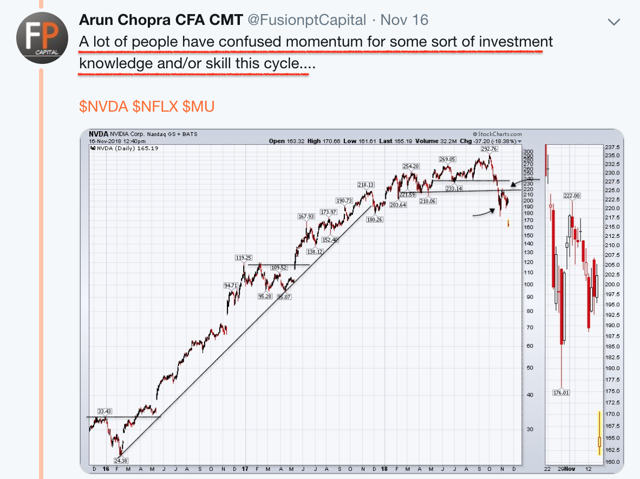 November 16th
The next day, I walked back through this divergence and intramarket concept as the gap between Nvidia and Bitcoin closed. Again, my points here were simple, ignoring these relationships (which are best expressed through charts) can be extremely damaging, especially with high flyers (yes we can debate the earnings report and what percent was crypto related, etc).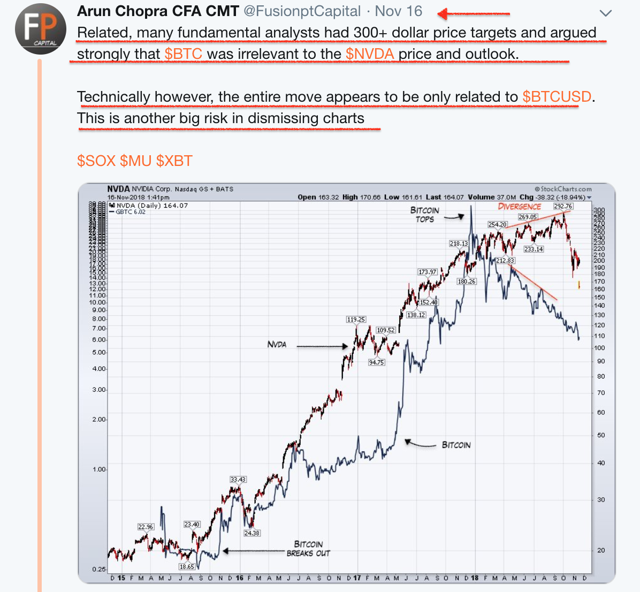 Nov. 23
Once the dust settled I made this simple point about the markets. Essentially a 50% decline in six weeks, which is exactly how momentum unwinds.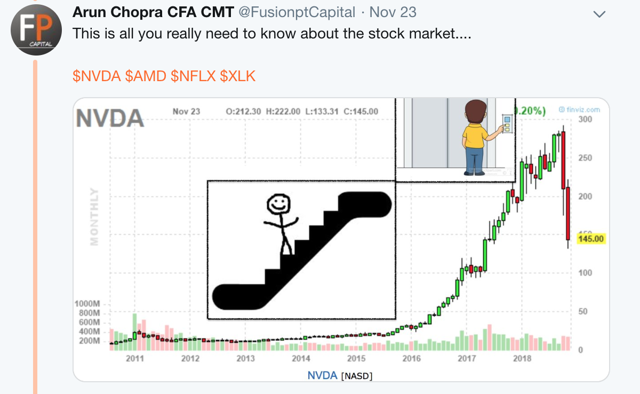 And lastly, the reality of valuation hit, with a full round trip in Nvidia's PE ratio.
Conclusion:
The Nvidia short was a combination of the following:
An initial 10X move in price, tripling of the PE, and a peak P/S of over 15
The BTC and Sox divergence in the summer of 2018
RSI and volume divergences on the weekly Nvidia chart, summer 2018
October, defined level at 233 opens up on the daily chart as clear support level (to break)
Pure momentum drawdown of over 50% coupled with a miss on both the top and bottom line
Today we see a full round trip in the PE ratio.
While the price to sales ratio has been cut in more than half...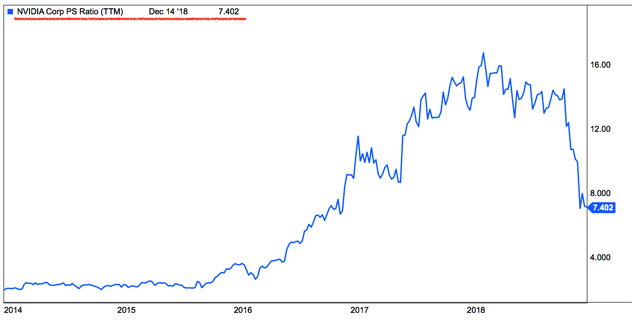 And interestingly enough, it appears SoftBank (OTCPK:SFTBY) is now ready to sell the shares..

Thanks for reading.