In a frustrating week for stocks in general, MLPs finished positive and midstream outperformed again. Over the last two weeks, MLPs are down 1.1% and midstream is down 2.5% compared with a 5.8% decline in the S&P 500. Utilities are up 1.7% over those same two weeks.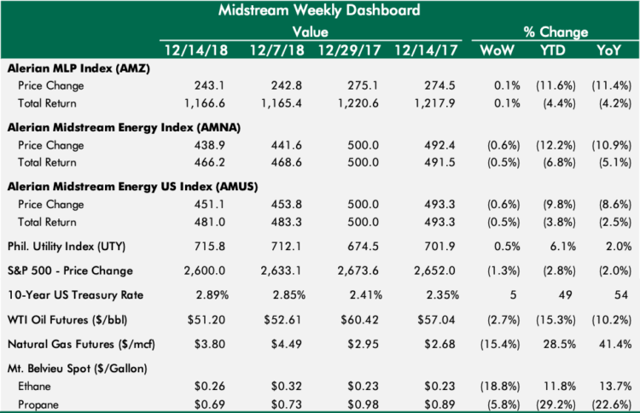 Two zombie MLPs will put out of their misery next week when SEP and EEP buy-in transactions close. When combined with the methodology change at Alerian and a volatile U.S. stock market should drive some wild action over these last 10 trading days of the year.
Why We Can't Have Nice Things
Articles circulated this week about how electric scooters (belonging to scooter-sharing companies with cool names like Bird and Lime) were being thrown into lakes and rivers by vandals in various cities around the country, cutting into the profit margin of the companies who have to fish them out and refurbish them before they can be used again.
Midstream stocks right now have a similar challenge if the broad equity market continues to sell off. They may be positioned to outperform after years of clean-up and a return of strong fundamental backdrop, and yet they may not work because they are thrown into a broad stock market lake of pain like we've had these last few months.
Reset the Board to Zero
Around this time last year, we published a paper on distribution cuts and the large loss of income MLP investors had experienced since 2014. We noted that we expected to see further backdoor and outrights cuts in 2018. The big ones we felt the market needed to get through before retail investors would show interest again were ETP and BPL. Both of those have happened, and several others happened too. But there is another very old MLP with heavy retail ownership that wasn't top of mind at the beginning of the year, but now appears to be readying for a cut: Amerigas (NYSE:APU).
A wizened sell-side MLP analyst who has seen a few cycles told me he believes retail investors will return 2 years after the last MLP distribution cut. Well, if that's the case, we'll need to reset the clock and look forward to 2021 before retail investors return en masse.
Most distribution cuts since 2014 resulted from some commodity price-related part of an MLP's base business drying up, or because of bad acquisitions, IDRs siphoning off too much cash, low project returns, or because capital markets were closed.
Amerigas is an interesting case, however, in that it is generally thought of as a conservative MLP with a natural gas utility for a sponsor and a low IDR take. APU didn't stray from its core business (like FGP did, leading to its demise). APU probably would have been in this position of contemplating a distribution cut even if MLPs hadn't experienced a massive downturn in their stock prices since 2014.
Maybe if MLP valuations had remained at 2014 levels, APU could have reduced leverage by issuing equity at a high enough price to stave off a distribution cut for a few more years. But, like the saying goes, when the tide goes out, you see who is swimming naked, and the fundamental headwinds in the propane distribution sector have been brutal, with warm winters and customer losses as cheap alternatives take greater market share.
It's easy to look at this final cut as just another in a long line of them, but it was different and is some of the best proof yet that it was only a matter of time - not oil prices - before the old MLP model was exposed as unsustainable.
The chaos for APU's stock price and pain for investors of APU is coinciding with propane distribution MLPs losing their standing within the Alerian MLP Index. APU and SPH will be removed this Friday. When back-casted index performance data for the Alerian MLP Index starts (year-end 1995), there are only 12 MLPs in the index, and APU is the largest weight in the index at 18%. Kinder Morgan's (NYSE:KMI) predecessor was less than 3%; EPD wasn't even public yet. The MLP sector that KMP and EPD expanded was built on the back of stocks like APU. It feels like closure for my grandfather's MLP sector.
Winners & Losers
ENBL led all MLPs by a wide margin this week. ENBL and the others in the top 5 all stand to benefit from the pending index rebalance on the back of the Alerian methodology change, like the top 5 last week.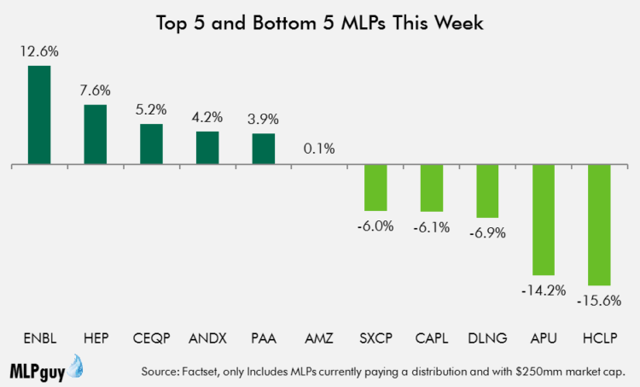 For a second straight week, HCLP, APU and DLNG were again the worst performing MLPs this week. ANDX went from bottom 5 to top 5 week over week. With just a few days left in the year, the YTD leaderboard is pretty set. I think we're all ready for a clean slate and fresh start in a few weeks.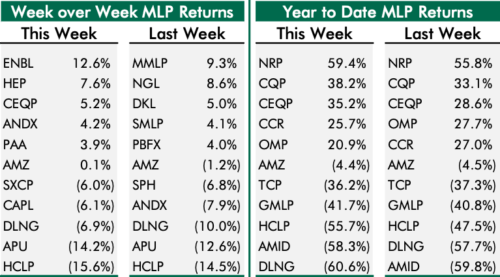 General Partners and Midstream Corporations
ALTM rallied hard this week, and even with a 7.6% decline Friday, it finished up 11% this week. Several others in the midstream corporation group were positive as well, although not nearly as many as there were in the MLP group. ETRN was near the bottom, likely impacted by the open letter sent to its conflicts committee this week, and also likely impacted by natural gas prices.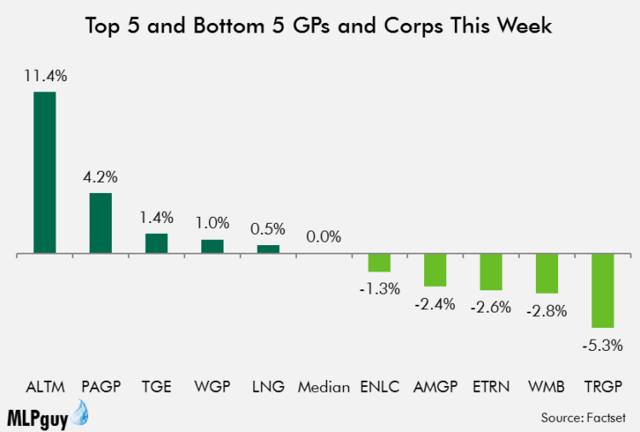 ALTM, WGP-OLD and TGE repeated in the top 5. Those three have less exposure to broad market index selling relative to some of the larger midstream corporations that are passive owned across many broad market indexes. TRGP was the worst performer in the group, but WMB was near the bottom for a second straight week.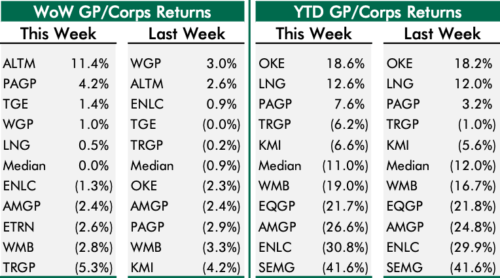 Canadian Midstream
Canadian midstream traded within a tighter band and with lower volatility that U.S. midstream, as we've come to expect. Pembina (NYSE:PBA) was the leader, although ENB was ahead of the group most of the week until the last few minutes Friday when ENB sold off.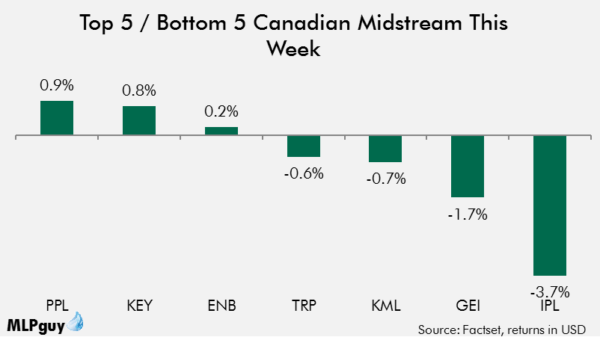 TRP underperformed ENB and Pembina, but Inter Pipeline (OTCPK:IPPLF) was the worst performer, and its relative weakness was bad enough to land it in the bottom spot on the YTD leaderboard.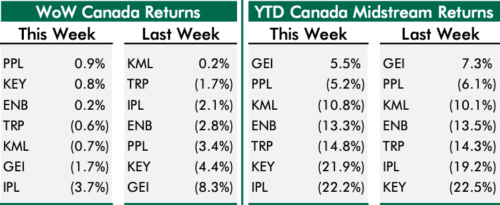 News of the (Midstream) World
Clean-up in midstream deals continues, with the ENB buyouts closing and with ENLK setting date for its merger vote. Some deals remain uncertain, with angry investors of EQM voicing their displeasure with the raw deal announced a few weeks ago. Beyond that, news was light, with some small transactions and official announcements of growth projects already known.
Capital Markets
Growth Projects / M&A
EnLink (ENLC/ENLK) announced date for special meeting of ENLK unitholders of 1/23/2019, where the vote for the merger between ENLC and ENLK will be considered (press release)

Closing of the merger is expected to occur shortly thereafter by the end of January
Hess Infrastructure Partners (HIP) announced acquisition of Bakken Water business from Hess Corp. (NYSE:HES) for $225mm (press release)

Includes substantially all of Hess' Bakken produced water-gathering assets and saltwater disposal services in North Dakota, which currently consist of over 150 miles of water gathering pipelines capturing 24,000 bbls/d of produced water
USD Partners (NYSE:USDP) announced new contract supporting new pipeline connection and additional storage capacity at Casper Terminal (press release)

USDP will construct an outbound pipeline to connect its Casper terminal to the Express Pipeline

USDP expects to spend $16mm on the new pipeline and tank and expects 3-5x EBITDA multiple on the investment
Enbridge (ENB-CA) announced C$1.8bn of new accretive capital investments at its analyst day

C$600mm for a 22.85% interest in Gray Oak Pipeline

Phillips 66 Partners (NYSE:PSXP) confirmed its stake was reduced to 48.75% following the acquisition

C$265mm for acquiring Cheecham Terminal & Pipelines from Athabasca Oil Corp. (OTCPK:ATHOF)

C$800mm on four gas transmission expansion projects coming into service in the 2020-2023 timeframe
Ferrellgas Partners (NYSE:FGP) announced acquisition of Co-Op Butane Inc. (press release)

A judge in Pennsylvania rejected petition to shut down operation of the Mariner East Pipelines owned by Energy Transfer (Reuters)
Other
Alerian announced results of quarterly index review (press release) to be implemented next Friday (12/21), including the following changes:

Alerian MLP Index (AMZ) - 15 additions, 10 removals

Alerian Midstream Energy (AMNA) and Alerian US Midstream Energy (AMUS) Indexes: ALTM and ETRN added

Alerian MLP Infrastructure Index (AMZI): no changes
Investment manager HITE Hedge published open letter to EQM conflict committee urging the committee to reject the IDR buyout offer (press release)

The letter cites the large (30%) premium paid and the dilution forced onto EQM, among other issues
Summit Midstream (NYSE:SMLP) announced Matthew Harrison, EVP and CFO, will be departing the company to pursue other interests (press release)

Marc Stratton, former Treasurer and Head of IR, will take over Harrison's roles effective immediately