I've given plenty of analysis on company-specific REIT opportunities on Seeking Alpha, highlighting several of my favorite plays publicly (RPT Realty (RPT) as a recent example). Today, I'm going to put on a different hat: we're going to talk macro. Macroeconomic trends and sector-wide valuations play a large part in every trade I make and while I include broader thoughts in bottom-up research notes on REITs, trends in commercial property deserve its own dive. What I'm going to hit today is what drives publicly-traded REIT benchmark performance and, perhaps most importantly, what the environment looks like today going forward. My hope here is that this data helps explain why the market has acted like it has towards certain subsectors of property and how investors can best position themselves in 2019 and beyond.
Driving Forces Behind Returns
I've stressed often in my research work how important net asset value ("NAV") is for equity REIT valuations. In other words, the value of a REIT is closely linked to the value of its commercial real estate ("CRE") – not on funds from operations ("FFO") multiples or other measures of earnings power. To stress this, the below plots the annual return of REITs versus trailing twelve-month commercial property returns. Readers can find the underlying data sourcing below: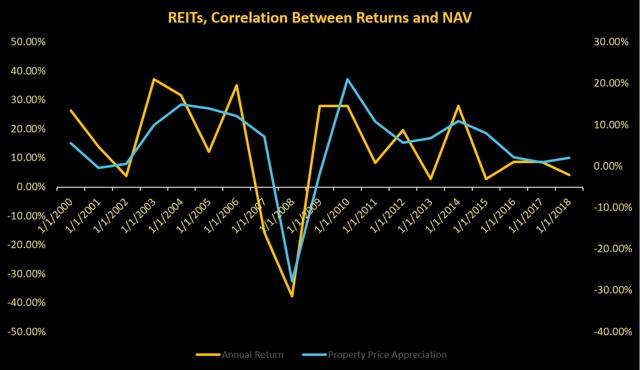 *Source: Author-created graphic
It is pretty clear that you want to own commercial property in an environment where properties are appreciating in value. While that appears to be pretty much common sense, plenty of investors have shunned that line of thinking, buying into distressed property types (malls, strip centers, senior housing) that have seen declines in valuations over the past year. Buying into that weakness generally does not have a quick payoff, yet we have seen Seeking Alpha contributors recommend this time and again (CBL & Associates (CBL), Washington Prime (WPG), New Senior (SNR), Omega Healthcare (OHI), Ventas (VTR), etc.).
I can understand the temptation; 2018 has been characterized by momentum-driven selling, a situation which can be self-perpetuating: no one wants to buy into weakness because they know it has been punished in the past. While this can create value disconnects, in my view it has to be grounded in public/private market valuation dislocations. Given a lot of times the common equity portion of the capital structure is just 20% (or less) of the overall valuation, I think investors sometimes underestimate on how small shifts in valuation assumptions can dramatically impact the NAV.
Take, for instance, a made-up company "Michael Boyd Real Estate". The company traded at NAV coming into 2018 with $4B of debt and $1B of common equity. The underlying value of the real estate owned declines 10%. Ouch! That means overall asset value declines to $4.5B; the common stock falls 50% ($4B in debt, equity now worth $0.5B). That looks like an overly aggressive move to the downside but it's an accurate reflection of the business.
By buying just on funds from operations ("FFO") multiples or cash yields, investors are trying to sit on a one-legged stool. It isn't a grounded foundation. So what drives commercial property appreciation? A couple of factors:
Income-producing potential. Investors have to be rewarded above the risk-free rate to generate income.

Access to liquidity. Lenders and creditors have to be willing to lend on favorable terms.

Future outlook. Where does the subsector of real estate stand in regards to sector specific cycle trends.
All three factors have to be there for strong appreciation. Income tends to be readily recognized by most investors but the latter two are much less appreciated. I think clearly the liquidity is there for all but the most distressed operators but there is perhaps been little credence given to the market's outlook on the future. Green Street Advisors, well respected in the commercial property space, views the majority of commercial property types as being in the later stages of the economic cycle: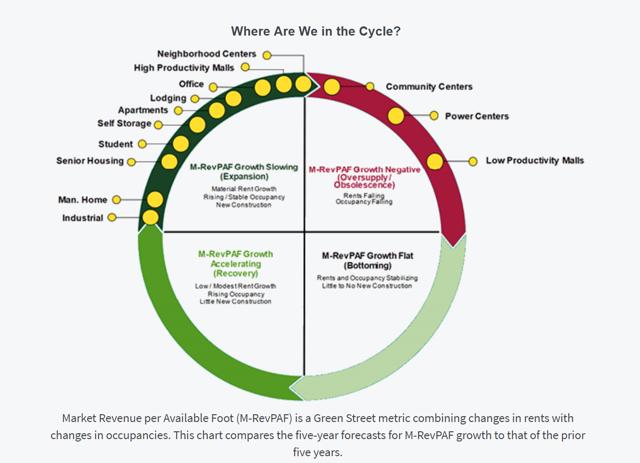 *Green Street Advisors, Commercial Real Estate Outlook
That runs somewhat counter to the Federal Reserve given their view that economic growth continues to accelerate and that rates need to be hiked. The pace and size of rate hikes is a major discussion, but in any case (small or large), upward movement in interest rates remain a major concern for many investors. This hits property valuations on two fronts: higher-demanded cap rates (demanded risk premium) and higher borrowing costs (all else equal, prices have to come down). Given that, there is a preponderance to not want to own REITs into a rising rate environment, however:
Rising rates and higher commercial property prices are not mutually exclusive. Between January 2004 and December 2007, 1M LIBOR rates rose from 1.1% to 5.2%. REITs returned 29% per year as commercial property prices skyrocketed.

The current 10yr Treasury has been under pressure anyway as the yield curve flattens (currently just 15bps on the 10-2 spread). I don't expect much upward movement in demanded rates in 2019 and am bullish on the 10yr Treasury above 3% yield.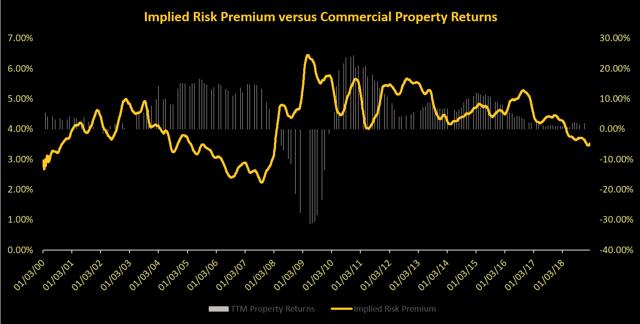 *Source: Author-created graphic
Data provider Trepp recently put out some excellent data on the 15 largest metropolitan statistical areas ("MSAs") and their average cap rates over the past several decades. Using the 10yr Treasury as a proxy, investors can back into the demanded risk premium for the average commercial property within these MSAs. Investors have typically demanded 125-175bps of premium over corporate bonds to make a commercial property investment. In other words, bonds occupy the risk spectrum in between Treasuries and CRE.
Ever since 2009, cap rates on properties have been strengthening (prices increasing faster than rents). That is a great trend to own REITs into and if 2003-2008 are any indication there is some room for property prices to continue to firm up. However, the deceleration annual price appreciation should bring some pause. We've seen this before (2004) and it is a trend that can reverse. See this analyst quote from this old article from that time period, " Will Rising Rates Raze REITs":
Real estate funds have pulled back about 15 percent since early April and therefore they're certainly cheaper than they were six weeks ago. However, after several years of rallying REITs were already trading at pretty lofty levels before the pullback.
That comment did not age well; REITs finished 2004 up 31% despite the sector being down 4% when that article was written. In my view, there is still upside potential in REITs, particularly as we start to see a continuation of capital rotation from growth stocks into value given the market consensus is rather pessimistic on growth in 2019 and 2020.
But which areas of CRE are the most attractive? I think it all depends on your perspective. For the highly valued areas of commercial real estate (multifamily, high street retail, high end office) a greater percentage of overall return (income plus property appreciation) comes from the underlying asset values. I see three primary scenarios:
Slowing economy alongside higher rates as the Fed makes a dumb move and risks throwing us into recession? Skip REITs altogether or play it safe in recession-resistant plays (government paid senior housing). Slower economy, stable rates? Play REITs trading at a discount to NAV with great cash flow. Shopping centers and offices likely do well. Hot economy, hot rates? Go chasing after the riskier plays like Class B/C properties in general, malls, build-to-suit operators.
In my opinion, the middle scenario is far more likely. I think shopping centers do extremely well (Kimco (KIM), Kite Realty (KRG), RPT Realty (RPT), SITE Centers (SITC) as well as offices (Boston Properties (BXP), Cousins Properties (CUZ), Brandywine Realty (BDN), Kilroy (KRC)). I would avoid manufactured home REITs (Equity Lifestyle (ELS), Sun Communities (SUI), UMH Properties (UMH)) and healthcare (Omega Healthcare (OHI), Ventas (VTR), Welltower (WELL), New Senior (SNR), Sabra (SBRA)).
Note: Members of the Industrial Insights community receive access to actionable research ideas like this often. This isn't your average investing resource. Receive deep dive insight into companies that include facility tours, management interviews, and in-person conference coverage. This type of coverage is not publicly available.
Disclosure: I am/we are long RPT. I wrote this article myself, and it expresses my own opinions. I am not receiving compensation for it (other than from Seeking Alpha). I have no business relationship with any company whose stock is mentioned in this article.