This week I plan to provide Seeking Alpha readers with my abbreviated 2019 REIT forecast, with my longer form content published on the Marketplace and the Forbes Real Estate Investor.
One of the benefits we have as a REIT analysts is that we cover a wide spectrum of property sectors and sub-sectors in the REIT universe. We have over 125 REITs in the 'Intelligent REIT Lab' and this gives us a literal ocean of opportunity for selecting the very best companies.
One property sector that we are very bullish on is the multifamily sector, primarily because demand is getting stronger due to healthy job growth, turnovers are low, and rent trends are increasing. For 2019 we are recommending overweight allocation to the sector, based upon solid FFO/share anticipated (4-5%) and more balanced supply growth (due to high material and labor costs).
The housing slowdown has also become a catalyst for apartment landlords, renters who are electing to remain in current units for longer while accepting higher rates is a positive sign for the apartment model. The same conditions generating this demand in 2018 should continue into 2019.
Within our spectrum of multifamily REITs we have 11 REITs, that includes 4 BUYs (ACC, EQR, IRET, and MAA) and 7 HOLDs. Many of the REITs are trading at higher valuations, thus it's difficult to gain exposure to the sector without overpaying. However, we are adding a twelfth name to our coverage universe called Bluerock Residential Growth (NYSE:BRG).
You may recall that Bluerock cut the dividend and over a year ago I explained,
"…we are not changing our assessment of the REIT based on the dividend cut, we are going to have to see further stability in the portfolio and the financial condition of the REIT before we recommend the equity. We do believe, however, that the cut in the dividend and the portfolio as it currently stands (and performs) continues to support an investment in the preferred stock of Bluerock."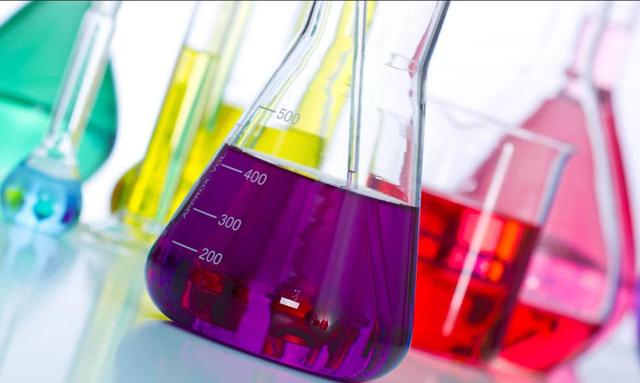 Bluerock was formed in 2008, and listed shares in 2014 by selling 3,448,276 shares priced at $14.50 per share. Since the IPO, its shares have declined by around 30% (closed $9.63).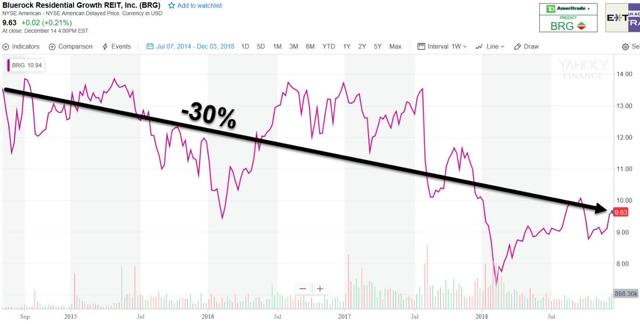 Source: Yahoo Finance
Bluerock is based in New York City, and its current portfolio consists of 32 properties and 11 mezzanine/preferred investments. The investments are located in sunbelt markets, consisting of ~120,000 units "providing plug and play" execution ability at reduced cost and logistical burden to Bluerock. Bluerock's top three markets by operating property concentration include Orlando, Atlanta, and Houston.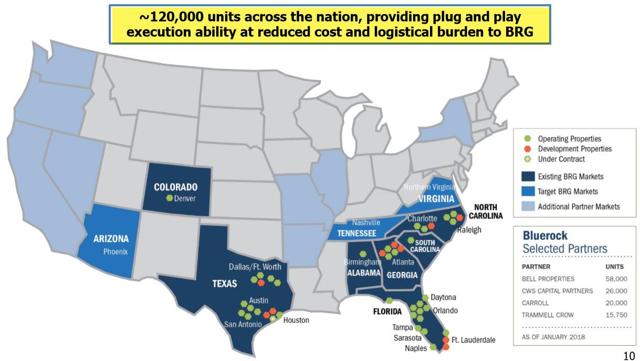 Source: BRG Investor Presentation
Bluerock continues to grow its asset base: Gross assets were up 22.4% for the year and 2.3% for the quarter(Q3-18) to over $1.8 billion. In Q3 the company closed on one operating property and bought out a partner's interest in another asset to continue to grow the wholly-owned asset base.
Bluerock targets markets with long-term employment growth drivers among the top 40 primary markets, and with target industries that include healthcare, education, technology, finance, trade, entertainment, and energy. The company targets Class A assets generally built post 2000 in the $25-50 million size range, and the company has been successful with its value-add renovation program.
To date, through Q3-18, Bluerock has completed 1,327 interior unit renovations at an average cost of approximately $4,800 per unit and has yielded monthly rental increases of $107, resulting in weighted average ROI of approximately 27%.
Excluding new acquisitions, Bluerock estimates that there are over of 4,600 units remaining to be renovated in the portfolio with comparable economics, which could drive NAV significantly (again, 25% ROI aint too shabby).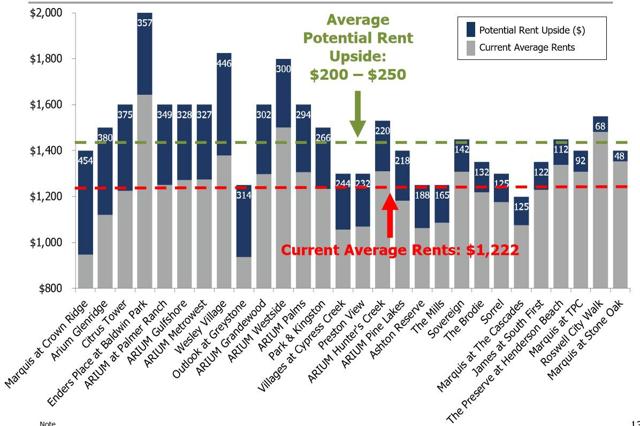 Source: BRG Investor Presentation
The management team (externally managed) has deep experience in private equity, and that has allowed Bluerock to originate deals with strategic development partners. Using this "operating partner" model, the company has been able to acquire off-market deals with regional partners. Consequently, it is able to invest in newer, higher-yielding properties that produce more shareholder value.

Source: BRG Investor Presentation
So Maybe BRG is more of a Commercial Mortgage REIT?
Not exactly, but there are some similarities…as I said, Bluerock has deep private equity experience, and that leads me to believe the company operates more of an investment banking platform.
The company claims that it focuses on complex off-market deals that provide post-acquisition value. By partnering with developers, Bluerock is able to achieve discounts on transactions through off-market relationships. In addition, it selectively invests in development deals that offer better risk-adjusted returns. As referenced above, there are approximately 4,600 units that have 'Core+' upgrade potential of $200 – $250 per month upside
Potential Impact of Upgrade Rent Increases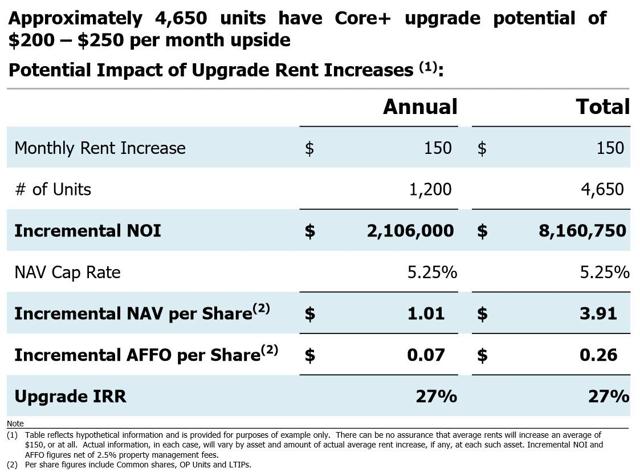 Source: BRG Investor Presentation
Just take a look at these returns below, it looks more like a Blackstone (BX) model than a REIT model?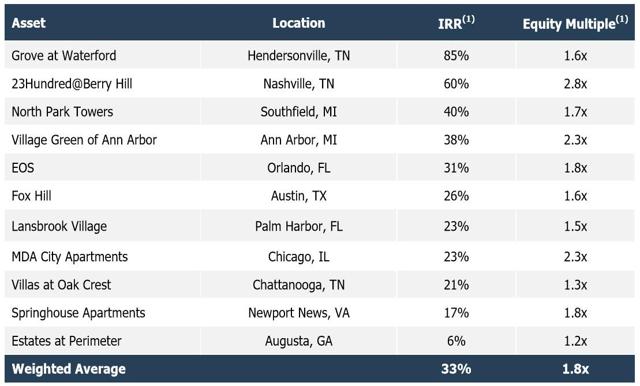 Source: BRG Investor Presentation
Just take a look at Bluerock's growth metrics since the IPO in 2014: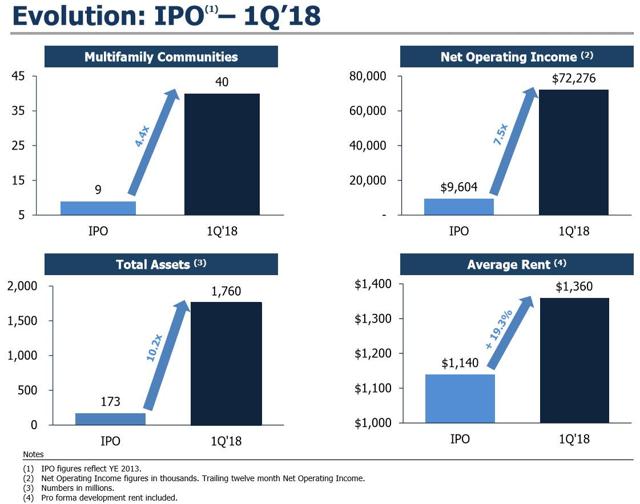 Source: BRG Investor Presentation
The Balance Sheet
During Q2-18 Bluerock raised $30 million through sales of its Series B preferred stock, that has a unique advantage for the company because it allows it to grow accretively, decoupled from the cyclicality of REIT equity pricing.
So in a market like today with rising rates, where many REITs (including BRG) are trading at discounts, the company can raise Series B capital and grow with conversion into common at a more favorable part of the REIT equity pricing cycle at a future date at the future price at that time. Blureock said it "expects that the quarterly run rate of the Series B will reaccelerate back to the $45 million to $50 million range in 2019". (Preferred Share FACT SHEET)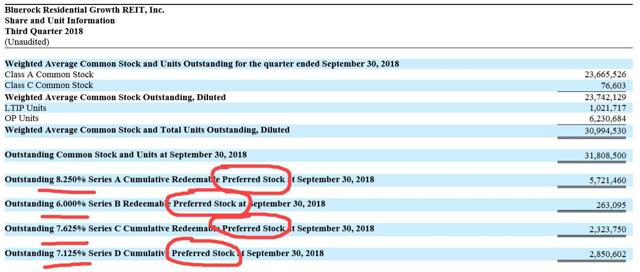 Source: Q3-18 BRG Supplemental
During Q3-18 Bluerock refinanced four floating rate loans totaling $130 million and on average, the new loans were executed with spreads 90 basis points inside the previous loans. At the end of October, Bluerock had approximately $52 million available for investment through a combination of cash and availability on revolving credit facilities.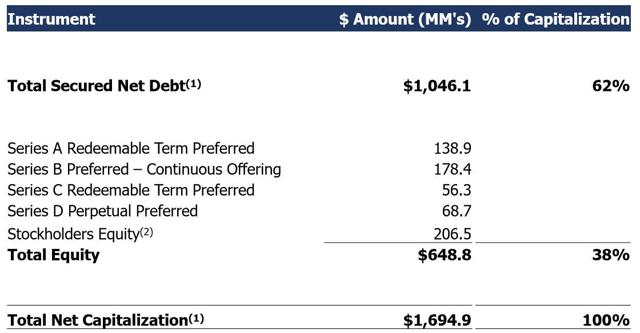 Source: BRG Investor Presentation
To be perfectly clear, Bluerock is not only considered a small cap REIT ($206.5 million in common equity), but the company is also highly leveraged compared to the peers (62% debt to total cap). This combnation (small cap and high leverage) makes Bluerock a highly speculative REIT, but possibly attractive for the right investor…
The Latest Earnings Results
In Q3-18 Bluerock grew core FFO (funds from operations) by 50%, to $0.21 per share, compared to $0.14 per share in the prior year period. On a core FFO basis, the company improved its dividend payout ratio to 77% in the quarter.
Note: Core FFO is simply NAREIT FFO with the add-back of non-cash, non-operating items including the Series B issuance cost accretion.
Bluerock's AFFO in Q3-18 was $0.18 per share, which reflects 38.5% growth versus the prior year quarter figure of $0.13 per share. The company's revenue grew 59% to $47.9 million, from $30.2 million in the prior year period, which reflects significant investment activity in the latter half of 2017 and strong same-store performance.
Bluerock's same-store revenue increased at an industry leading pace of 4.8% over the prior year period, driven by a 4.3% increase in average rental rates, and a 10 bps increase in occupancy.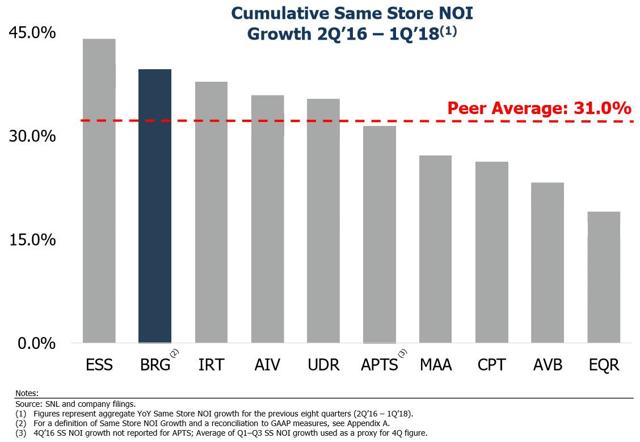 Source: BRG Investor Presentation
Bluerock also increased the low-end of its full-year AFFO per share guidance outlook from $0.66 to $0.68 per share, which narrows the full-year AFFO guidance above the midpoint of the prior range to $0.68 to $0.70 per share.
Note that at the end of Q3-18 Bluerock's development preferred equity and mezzanine loans stood at $241 million across 11 projects. Of the 11 projects, seven are currently in lease-up.
A Deep Value Play
Much of the reason that Bluerock is trading at such a low valuation is because of higher leverage. Arguably, the company has one advantage - sourcing acquisitions - but the value appears to be trapped because of its higher-risk balance sheet. As you can see below, BRG is trading at 30% below NAV (Net Asset Value):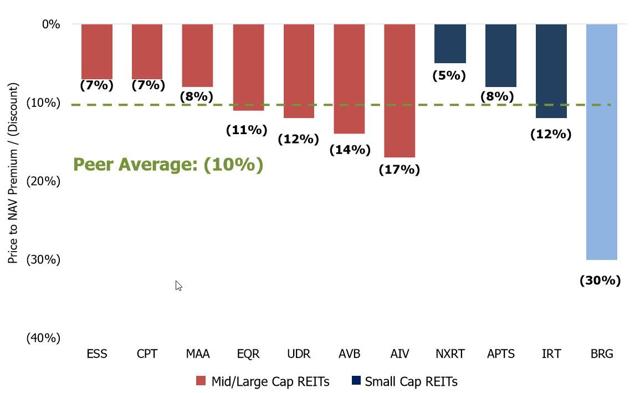 Source: BRG Investor Presentation
As you can see below, Bluerock yields 6.7%, and the payout ratio is much safer (after the dividend cut that I previously referenced). Also, the company pays the common dividend monthly.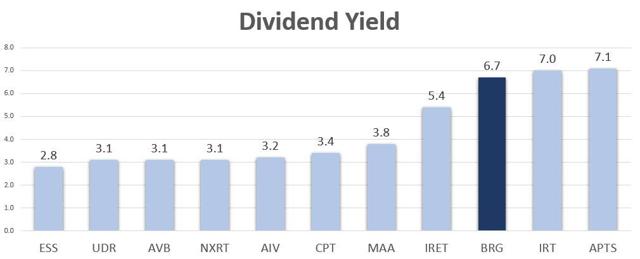 Source: Rhino Real Estate Advisors
Here's how Bluerock and the other peers have performed year-to-date:

Source: Rhino Real Estate Advisors
Now, I saved the best for the last….Bluerock is expected to grow FFO per share substantially in 2019, analysts estimate by over 70%. As the company's CEO explains, "If you're in the right markets with the right assets, then you're going to have as new product comes online and pushes rents, you're going to have these opportunities and we're always aggressively out there looking for them".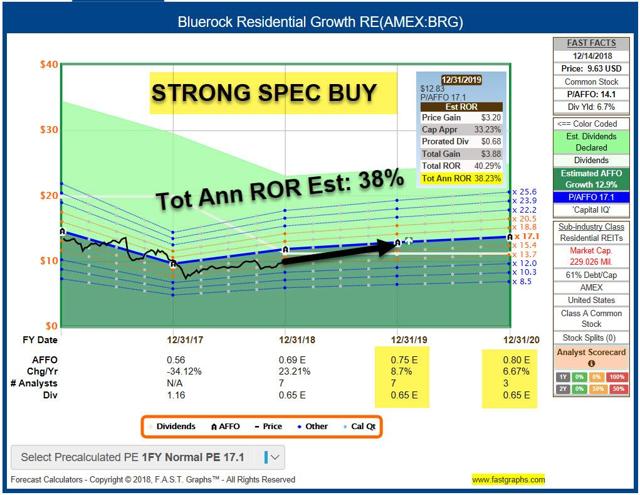 Source: FAST Graphs
Two other things worth noting: (1) Bluerock will likely get added to the RMZ REIT index in May 2019, and (2) management has a 25% stake that suggests significant alignment of interest with the shareholders.
In summary: I am pulling the trigger, and although Bluerock has elevated risks (small cap, leverage, externally managed), I am tempted to recommend the company as a Speculative Strong Buy. Keep in mind, "speculative" is the fist word and investors must recognize there is enhanced volatility, however, "strong" is the second word and I believe there is rock-solid opportunity for value creation. Far from a SWAN, but this REIT should certainly bring SALSA to the intelligent REIT Lab.
Author's note: Brad Thomas is a Wall Street writer and that means he is not always right with his predictions or recommendations. That also applies to his grammar. Please excuse any typos and be assured that he will do his best to correct any errors if they are overlooked.
Finally, this article is free, and the sole purpose for writing it is to assist with research, while also providing a forum for second-level thinking.