Uniti Group's (NASDAQ:UNIT) stock has been in a tailspin after Morgan Stanley downgraded the stock on Wednesday. The basis for the downgrade was the analyst's belief the dividend would ultimately be cut. Uniti's 2023 bonds are also under pressure trading below 91 cents on the dollar. With an 8.25% coupon, the bond's 10.8% yield to maturity is a great alternative for income investors who fear a dividend cut.

Source: FINRA
Uniti Group's balance sheet exemplifies the company's capital struggles. Long term debt has increased by more than $250 million, which was slightly more than the company's increase in total assets. In fact, long-term debt is nearly $200 million greater than Uniti's total assets. With nearly $1.1 billion, or more than 20% of total assets listed as intangible, it's clear that the organization is heavily leveraged and will need to make changes to conserve cash.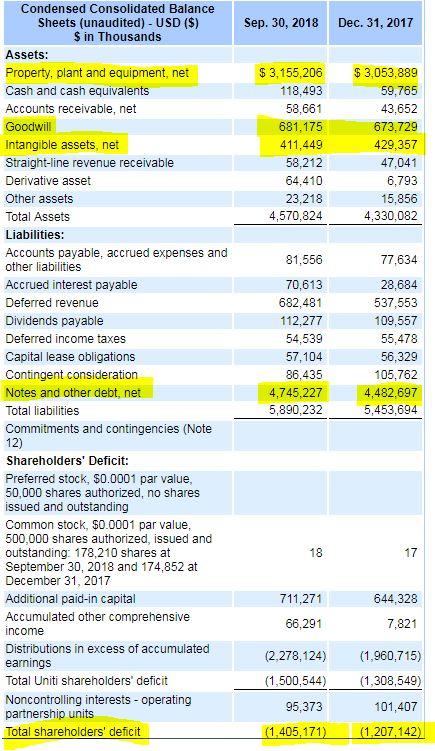 Source: SEC 10-Q
In 2017, Uniti was dependent on financing activities to support its dividend. While the company needed $762 million to support business acquisitions, Uniti raised $980 million between stock and debt issuances. Essentially, without the acquisition, Uniti would have still needed $220 million in financing to cover the 2017 dividend.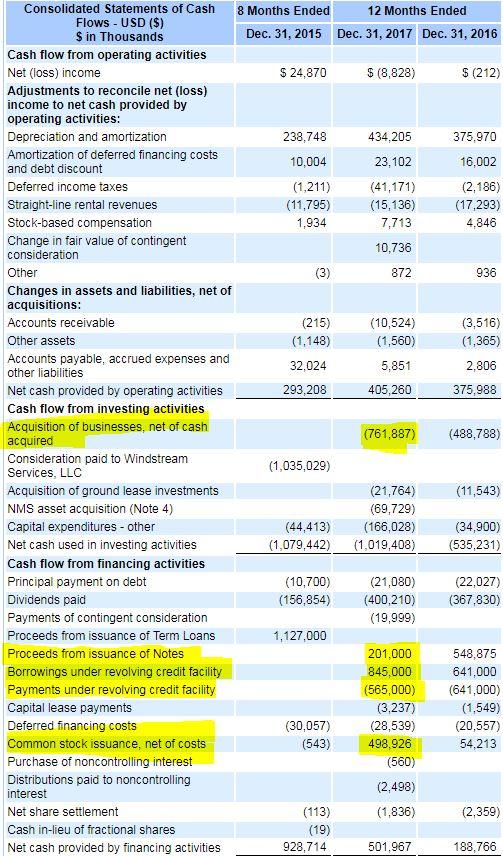 Source: 2017 SEC 10-K
The need for financing to pay dividends has grown in 2018. For the first nine months of the year, Uniti has engaged in $260 million in net borrowing from its revolving credit facility and it has issued $64 million in common stock. These financing functions were entirely due to the company's $318 million in dividend payments. With $58 million in increased cash from the beginning of the year, it is hopeful that the company will not have to borrow further to get to the end of the year.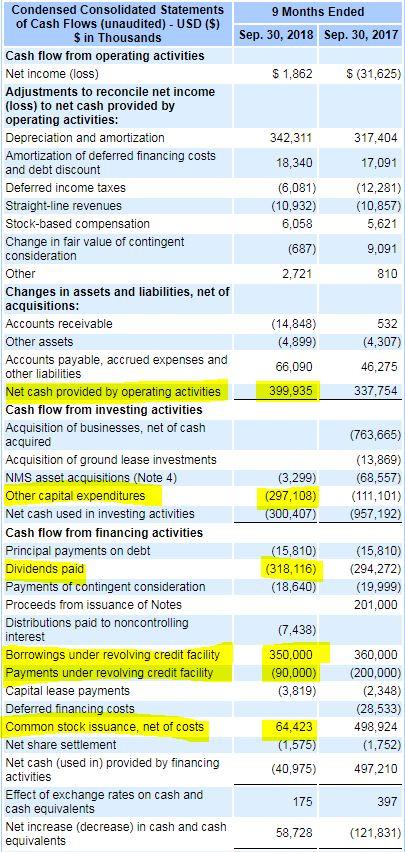 Source: SEC 10-Q
Uniti's debt structure does not have notes maturing until 2022, but the company's senior secured credit facility matures in April 2020. The facility is drawn to the tune of $540 million, and according to the notes, can only be drawn up to $750 million. This leaves $210 million, or less than one year's worth of financing needs remaining.

Source: SEC 10-Q
While it's likely that the dividend will be cut soon, the 2023 bonds can still be a worthwhile investment if the company can support its debt service payments. While the company's earnings call provided full year 2018 guidance, the numbers provided were not GAAP compliant. There was no free cash flow estimate given, the capital expenditures estimate was based on customer reimbursement (not GAAP), and FFO was provided versus operating cash flow. Based on nine months of activity, the close relationship between FFO and operating cash flow ( see slide 23 of the earnings presentation), and the likely need to use the remaining cash from this year's borrowing, I am estimating $106 million in free cash flow for the year. From there, NASDAQ has earnings growing by 4.5% in 2019 and CNBC has 5.5% growth in specialty REITs over the next three to five years. By inputting these variables, combined with $215 million in estimated 2019 capital expenditures from the earnings call, Uniti will need $168 million in financing for 2019 to maintain its dividend.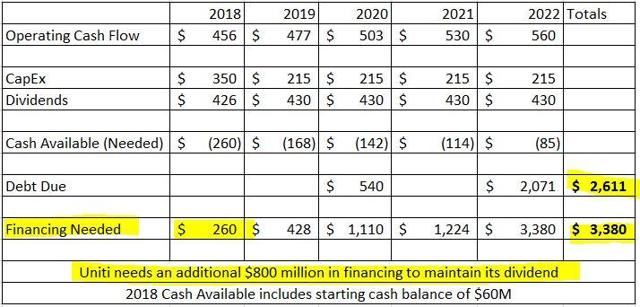 Source: Guidance and Growth Estimates
If we take the same model, and cut the dividend in half starting in 2019, the model changes drastically. As opposed to needing additional financing to fund dividends, Uniti will only need to refinance its 2020 revolving credit facility and 2022 senior secured term loan under this scenario. By cutting its dividend in half, Uniti will be able to effectively service its debt and provide high-yield debt holders with excellent returns.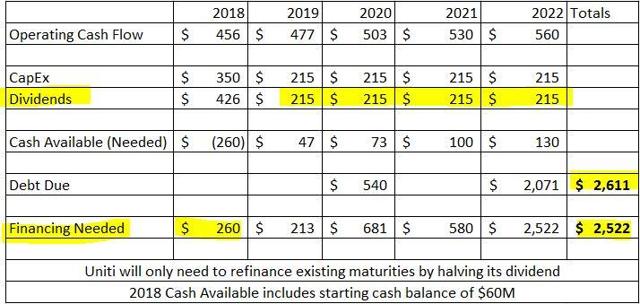 CUSIP: 20341WAD7
Price: $90.50
Coupon: 8.250%
Yield to Maturity: 10.821%
Date of Maturity: 10/15/2023
Credit Rating (Moody's/S&P): Caa3/CCC-
Type of Bond: Senior Unsecured