Now that the trade war has officially been put on ice, two short-term trades to scoop up out there for the taking would be chip leaders Advanced Micro Devices (AMD) and Nvidia (NVDA).
Even though I am still bearish on the chip sector as a whole, the mini rapprochement signals a much-needed reprieve to China-sensitive stocks that have been beaten down for most of the year.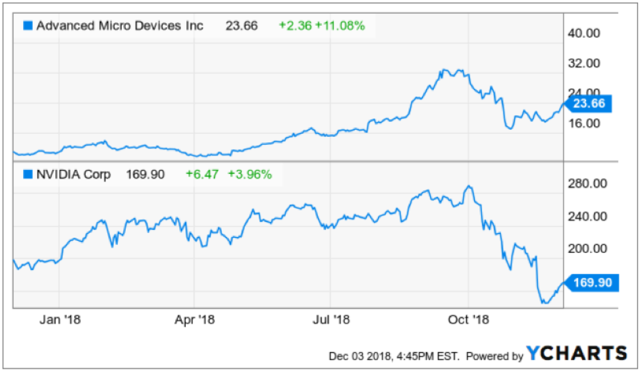 The timing is favorable now to jump into some of the avant-garde chip stocks and succinctly two companies that have captured the imagination of the global gaming revolution by constructing the critical GPUs needed to display the mouth-watering graphics that appear life-like.
They are two dominators that have cornered the GPU market and don't apologize for it.
Even if next year fails to pinpoint a comprehensive détente, China-based supply chains will have more time to make epochal decisions to whether risk the full brunt of a future multilateral spat or mosey on over to greener pastures to insulate themselves from tariff and political fallout.
Most of American tech supply chains are in China now, but that doesn't mean that can't change.
Either way, ratcheting down the tone of the jawboning will help chip stocks and the GPU mainstay firms should finish out the year resolutely.
After building an abnormally high amount of inventory due to last year's bitcoin euphoria, Nvidia got ahead of itself drowning in excess GPU units with evaporating crypto mining demand from the bitcoin crash.
It was never imagined that the crypto phenomenon could incite a build-up of inventory channels to the levels that started to erode pricing, but when you consider that two companies and not one were pumping out the GPU units, they simply overdid it.
Conveniently enough, management on both sides blamed each other.
In any case, I believe the spike in inventory says more to the crash and burn of bitcoin pricing than having something to do with these two solidly run companies.
Bitcoin revenue stream only accounted for 10% of revenue at last year's peak of crypto ecstasy.
The Mad Hedge Technology Letter has steered wide and clear of the crypto phenomenon because even though the blockchain technology is indeed intriguing, there are probably a few more crash and burn scenarios to unfold before it becomes legitimately accepted in mainstream finance.
In any effect, GPU pricing has started to turn the corner up 15% from the September lows, and for the first time since earlier in the year, inventory levels are starting to flush itself out.
The "crypto hangover" headlines roughed up shares of the duopolists but now the light is at the end of the tunnel, and combined with the ceasefire in Washington, has created a positive platform for these two favorites to trade into yearend.
The record-breaking sales volume from Black Friday and Cyber Monday is a minor boost giving credence to the inventory channels clear-up.
Jubilant shoppers were gobbling up GPUs to dish out to gamer friends and family.
At the annual Siggraph conference in Vancouver, Canada, CEO of Nvidia Jensen Huang said, "Turing is Nvidia's most important innovation in computer graphics in more than a decade."
The development of real-time ray tracing is the "holy grail" of the GPU industry.
The Turing products render graphics six times faster than their predecessor Pascal-based chip.
Nvidia has rolled out three new graphics cards based on this technology.
In fact, the Turing T4 Cloud GPU has been a massive success in the data center space.
Not only is gaming benefitting from these high-end chips, they can be slotted around offering a diverse set of functionalities.
Ian Buck, Vice President and General Manager of Accelerated Computing at Nvidia said, "We have never before seen such rapid adoption of a data center processor."
Nvidia's T4 offers the modern cloud of today the performance and efficiency needed for compute-intensive workloads at scale.
The two companies continue to manufacture top-level GPUs that the competition cannot touch.
The headwinds facing these two titans are of a temporary basis and will eventually dry up.
Both missed on earnings and the stocks sold off badly.
The one-off short-term headwinds will quickly shore up.
The lucky opportunity for investors to get into a best of breed at a cheaper price does not come around too often.
If the near-term fluctuations provide too intense, both companies are great long-term buy and hold stocks.
The bad news has been mostly baked into the pie at this point.
The reset in expectations should factor in the evolving inventory situation and the crypto headwinds.
I fully expect both companies to convincingly beat earnings on the top and bottom line next quarter.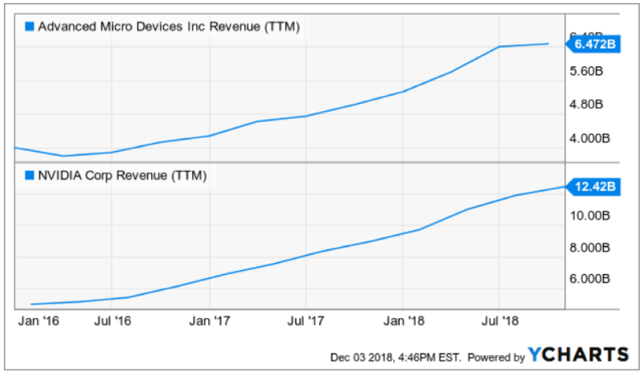 Core gaming demand is robust and by next earnings, the companies will be back to their normal selves – systematically crushing earnings expectations.
This one-off in performance was a curveball, and AMD is a company that I am bullish on with AMD snatching away market share from Intel (INTC).
German's large tech e-tailer Mindfactory published a survey showing AMD doubling the number of CPUs sold leaving Intel in the dust in November.
Intel's CPU sales are nosediving quickly because of AMD's innovative designs and reliable production performance.
Intel has essentially gifted a huge swath of the CPU market to AMD, and AMD has embraced the change and is running with it.
I expect AMD to turn the screws next year on Intel and hoover up more of the CPU market.
Add in that 50% of AMD's revenue comes from newly launched products and then you can start to cook up why these companies are ahead of the game.
They concoct best in show products leverage with groundbreaking technology and scale up these state-of-the-art offerings to the strongest segments of the chip industry and presto!
You have a magical recipe of success.
At the Mad Hedge Lake Tahoe Conference at the end of October, AMD plummeted to around $17 and I convincingly proclaimed this stock a buy without hesitation.
The stock is up over 25% since then to almost $24, and I believe this stock is in it for the long haul.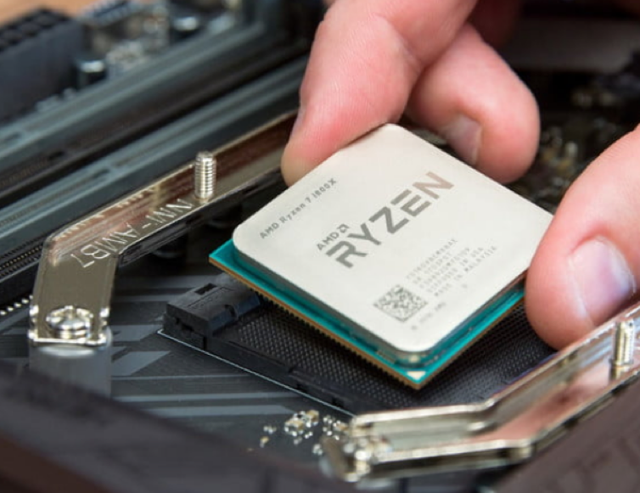 Disclosure: I/we have no positions in any stocks mentioned, and no plans to initiate any positions within the next 72 hours. I wrote this article myself, and it expresses my own opinions. I am not receiving compensation for it (other than from Seeking Alpha). I have no business relationship with any company whose stock is mentioned in this article.