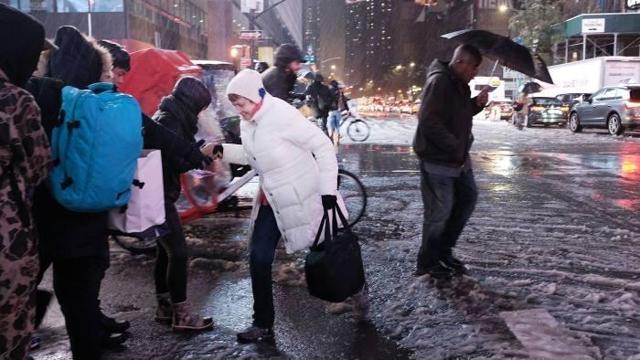 Source: Financial Times
U.S. industrial production for the month of November rose 0.6 percent versus October:
Industrial production — a gauge of output at factories, mines and utilities — rose 0.6 percent in November — the biggest increase since August, according to data from the Federal Reserve. That topped analysts' expectations for a 0.3 percent rise. However, November's jump followed a 0.2 percent decline the previous month, which was revised down from the initial estimate of a 0.1 percent increase.
This was the biggest increase since August and much higher than the 0.2 percent decline reported in October; last month's industrial production was negatively impacted by hurricanes. The increase in November's industrial production was driven by an uptick in utilities by 3.3 percent. Electric and gas utilities saw increased activity as unseasonably cold weather drove demand for heating.
Mining activity rose 1.7 percent versus a 0.7 percent decline in October. However, manufacturing activity was unchanged; durable manufacturing increased by 0.2 percent, but was offset by a 0.9 percent decline in nondurable manufacturing and other manufacturing (publishing and logging).
Has Industrial Production Peaked?
Total industrial production for the month of November was up 3.9 percent Y/Y, down from 4.1 percent in October. Capacity utilization for the industrial sector was 75.7 percent - about 2.5 percent below its long-run average. This comes after trillions in stimulus designed to spur business fixed investment. Without a strong consumer, who will be able to afford the products being developed by American industry?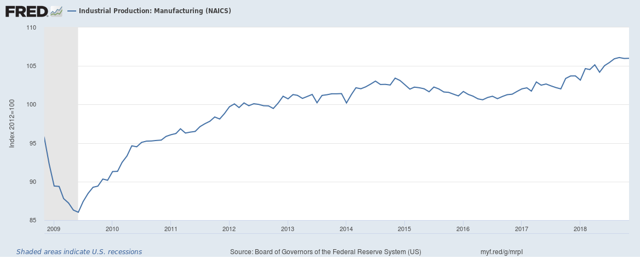 Since the Financial Crisis of 2008/2009, manufacturing activity has continued to melt up. It appears to have plateaued in Q3 2018. November marked the second consecutive month manufacturing has been weak. It was revised downward in October to a decline of 0.1 percent from a 0.3 percent gain. I have a sense industrial production has likely peaked. President Trump vowed to get manufacturing back on its feet. The question remains, "How much of that manufacturing activity was stimulus-induced?"
Without more stimulus industrial activity could remain flat to declining. The Fed has been removing the punch bowl via rate hikes and a consistent unwind of its balance sheet. The flat yield curve portends dismal economic activity going forward, and the slack in industrial capacity utilization seems to support that narrative.
What's Next For Financial Markets?
Financial markets have been volatile over the past few months, particularly within the technology sector. Names like Facebook (FB), Apple (AAPL), and Netflix (NFLX) have diverged to the downside. Some of those declines were likely due to a change in sentiment rather than earnings visibility. Talks of a resolution to the trade war between China and the U.S. could spike financial markets occasionally. Fed Chairman Jay Powell is expected to set a tone of interest rate policy in 2019. Talks of pausing future rate hikes could send financial markets sharply higher.
Despite all the talk of volatility, the Dow Jones (DIA) is still up over 20% since President Trump won the 2016 presidential race. Going forward, earnings fundamentals will likely drive financial markets. The free fall in RV shipments has punished RV-related names like Thor (THO), LCI Industries (LCII) and Winnebago (WGO). Cyclical names like General Electric (GE), General Motors (GM) and Ford (F) could be next. I expect them to have a tough go of it if industrial production and manufacturing output keeps declining.
Record low interest rates since the Financial Crisis have enticed corporations to feast on debt. Companies may find it difficult to service their debt amid recessionary pressures. U.S. credit markets appear to have ground to a halt with high-yield bond issuance particularly affected. Bond yields could soar if investors continue to sour on high-yield debt. If highly-indebted names like Weatherford (WFT) or Bausch Health (BHC) have to refinance debt at exorbitant interest rates, then investors could sour on their stocks as well.
Conclusion
Industrial names and highly-indebted names could trade down if industrial production remains dismal. Investors should brace themselves for more volatility in financial markets.
Disclosure: I am/we are short THO, LCII, GE, WGO, BHC. I wrote this article myself, and it expresses my own opinions. I am not receiving compensation for it (other than from Seeking Alpha). I have no business relationship with any company whose stock is mentioned in this article.
Additional disclosure: I am long WFT