If you've followed my writing over the years, you know I'm not one to hype or exaggerate an investment. But this week's $14 billion reopening auction of a 5-year TIPS is as close to a screaming buy as anything gets in the ultra-conservative world of Treasurys.
This is CUSIP 9128284H0, and Thursday's auction will create a 4-year, 4-month Treasury Inflation-Protected Security with a coupon rate of 0.625%. No one is going to get rich with this investment, but in my opinion it is the most attractive TIPS auction in nearly a decade. If you've been shopping for inflation protection, consider this:
Buyers will get a discount
The coupon rate for this TIPS was set at 0.625% in the originating auction on April 19. Since then, real yields for this term have soared. Bloomberg's Current Yields page shows this TIPS was trading on the secondary market at Friday's close with a real yield to maturity of 1.12% and a price of about $97.91 for $100 of par value. That's a discount of more than 2% of par value.
The term is short
A 4-year, 4-month TIPS is the shortest term the Treasury auctions. That means investors take on the least risk and can guarantee outperforming inflation by at least 1% in that period. Want zero risk? Just hold this TIPS to maturity in April 2023.
The real yield is attractive
If that after-inflation yield of 1.12% holds through Thursday's auction, it would be the highest for any 4- to 5-year TIPS auction since April 2009, still in the dire days of the Great Recession. Here is a chart tracking 5-year real yields over the last 10 years, showing a return (finally) to a yield closer to historical norms: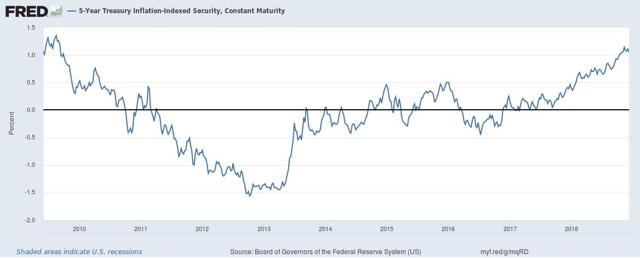 (Source: St. Louis Fed)
Why do investors buy TIPS? To gain protection against an unexpected surge in future inflation. A TIPS with an after-inflation yield of 1.12% offers a lot more protection than a TIPS yielding 0.0% or less, where we were mired for much of the last decade.
The yield curve has inverted
While I'm a fan of purchasing 10-year TIPS as a core ladder-building investment, it's hard to suggest that a 10-year TIPS is a better investment today than the 5-year. The U.S. Treasury on Friday estimated that a full-term 5-year TIPS would have a real yield of 1.13%, while a 10-year TIPS would yield 1.07%, 6 basis points lower. This sort of inversion is very rare, as you can see from this chart comparing the 5- and 10-year real yields since May 2008: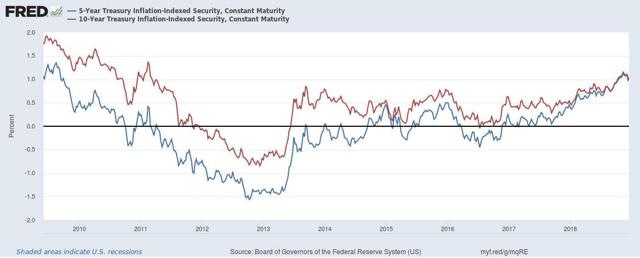 (Source: St. Louis Fed)
The inflation breakeven rate is favorable
Looking at full-term yields, a 5-year nominal Treasury was yielding 2.73% on Friday and the 5-year TIPS was at 1.13%. That sets the inflation breakeven rate at 1.60%, much lower than recent auctions of this term. The breakeven rate means this TIPS would outperform a 5-year Treasury if inflation averaged more than 1.60% over the next 4 years, 4 months.
U.S. inflation is currently running at an annual rate of 2.2%. Let's assume that rate continues forward. If so, this TIPS would generate a nominal return of about 3.33%, versus the nominal Treasury's 2.73%.
Do you expect inflation to run less than 1.60% over the next five years? If so, buy that nominal Treasury. Otherwise, look at the TIPS.
Here is the trend in the 5-year inflation breakeven rate since May 2008, showing that the current rate of 1.6% remains moderately low, and much lower than the rate seen in recent months. When this rate is low, TIPS are "cheap" versus nominal Treasurys. TIPS get "expensive" when the inflation breakeven rate rises closer to 2.4%.

(Source: St. Louis Fed)
What about alternatives?
Although a 5-year nominal Treasury is the best comparison investment, the shorter term of a 5-year TIPS opens up other alternatives.
One is the U.S. Series I Savings Bond, which can be redeemed after 5 years with no penalty. I Bonds purchased through April 30 carry a fixed rate of 0.5%, which is in effect the I Bond's real yield. At this point, the TIPS carries a 62-basis point advantage over the I Bond. Advantage: TIPS.
Another is a 5-year insured bank CD. Best-in-nation 5-year CDs are currently yielding 3.5%, which I think is attractive. That 3.5% yield pushes the inflation breakeven rate out to 2.38%, a bit higher than current inflation. I'd say this comparison is more of a toss up; the TIPS offers inflation insurance and is free of state income taxes. Bank CDs offer better deflation protection. Solution: Invest in both.
Conclusion
This week's TIPS reopening is a worthy investment. The auction closes at noon Thursday for non-competitive bids. Keep in mind that the Federal Reserve is set to announce a decision Wednesday on short-term interest rates. The market expects an increase of 25 basis point for the Federal Funds Rate, to a range of 2.25% to 2.50%. If the Fed backs off that increase, the bond market will face turmoil. (Four-week Treasurys are currently yielding 2.36%, up 12 basis points in a month. That indicates the market is pricing in a Fed increase this week.)
Because of the potential for turmoil, hold off on orders until Thursday morning. Investors should be watching quotes on Bloomberg's Current Yields page to see if yields dramatically rise or fall.
Another thing to keep in mind: This TIPS will carry an inflation index of 1.01803 on the settlement date of December 31, meaning that investors will be paying about 1.8% above par and receiving a matching amount of additional principal. That should mean the adjusted price could come in somewhere around $99.67 for $101.80 of value, depending on the auctioned yield.
And fair warning: Because non-seasonally adjusted inflation fell in November by 0.33%, the inflation index for this TIPS will drop to 1.01479 on January 31, creating a matching drop in the investor's principal. This effect will reverse itself in coming months, unless we dive into a deflationary period.
I'll be reporting the auction results soon after the close at 1 p.m. Thursday.
Meanwhile, here is the history of every 4- to 5-year TIPS auction since 2007, showing the long stretch of yields negative to inflation: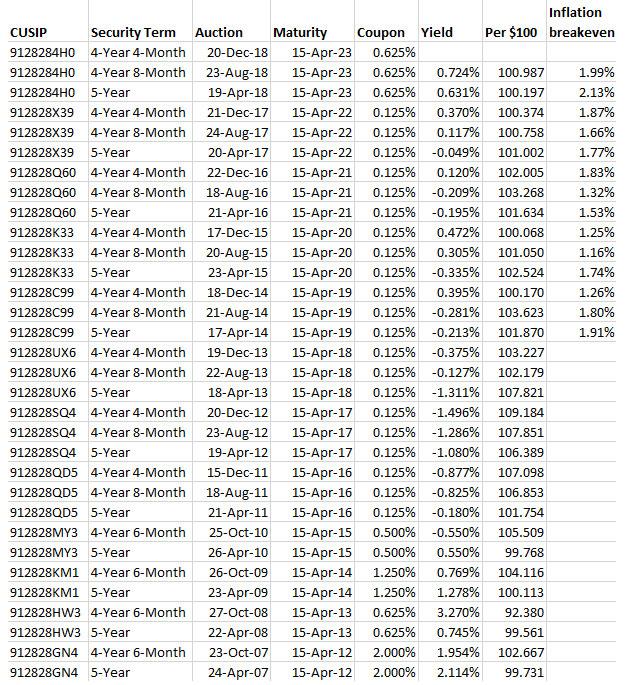 (Source: TipsWatch.com)
Disclosure: I/we have no positions in any stocks mentioned, and no plans to initiate any positions within the next 72 hours. I wrote this article myself, and it expresses my own opinions. I am not receiving compensation for it (other than from Seeking Alpha). I have no business relationship with any company whose stock is mentioned in this article.