Recently, I wrote an article on Preferred Apartment Communities (APTS) in which I explained:
APTS is motivated to deploy its capital being raised through the preferred channels as that is the primary moat of the organization. At some point, the company must either spin-out its non-traded business and/or its shopping center portfolio."
In the comment stream, I added:
APTS has successfully engineered a platform that utilizes low-cost preferred shares to acquire accretive properties... the company continues to fish upstream (i.e., retail and office) so it can continue to grow profits and dividends. At some point, common shareholders could suffer, as they are not in a senior position... APTS is dangerously overweight in non-traded preferred equity and investors should recognize the risk."
Over the years as a REIT analyst, I've learned that the more uncertain investors are about the company, the larger of a risk premium they'll demand. As Baruch Lev, author of Winning Investors Over, explains:
…the excess return investors demand, as compensation for information risk, increases the company's cost of capital… stunting its growth and depressing its share price."
In this case of APTS, I believe shares are trading at a discount because of several factors: (1) exposure to retail assets (44 shopping centers), (2) exposure to office, (3) higher leverage than peers, (4) external management, and (5) top-heavy preferred exposure. Combined, all of these risks spell "complexity," as Lev explains:
The higher the uncertainty, the larger the disagreement among analysts and investors concerning future earnings, and the more likely the stock is to be over- or underpriced."
As I said in my detailed article on APTS, investors can decide whether or not there's enough "excess return" to compensate them for the complexity risks.
However, today, I plan to steer you to two REITs that have done an excellent job reducing their complexity overhang and generating precisely what this website suggests: "alpha."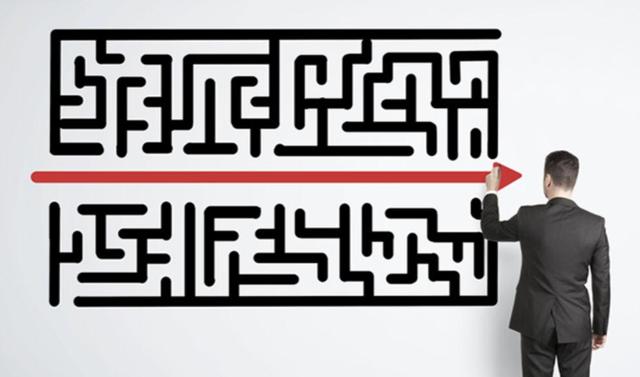 W.P. Carey (WPC): Solid Business Model
W.P Carey is a net lease REIT that has increased its dividend every year since going public in 1998. The secret to this REIT's successful dividend growth model has been its ability to focus on "mission critical" properties, with low turnover (maintaining nearly full occupancy at 99.6%). The company's portfolio consists of 878 properties, covering 87 million square feet, net leased to 208 tenants.
W.P. Carey has also maintained a conservative and stable payout ratio of around 80% since converting to a REIT in September 2012, using a highly-diversified revenue model - with a majority of industrial (29%), office (24%), warehouse (16%), retail (16%), and self-storage (5%). Also, the company has international exposure (30% in Europe), primarily in western and northern Europe.
In mid-June, the company announced a merger pact with CPA:17, an affiliated non-traded REIT, and by doing so, W.P. Carey has removed conflicts of interest. This merger is strategic because it provides powerful scale advantages, allowing W.P. Carey to become a more dominant player in the global REIT arena.
The deal essentially simplifies W.P. Carey's business and accelerates its strategy to focus exclusively on net lease investing for its balance sheet. Real estate earnings are generally ascribed a higher multiple by investors, given the long-term, recurring nature of the underlying income, relative to finite investment management earnings.
From a valuation perspective, I like W.P. Carey because shares are trading at 12.9x P/AFFO with a dividend yield of 5.9%. The company has little exposure to U.S. retail and the dividend performance is highly predictable. Many of the leases are CPI-based and this gives the company better positioning in this rising rate environment. Most importantly, there is much greater clarity since the company is now focused exclusively on its net lease business - and investors will be rewarded. We maintain a BUY.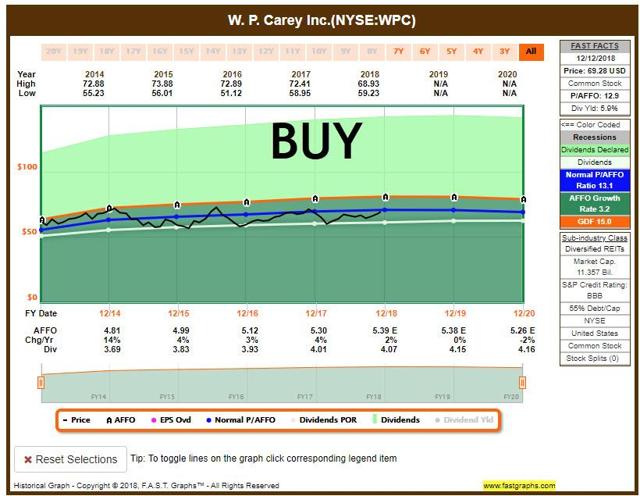 Source: FAST Graphs
VEREIT Inc. (VER): Back In Fighting Shape
Like W.P. Carey, VEREIT is a net lease REIT that owns free-standing buildings (about 4,000 properties, $15.5 billion in assets) leased to a variety of retail, restaurant, office, and industrial tenants. The company is internally-managed with a structure that provides stable and predictable rent stream payments.
Unlike W.P. Carey, VEREIT made some bad decisions, starting with the investment in Cole Capital back in 2014. The previous management team acquired Cole for around $11.2 billion, in a move that created the "largest net-lease REIT in the U.S." VEREIT's previous chairman, Nicholas Schorsch, called the deal an "epic transaction" and a "win-win" for all parties. In the game of "size matters," ARCP's CEO said that its dividend growth was "stable and secure."
Later, an accounting "snafu" sparked a selloff, just days after I published an article titled "Is American Realty Capital Properties A 'Sucker Yield' Bet?" Eventually, a new management team was brought in and the company opted to resize the payout ratio in order to manage the dividend and balance sheet.
More recently, VEREIT sold Cole Capital to an affiliate of CIM Group. At the time, Cole had more than $7.6 billion in assets under management and managed five public non-listed real estate investment trusts: Cole Credit Property Trust IV, Inc.; Cole Credit Property Trust V, Inc.; Cole Real Estate Income Strategy (Daily NAV), Inc.; Cole Office & Industrial REIT (CCIT II), Inc.; and Cole Office & Industrial REIT (CCIT III), Inc.
In connection with the transaction, VEREIT received $200 million, comprised of $120 million cash paid at closing under the purchase agreement and up to $80 million in fees to be paid under a six-year services agreement based on Cole's future revenues.
By selling Cole, VEREIT has simplified its core business model so it can focus on its large, diversified single-tenant real estate portfolio. And the $120 million in cash (and earnout) has been used to settle on-going lawsuits and "remove an important overhang." According to Beyond Saving, who also notes:
So far VER has settled 24% of shares outstanding for $175 million. If the remaining lawsuits settle for a similar amount per share, that implies approximately $730 million for the total bill."
Beyond Saving adds:
VER is well positioned to absorb the settlement costs. The increase in interest expense will be offset by decreased legal expenses. VER should start benefiting from decreased legal expenses as early as Q4-18."
From a valuation perspective, I like VEREIT because shares trade substantially below the bellwether peers, Realty Income (O) and National Retail Properties (NNN), and even lower than W.P. Carey. VEREIT's dividend is well-covered by AFFO (76% payout ratio), and now that Cole is gone, the company doesn't have the conflicts of interest it once had. The only remaining cloud is the litigation which is dissipating. Although the market doesn't recognize it, VEREIT is becoming a trusted brand. We maintain a BUY.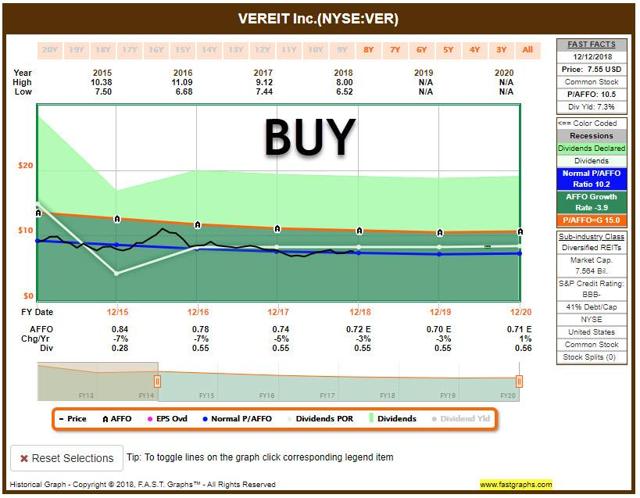 Author's note: Brad Thomas is a Wall Street writer and that means he is not always right with his predictions or recommendations. That also applies to his grammar. Please excuse any typos and be assured that he will do his best to correct any errors if they are overlooked.
Finally, this article is free, and the sole purpose for writing it is to assist with research, while also providing a forum for second-level thinking.
Brad Thomas is one of the most read authors on Seeking Alpha, and over the years, he has developed a trusted brand in the REIT sector. His articles generate significant traffic (around 500,000 views monthly) and he has thousands of satisfied customers who rely on his expertise.
Marketplace subscribers have access to a growing list of services, including weekly property sector updates and weekly recommendations. Also, we are now providing daily early morning REIT recaps, including breaking news across the entire REIT universe. Take charge!
Disclosure: I am/we are long o, WPC, VER. I wrote this article myself, and it expresses my own opinions. I am not receiving compensation for it (other than from Seeking Alpha). I have no business relationship with any company whose stock is mentioned in this article.