Commodities Could Be The Play Of The Decade
Includes:
AAAU, ADZ, AGA, AGF, BAR, BDD, BNO, BOM, BOS, DAG, DBA, DBB, DBC, DBO, DGL, DGLD, DGP, DGZ, DNO, DTO, DWT, DZZ, FUD, GHS, GLD, GLDI, GLDM, GLDW, GLL, IAU, IAUF, JJA, OIL, OILD, OILK, OILU, OILX, OLEM, OLO, OUNZ, PHYS, QGLDX, RJA, RJZ, SCO, SGOL, SZO, TAGS, UAG, UBG, UBM, UCO, UGL, UGLD, USAG, USAI, USL, USO, USOD, USOI, USOU, UWT, WTID, WTIU
by: Ariel Santos-Alborna
Summary
The S&P Commodities Index to S&P 500 ratio has reached a historical low.
The last time this happened, commodities rallied over 5x in less than a decade.
An in depth look at oil, base metals, agriculture, and gold also point to potential price increases.
The S&P Commodity Index to S&P 500 Ratio has reached an all-time low, indicating that now may be the perfect time to buy commodities. As the chart below indicates, the last time commodities were this cheap in relation to equities occurred in 1999. From the 1999 lows to 2008 highs, the Goldman Sachs Commodity Index (GSCI) increased more than five-fold in nine years.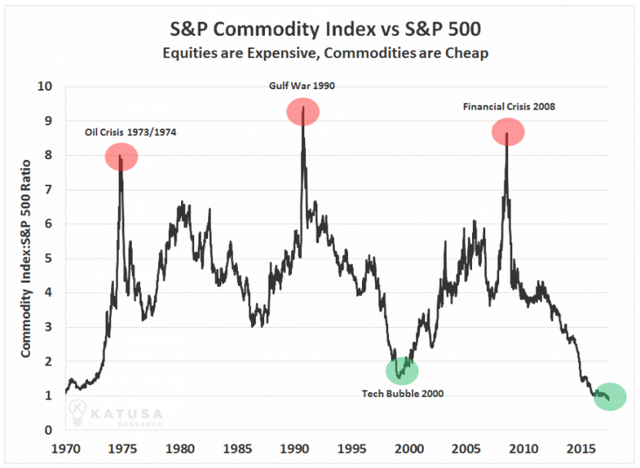 (Source: Katusa Research)
This article examines potential supply and demand imbalances in major commodity markets such as oil, base metals, agriculture, and gold. With natural cyclicality, geopolitical risk, inflation, and global supply and demand all taken into consideration, determining the bottom of a commodities bear market is not a simple task. However, with the commodities to S&P ratio where it stands, investors should examine this space to determine if a commodity rally is as imminent as the chart implies.
Oil
After increasing by 84% from the 2016 low due to robust global demand, an OPEC agreed 1.8 million barrel per day production cut, and sanctions emplaced on Iran that disrupted global supply, WTI Crude Oil futures contracts saw a 30% price reduction since October of this year. This reduction arrived amidst fears of slowed global growth (especially in China) and all-time high production numbers from the U.S. and Saudi Arabia. The argument seems clear at the surface level: diminishing demand with production running on all cylinders means prices should drop. However, two facts stand in the face of such reasoning.
Firstly, OPEC needs higher oil prices if these countries hope to avoid the same fate as Venezuela. The collapse in oil prices from 2014-2016 led to a contraction in revenue for all oil dependent countries. Unable to meet its bloated social spending guarantees, Venezuelan protesters rallied and violence ensued. For certain countries, lower oil prices pose a political risk. In fact, Saudi Arabia and Russia are expected to cut oil production going into 2019 in order to stabilize prices. If this does indeed occur, expect a bullish bounce for oil.
Secondly, easy money policies allowed U.S. oil companies to borrow heavily in order to finance the fracking revolution in the Permian Basin and reach today's record highs. In a recession, a credit squeeze will undoubtedly hamper global supply by denying debt-financed production. Exploration and production companies in North America have gone from $50 billion in debt in 2005 to $200 billion in 2015. Once these companies begin to feel the effects of this massive debt overhang, U.S. production should fall substantially.
Base Metals
The recent price drop in base metals does not reflect fundamentals. A press release by the World Bureau of Metal Statistics (WBMS) reports deficits and lower inventories across the board for the first three quarters of 2018. Demand is outpacing supply for aluminum, copper, lead, zinc, nickel, and tin. The divergence is confounding, but I believe the Chinese slowdown and trade war narrative has scared investors out of this space. The brave investor should see this as a further cheapening of an already beaten down sector. Additionally, with 2018 Chinese demand for base metals increasing across the board, one must question the legitimacy of these demand concerns. Chinese demand for copper increased by 5% from September of last year and 1.3% for aluminum.
Agriculture
With the exception of soybeans, the supply and demand picture for agricultural commodities appears rather neutral. The December 2018 USDA World Agricultural Supply and Demand Estimates paints a neutral picture for corn and wheat, and a slightly bearish picture for soybeans.
Overall, corn is projected to have a slightly lower harvest than the 2017 season and wheat is projected to have a slightly higher harvest than 2017, yet well below the 2016 numbers. The USDA raised soybean production estimates for Brazil by 1.5 million tons and soybean exports by 0.7 tons as China turns to Brazil for soybean imports in the face of U.S. tariffs.
As the chart below indicates, it's been a tough decade for agriculture. The GSCI Agriculture Index broke out of a five year descending wedge in 2016 and has since entered consolidation mode, only recently selling off further due to trade tensions. Despite a neutral to bearish outlook in the short-term, agriculture is currently one of the most hated sectors in the market. Market demand for agricultural products should continue to grow with the global population expected to increase by one-third by 2050 and many developing countries on a glide path towards reducing poverty and malnutrition numbers.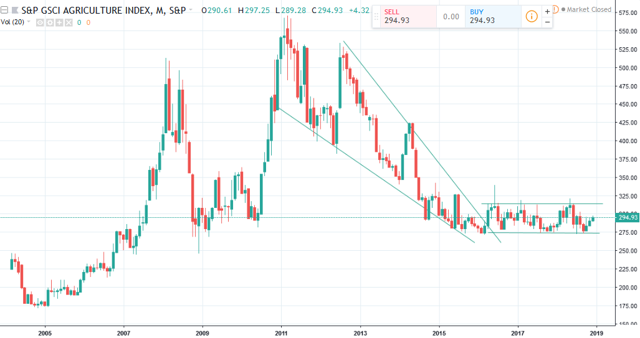 (Source: Tradingview)
Gold
As reductions in the Fed Balance Sheet decreased the amount of dollars circulating globally, and demand for dollars remained neutral as countries require dollars as reserve assets to trade globally, the value of the dollar began to rise in late 2017. As the value of the dollar rose, international investors looking for a safe haven trade turned to the U.S. dollar instead of the gold. The result? Gold moved in an inverse relationship with the dollar for most of this period.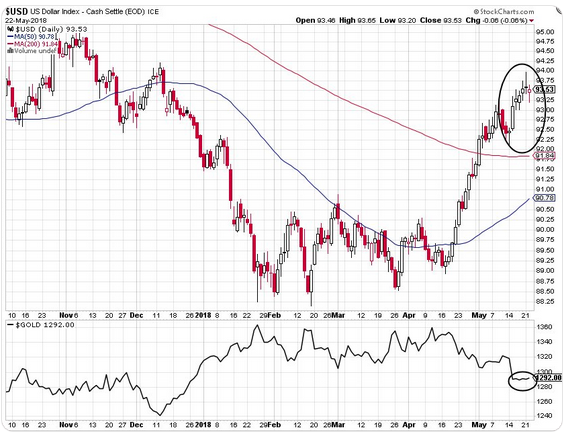 (Source: Twitter @AdamMancini4)
Now, as global tensions build and fear sets in the U.S. stock market, gold has broken this inverse relationship and the dollar is beginning to trade again as a hedge against geopolitical uncertainty and potential monetary devaluation. It makes no sense to examine demand of gold in dentistry or industry, as this constitutes a small portion of demand for gold. Most demand comes from investors seeking a store of value. After being beaten down amidst the dollar rally and recently breaking the inverse relationship amidst increased geopolitical tension and market volatility, gold seems more attractive than ever.
Conclusion
The chart does not lie. Commodities are dirt cheap. In relation to the S&P 500, they are the cheapest in history. The last two times this happened, in 1970 and 1999, commodity prices roared higher for nearly a decade. I doubt this time is different. Despite concerns of reduced global demand, base metals already trade at deficits and we see are beginning to see a revival in gold. Oil and agriculture have neutral outlooks, but a credit squeeze will hurt U.S. oil production and sentiment around agriculture could not possibly go lower. Commodities may continue lower before going higher. Additionally, investors in a market panic will likely sell commodities as they search for liquidity despite these fundamental tailwinds.
For these reasons, I recommend that investors initiate positions in commodities or commodity stocks and look to buy more in the near future.
Disclosure: I am/we are long DBC, GLD. I wrote this article myself, and it expresses my own opinions. I am not receiving compensation for it (other than from Seeking Alpha). I have no business relationship with any company whose stock is mentioned in this article.