Investment Thesis
November marks the ninth month that Jane's retirement (Traditional and Roth IRAs) have been established and received a steady flow of dividend income. Up to this point, Jane's retirement accounts from January 1st to October 31st of 2018 have produced a total dividend income of $10,911.12.
For those new to this series, Jane is an investor who has approximately two years before she retires. Jane's current employer has no retirement benefits and so she has a retirement account that is entirely self-funded in the form of Taxable, Roth, and Traditional IRA Savings. The allocation of this portfolio is focused on creating a consistent income stream that produces a steadily growing income regardless of chaotic market conditions. Although dividend income is the primary focus of this portfolio, Jane's portfolio has slightly more risk associated with it because it focuses more on capital appreciation (when compared to her husband John's portfolio).
This article will specifically focus on a review of Jane's account and the changes we have made to it during the month of November. During this time period, there were three stocks that paid increased dividends even as we continue to see difficult market conditions impact the overall value of the portfolio. By documenting these changes it is my belief that we can demonstrate how a dividend growth portfolio is one potential method that can help investors compensate for the risk of a highly valued stock market. By focusing on the growth and consistency of the dividend we are able to reduce overall risk and dependency on capital fluctuations because we are essentially creating a paycheck that Jane can live off of when she does retire. When Jane does decide to retire (in the next few years) we hope to have a well-balanced portfolio that will allow Jane to live a more comfortable and well-funded retirement since her withdrawals will be less influenced by erratic market fluctuations since all dividends are collected as cash instead of reinvested.
Although this may sound repetitive, I would like to include a disclaimer that this article is based on an actual portfolio for a client of mine. The goal is to build a portfolio of dividend-paying stocks, bonds, etc. that will continue to produce a growing and long-lasting income stream and simultaneously preserve capital. Capital appreciation is the least important characteristic of this portfolio. It is important that you do your own research when creating a portfolio that meets your needs!
Dividend And Distribution Increases
There were three companies that provided an increased dividend payout during the month of November, including:
I have already covered MSB in my previous article found at the link below. I will not give my background/view of the stock but will still reiterate the dividend increase and yield information.
John And Jane's October Dividend Increases And Income Tracker - Taxable Account
Emera - There is no doubt that EMRAF has struggled recently and the revision of their dividend growth guidance is proof of this as they slashed the expected growth rate from 8% to 4-5% through 2021. Although this adjustment to dividend projections is poorly received, I believe it is necessary from a fiscal perspective to make sure that EMRAF is running efficiently with less need for debt financing or common equity. With interest expense on debt increasing for most companies I believe that this move is to the benefit of EMRAF and its investors. EMRAF has underperformed the Utilities Select Sector SPDR ETF (XLU) over the last year by a wide margin.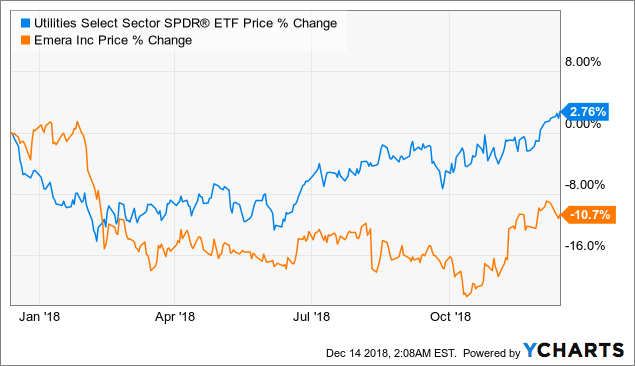 EMRAF's dividend was increased from C$.565/share per quarter to C$.5875/share per quarter. This represents an increase of 4% and a new full-year payout of C$2.35/share compared with the previous C$2.26/share. (This is equal to approximately $1.79/USD annually depending on exchange rates).
Converted to USD, EMRAF offers a current yield of 5.30% based on a share price of $33.33.
Mesabi Trust - Please note, due to MSB's variable dividend I only compare the stock on a year-over-year "total dividend" basis.
MSB's dividend was increased from $1.49/share (All 2017) to $2.79/share (All 2018). This represents an increase of 87.2% based on YoY full-year payout comparisons. This results in a current yield of 10.53% based on a share price of $26.18.
Verizon - It looks like I missed the VZ update in John and Jane's Taxable account. Verizon is one of the best-performing stocks in Jane's retirement portfolio with the 100 shares in her Traditional IRA up nearly 19% in 2018 (not including the dividends). With a cost basis of $48.05/share, the yield is north of 5%. The stock prices of VZ and AT&T (T) were generally in-line with one another until after the Time Warner (TWX) merger was approved. I would have considered selling some Verizon shares and adding to AT&T but Jane and her husband John already have significant exposure to AT&T.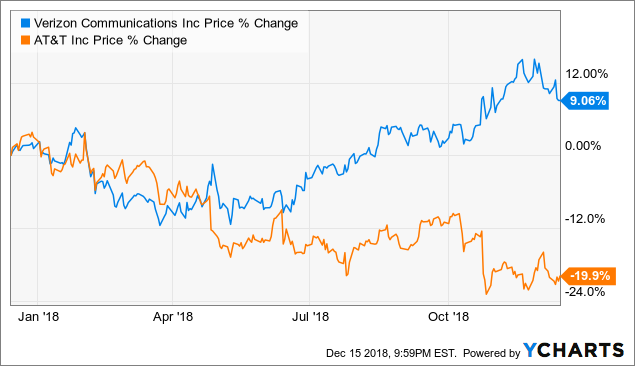 VZ's distribution was increased from $.59/share per quarter to $.6025/share per quarter. This represents a 2.1% increase YoY with a new full-year payout of $2.41/share compared with the previous $2.36/share. This results in a current yield of 4.22% based on a share price of $57.08.
Active Trading Log
As noted at the beginning of my article, I have utilized an active trading method in tandem with a dividend growth model. This is not day-trading, nor is it some crazy scheme to make a lot of money quickly.
My trading philosophy is based on a couple of key rules:
Worthy of being held on a long-term basis - Some of the trades that I make can play out over a very short period of time, while others can take months, depending on various events. Because of the risk associated with trading, I will only purchase companies that I deem worthy of being held on a long-term basis (in the event that they do not reach my sellable price target). By purchasing only high-quality stocks, we are able to mitigate much of the risk associated with the process.
Pays a dividend - Stocks that make my list almost always pay a dividend (at least that seems to be the case so far), which is important because this means that even while they are being temporarily held, they are fitting in perfectly with my dividend strategy - which, at its core, is focused on consistent dividend income. The primary reason for holding strong dividend-paying stocks is that it is the only reasonable way to be compensated for risk while waiting for the share price to recover (in the event of a downturn).
Set price targets - This rule tends to be the most difficult one for people to implement and is in many ways the most important aspect of my strategy. The biggest problem that we all face with an active trading strategy (yes, myself included) is that most people do not initiate a price target at which they are willing to sell all or part of a position. Too many investors will "hold-on" hoping for an extra dollar per share even only to find that the market turns the other way and that their opportunity to sell at a reasonable price has slipped away. Every stock in Jane's portfolio has a specified price target that I regularly update based on changes in fundamentals and cost basis. On occasion, I will ignore this rule when I see a short-term opportunity.
During the month of November, we made only one trade to help reduce our position in Johnson and Johnson (JNJ) with the intent of adding to the position again in the future at a lower price. Honestly, it was dumb luck that we sold this position when we did as shares plummeted on 12/14 due to concerns that JNJ knew about traces of asbestos in their talc powder. Shares are down -5.5% since November 1st.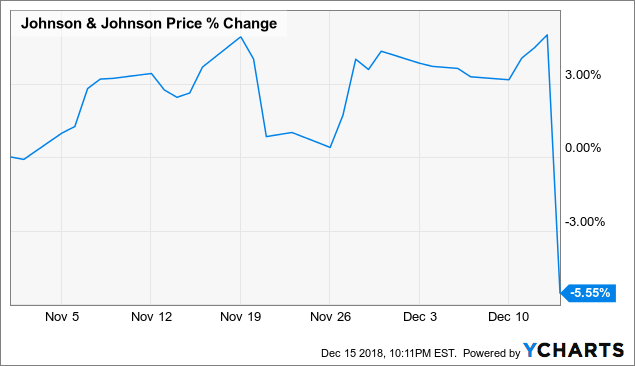 With JNJ representing the only sale of a position in November, the trading gains in the Traditional and Roth IRAs were basically flat.

Roth IRA - November Realized Gains

Traditional IRA - November Realized Gains
In total, Jane's trades resulted in a total of $0.00 of realized gains in her Roth IRA and $43.67 of realized gains in her Traditional IRA. This is a total gain of $43.67 for the retirement accounts in the month of November.
Since February 1, 2018, to November 30, 2018, Jane's Traditional and Roth IRAs have benefited from realized capital gains totaling $12,317.29 or an average of roughly $1,231.73/month.
November Income Chart And December Income Estimates
I have created the following tables to assist with keeping track of Jane's Traditional and Roth IRAs. As mentioned in the intro, I've built these tables so that we can easily compare month-to-month and YoY changes. All of the figures used in the tables below use market values based on 12/14 closing prices.
Green represents when dividends were actually received.
Yellow represents dividend estimates.
Jane's Traditional IRA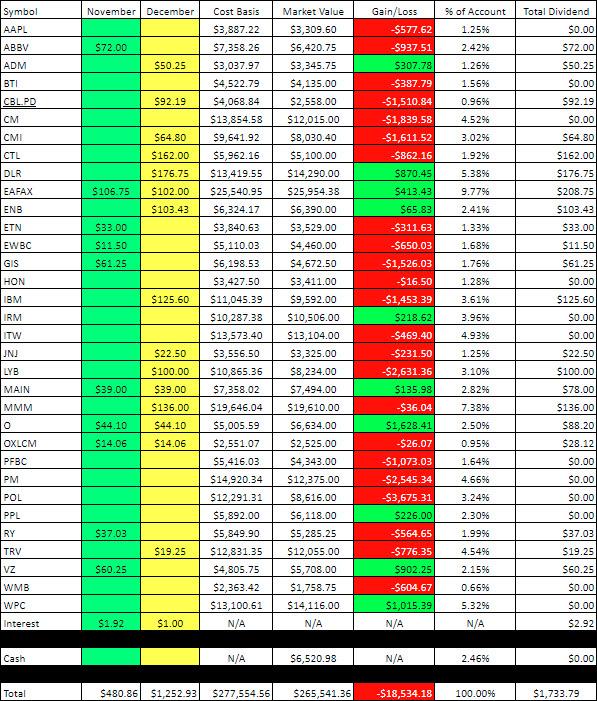 Traditional IRA - November Dividends & December Estimates
Jane's Roth IRA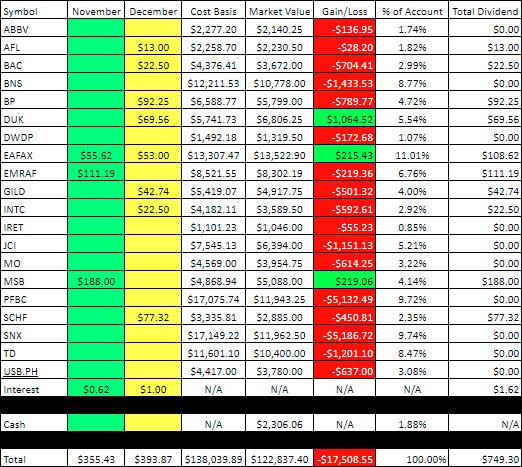 Roth IRA - November Dividends & December Estimates
YTD Retirement Account Dividend Totals
Below are four tables that show the total dividends received in the Traditional and Roth IRA accounts (smaller secondary charts are for dividends received regarding stocks no longer held), respectively, for the first eleven months of the year.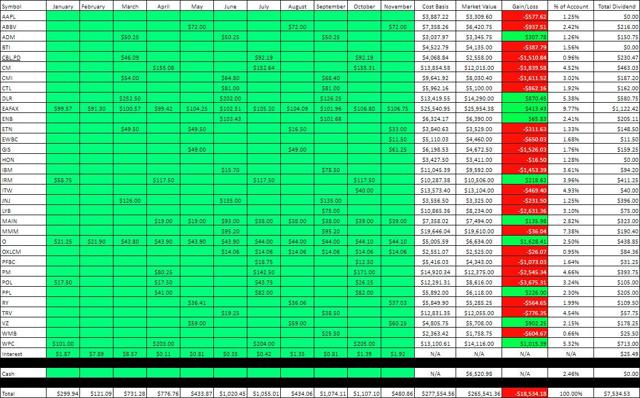 In total, Jane's Traditional IRA has produced $8,236.07 of dividend income from January to the end of November.
In total, Jane's Roth IRA has produced $3,566.12 of dividend income from January to the end of November.
In total, Jane has received total earnings (dividends and capital gains) in the amount of $24,119.48 over the course of eleven months (January through November), resulting in an average monthly income of $2,192.68. Compared with YTD October this is a decrease of approximately $125/month. This is understandable given that November represented a weak month for the stock market and where no major trades were executed in an effort to lock in capital gains. (Average monthly income in October was approximately $2,318.47).
Conclusion
There is no doubt about it, recent market turbulence has had a negative impact on Jane's retirement portfolio. For investors who are following a similar model, it is important to remember that these temporary setbacks do not impact the primary goal of creating a long-term sustainable income. It is also worth pointing out that Jane's account is subject to more volatility because the stocks we are adding to her portfolio tend to be punished more when the stock market overreacts. Jane's husband John's portfolio has less dramatic swings and it is largely thanks to his stronger focus on utilities and real estate investment trusts' (REITs).
I believe that the financial and oil companies have performed the worst during the last few months as margin compression threatens bank profitability and a downturn in oil prices directly impacts many oil companies that are still recovering from the impact of the oil glut from roughly 2 years ago.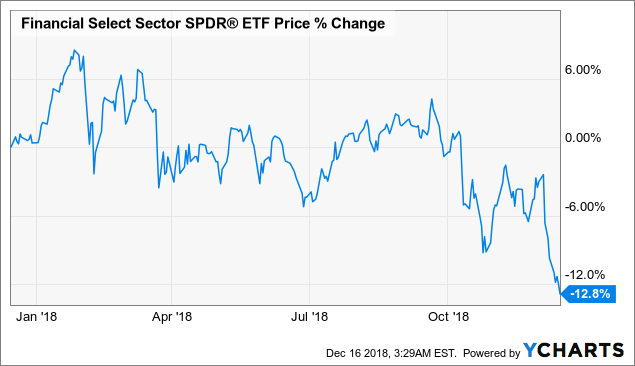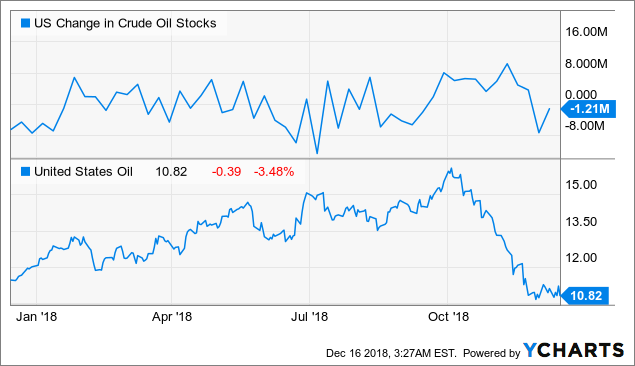 These areas currently represent an opportunity for investors who have a long-term focus and who are willing to collect a well-covered dividend in the meantime.
We expect Jane will receive a total of $1,252.93 of dividend income in her Traditional IRA and $393.87 of dividend income in her Roth IRA for a total of $1,646.80 of retirement account income during the month of December.
In Jane's Traditional and Roth IRAs, she is currently long the following mentioned in this article: AbbVie (ABBV), Aflac (AFL), Archer Daniels Midland (NYSE:ADM), Bank of America (BAC), Bank of Nova Scotia (BNS), British Petroleum (BP), British American Tobacco (BTI), CBL Properties Pref Series D (CBL.PD), Canadian Imperial Bank of Commerce (CM), Cummins (CMI), CenturyLink (CTL), Digital Realty (DLR), DowDupont (DWDP), Duke Energy (DUK), Eaton Vance Floating-Rate Advantage Fund A (MUTF:EAFAX), Enbridge (NYSE:ENB), Eaton Corporation (NYSE:ETN), Emera Inc. (OTCPK:EMRAF), EastWest Bancorp (EWBC), General Mills (NYSE:GIS), Gilead Sciences (GILD), Honeywell (HON), International Business Machines (NYSE:IBM), Illinois Tool Works (ITW), Intel (NASDAQ:INTC), Investors Real Estate Trust (NASDAQ:IRET), Iron Mountain (NYSE:IRM), Johnson Controls (NYSE:JCI), Johnson & Johnson (NYSE:JNJ), LyondellBasell (NYSE:LYB), Main Street Capital (NYSE:MAIN), 3M (NYSE:MMM), Mesabi Trust (NYSE:MSB), Altria (NYSE:MO), Realty Income (NYSE:O), Old Republic International (NYSE:ORI), Oxford Lane Capital Corp 6.75% Cum Red Pdf Shs Series 2024 (NASDAQ:OXLCM), Preferred Bank (NASDAQ:PFBC), Philip Morris (NYSE:PM), PolyOne Corp. (NYSE:POL), PPL Corporation (NYSE:PPL), Royal Bank of Canada (NYSE:RY), Schwab International Equity ETF (SCHF), Synnex Corp. (NYSE:SNX), Toronto-Dominion Bank (NYSE:TD), Travelers Co. (NYSE:TRV), US Bank Preferred H-Series (USB.PH), Verizon (NYSE:VZ), Williams Companies (WMB), W.P. Carey (NYSE:WPC).
Disclosure: I am/we are long CTL, GIS, SCHF, SNX, T. I wrote this article myself, and it expresses my own opinions. I am not receiving compensation for it (other than from Seeking Alpha). I have no business relationship with any company whose stock is mentioned in this article.
Additional disclosure: This article reflects my own personal views and is not meant to be taken as investment advice. It is recommended that you do your own research. This article was written on my own and does not reflect the views or opinions of my employer.
Editor's Note: This article discusses one or more securities that do not trade on a major U.S. exchange. Please be aware of the risks associated with these stocks.