Microsoft had a strong year and grew consistently in all business segments, which translated into an increase of its share price from $89 at the beginning of the year to $112 or an increase of 26% at the time of writing. In my previous article "Is Microsoft's Earnings Growth Potential Already Priced In?", I discussed the main growth opportunities of Microsoft and provided a DCF analysis which hit its fair-value target at $111 as can be seen in the table below.
If you haven't read the article or need a refresher of what we discussed at the beginning of the year, I would recommend reading my previous article before continuing because a lot of the interpretations and analysis are based on that article.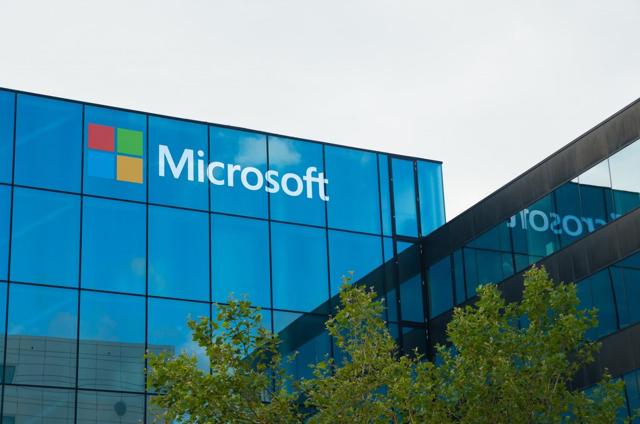 Source: dazeinfo.com

Source: Author's calculations beginning of 2018
In my previous DCF analysis, I used the terminal EBITDA multiple approach with an EBITDA multiple of 22, a projected revenue growth rate of 7% YoY, and a WACC of 10.1%, which gave us a fair-value price target of $111.10 which we hit just a few days ago. A year ago, I set Microsoft as a cautious buy and a strong hold, after this year, I tend to set Microsoft as a sell and careful hold. A few reasons that we will discuss further throughout this article are increasing cost of capital, lower growth potential because of the sheer size of the company and lower consumption worldwide, and strong competition in key growth markets. We will also make a new DCF analysis that shows how much more growth potential the share price contains and then evaluate if the risk of keeping the share in the current market overweighs the potential return.
Business Performance
Microsoft divides its business into three general parts, Productivity and Business Processes, Intelligent Cloud, and More Personal Computing. The segments consist of the following:
Productivity and Business Processes:
Office Commercial
Office Consumer
LinkedIn
Dynamic business solutions
Intelligent Cloud:
Server products and cloud services
Enterprise services
More Personal Computing:
Windows
Devices
Gaming
Search & Ads
The biggest growth markets for Microsoft are its server products, cloud services, and office products. In my previous article, I discussed why Microsoft Office and Microsoft's cloud services is a symbiotic relationship, and I still think that these two business segments have much room for growth. Microsoft just acquired GitHub, which I consider as a very thoughtful acquisition and it fits perfectly into their cloud services segment. GitHub has 28 million active users and over 57 million repositories, and it is the number one platform for coders. LinkedIn was a significant acquisition for Microsoft and is the number one social platform for professionals around the world. GitHub and LinkedIn have a very high intrinsic value for Microsoft because they grant them a window to their customers and make them approachable for small and large businesses.
Microsoft's gaming segment is growing at a high rate, and I claim that gaming will play a significant role in the future when e-sports become more mainstream and Microsoft is well positioned to grab a major market-share in this ever growing industry.
Ever-growing because gaming is accessible to everyone and offers a variety of different games and leagues for players all around the world. I even claim that gaming will reach or even exceed levels of popularity similar to those of American football, football (or soccer), and basketball in the near future. Gaming offers a variety of different strategy, solo, co-op, or team games that can be played by gamers located anywhere in the world. Just to put this statement into perspective with some numbers, Fortnite, one of the most popular games in 2018 has approximately 78.3 million active players a month. Minecraft, one of the most popular video streaming games, has 74 million active players a month, League of Legends, a MOBA-game (Multiplayer-Online-Battlefield-Arena) has as of 2018 80 million active players a month. I introduced three games with approximately 230 million active players a month and didn't even mention games like World of Warcraft, Counter-Strike, Call of Duty, and many more. The difference between gaming and sports like Basketball, football, etc. is that you don't have to gather your friends to one place to start gaming but everyone can conveniently stay at home, and you can start playing one round or two after work.
Advertisement and commercial products for games and teams will become more mainstream and will be a significant source of income because gamers want to identify with their community and will buy products to do so. The competitive gaming industry is still in its infancy and was just recently enabled through high-speed internet connections and capital infusions of investors. The competitive gaming industry has tournaments with prize money in the range of a few bucks to up to $100 million for games like Fortnite, Dota 2, League of Legends, and many more.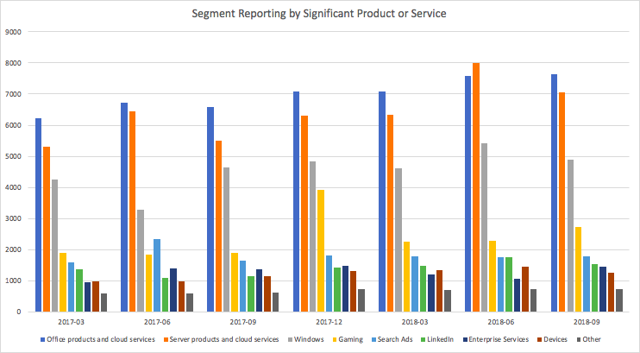 Source: Microsoft Quarterly Reports
In the graph above we can see the revenue distribution and growth from Microsoft's significant products or services. "Office products and Cloud Services" (OPCS) and "Server Products and Cloud Services" (SPCS), make up 50% of Microsoft's revenue followed closely by Microsoft's Windows products and its gaming segment.
When looking at the individual growth rates of those products or services over the last seven quarters, Enterprise Services has the highest compounded quarterly growth rate with 7.15% followed by gaming with 6.22%. OPCS and SPCS have growth rates of 3.41% and 4.90%, respectively and make up 50% of total quarterly revenue. Gaming makes up 10% of Microsoft's revenue and is one of their highest growing segments.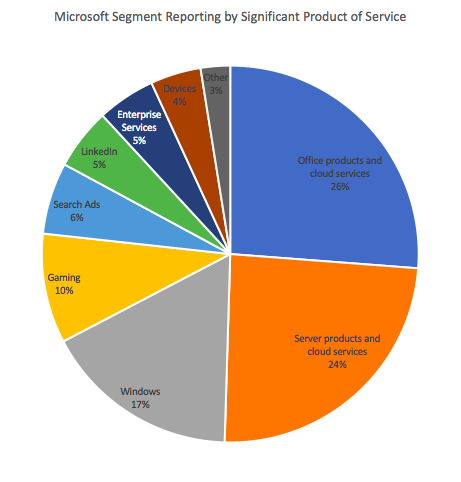 Source: Microsoft Quarterly Report 2018-09
Next, we take a look at the absolute growth rates of revenue, gross profit, operating income, and net income. Over the last ten quarters, Microsoft's revenue increased with a 3.5% compounded quarterly growth rate (CQGR), their operating income had 9.04% CQGR, and their net income increased with 10.95% CQGR.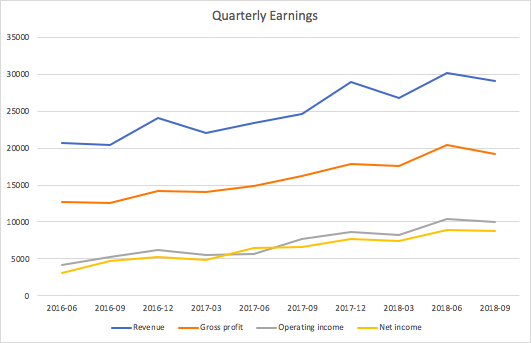 Source: Microsoft Annual Reports
Over the last ten quarters, Microsoft was able to consistently increase their revenue while maintaining a good balance between growth and profitability, which we can see when we take a look at the profitability ratios.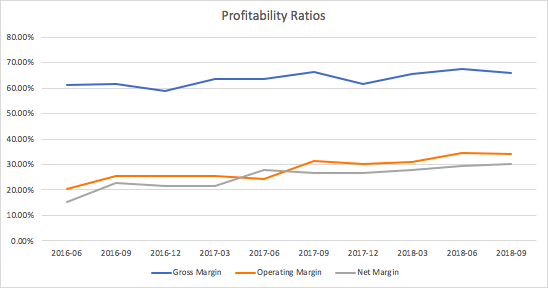 Source: Microsoft Annual Reports
Microsoft was not only able to maintain a balance between growth and profitability but even increased gross, operating, and net margin. Their net margin increased from a low of 15.15% in June 2016 to 30.64% in September 2018. I find it quite impressive and attribute the increased profitability to excellent managerial performance.
Market Valuation
Investors acknowledge Microsoft's excellent financial performance, which is one of the reasons why its share price soared by approximately 26% in 2018. But in the current late-cycle, the market tends to pay too much for companies earnings, which is why investors should keep a close eye on the companies valuation metrics like P/E-, PEG-, P/S-, P/CF, and P/B-ratios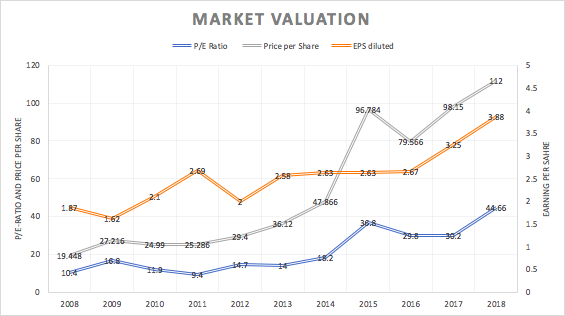 Source: Morningstar.com
In the graph above, EPS has its axis on the right side and price per share, and the PE-ratio are both plotted on the left axis. By just superficially looking at the chart we can see that the share price increased over-proportionally to earnings per share. The PE-ratio shows us precisely what we observed that investors are overexcited and pay a big premium to own Microsoft's shares.
To understand what investors are expecting from Microsoft we will take a look at the PEG- and PE-ratio, understand what growth rates they imply and if those are sustainable considering the size of Microsoft and the current market cycle. In the beginning, we take a look at Microsoft's income stream over the last five years and calculate the compounded annual growth rate (CAGR). The PE-ratio uses the price per share and divides it with the earnings per share, and the PEG-ratio divides the PE-ratio with either a historical growth rate or a future growth rate that depends on the investor's assessment of the company's possible growth.
| | | | | | |
| --- | --- | --- | --- | --- | --- |
| | 2014 | 2015 | 2016 | 2017 | 2018 |
| Revenue (4.91% CAGR) | 86833 | 93580 | 91154 | 96571 | 110360 |
| Gross Margin (3.8% CAGR) | 59755 | 60542 | 58374 | 62310 | 72007 |
| Operating Income (4.78% CAGR) | 27759 | 28161 | 27178 | 29025 | 35058 |
| Net Income (6.52% CAGR) | 22074 | 22193 | 21639 | 25489 | 30271 |
| Diluted EPS (8.09% CAGR) | 2.63 | 2.63 | 2.67 | 3.25 | 3.88 |
| Diluted EPS growth | 2% | 0% | 2% | 22% | 19% |
| Price per share | 45 | 46 | 57 | 75 | 112 |
Source: Microsoft Annual Report 2018
EPS has had an 8.09% CAGR over the last five years because of general income growth and higher net margins but also because of Microsoft's stock buyback program over the previous few years, which reduced the number of shares outstanding by 7.2% over the same time frame. Now, we have all the information to calculate the historical PE- and PEG-ratio, and we can put them into perspective with investor's expectations.
| | | | | | |
| --- | --- | --- | --- | --- | --- |
| | 2014 | 2015 | 2016 | 2017 | 2018 |
| PE-Ratio | 17.11 | 17.49 | 21.25 | 23.08 | 28.87 |
| PEG-Ratio | 0.78 | 0.8 | 0.97 | 1.05 | 1.52 |
Source: Author's calculations
An increasing PE-ratio shows us investor's growing demand for Microsoft's shares. The PEG-ratio is also rising, and we can use the relationship between PE- and PEG-ratio to calculate the necessary growth rate to keep their share price at their current level.
PEG-ratio = PE-ratio / %Growth = Price / (Earnings * %Growth)
If investor's demand for a stock and the growth rate of the company are in balance the PEG-ratio should settle at a value of 1. If the growth rate is higher than the price to earnings multiple that investors are willing to pay then the PEG-ratio will be smaller than one, which can be one of the indicators that a stock is a good buy. But if the PEG-ratio is greater than one, then investor's are expecting the company to grow even faster than it has done in the past.
Here, we are talking about Microsoft, a company with one of the highest market valuations. Growing 10% at an $800 billion market valuation requires the company to find income streams worth $80 billion or increase its margins, reduce shares outstanding and combine that with new income streams. This is indeed not an easy task.
Let us say that I want to buy the stock and expect it to stay at $112 per share that means that the PEG-ratio should move back to one over 1 year. The earnings of the company have to grow by approximately 23.5% over the year to keep the balance between the price to earnings multiple and growth. For the price to increase, Microsoft's earnings have to grow more than the expected 23.5%, which is 14.5% higher than Microsoft's 5-year average 9% EPS growth rate.
We will now go ahead and insert these requirements into a DCF analysis to find out if the current price is sustainable or not.
DCF Analysis
The following DCF analysis should show the best case scenario for Microsoft's share price, and the investor can decide if taking the risk for the possible return overweighs the potential downside. Therefore, this DCF analysis is based on two assumptions.
The company can grow their earnings by 25%, which is 1.5% more than the necessary 23.5% to keep the price per share at their current level.
The PE-ratio will not change in the same timeframe.

Source: Author's calculations
With rising interest rates, Microsoft's weighted average cost of capital increases too. In my previous DCF analysis I used a WACC of 10.1% but with higher uncertainty and a higher cost of equity Microsoft's new WACC is 10.67%. (If you are interested in a more detailed calculation, please let me know, and I will share my calculations and sources with you)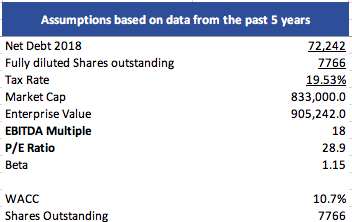 Source: Author's calculations
This DCF analysis is based on the factors listed in the table above. As of September 2018, Microsoft has no short-term debt outstanding and $72.242 billion in long-term debt. Microsoft's tax rate over the last five years averaged around 19.53% and their resulting enterprise value, which consists of all of Microsoft's debt plus their market capitalization, is $905.242 billion, as of the time of writing.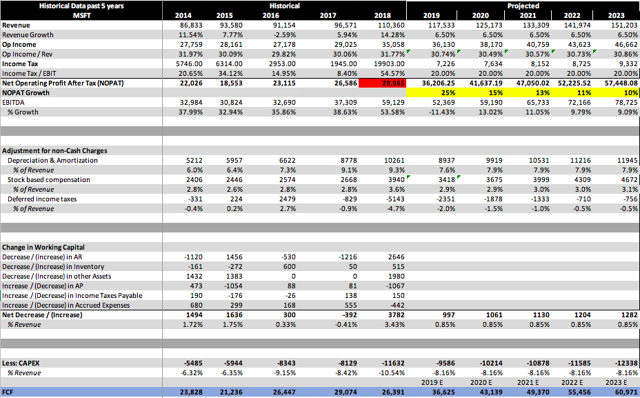 Source: Author's Calculations
For this DCF analysis, we use the EBITDA-multiple method, but our primary focus is the required growth rate of Microsoft's earnings. Therefore, I used net operating profit after tax and applied the required growth rate of 25% on it. For the following years, I used growth rates of 15%, 13%, 11%, and 10% which would fall more into the average growth rates of the past five years.
Microsoft's provision for income tax in 2018 was $19.903 billion, $13.7 billion of which are because of a net charge related to the enactment of the TCJA. I highlighted the NOPAT for 2018 in red and would like to remind the reader that the $13.7 billion payment is a one-time payment for Microsoft that falls out of the ordinary. The enactment makes companies pay a one-time tax on their money held overseas, which is rated at 15.5% instead of the usual 35% if the companies would have repatriated the money prior to the enactment. For the other charges and adjustments, I used the 5-year average.
At the bottom of the table, we see Microsoft's estimated free cash flow for the years 2019 to 2023, which we will discount to present value and calculate into the enterprise value to determine the fair value per share for our best case scenario.
(If you are interested in the full calculations and sources for this DCF analysis, feel free to send me a message, and I will share my calculations and sources with you.)

Source: Author's calculations
The table above contains the results for our calculations with different EBITDA-multiples in the top row and various discount rates on the left side of the table. At the current EBITDA-multiple of 18 and Microsoft's current WACC, we get a fair value per share of $123.45 which is a possible upside of 10.22%, but this is only for our best case scenario, with tremendous growth rates and a stable economy.
Conclusion
Microsoft is at $112 very strongly valued and offers no entry-point for new investors, but also investors that are holding a position in Microsoft should keep a meticulous eye on Microsoft over the next few years and may think about initiating a hedge for their position. At a PE-ratio of 28.87 and a PEG-ratio of 1.52, investors are expecting a lot from the $800 billion company and we should not forget that we are currently in a very shaky economic situation where news about interest rates, trade wars, sanctions, recessions, and much more are strongly influencing the share price of overvalued companies.
Historically Microsoft had valuation metrics similar or slightly lower than those of the S&P500, but in the last five years Microsoft's valuation metrics surpassed that of the S&P500 and became valued more like a growth company, which is justified considering its high growth rate in the last 3-5 years. But the investor who wants to initiate a position has to ask himself "How much more can Microsoft grow over the next 2-3 years?" and will the investor be able to hold the shares throughout a recession or a major market correction.
Microsoft is a well-managed company with a lot of growth prospects, but I think that the share price already contains all the growth of the next five years and leaves no room for error. Therefore, I cannot recommend buying the shares at current price levels.
I always welcome constructive criticism and open discussions. Please feel free to comment or PM me about my calculations and/or sources that I use in my articles.
Author note: Seeking Alpha offers me the opportunity to articulate my thoughts and share them with other investors to get feedback and create constructive discussions about anything I say. I am not a financial advisor, and the information provided in my articles should not be used to make investment choices. Due diligence and/or consultation with your investment adviser should be undertaken before making any financial decisions, as these decisions are an individual's responsibility.
Disclosure: I/we have no positions in any stocks mentioned, and no plans to initiate any positions within the next 72 hours. I wrote this article myself, and it expresses my own opinions. I am not receiving compensation for it (other than from Seeking Alpha). I have no business relationship with any company whose stock is mentioned in this article.