Thesis
Founded in 1999, Salesforce (CRM) was one of the pioneers of SaaS (Software as a Service) or cloud delivery model for business software application. It is so revolutionary due to three key reasons:
It was founded during the time when many people were still new to internet and cautious to put their sensitive business data online.

It has fully disrupted the existing on-premise software market through its "no software" campaign. It rode the wave of internet growth and removed the need for expensive enterprise on-premise servers being deployed at the client sites. Salesforce even refused to follow a hybrid delivery model, the traditional approach that Microsoft has been using as of today.

It has become a role model for new cloud software startups serving various verticals and sizes.
As the ticker may have pointed out, Salesforce is the epitome of CRM (Customer Relationship Management) market. Further, it has quickly transformed itself into a full enterprise cloud computing platform through acquisitions of then fast-growing startups in its adjacent markets such as Desk.com, RelateIQ, ExactTarget, and Radian6.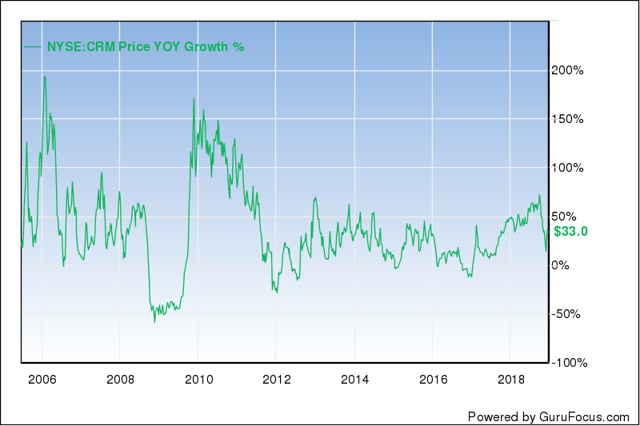 (Source: Gurufocus. CRM YoY price/share growth)
Salesforce went public in 2004 at $4.08/share. It trades today at around $138/share, which is a 28.5% YoY growth. A $10,000 investment at the time of its IPO would be worth close to $350,000 today. We have been a long-term investor in the technology sector and getting the exposure to CRM through our ETF position in VGT (NYSEARCA: VGT). We believe that cloud software is one of the most beautiful business models in the world today. It leverages a low-cost cloud delivery model to achieve a strong and predictable cash flow generation. There are huge upside opportunities as the global enterprise cloud adoption increases in the next decades. In particular, we feel that Zendesk (ZEN) and HubSpot (HUBS) serve as compelling alternative investment opportunities to Salesforce (CRM). We believe that these companies are undervalued and overlooked today despite their amazing potentials.
Cloud Enterprise CRM Fundamentals & Drivers
Every enterprise cloud CRM software company leverages three primary methods to grow their sales:
They generate demand early on through providing a range of professional services such as consulting and onboarding to key clients.

They build high switching cost through annual contract signing and retention through product cross- and up-selling.

They scale rapidly through acquisitions of other cloud players, integrations to other 3rd party cloud products, and expansion of reseller distribution channels which allows 3rd party consulting services or software houses to earn commissions by recommending the core product to their clients.
There are three main segments in the cloud CRM market: Sales, Service/Support, and Marketing cloud. Salesforce has secured the largest market-share for the sales cloud. Likewise, Zendesk and Hubspot have led the segments for enterprise customer service and marketing cloud respectively.

(Source: Salesforce homepage)
Except for Salesforce and Hubspot, which reports two separate revenue streams from both "subscription" of their core cloud software products and "professional services and other", Zendesk's professional services revenue isn't significant enough to be reported as a separate segment. On average, professional services make up about 7.3% and 6.5% of Salesforce and Hubspot total revenues respectively.

(Source: Author. Salesforce 2018 10-K Filing)

(Source: Author. Zendesk 2017 10-K Filing)

(Source: Author. Hubspot 2018 10-K Filing)
Such trends indicate that Zendesk and Hubspot still have upside potentials to expand into other enterprise segments to grab some of Salesforce's marketshare in the next few years. Indeed, we're seeing a major trend where all competitors are moving towards building a more complete cloud CRM offering. In other words, convenience appears to have strongly driven the decision for businesses when choosing the cloud CRM vendor.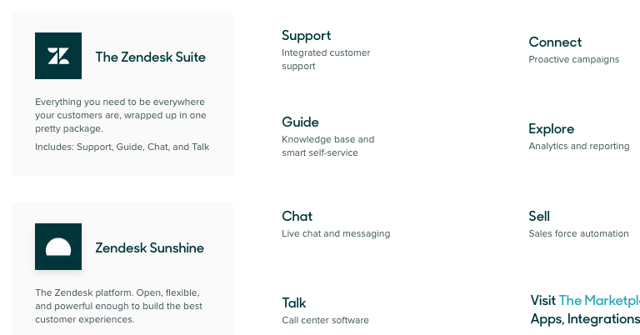 (Source: Zendesk homepage)
For Zendesk, that would be the pivotal moment where they would start generating more significant professional services revenue to increase adoptions of their upcoming products through cross- and up-selling. Zendesk recently acquired Salesforce's fierce competitor Base CRM in September to start their march into Salesforce's territory. Hubspot made a similar move by launching their own cloud customer service helpdesk and sales CRM software targeting small businesses.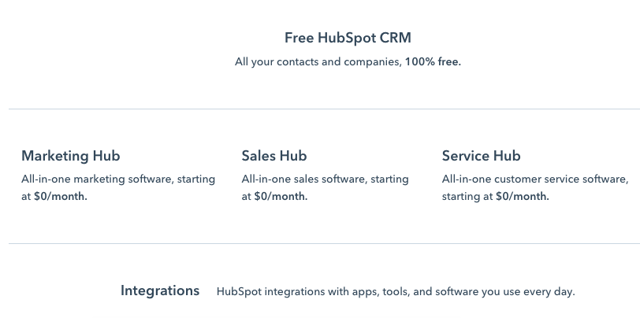 (Source: Hubspot homepage)
This indicates Hubspot's serious intention to acquire some shares in their competitors' market while expanding downmarket to serve small business segments. Looking at Hubspot's "professional services and other" revenue segment, it has also become clearer that Hubspot is taking this direction; while the segment has increased in absolute terms, its shares of the total revenue has declined by almost 300 basis points in the last two years.
Growth prospects and valuation
Hubspot and Zendesk went public in the same year in 2014. Zendesk's price/share was $14.34 and Hubspot's was $29.08. The realized CAGRs for both are about 66% and 62% respectively.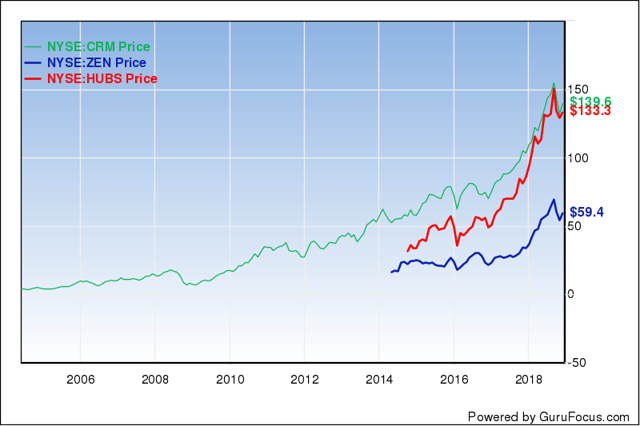 (Source: GuruFocus. All-time price/share of CRM, ZEN, and HUBS)
Venture capital firms primarily look at the subscription booking called ARR (Annual Recurring Revenue) or MRR (Monthly Recurring Revenue) when evaluating a potential cloud software deal. In the revenue portion of the income statement, this goes under the "subscription" revenue. This is why we love the cloud software model. A typical cloud software company generates cash in advance that recurs either monthly or annually through subscription contract. At the same time, it is able to maintain strong unit economies of scale leveraging 3rd party low-cost cloud infrastructure such as Amazon (AMZN) AWS to serve its software applications.
For us, metrics such as net income or EBITDA is less relevant when we look at this type of companies.
Traditional investors usually place a high valuation on these companies' ability to generate future cash flows. As we can see, as smaller cap competitors, Hubspot's and Zendesk's P/FCF trade at 2 to 2.5 times higher against Salesforce's P/FCF.
However, as an experienced cloud software investors, we typically look at other indicators as well: The rule of 40% and ARR run rate (proxy to forward ARR). The rule of 40% was introduced by Brad Feld, who is an early investor at Zynga, Fitbit, and tech incubator TechStars. Rule of 40% serves as a benchmark when measuring the health of a cloud software company. It simply means that a healthy cloud software company should have at least a recurring revenue growth rate + margin that equals to 40%. So, how do these companies compare based on these metrics?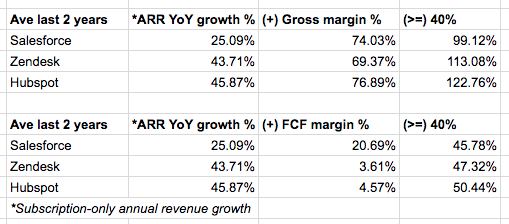 (Source: Author. Rule of 40% using Gross and FCF margin%)
This confirms our hypothesis that Zendesk and Hubspot are both overlooked by traditional investors. All companies have passed the 40% rule. Yet, we see that Zendesk and Hubspot fare better than Salesforce when we applied 40% rules using both gross margin and FCF margin. In addition to having a similar size, Hubspot and Zendesk also seem to be in a similar state of growth.
Both have been able to grow their ARRs significantly through reinvestment into new growth opportunities which would take their FCF margin converging to Salesforce's level in the long term.
In particular, we like the fact that both companies have launched initiatives to get into the emerging markets. The New Zendesk's WhatsApp integration, for instance, would be a game changer in regions such as Asia Pacific and Latin America where many small and medium businesses serve their customer requests through WhatsApp chats. As many customers in the emerging markets are much more price-sensitive, Hubspot, on the other hand, has taken the bottom-up approach since 2016 by launching the freemium version of their softwares. This would enable them to acquire small and medium businesses that could convert into premium users as they grow. These are the upside cases of our thesis.
We further look how these companies compare in terms of valuation using forward ARR. We calculate forward ARR by growing the end of FY 2017's subscription-only revenue segment by the average subscription-only revenue growth rate over the last two years preceding 2017.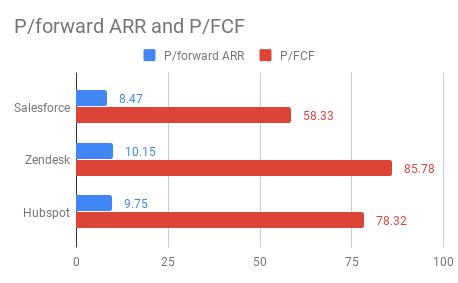 (Source: Author. Comparison of valuation multiples using P/forward ARR and P/FCF)
By using P/forward ARR multiples instead of P/FCF, we'd see that the market valuations for all three companies are not that far apart. Zendesk and Hubspot are valued close to Salesforce's P/forward ARR level despite their current growth rate. This, again, confirms our hypothesis that Zendesk and Hubspot are undervalued today.
Conclusion
Cloud enterprise CRM software market has always been and will be a very interesting market for us. With $107.2 billion market cap, many people would believe that Salesforce will have a hard time to grow faster than its 28.5% historical growth rate in the future. While we don't fully believe that's the case, we do believe that Hubspot and Zendesk are both very interesting long opportunities that. We have confirmed our hypothesis that both are overlooked and undervalued based on our assessments today. Further, both provide Salesforce-like growth potential as the market is trending towards convergence of full stack cloud sales, marketing, and service enterprise software offerings in the next few years.
Disclosure: I am/we are long VGT. I wrote this article myself, and it expresses my own opinions. I am not receiving compensation for it (other than from Seeking Alpha). I have no business relationship with any company whose stock is mentioned in this article.