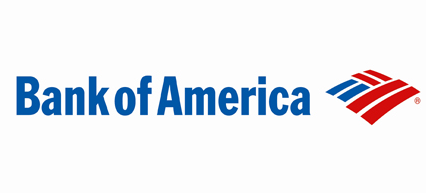 Bank of America's (BAC) shares have slumped precipitously in the last two weeks, as growing fears over an economic slowdown and a slower pace of rate hikes in 2019 started to irritate investors. Rising net interest income on the back of higher short-term interest rates has supported Bank of America's investment thesis so far, but a cyclical downturn and a decrease of interest rates would likely point to more downside for its shares. What should investors do now?
Recent Sell-Off
Bank of America's shares took a beating in December as the bank's stock price slumped from ~$29 at the beginning of the month to $24.48 on Friday, reflecting a decline of ~15 percent in as little as two weeks. According to the Relative Strength Index, an indicator for investor sentiment, Bank of America's shares are now oversold.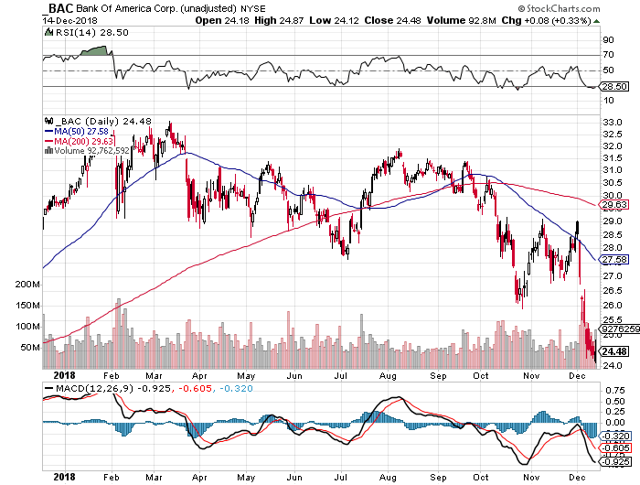 Source: StockCharts
Why did stocks sell off?
A mix of factors contributed to the slide in Bank of America's share price in the last two weeks. For one thing, the U.S.-China trade conflict is dragging on, which has created uncertainty in the market and lowered investors' risk appetite.
Secondly, investors are increasingly expecting that economic growth will slow in 2019, which in turn could translate into a slower pace of rate hikes, which could put more pressure on Bank of America's shares. The Fed meets on Wednesday this week again, and it is expected to increase short-term interest one more time. A rate hike this week would be the fourth interest rate hike in 2018. The probability of a rate hike this week, according to the CME FedWatch Tool, is 76.6 percent.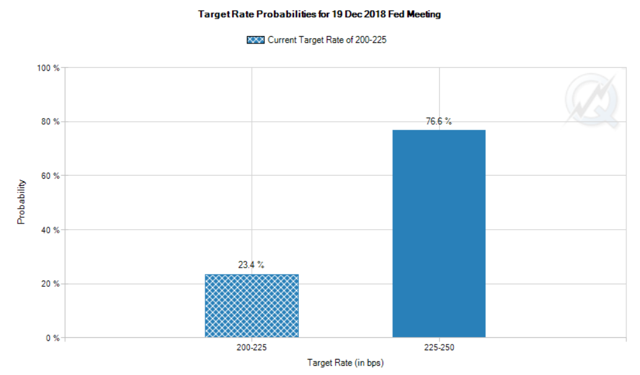 Source: CME FedWatch Tool
Higher interest rates are a big deal for banks such as Bank of America because they mean banks can charge customers more money for their loans. Higher interest rates have been a key driver behind Bank of America's price appreciation in the last couple of years: On the back of a more aggressive Fed stance on interest rates, BAC has been able to grow its net interest income from $11.2 billion in Q3-2017 to $11.9 billion in Q3-2018.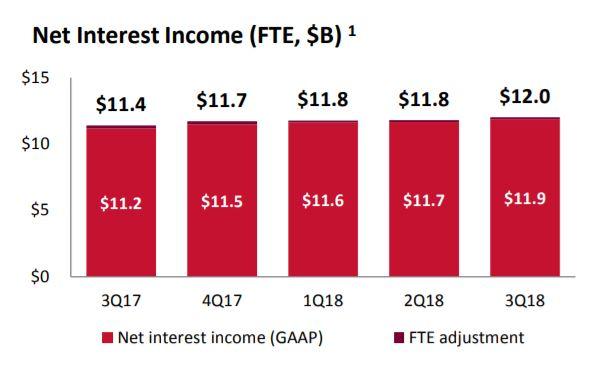 Source: Bank of America
Consensus is also building that the Fed will slow the pace of rate hikes in 2019, which in turn would also slow Bank of America's ability to grow its net interest income.
Valuation
After this month's sell-off, Bank of America's shares are no longer priced at a premium to accounting book value. Investors today can buy BAC for just about book value.
See for yourself.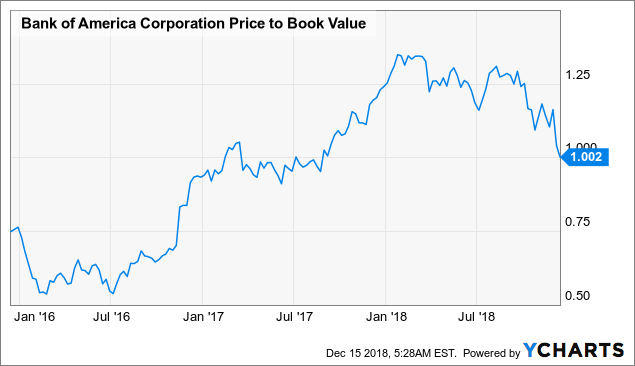 Bank of America is not the only Wall Street bank that has taken a beating lately in light of deteriorating investor sentiment with respect to financial institutions with a large amount of rate-sensitive loans: Citigroup's (C) and Wells Fargo's (WFC) valuations have also corrected sharply.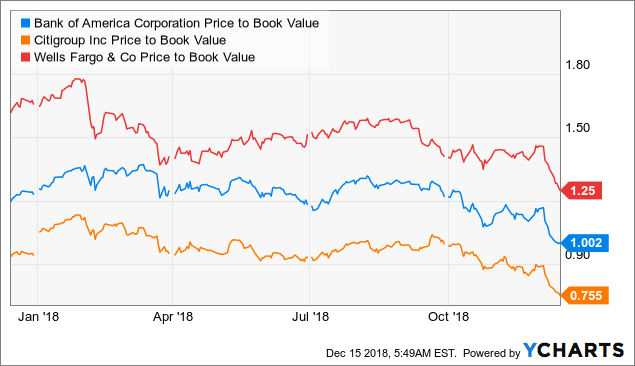 Risk Factors Investors Need To Consider
A U.S. recession is the single biggest risk factor for shareholders of Bank of America right now. Growing expectations of a slowdown of economic growth and a slower pace of rate hikes next year have the potential to really hurt rate-sensitive, cyclical stocks like Bank of America, and, in my view, investors greatly underestimate correction risks. The multitude of risks with respect to a U.S.-China trade agreement, slowing economic growth and a slower pace of rate hikes next year translate into an unfavorable risk/reward-combination for Bank of America's shares.
Your Takeaway
There is a very good chance that Bank of America's shares will trade sideways, or continue to slide in an environment of trade uncertainty and in the context of weak economic data. The U.S.-China trade conflict has the potential to escalate every single day, which would have huge repercussions for U.S. and global economic growth. Since Bank of America is a pro-cyclical, rate-sensitive bank investment, the risks now outweigh the rewards, in my opinion. Time to tread carefully.
Disclosure: I/we have no positions in any stocks mentioned, and no plans to initiate any positions within the next 72 hours. I wrote this article myself, and it expresses my own opinions. I am not receiving compensation for it (other than from Seeking Alpha). I have no business relationship with any company whose stock is mentioned in this article.