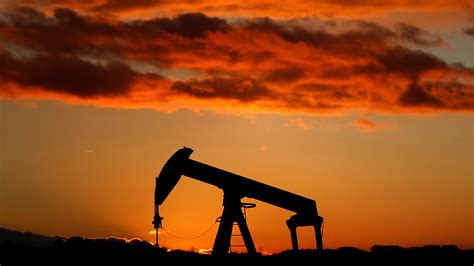 Introduction
Welcome to my Oil Weekly report. In this report, I wish to discuss my views on the U.S. crude markets. To do that, I used the iPath S&P Oil Total Return Index Exchange-Traded Notes (NYSEARCA:OIL), which tracks the performance of the S&P GSCI® Crude Oil Total Return Index through direct investments in West Texas Intermediate (WTI) crude oil futures.
With a net asset value of roughly $300m, OIL is one of the most liquid oil funds, enjoying an advantageous tax status and benefiting from a low expense fee of only 0.75% per year. The ETN does not track spot prices directly and can therefore deviate substantially from it due to variance in the shape of the futures curve over time; however, OIL seeks direct exposure to one-month crude future contracts and provides direct exposure to crude markets. Therefore, this instrument is suitable for investors not inclined to risk their capital on future markets.
In this report, I analyze the weekly crude oil storage levels published by the Energy Information Administration (EIA) and the Commitment of Traders report developments released by the Commodity Futures Trading Commission (CFTC) in order to assess investor and speculator sentiment on crude markets. Then, I identify key macroeconomic and geopolitical changes and the impacts on OIL's shares.
Crude and petroleum stocks
According to the latest EIA oil report, commercial crude stocks dipped moderately in the November 23-30 period, down 1.62% (w/w) to 443.2m barrels, whereas the recent OPEC production cut agreement should support oil prices. With the weakening of oil inventories, crude seasonality remains neutral, establishing 1.5% or 6,465k barrels above the 5-year average, but 1.1% or 4,903k barrels in deficit compared to the 2017 level. However, this weekly decrease brings a positive momentum to OIL's shares, indicating that despite historically high U.S. production levels, aggregate American demand is still holding.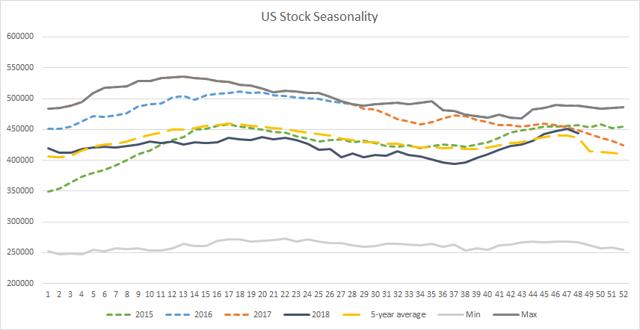 Source: EIA
During the week, the five-year spread declined steeply, down 42.15% (w/w) to 10,397k barrels. With the recent fundamental developments in crude oil, the indicator should continue to improve and is also bullish for OIL's shares.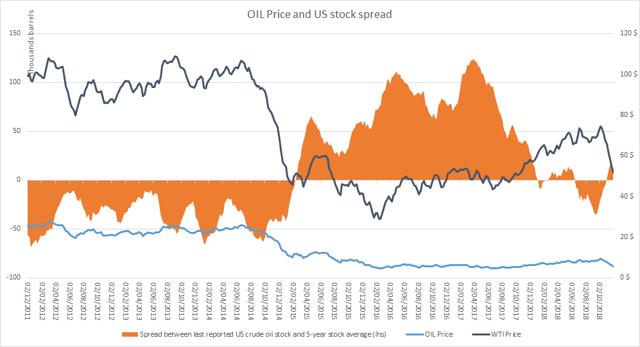 Source: EIA
On the refined petroleum side, gasoline and distillate inventories lifted concomitantly by 0.78% (w/w) to 226.3m barrels and 3.12% (w/w) to 125.6m barrels, respectively. This could partly explain the commercial crude inventory slide, despite refining utilization rates turning near full capacity (95.5%).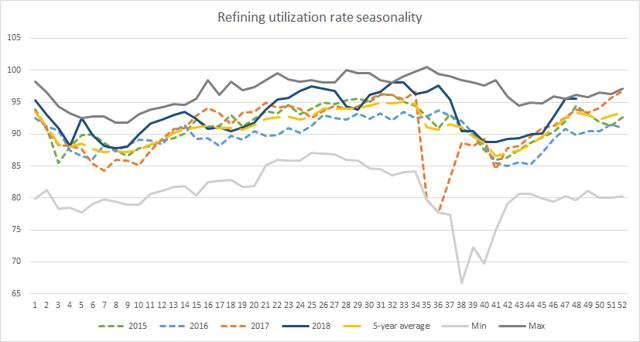 Source: Weekly U.S. Refining Utilization Rate
Meanwhile, American crude balance improved significantly, following four consecutive depreciations. U.S. oil exports lifted 31.16% (w/w) to 3.2m barrels, whereas net imports plunged 29.79% to 4.02m barrels, strengthening the U.S. crude complex international exposure.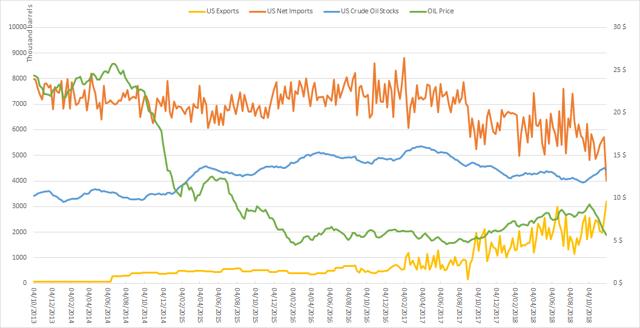 Source: Weekly Imports & Exports Report - EIA
Crude oil output in the U.S. steadied for the fourth consecutive week at 17.7m barrels, even after a reduction in oil rigs per the Baker Hughes rig count report.

Source: Baker Hughes Rig Count Report
In the interim, OIL gained 3.15% to $5.9 per share amid strong fundamental improvements.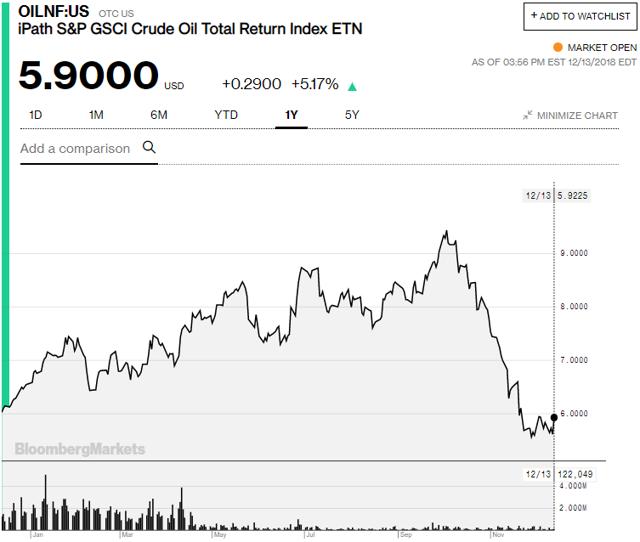 Source: Bloomberg
Speculative positioning
Net speculative length dipped again in the November 27-December 4 period, CFTC shows. During the reported week, positioning on the NYMEX WTI contracts decreased 5.16% (w/w) to 330,146 contracts, while OIL gained 3.67% to $5.93 per share. Despite the recent stabilization in crude prices, speculators are still decreasing their exposure, marking 10 consecutive declines in a row.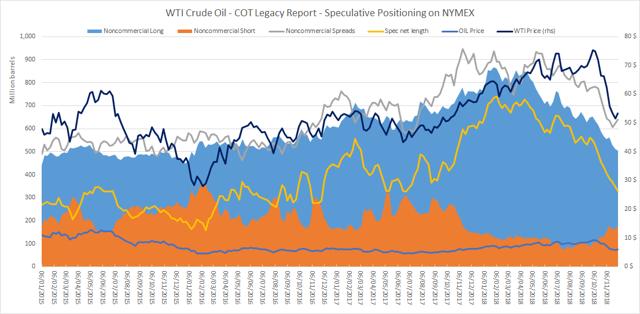 Source: CFTC
The strength of the recent plunge is similar to that of last week. However, this week, short accumulations overtook long liquidations, indicating that speculators are doubtful about a successful OPEC production cut. While long bets slowed 1.25% (w/w) to 505,292 contracts, short holdings surged 7.08% (w/w) to 175,146 contracts. For the time being, net speculative positioning continues to weigh on OIL's shares, despite decreasing U.S. crude inventories.
Since the beginning of 2018, net speculative length on NYMEX WTI contracts plunged 47.11% or 294,067 contracts, whereas OIL's year-to-date performance lost 9.88% to $5.93 per share.
Supply guidance shows neighboring oil rebalancing
Since my last article, OIL advanced 3.15% to $5.9 per share amid weaker-than-expected production cuts assumed by the OPEC and its allies led by Russia. Indeed, the agreement expected to cut a total of 1.4m barrels per day, but came in at only 1.2m bpd, which could explain the recent oil price weakness. However, let us not forget that crude prices are still in a bear market, and the expected rise, following the recent OPEC decision, might take additional time to fully materialize.
The latest monthly EIA report estimates show that demand will outpace supply, should the OPEC members carry on the latest Vienna agreement, whereas the New York Fed perceives a stronger decline in anticipated supply than in expected demand.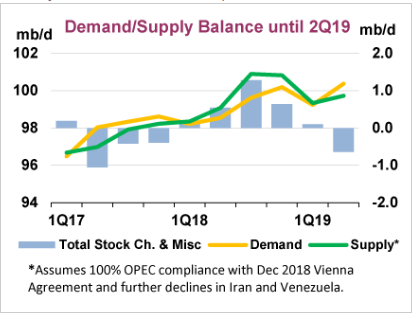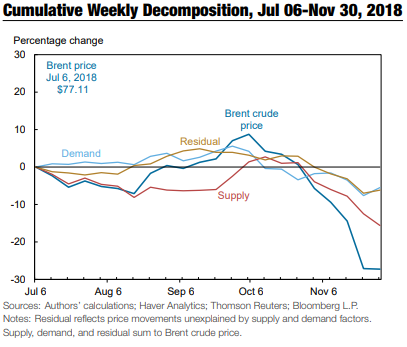 Source: New York Fed
Meanwhile, the dollar index (DXY), which measures the greenback's strength against a panel of major currencies, advanced marginally during the week, weighing slightly on WTI crude futures price and OIL's shares.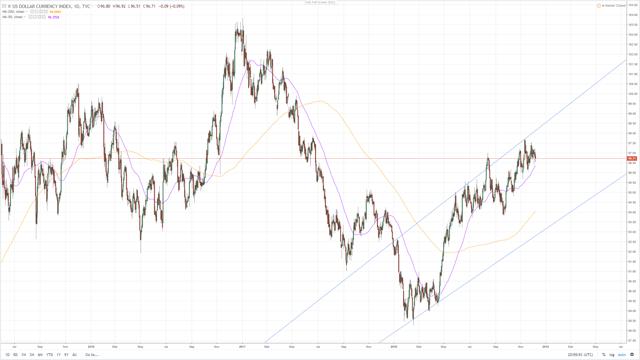 Source: Tradingview
WTI crude futures curve flattened on long-term maturities, but remained in contango on short-term deliveries. With the OPEC production cut agreement set to come online from January 1st, backwardation will likely steepen on near and distant maturities.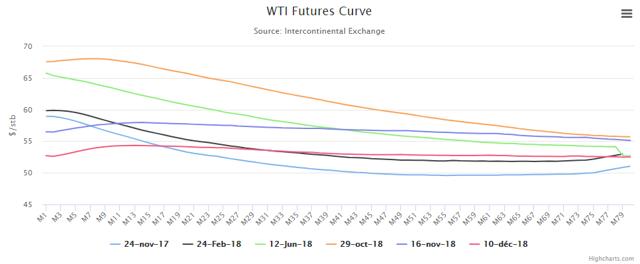 I expect a reversal of the crude markets and believe that the support level has been reached. I therefore decided to slowly build a bullish position in OIL in order to take advantage of a crude market rebound.
I look forward to reading your comments.
Disclosure: I/we have no positions in any stocks mentioned, but may initiate a long position in OIL over the next 72 hours. I wrote this article myself, and it expresses my own opinions. I am not receiving compensation for it (other than from Seeking Alpha). I have no business relationship with any company whose stock is mentioned in this article.