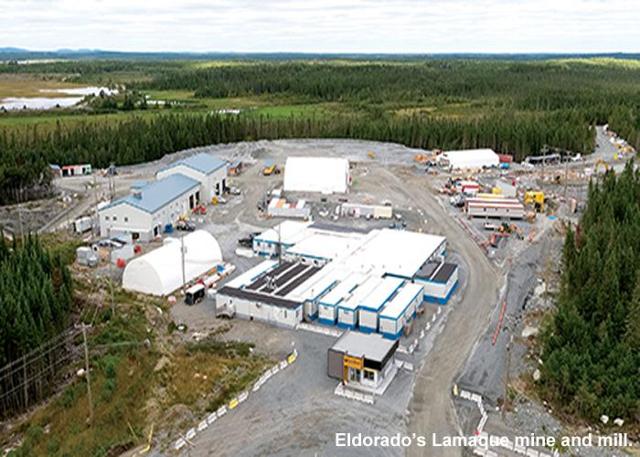 Source: Eldorado Gold
Thesis
Eldorado Gold (EGO) is a highly controversial gold miner that I have followed and traded for many years now. This Canadian gold miner embodies the perfect type of financial conundrum which continues to generate unsettling opinions from investors, including me.
Eldorado has been one of the worst-performing Canadian gold stocks in 2018. The stock has lost a whopping 85% of its value since Mr. Burns left Goldcorp Inc. (GG) where he was the chief operating officer, COO, at the end of 2016, and joined Eldorado in February 2017. He was named CEO in April 2017.
The company went from a market capitalization of $2.9 billion to now $0.46 billion which is barely above the total cash - $385 million down from $546 million the preceding year quarter - it was showing at the end of September 2018. The worst part is that it has been a steady decline.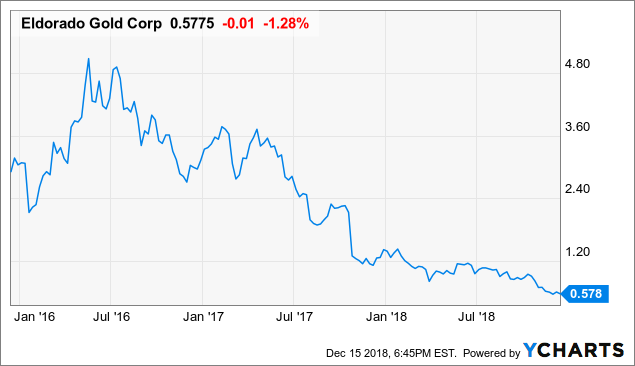 The message I want to convey to all shareholders and investors who may be interested in buying the stock now is that a company is only worth investing if its core management and board of directors are capable of running a mining business without continuously weakening its financials to the point of irreparable damage.
The "fish always rots from the head down" seems a perfect parable to describe what is going on. I would add the "golden fish" in this case.
I firmly believe that Eldorado Gold's management is not doing the job required and has made numerous costly mistakes, some of which I will discuss below.
It is all those mistakes, silence, and indecisions that have weakened the stock price to a bankruptcy-level when, in fact, the company's intrinsic value is much higher without a shadow of a doubt.
While I have been buying EGO recently from below $0.75 to as low as $0.55 based on fundamentals (P1 and P2 reserves) expressed in a previous article, I believe it is time to send an urgent warning to George Burns, the CEO, and the board of directors that the company needs a radical change in strategy before it is too late.
According to Investopedia:
"The board of directors is elected by the shareholders of a corporation to oversee and govern management and to make corporate decisions on their behalf. As a result, the board is directly responsible for protecting and managing shareholders' interests in the company.

For a board of directors to be truly effective, it needs to be objective and proactive in its policies and dealings with management. This helps to ensure that management is generating shareholder value."
A few issues that I believe should be addressed immediately
1 - George Burns' compensation is a serious issue for common shareholders, especially looking at what has been done to shareholders' value since he has been named CEO in April 2017.
According to the "Globe and Mail":
"According to documents filed with securities regulators on Friday [May 18, 2018], the Vancouver-based miner paid its new chief executive officer George Burns $7.3-million in 2017, when Eldorado shares lost more than half of their value."For a company that earns so little, that $7.3-million is too much," said Benoit Gervais, portfolio manager and head of the resource team at Mackenzie Investments.

About $3.6-million of Mr. Burns' pay is in so-called "replacement compensation" − essentially a one-time bonus paid to make up for money he would have made had he stayed at his former employer."
The question is why pay an individual so much money when all he has demonstrated is little to no aptitude to generate shareholder value as a CEO?
His track record at Eldorado Gold and a fundamental lack of communication skills have cost shareholders a great deal of money.
In the same article, Brian Madden, a portfolio manager with Goodreid Investment Counsel, said:
"[Most] Canadian mining companies don't have good governance... The boards are maybe nominally independent but are still fairly clubby. The compensation committees shroud themselves under the warm blanket of having hired a third-party consultant to validate whatever they want to pay the CEO and the other named executive officers."
This situation is not tolerable, and should not be permitted any longer by the board of directors. Accountability at the highest level is not a facultative duty but a paramount requirement when it comes to survival.
On September 2018, the company appointed Philip Yee as new executive VP and CFO. He most recently held the position of EVP & CFO at Kirkland Lake Gold and was SVP & CFO with Lake Shore Gold between 2013 and 2016.
I am curious to know what type of compensation has been decided for this new officer? But above all consideration, what is his plan of action and strategy to save this company from an apparent endemic "blurriness" due to a lack of coordinated efforts.
After three months on the job and few comments that mostly echoed the precedent CFO at the last Q3 conference call, we haven't seen any specific action so far.
2 - The Kişladağ mine and the decision to invest $520 million in Development Capital to build a new mill, which will be ready in 2021, is considered a grave mistake by the market and should be postponed immediately. Not enough cash in the coffer, sorry folks.
On October 23, 2017, gold production at Eldorado's flagship Turkish mine slipped dramatically after a significant production setback. Gold production (last estimation in yellow in the graph below) is showing a dramatic reduction until 2020.

Source: EGO Q3 Presentation
If the mill is completed in 2021 as scheduled, the mine is expected to produce 270K Oz of gold with a Life of Mine (LOM) of 9 years and AISC of $793 per ounce. I do not see it as a particularly enticing project with a low grade of 0.81 g/t, but it is not the real issue here.
The issue is what will be the financial situation then? According to Philip Yee in the Q3 conference call:
"We are actively evaluating strategic and funding options and are engaged in discussions with various third-parties. As mentioned last quarter and consistent with what we have observed exiting Q3, current cash on balance sheet combined with internally generated cash flow fully supports the development of Lamaque and provides ample runway to substantially advance construction at Kişladağ without having to draw on the $250 million revolver."
Without any new funding, he is saying that by the end of 2020, Eldorado Gold will have spent all its cash and probably a large part of the $250 million available through a still undrawn credit facility, assuming the company will be able to keep it.
"The credit facility contains covenants that restrict, among other things, the ability of the Company to incur aggregate unsecured indebtedness exceeding $850.0 million, incur secured indebtedness exceeding $200.0 million and permitted unsecured indebtedness exceeding $150.0 million. The ARCA also contains restrictions for making distributions in certain circumstances, selling material assets and conducting business other than that which relates to the mining industry. Significant financial covenants include a maximum Net Debt to Earnings before Interest, Taxes, Depreciation and Amortization ("EBITDA") of 3.5:1 and a minimum EBITDA to Interest of 3:1. The Company is in compliance with these covenants at June 30, 2018."
Thus, does it make sense when the company is facing debt refinancing of $600 million by December 15, 2020?
$600 million Senior Notes

On December 10, 2012, Eldorado Gold completed an offering of US$600 million senior notes at par value, with a coupon rate of 6.125% due December 15, 2020. The notes pay interest semi-annually on June 15 and December 15. The notes are redeemable by the Company in whole or in part, for cash:

At any time prior to December 15, 2016 at a redemption price equal to 100% of the aggregate principal amount of the notes at the treasury yield plus 50 basis points, and any accrued and unpaid interest;
On an after the dates provided below, at the redemption prices, expressed as a percentage of principal amount of the notes to be redeemed, set forth below, plus accrued and unpaid interest on the notes:

2018 and thereafter: 100%
My opinion is that this upside down strategy is not making sense and I am surprised that a professional like Philip Yee is playing along with this type of feeble financial rhetoric. The market is not buying this irrational strategy.
First, I recommend postponing the Kişladağ mill project indefinitely until the company finds a workable global financial strategy. The company should release an update about the feasibility of the Kişladağ project integrated into the miner's global financial situation with projected revenues from 2019 to 2022. The stock is already discounting the entire company's assets to zero as we speak anyway.
Second, Eldorado must take care of the debt by refinancing the note to December 15, 2022-2023. Eldorado Gold should initiate an offering of US$650 million senior notes at par value, with a coupon rate of 7%-8% due December 15, 2022-2023. If successful, the company can repay the actual notes at face value and get an extra $50 million in cash.
Third, Eldorado should find an acquirer for its Tocantinzhino project in Brazil if a decent price can be negotiated (no less than $100 million-$120 million). I do not think the Romanian assets are worth anything right now, and it is better to skip Greece at least until H2 2019. Total cash should be back to $500 million before starting the Kişladağ mill project, period.
Fourth, Eldorado Gold cannot financially support such high CapEx for Kişladağ and must find a partner capable of carrying the project to completion. I believe a 50/50 joint venture including Efemcukuru and Kişladağ could be a solution. However, in my opinion, I would not mind a sale of the entire Turkish assets, if Lamaque mine is completed in a few weeks.
3 - Reverse split issue
It has been another botched situation by the management and an evident lack of communication which seems the rule for Eldorado Gold. I am still wondering why the company put a reverse split 1:5 before the end of 2018 to a vote while it doesn't seem necessary.
However, Eldorado Gold management was wise to postpone a decision that was not urgently needed and could have triggered a shareholder revolt.
"Eldorado received shareholder approval at its 2018 Annual and Special Meeting held on June 21, 2018, to amend the Company's articles to allow for the implementation of a share consolidation with a ratio of 5-for-1. The Board will continue to review the merits of a share consolidation, taking into consideration the best interests of the Company, its trading price and the requirements of the New York Stock Exchange."
Thus, according to Eldorado Gold, shareholders' vote is required to allow for the implementation of a share consolidation with a ratio of 5-for-1.
However, what is the NYSE general rule?
Below is what the NYSE indicates as "the rule":
Share Price Requirement

The NYSE has a $1.00 minimum share price requirement. A listed company will fail to satisfy this requirement if the average closing price of its common stock is less than $1.00 over a period of 30 consecutive trading days. At the end of the 30-day period, the NYSE will notify the company and, if the company responds within 10 business days, it will be given six months to cure the deficiency.

The company will regain compliance with the minimum share price requirement if its closing share price is at least $1.00 on the last day of the six-month period and its average closing share price was at least $1.00 over the preceding 30 trading days.

If shareholder approval is required to take action to raise the bid price (i.e., a reverse stock split), the NYSE will grant an extension of the six-month period if the company is otherwise in compliance with the NYSE continued listing requirements.
The reverse split seems almost unavoidable in Q4 or is it?
So far, we do not know, and the company is dead silent as usual.
We know that Eldorado Gold must have responded to the notice of non-compliance "within ten days," to be able to get a six-month extension to cure the deficiency. Eldorado Gold was declared noncompliant by the NYSE on 2018-09-11, and even though the company did not bother to update shareholders on this issue, the company got a "grace period" until 2019-03-11.
If Eldorado Gold decides to drop the idea of a reverse split in 2018, which is still possible, then it needs to get a new shareholders' approval next year, and the NYSE will be fine with it, and could allow another 6-month extension in order to allow Eldorado Gold to get a new shareholders' authorization.
Now, why Eldorado Gold decided so precipitously to ask the permission to reverse split instead of waiting next year is another sad conundrum that triggered an extensive erosion of the stock price. Let's look again at what the NYSE is saying:
"If shareholder approval is required to take action to raise the bid price (i.e., a reverse stock split), the NYSE will grant an extension of the six-month period if the company is otherwise in compliance with the NYSE continued listing requirements."
Then, why the hurry? Why deliberately put shareholders in harm's way unnecessarily? I do not have any logical answer, and I sincerely hope that the company will finally explain what it intends to do and act decisively. Mr. George Burns, it is time to talk to your shareholders, after all, you are still the head of this fish which is still barely alive.
Author's note: Do not forget to follow me in the gold sector. Thank you for your support; I appreciate it. If you find value in this article and would like to encourage such continued efforts, please click the "Like" button below as a vote of support. Thanks!
Disclosure: I am/we are long EGO. I wrote this article myself, and it expresses my own opinions. I am not receiving compensation for it (other than from Seeking Alpha). I have no business relationship with any company whose stock is mentioned in this article.
Additional disclosure: We own a substantial position between 0.75 to 0.55.