Introduction
It has long been thought that transportation and production should move in tandem. After all, everything that is produced, and only that which is produced, must be moved to its ultimate market. In fact, that's the venerable "Dow Theory" in a nutshell.
Further, the two forms of land transportation, rail and trucking, compete with one another, but generally move in tandem.
The Transportation Slowdown
The American Association of Railroads publishes carload volumes weekly, and that statistic is part of my "Weekly Indicators" column. In that column, beginning on October 6, I noticed that a possible shift in trend. Specifically, that week I noted a slowdown in carloads to +0.5% YoY.
The next week, on October 13, noting that total traffic was only up +1.2%, I downgraded rail traffic from an economic "positive" to "neutral."
Two weeks later, on October 27, I wrote that "tariffs [were] killing rail," YoY growth in which had slowed to only +0.5%.
Traffic varied between mixed and positive in the ensuing weeks. For the last several weeks, including December 15, I summarized the condition as follows:
"After some weakness in January and February this year, rail had been positive ever since - until about two months ago. Since then, except for one week last month, it has weakened nearly precipitously, probably due to tariffs. For three of the last four weeks, including this week, it has been negative or, as in this week, neutral."
Here's the graph of YoY changes in rail volumes (calculated weekly):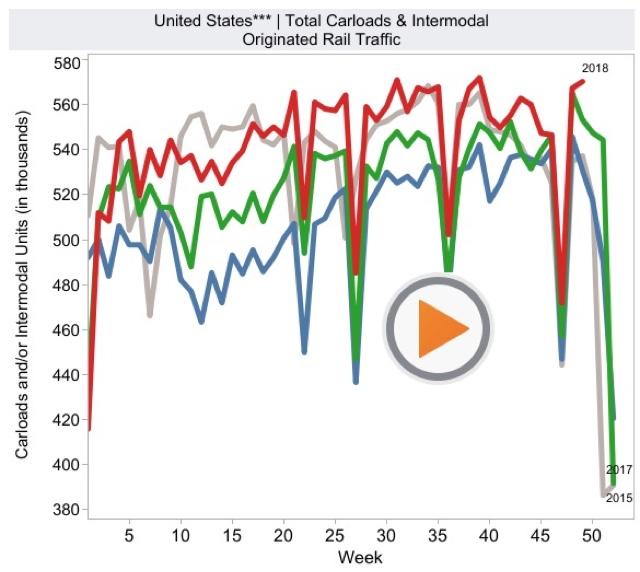 By contrast, there are no weekly updates for trucking traffic. There are two monthly reports: the Cass Freight Index and the American Trucking Association update.
Last week, the Cass Freight Index was updated for November, and showed almost no growth at all - only +0.6% - YoY: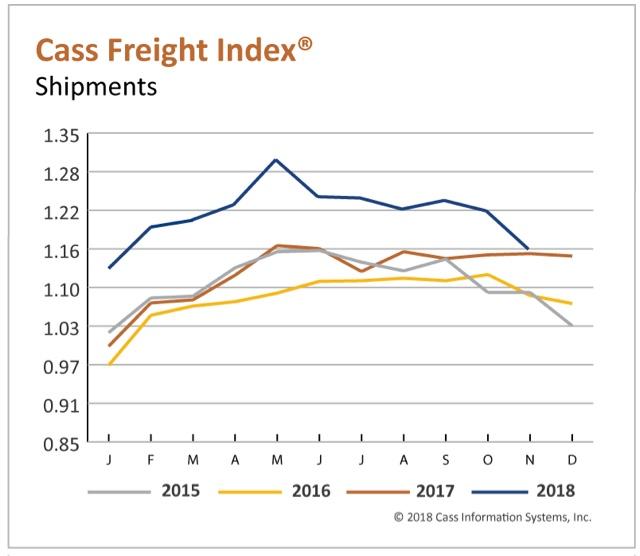 Meanwhile, as of today, the last ATA trucking report covered October, showing continued growth as of then. The November report isn't expected for at least one more week.
The point of this article isn't to slam either of the trucking industry reports. They are good confirmatory metrics for land transportation. But the simple fact is the YoY slowdown first began to show up in a weekly rail report over two months ago. One monthly trucking report finally caught it last week. The other hasn't even been updated yet.
This has broader ramifications. Here's a graph from the Cass report, showing how truck transportation correlates well with GDP growth: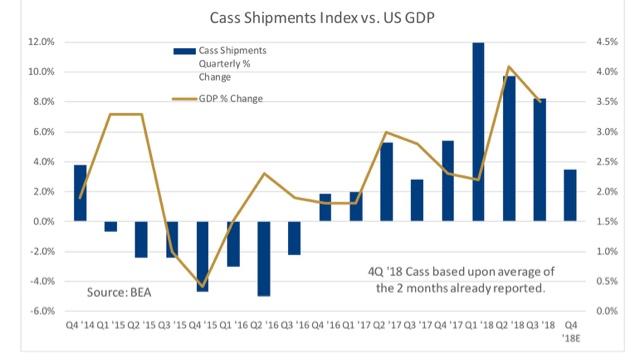 Conclusion
Readers of my "Weekly Indicators" columns got a two+ months' heads-up about the transportation slowdown, which, as the above graph suggests, is a harbinger for a significant slowdown in Q4 GDP.