Introduction
One of the main elements that was feeding into Royal Dutch Shell's (RDS.A) (RDS.B) share price collapse several years ago, aside from oil prices, was their debt-heavy acquisition of BG Group. This even attracted the interest of the famous short seller Jim Chanos, who placed a short position against them. Although these were rather scary times for their shareholders with talk of an imminent dividend cut helping to send their share price briefly under $40, this thankfully never eventuated. Since oil prices subsequently recovered shortly after, helped greatly by the 2016 OPEC production cut, they have done a remarkable job lowering their net debt and thus providing a strong base to begin growing their dividend in the coming years.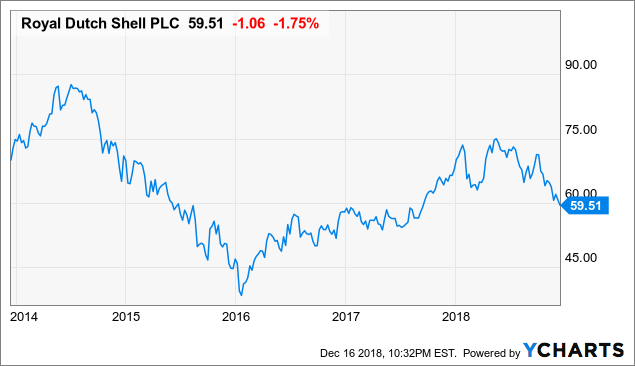 Financial Position
Shell entered the 2014-2016 oil price crash with relatively low net debt, and as a result, a low gearing ratio of only 12.4%. This provided them ample financial flexibility and thus made it possible to acquire BG group whilst maintaining their cherished dividend. Needless to say, this acquisition pushed their net debt massively higher, peaking at $77.845b in Q3 2016 with a gearing ratio of 29.2%. Since then, their free cash flow and sensible asset divestments have materially reduced their net debt to a much more manageable $60.513b at Q3 2018, giving them a gearing ratio of 23.1%, which should continue trending down in the coming years.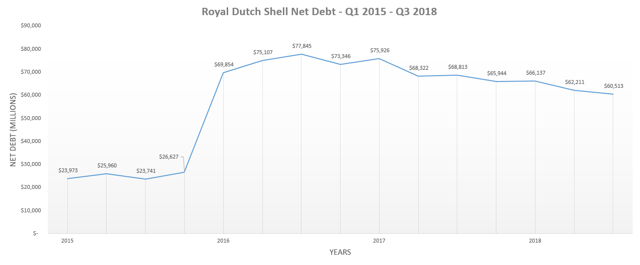 Image Source: Author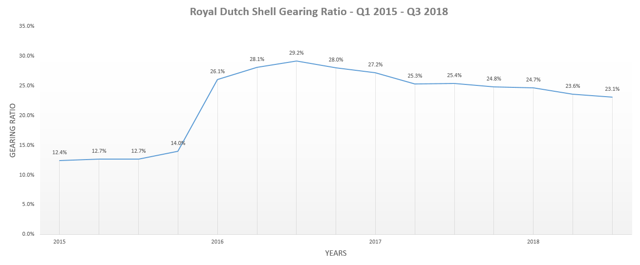 Image Source: Author
Dividend Coverage
When assessing dividend coverage, I prefer to use free cash flow and forgo earnings per share, since dividend payments are ultimately paid from a company's excess cash flow. During the first nine months, Shell produced $31.064b of operating cash flow, and after paying $15.864b of capital expenditure, $672m of investments in joint ventures and associates, $2.046b of net interest expense, $486m of distributions to non-controlling interests, their free cash flow was $11.996b. This was adequate to cover their dividend payments totaling $11.806b even though it was negatively impacted by a $5.6b working capital build. Assuming the majority of this working capital build reverses in the future and oil prices remain supportive, they should be capable of growing their dividend.
Looking Towards The Future
Aside from improving Shell's solvency and liquidity, lowering their net debt and hence gearing ratio also provides the option to begin growing their dividend again. Historically, they would announce their dividend increase when releasing their first quarter results. However, naturally, this stopped in 2015 after oil prices crashed. Whether they will reignite their dividend growth in 2019 remains unknown. However, considering lower net debt, supportive oil prices and their fellow super majors having already increased their dividends, I feel it's quite likely. Although I'd love their annual dividend to reach $2 ($4 for ADRs), I believe a smaller token increase to $1.96 ($3.84 for ADRs) is considerably more likely as their payout ratio is still high.
Further supporting Shell's future dividend growth potential is their buyback program that is steadily lowering their share count. It's quite a simple concept that as the share count lowers, it becomes less expensive to increase their dividend, and as of October, they had repurchased $2b of shares, leaving a planned $23b left to be completed by the end of 2020. At the current market capitalization of $245b (class A shares), this would remove over 9% of their outstanding shares and provide further room to increase their dividend.
Moving into the future, I would like to see Shell significantly lower their inventory levels, which have grown by almost $9b since acquiring BG group and has contributed to the working capital build mentioned earlier. Granted, there has been an oversupply of many petroleum products during this time. However, going forward, lowering these inventories will release a significant portion of working capital to further lower net debt. Thankfully, most petroleum products can be stored for quite an extended period of time, and they don't face obsolescence in the same way as technological products.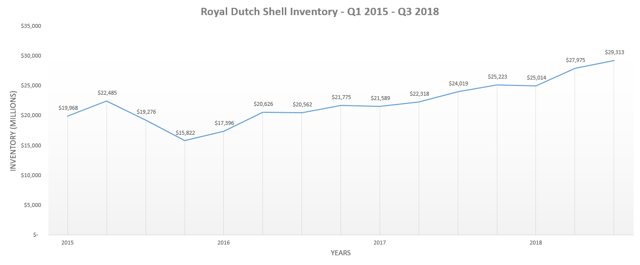 Image Source: Author
Conclusion
Although it wasn't without controversy, Shell's BG acquisition has seemingly proven to have been a wise decision. Now, their net debt and gearing ratio have fallen along with a recovery in oil prices, they're able to begin increasing their dividend in the coming years, and I expect to see a small increase at the beginning of next year.
Notes: Unless specified otherwise, all figures in this article were taken from Shell's quarterly reports contained in the following link (1) and all calculated figures were performed by the author.
Disclosure: I am/we are long RDS.B. I wrote this article myself, and it expresses my own opinions. I am not receiving compensation for it (other than from Seeking Alpha). I have no business relationship with any company whose stock is mentioned in this article.