Editor's note: Seeking Alpha is proud to welcome CLO Research as a new contributor. It's easy to become a Seeking Alpha contributor and earn money for your best investment ideas. Active contributors also get free access to the SA PRO archive. Click here to find out more »
Recent outflows in senior loan ETFs offer an opportunity for CLO equity investors to benefit from lower prices and higher effective yields. Eagle Point Credit Company, Inc. (ECC) is well positioned to benefit from any price dislocation in the senior loan market which will allow the company to invest the proceeds from recent capital raises at higher effective yields. The underlying CLOs that make up 95% of ECC's investments also stand to benefit from widening bank loan spreads. The recent decline in ECC's net asset value has a silver lining for the shares which will benefit from lower loan prices as capital is reinvested.
A similar situation occurred in late 2015/early 2016 when NAV declined rapidly and ECC's share price more than recovered in the following months. The current weakness in shares of ECC seems to be largely technical driven. ECC has underperformed the S&P 500 as well as its closest peer Oxford Lane Capital (NASDAQ:OXLC) significantly over the last 6 months. Given the strong underlying performance expected of the underlying floating rate loans over the next 6 months, ECC's share price is likely price to recover in line with historical levels.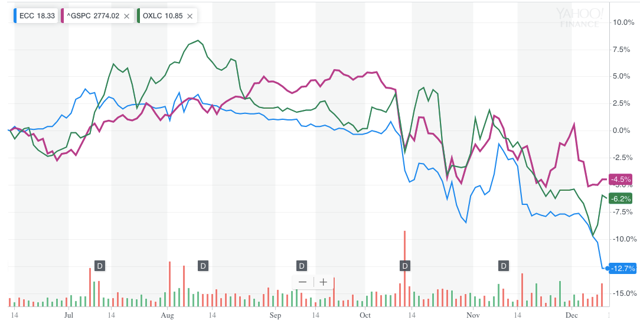 Source: Created by author using data from Yahoo Finance
A similar situation occurred in late 2015/early 2016 when NAV declined from $15.49 Oct. 31, 2015, to a low of $12.15 in Feb. 29, 2016. As the chart shows below, ECC's share price more than recovered in the following month as the NAV rebounded.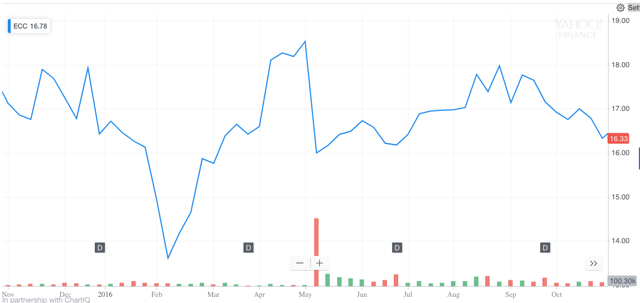 Source: Created by author using data from Yahoo Finance
Upside Catalysts
Reset and refinancing activity is likely to decline substantially over the next 3-6 months as loan spreads appear to have stabilized with recent issuance showing some widening. Management has indicated that the expenses related to resets and refinancings have significantly cut into earnings and are one of the reason why there is no special distribution this year.
A significant amount of capital has been deployed recently into new investments at higher effective yields. Underlying securities are expected to perform strongly after recent reversal in spread compression. Credit outlook remains benign: According to S&P Capital IQ, based on their poll of loan portfolio managers, 67% expected default rate to exceed the long-term average of 3.1%, beginning in 2020, and 33% expect that to occur in 2021. Notably, no respondents to their survey believe the historical average would be breached in 2019 which bodes favorably for ECC which has minimal maturities in its underlying portfolio prior to 2020.
Management has been proactively seeking to lengthen the average reinvestment period through resets and re-financings. As a consequence of the aggressive pullback on QE and recent interest rate increases, price volatility in the leveraged loan market should remain elevated over the next 2 quarters at least and provide attractive re-investment opportunities for CLO managers.
All else equal, widening bank loan spreads benefit equity holders. This is because wider spreads allow CLO managers to redeploy repayment proceeds into higher-yielding loans. Unusual selling pressure will abate over the midterm. Over the past 5 years the shares have traded only for very short periods of time below net asset value (NAV).
It is important to remember that NAV estimates (referred to as book value in the chart below) are based on traded prices of similar securities in the market, resulting in the portfolio being valued at liquidation value, despite ECC's ability to hold investments over their life-cycle and the benefits from holding control, majority positions.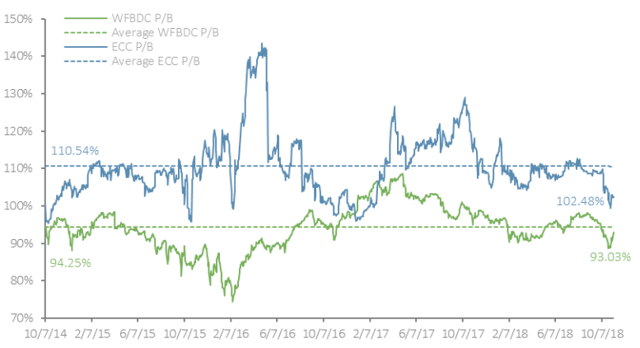 Source: ECC investor presentation from Q3 2018
ECC traded at an average premium to book value of 10.5% during a time in which the Wells Fargo BDC Index has traded at an average discount of 5.7%. Price to book value is calculated as price per share divided by book value per share.
Downside risks and considerations
Rapid deterioration in net asset value (interchangeably used as a description of book value) of the underlying loans driven by significant increase in defaults and bankruptcies. While CLO vehicles provide a reasonable level of diversification the market has historically suffered from periodic price dislocations given the low liquidity and large share of institutional long-term investors.
ECC's leveraged capital structure could require the company to issue equity or sell assets at unfavorable prices to maintain statutory debt coverage ratios. All else equal, widening bank loan spreads benefit equity holders. This is because wider spreads allow managers to redeploy repayment proceeds into higher-yielding assets, which would enhance the excess spread cash flow to the equity tranche because the cost of debt funding is fixed.
CLO equity offers attractive return potential late in the credit cycle
Some of the best performing CLO equity tranches were issued right before the financial crisis. The reinvestment option inherent to CLO equity serves as a effective downside hedge for equity investors in a market-widening environment. In volatile markets, CLO equity tranches tend to suffer secondary market price declines due to falling CLO portfolio values and expectations of higher default rates. However, the longer-term impact of higher equity cash flows due to reinvestment activity can more than offset initial price deterioration.
Floating rate loans have historically performed well in rising interest rate environments as can be seen in the table below: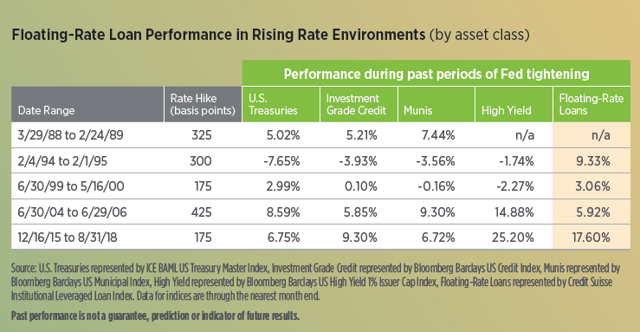 Source: XA Investments CLO Whitepaper
What is the expected return?
Management indicated in its last earnings conference call that "[...] as best as we can tell, we'll probably have taxable income in line with our current distribution rate." That bodes well for the security of the current distribution, which seems very unlikely to be reduced at this time.
The ECC common shares are currently yielding 16.9% annually based on a share price of $14.25. As a base case scenario I assume that the share price will return closer to $16.40 with in the next weeks, thereby offering an all in expected return of over 25% (16.3% in distribution plus 10% share price recovery). Management's announcement of the common and preferred distributions for the months of January to March are expected to occur in early January and provide investors with additional confidence.
Investors looking for a high distribution yield and exposure to floating rate credit with near term upside should consider adding shares of ECC at current levels given the favorable risk/reward dynamics.
Disclosure: I/we have no positions in any stocks mentioned, but may initiate a long position in ECC over the next 72 hours. I wrote this article myself, and it expresses my own opinions. I am not receiving compensation for it (other than from Seeking Alpha). I have no business relationship with any company whose stock is mentioned in this article.