Who doesn't like "sleeping well at night"?
I don't know about you, but there are plenty of things that keep me up at night, ranging from snowstorms, to a stuffy nose, to newsletter deadlines (which I am suffering from now). In fact, I'm constantly stressed out over worldwide events such as trade wars with China, decelerated inflation, and a looming government shutdown.
When it comes to picking out stocks, I have always been a big believer in owning the safest REITs, and specifically, the ones that are least likely to experience a loss of principal.
In a Seeking Alpha article, I explained that "the flight-to-quality phenomenon occurs when investors sell what they perceive to be higher risk investments, and purchase safer investments. This is considered a sign of fear in the marketplace, as investors seek less risk in exchange for lower profits."
We're less than two weeks away from a New Year, and as I reflect on 2018, I am reminded of my preference for owning the highest quality REITs. Around a year ago I published my top 10 " sleep well at night" REITS for 2018, and a few days ago I explained that " these 10 SWANs returned an (equal-weight) average of 10.6% year-to-date, beating ALL of our model portfolios (in the newsletter), as well as the DAVOS Index (+9.3% YTD)."
In a few days, I plan to provide my 2019 REIT Outlook on Seeking Alpha, which is essentially my crystal ball forecast. Without giving away my secrets here, it's somewhat obvious that the U.S. economy will see deceleration in GDP growth in 2019, but I'm confident that equity REITs can stay the course with broader equities and beat the S&P 500. How do we prepare for volatility?
By investing in the most defensive names, and by preparing for the next market disruption, investors can see a portfolio and decide if it's low risk or high risk.
To help you to find and select the safest REITs, I decided to dig into my "Intelligent REIT Lab" (part of the Forbes Real Estate Investor newsletter). Within our list of more than 125 REITs, I filtered for those best-positioned to mitigate global uncertainty and deliver the promise of protecting principal at all costs. Thank you for reading my "top 10 SWANS for 2019" article.
Before we get started, I have summarized my top 10 SWANs for 2019 below. As you can see (below), I sorted these 10 REITs based on their variance from current price to fair value. The color-coding illustrates the narrowest margin of safety (green) to the widest (in red).

To narrow down the top 10 SWANs, I used a variety of metrics and I relied heavily on dividend safety and growth potential. The chart below provides a snapshot of the "top 10 SWANs" and their forecasted FFO/share growth. It's true that several of these picks aren't exhibiting much growth, but as I will explain, these REITs offer deep value and/or catalysts that support my "sleep well at night" objectives.

To help you sort out these 10 REITs, I will provide commentary, starting with the lowest growth names to the highest growth companies. Let's get started….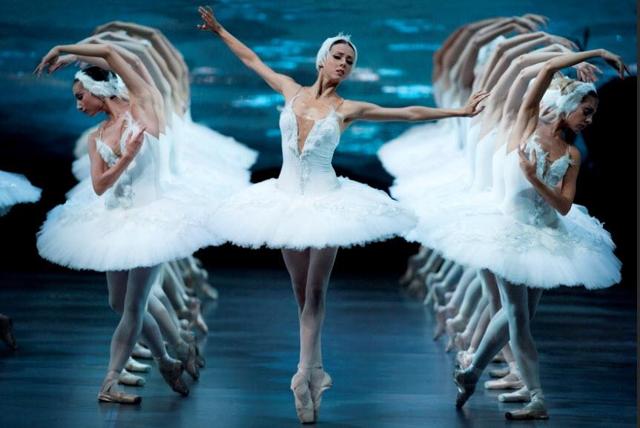 My Top Sleep Well At Night REITs For 2019
SWAN Pick #1: Ventas, Inc. (VTR) is a diversified healthcare REIT with an excellent portfolio mix of around 1,200 assets in nearly every healthcare sub-sector, with only modest (1%) exposure to skilled nursing. With locations in the U.S., Canada, and United Kingdom, Ventas has successfully built a solid strategic vision, with foresight, innovation, proactive capital allocation decisions, rigorous execution and a stable, expert team.
On the third quarter earnings call, CEO Debra Cafaro explained, "… we are very encouraged with the recently reported continued improvement in senior living starts, which are at a five-year low. Importantly, in primary markets, net absorption in assisted living in the third quarter of 2018 was the strongest third quarter for net demand on record."
If current trends continue, the current supply demand equation will most likely reverse… and that's why Ventas' senior housing assets continue to be so highly valued. Their best-in-class senior housing portfolio is second to none.
Also, Ventas has a fortress balance sheet, including a war chest of liquidity - nearly $3 billion - and worthy of a credit upgrade (from BBB+ to A-). In 2018, for the third time this year, Ventas improved its full-year outlook for normalized FFO per fully diluted share, now forecast between $4.03 and $4.07. We maintain a STRONG BUY, and we find this REIT attractive based on its highly defensive revenue generators and discounted valuation; shares trade at 15.4x P/FFO and yield 5.1%.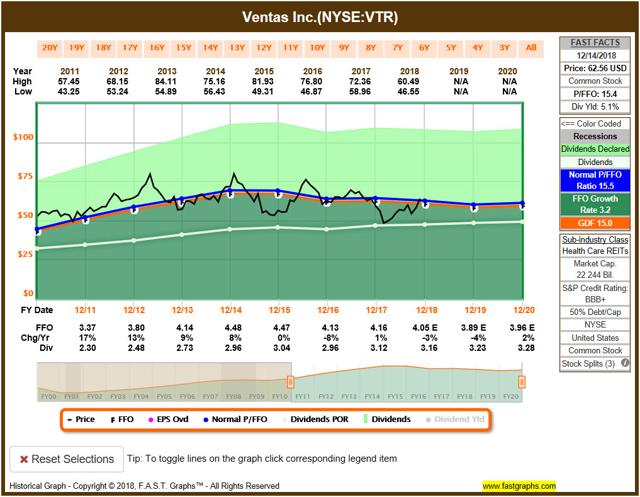 Source: FAST Graphs
SWAN Pick #2: Kimco Realty (KIM) is a shopping center REIT and considering the company's transformation over the last five years, it's even more obvious that this open-air Shopping Center REIT is " dirt cheap."
Kimco's 2010 portfolio included 816 properties scattered across the U.S., and today, KIM counts 450 properties across 78 million square feet of leasable space, primarily in the top 20 U.S. markets, which provide 80% of ABR (annual base rent). Those markets project a population growth of 6.3 million within the next 5 years.
Kimco has been actively managing risk by focusing on retailers that are thriving: 56% are service-oriented and 39% are omni-channel players. Around 75% of ABR is generated from grocery anchored centers. Kimco has essentially debunked the "retail apocalypse" narrative by focusing on a tactical strategy of owning the very best shopping centers in the very best markets.
Kimco has around $800 million of redevelopment projects underway, expected to generate around $50 million of net operating income (or NOI). Of note, its multi-phase mixed-use redevelopment Pentagon Centre property (a 55/45 JV with the Canada Pension Plan Investment Board) is across the street from Amazon's (AMZN) newly-announced National Landing HQ project (with future phase entitlements already secured to allow for additional residential, retail, office and hotel space).
I've suggested Kimco is awaiting a credit upgrade that could put the company in the elite A-rated club. The company's balance sheet and liquidity position are in excellent shape; their weighted average debt maturity profile is 10.7 years, one of the longest in the REIT industry. And Kimco has over $2 billion available on its unsecured revolving credit facility, which provides a significant liquidity for any opportunistic funding refinements.
Remember, too, that Kimco owns 9.74% of private grocer, Albertsons, a company that itself expects over $1 billion in free cash flow over the coming year that could help support a 2019 IPO (we believe this represents ~$500 million in value, KIM share).
With KIM's share price at a hefty discount to the company's 4-year trailing P/FFO, the company has been one of the most unloved REITs these past 4 years… but with a growing FFO per share in 2019 and 2020, it indicates to me the dividend is getting ever-safer. We maintain a STRONG BUY based on Kimco's recycling, redevelopment, and strong balance sheet. Shares trade at 11.2x P/FFO with a dividend yield of 6.6%.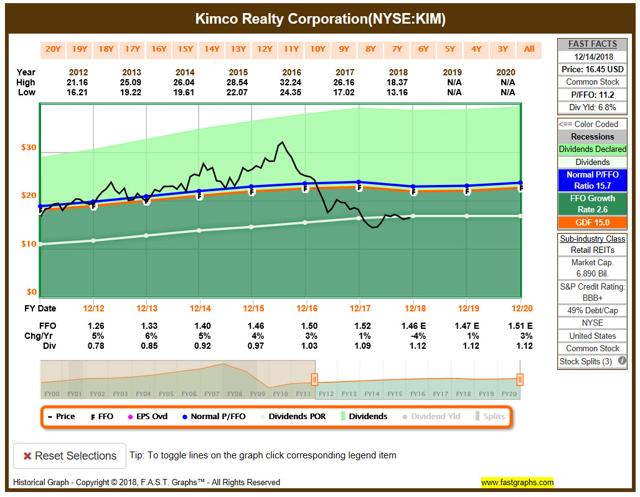 Source: FAST Graphs
SWAN Pick #3: W.P. Carey (WPC) has been in business for over 45 years and is one of the largest owners of net lease properties and ranks among the top 25 REITs in the MSCI US REIT Index. WPC's enterprise value is approximately $17 billion of "mission critical" commercial real estate, including 1,186 properties covering approximately 133 million square feet.
Its portfolio of high-quality single-tenant industrial, warehouse, office and retail properties is subject to long-term leases with built-in rent escalators. Assets are primarily in the U.S., with 30% exposure in Northern and Western Europe; and well-diversified by tenant, property type, geographic location and tenant industry.
The company recently expanded after closing on its strategic $5.9 billion merger with CPA:17 (non-traded REIT) which improves W.P. Carey's earnings quality, enhances diversification, and increases size and scale. Carey also exited its non-traded retail fundraising, which will ultimately lead to more stable and predictable earnings. The company just increased its dividend, and we believe share prices remain attractive based on the P/AFFO multiple (of 13.1) and dividend yield of 5.8%. We maintain a BUY.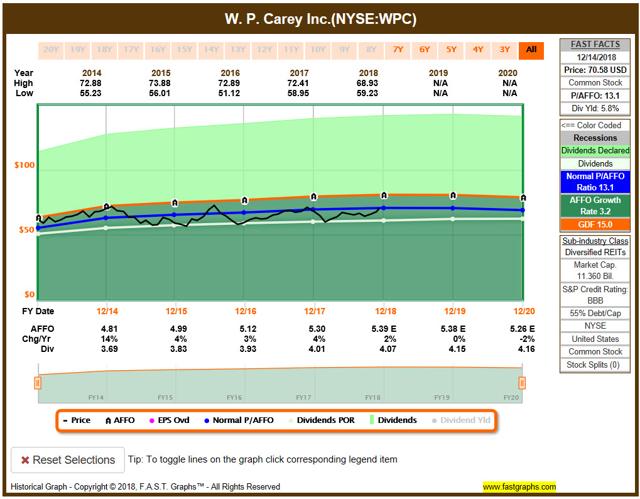 Source: FAST Graphs
SWAN Pick #4: Tanger Outlets (SKT) is headquartered in Greensboro, North Carolina, and operates and owns (or has an ownership interest in) 44 upscale outlet shopping centers in 22 states, coast to coast and in Canada, over approximately 15.3 million square feet, leased to over 3,100 stores, operated by more than 530 different brand name companies. Tanger has over 37 years of experience in the outlet industry. The company reports annual traffic of more than 189 million shoppers.
While department stores across the country account for more than 350 million square feet of mall space (per an article by daughter Lauren Thomas), Mall REIT Tanger has zero department store exposure. And even though Tanger's 2018 total return (so far), is less than I'd like, I still strongly favor Tanger as an investment.
Why? Well, Tanger's not really a Mall REIT. Sure, the company leases space to many mall tenants, but there are two obvious differences:
(1) Outlet centers are not enclosed and therefore occupancy costs are much lower for outlets than malls.
(2) Outlet centers have no department stores, and this means they're much less capital intensive when it comes to redevelopment.
When a department store closes or vacates, the landlord must spend upwards of $20 million to redevelop the box, and densification projects could cost up to $50 million. In addition, in-line mall rents average significantly more than an outlet property.
The two primary advantages for outlets: Cap-ex spending is much more predictable, and, occupancy costs are more attractive. Being a low-cost provider in the retail brick and mortar sector is an important competitive advantage enjoyed by Tanger.
Tanger's balance sheet is also strong. While the company hasn't needed to redevelop a Sears store, the company must maintain adequate resources to re-tenant vacant space, and maintain the properties. Most notable is Tanger's strict capital market discipline, and the 94% of square footage not encumbered by mortgages - this provides the company with superior flexibility and access to liquidity.
As for being moat-worthy, Tanger is the only "pure play" outlet company. Some peers have outlet centers, and some are even joint ventures (including with Tanger), but Tanger has an exclusivity and focus on outlets that attracts me, when assessing a Top 10 REIT. Tanger is a STRONG BUY as shares trade at 9.7x P/FFO and a dividend yield of 5.9%.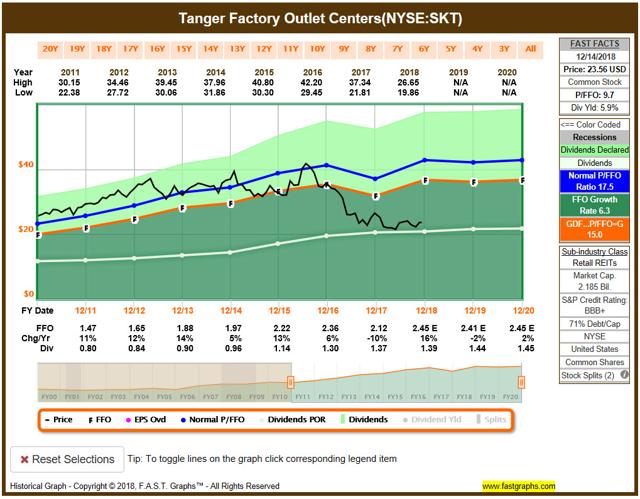 Source: FAST Graphs
SWAN Pick #5: American Campus (ACC) is the largest owner, manager and developer of high-quality student housing communities in the U.S. The company is fully integrated, self-managed and self-administered, with expertise in design, finance, development, construction management and operational management of student housing properties.
At the end of Q3-18, the company owned 168 student housing properties containing approximately 103,500 beds. Including its owned and third-party managed properties, ACC's total managed portfolio consisted of 202 properties with approximately 131,900 beds.
While ACC underperformed in 2017 (-14%), we saw the opportunity for shares in this best-in-class REIT to rebound in 2018, and here, close to year-end, I'm quite pleased with ACC's total return.
At the start of the year, there were only two publicly-traded, "pure play" campus housing REITs: ACC and Education Realty Trust (EDR). But by October, EDR had been sold for $4.6B to privately-held Greystar (the largest operator of apartments in the U.S., with operations in over 150 markets globally, managing over 480,000 units/beds, with an aggregate estimated value of over $80 billion)
So now, ACC remains the only publicly-traded "pure play" campus housing REIT.
ACC reported Q3-18 FFOM per share of $0.44 per fully diluted share or $60.6 million (versus $0.45 and $62.1 million at Q3-17). The decline was primarily due to capital recycling activity completed in Q2-18 and construction of an on-campus development project with the University of California, Irvine in the prior year period. Q3-18 occupancy was 97.0 % (versus 95.4% for Q3-17).
And earlier this month (December), ACC started construction on an approximately $630 million residential community for participants of Disney Internships & Programs at Walt Disney World Resort (FL), as developer, manager and owner of the new purpose-built housing via a 75-year ground lease.
Overall growth in the specialty campus housing sector is driven by strong demographic trends - primarily college enrollment trends. Between 2009 and 2020, college enrollment is projected to increase by 13% to approximately 23 million students, and with it, a strong demand for campus housing.
Analysts forecast ACC's FFO/share to grow by 9% in 2019 and 5% in 2020. And the company has been averaging 5% in dividend growth each year. One of the big reasons that I tout ACC is because I believe the company is the best capital allocator. We maintain a BUY as shares trade at 18.8 P/FFO with a dividend yield of 4.2%.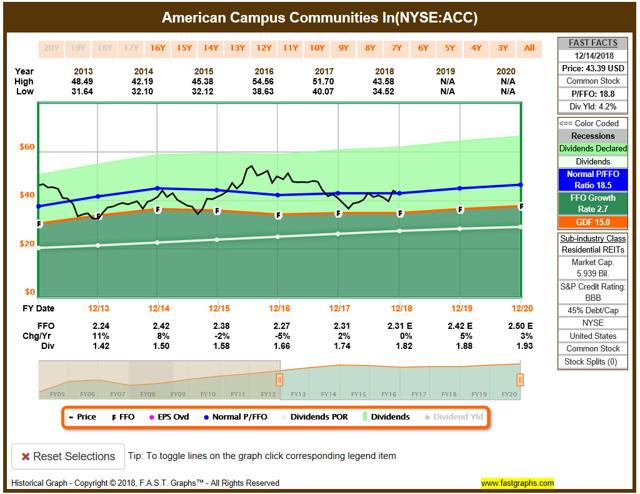 Source: FAST Graphs
SWAN Pick #6: Public Storage (PSA) built its first self-storage facility in 1972 and today operates thousands of unique and diverse company-owned locations in the U.S. and Europe, totaling more than 142 million net rentable square feet of real estate. Public Storage is among the largest landlords in the world.
The size and scope of PSA's operations have enabled the company to achieve high operating margins and low level of administrative costs relative to revenues, through centralization of many functions, such as facility maintenance, employee compensation and benefits programs, revenue management, and development & documentation of standardized operating procedures.
The absence of new supply after the 2008/2009 financial crisis, along with weak job growth were "tailwinds" for the self-storage business. In 2016, PSA's revenue growth declined for the first time in six years to 5.8%, and, in 2017, decelerated to 3.0%. Construction of new properties has increased significantly over the past three years.
PSA's financial profile is characterized by strong credit metrics, including low leverage relative to total capitalization and operating cash flows. And PSA is one of the highest rated REITs - by major rating agencies Moody's and Standard & Poor's. The company's senior debt has an "A" credit rating by S&P's and "A2" by Moody's.
The "Public Storage" brand name is the most recognized and established name in the self-storage industry, due to its national reach in major markets in 38 states, its highly visible facilities, and facilities' distinct orange-colored doors and signage. We maintain a BUY based upon PSA's financial muscle and valuation: shares trade at 193x P/FFO with a dividend yield of 3.9%.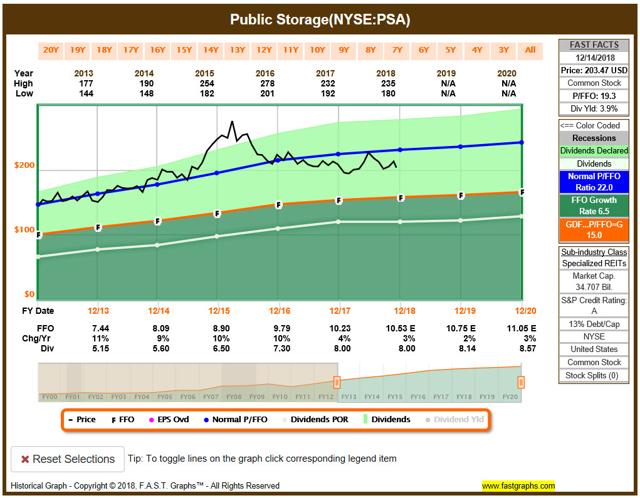 Source: FAST Graphs
SWAN Pick #7: Physicians Realty Trust (DOC) is a REIT focused on the Medical Office Buildings (or MOB) healthcare sector, the company has exploded out of the gate since its Q2-13 IPO of approximately $124 million, to now, with a Q3-18 portfolio of $4.3 billion, 250 healthcare properties across 30 states; comprising approximately 13.5 million square feet, about 96.0% leased; with a weighted average remaining lease term of approximately 8 years.
The strong occupancy ratio illustrates DOC's ability to attract and lease space to additional physicians within its facilities. In turn, this contributes to a robust referral ecosystem that helps healthcare partners reach their clinical and business goals.
Eight of DOC's top ten tenants have an investment grade rating, and the other two have very strong balance sheets without a credit agency report. Nearly 90% of DOC's portfolio was located either on campus with a hospital or other healthcare facility… or strategically located and affiliated with a hospital or other healthcare facility.
Nearly 93% of the annualized base rent payments are from triple-net leases (where the tenant is responsible for operating expenses relating to the property, including real estate taxes, utilities, property insurance, routine maintenance/repairs, and property management).
In my opinion, MOB's are mispriced, given their strong operating fundamentals, compared with other office REITs. Also, rent growth is strong (compared to net lease REITs), and DOC has been transitioning to investment grade rated tenants.
In addition, DOC's average building size has increased substantially since the IPO; the company's average building size is just over 54,000 square feet.
Rapidly increasing demand and consumerism will require care to be provided in a more efficient and convenient manner. Outpatient MOBs offer convenience to consumers, while allowing providers to efficiently integrate care in a single, efficient location. The highest revenue generating services can be executed off-campus – reducing cost and increasing provider profit.
Given the favorable demographics driving healthcare (per-capita healthcare spending by individuals aged 65 and over is nearly 3x that of other groups on an annual basis), we believe DOC is well-positioned to grow.
The company's balance sheet remains in great shape; the dividend getting safer and safer as a result of the declining payout ratio. The company has maintained discipline, and we believe the management team is doing an excellent job in the MOB sector - one of the most desirable healthcare sectors. We maintain a STRONG BUY based on DOC's valuation: P/FFO is 15.8x and dividend yield is 5.3%.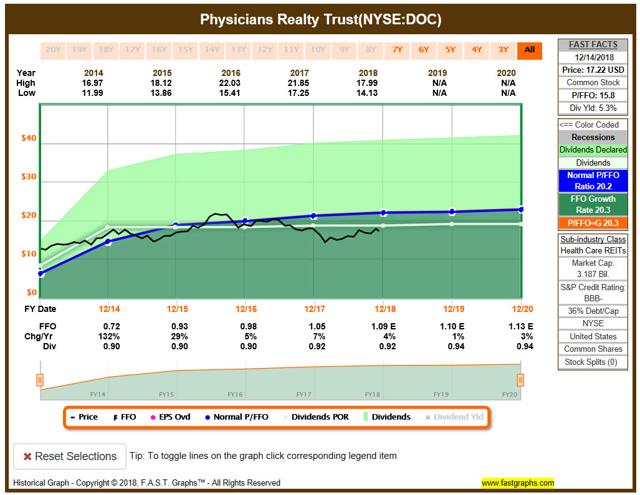 Source: FAST Graphs
SWAN Pick #8: STAG Industrial (STAG) stands for "Single Tenant Acquisition Group." The company precisely targets industrial properties, adhering to a relative value investment model, and by developing operational expertise in its target markets, STAG has consistently delivered both income and growth to its shareholders. The company's asset selectivity is very good, and the prospect for continued pipeline fulfillment looks promising.
There's certainly been price volatility along the way, but the predictability of dividend performance (and monthly payments) has given me the confidence to know any short-term fluctuations would average out.
Since going public, STAG has grown from 105 buildings to 381 buildings in 37 states, with approximately 75.4 million in rentable square feet. STAG owns standalone (free-standing) buildings, with an average size around 215,000 square feet. That's important because it makes STAG the 2nd largest industrial REIT based on that metric.
When assessing moats (competitive advantages), we pay close attention to the sustainability of the dividend, gleaned from the company's economic profits and potential dividend growth.
STAG defines Class B (secondary markets) as "net rentable square footage ranging between approximately 25 million and 200 million square feet, and located outside the 29 largest industrial metropolitan areas." Because of its secondary market industrial investment rationale, the company enjoys low capital expenditures and lower tenant improvement costs (relative to other property types).
Also, its Class B tenants tend to stay longer, since moving costs and business interruption costs are expensive relative to relocating a "critical function" facility. And secondary market rent growth has performed in‐line with primary market rent growth over the past ten years.
STAG refers to its model as a "virtual industrial park," with a highly diversified set of geographic and industry assets, giving it a level of protection should negative trade impacts start to be evidenced.
Retention is a bigger risk for STAG because the company has shorter-term leases (than O). However, the company has built impressive scale that enables more predictable tenant retention; 77% in Q3-18 on 1.3 million square feet expiring in the period; and 83% year to date.
Over the years, STAG has become a better REIT in part by the company's disciplined balance sheet management practices. With debt to EBITDA below at 5.1x at the end of Q3-18, the balance sheet continues to strengthen after an active few months in the capital markets. No debt is maturing until September 2020.
While STAG hasn't obtained an A-rating (like Realty Income (O)), the company enjoys an investment grade balance sheet (Fitch BBB/Stable Outlook) and maintains a low cost of capital - which provides the company with a large and persisting opportunity to acquire mispriced industrial real estate assets.
I consider this monthly-paying REIT to be well-positioned to generate impressive growth in 2019. The company has proven it can operate a nationwide platform, and because of enhanced scale and improved cost of capital, STAG should be able to continue generating steady and reliable earnings and dividend growth. We maintain a BUY as STAG trades at 14.5 P/FFO with a dividend yield of 5.5%.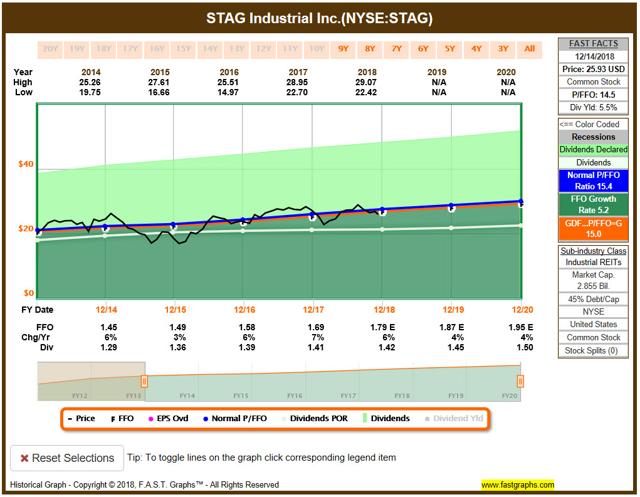 Source: FAST Graphs
SWAN Pick #9: Simon Property Group (SPG) owns, develops, and manages premier shopping, dining, entertainment and mixed-use destinations. As of Q3-18, the Mall REIT owned or held an interest in 207 income-producing properties in 37 U.S. states and Puerto Rico: 107 malls, 69 Premium Outlets, 14 Mills, 4 lifestyle centers, and 13 other retail properties. Internationally, Simon had ownership interests in 19 Premium Outlets in Japan, South Korea, Canada, Malaysia, and Mexico; and eight Designer Outlet properties in Europe, plus one in Canada.
The company also held a 21.2% equity stake in Klépierre SA, a publicly traded, Paris-based real estate company that owns, or has an interest in, shopping centers in 16 European countries; plus investments in Aéropostale, Authentic Brands Group, and HBS Global Properties.
Simon's portfolio is well-diversified from a geographic, tenant, and revenue by real estate sector perspective. Simon's largest mall space tenants include The Gap (GPS) (3.4% of base rent), Ascena Retail Group (ASNA) (1.9% of base rent), L Brands (LB) (2.2% of base rent), Signet Jewelers (SIG) (1.5%), and PVH (PVH) (1.5%).
Simon does an excellent job releasing space to new tenants, and it possesses pricing power given its high-quality properties. The company has reasonable debt levels with a balanced debt maturity schedule and a solid fixed charge coverage ratio. Simon's debt ratings are among the best unsecured debt ratings in the REIT industry, and this underscores the balance sheet strength.
Simon's current liquidity is $7 billion, and the company continues to have excess cash flow, which it can reinvest in the business. Simon is the only mall REIT with an A and A2 rating, providing it with superior operating financial flexibility to continue to create long-term value for shareholders.
Simon has delivered exceptional dividend growth. Last quarter, Simon announced a dividend of $2.00 per share, an increase of 11.1% year over year. The company will pay at least $7.90 per share in dividends, an increase of more than 10% compared to the $7.15 paid last year. At the end of October, Simon raised its full-year FFO guidance to $12.09 to $12.13 (compared to the original guidance of $11.90 to $12.02). And this new range is a growth of approximately 7.9% to 8.2% (compared to reported FFO in 2017).
Simon is the overall best retail REIT, armed with a fortress balance sheet and best-in-class tenant roster. We believe the company is positioned to deliver strong returns in 2019, and the recent earnings guidance helps indicate SPG's enhanced value, long term. We maintain a STRONG BUY as shares trade at 15.1x P/FFO with a dividend yield of 4.4%.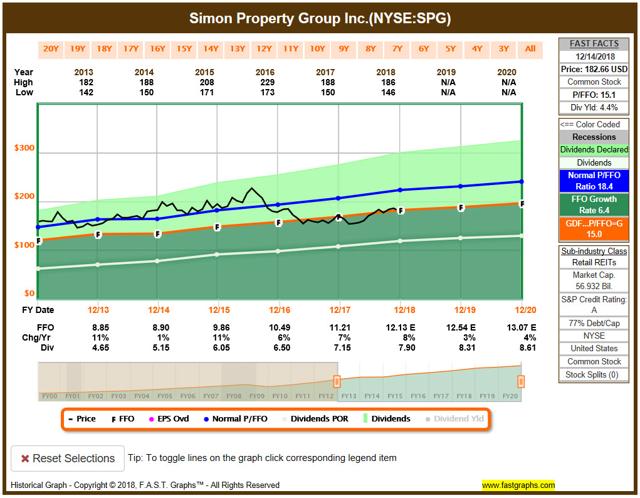 Source: FAST Graphs
SWAN Pick #10: CyrusOne (CONE) rounds out our Top 10 SWAN picks for 2019. The company specializes in enterprise-class, carrier-neutral data center properties, providing "mission-critical" data center facilities that protect and ensure the continued operation of IT infrastructure for approximately 1,000 customers, including more than 200 Fortune 1000 companies, via more than 45 data centers worldwide.
Quick story: when I recently learned that self-driving cars will be generating around 4,000 GB (4 terabytes) of data a day - 2,500 times the amount of data the average person generates today, I got very excited about the future for Infrastructure and Data REITs.
Over the years that we've covered CONE, I've seen this Data Sector REIT continue to become stronger, and part of my evidence is the recent credit upgrade. On Sept. 26, S&P Global Ratings raised its issuer credit rating on CONE to 'BB+'. The outlook is stable.
At the same time, S&P raised the issue-level ratings on CONE's senior unsecured credit facility and senior unsecured notes to 'BBB-'. The recovery rating remains '2', indicating S&P's expectation for substantial (70%-90%; rounded estimate: 80%) recovery for lenders in the event of a payment default.
Those upgrades follow CONE's added common equity offering and S&P's "expectation that the company (CONE) will use the proceeds to pay down debt and reduce debt to EBITDA to the mid- to high-5x area by year-end 2018." It was earlier this year that CONE raised approximately $150 million in equity, under less attractive capital market conditions. These transactions demonstrate CONE's commitment to a prudent funding strategy and commensurate with its financial policy.
CONE had a solid Q3-18 as shown by year-over-year growth in revenue of 18%, EBITDA growing 16%, and normalized FFO up 10%. The company's NOI grew 15% in Q3-18 driven primarily by the increase in revenue and Normalized FFO grew at a slightly lower rate than adjusted EBITDA driven primarily by an increase in interest expense to fund the development pipeline and acquisition activity, while normalized FFO per share was flat year over year as a result of equity issued to fund growth and manage leverage.
CONE's revenue backlog as of the end of the quarter was $89 million - the highest quarter-end backlog in the history of the company, and second straight quarter at a record level. This backlog sets up CONE for continued strong growth into 2019, as analysts forecast growth of 10% in 2019 and 2020, which means the company should easily sustain its dividend growth record going forward. We maintain a STRONG BUY as shares trade at 18.2 P/FFO with a dividend yield of 3.1%.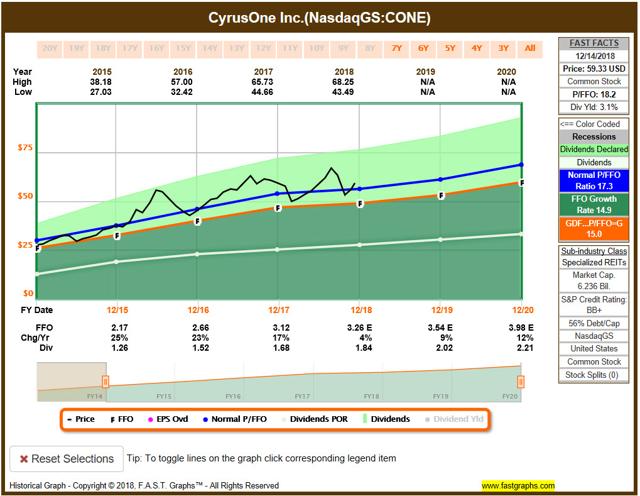 Source: FAST Graphs
Author's note: Brad Thomas is a Wall Street writer and that means he is not always right with his predictions or recommendations. That also applies to his grammar. Please excuse any typos and be assured that he will do his best to correct any errors if they are overlooked.
Finally, this article is free, and the sole purpose for writing it is to assist with research, while also providing a forum for second-level thinking.