Summary
The US markets have seen no major corrections since 2009 but there have been some modest corrections over the last several years.
We'll look at how the lowest volatility sectors from the last two recessions help up in these modest corrections.
Should one seeking a lower volatility portfolio overweight to these traditional defensive sectors?
Retirees might configure their sector allocation to reduce that sequence of returns risk.
In a recent article, I looked at the typical defensive sectors to see how they held up in the recent volatility. Here's The Defensive Utilities, Pipes and Telco's Start To Do Their Thing, Again.
While it was not a major market test, the defensive sectors started to perform as we would hope or expect in market corrections - they started to hold up much better than the broad market. In this article, we'll look at the sectors that held up the best in the last two recessions as outlined in The Lowest Volatility Sectors For Retirees.
We'll use the Consumer Staples (XLP), Consumer Discretionary (XLY) and Healthcare (XLV) sectors as the clear winners and add Utilities (XLU) that held up reasonably well in the last two recessions, but is known for its generous income and defensive nature.
From the above Lowest Volatility article, here's the scorecard for the last two recessions.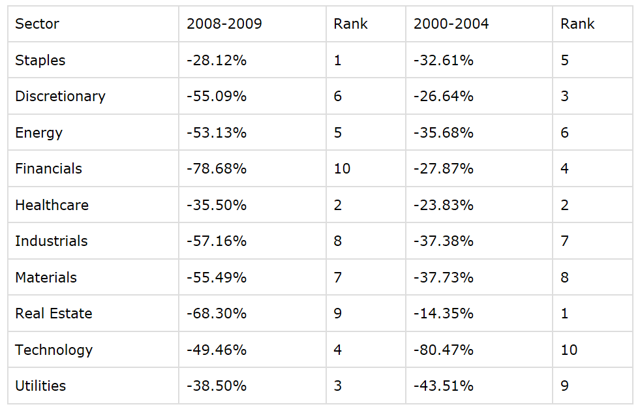 Here's how the combo held up vs. the S&P 500 in the minor correction in 2011. The period is January of 2011 to end of 2012. The chart is courtesy of portfoliovisualizer.com. In 2011, the Fantastic 4 for lower volatility was up 12% while the S&P 500 was up by just 2% and the broad market had a drawdown of 16.3%, even with dividend reinvestment.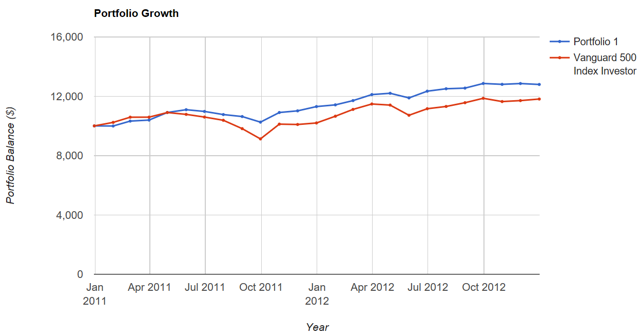 And let's have a look at the Fantastic 4 through the minor correction of 2015 and into early 2016. Once again we see the defensive portfolio hold up quite well.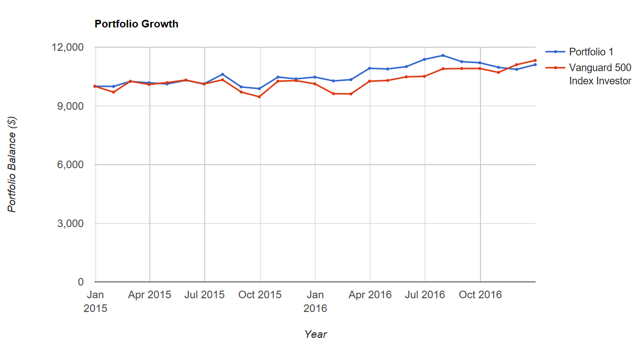 We've seen more volatility in last 2018, here's 'The 4' vs. the market. The period is January of 2018 to end of November 2018.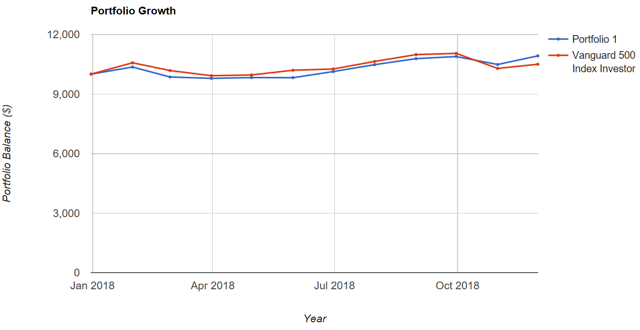 We see that in the period of the biggest market drawdown, the Defensive 4 started to 'do its thing.' For the period, the Defensive sectors were up 10% vs. 5.4% for the S&P 500.
In the end of year dip, August of 2018 to end of November 2018.

Once again, less than half of the drawdown of the market; positive returns for the Defensive 4 vs. negative for the market.
The major tests of the two recessions have helped us find the lower volatility sectors that have provided more stability and less drawdowns in the modest market tests during the bull market run of the last 10 years.
As a comparison point, here're the 3 worst-performing sectors through the last 2 recessions from January of 2015 through to end of 2016. Portfolio 1 remains the Fantastic 4, that lower volatility mix.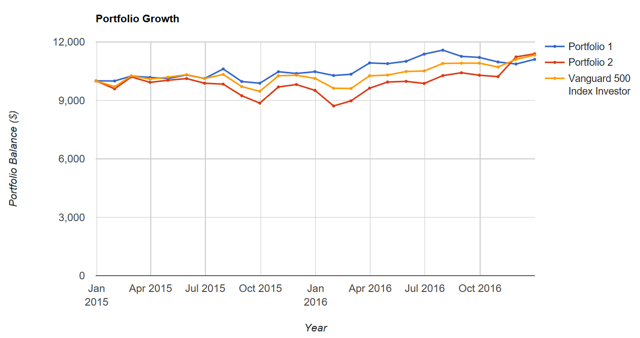 And in 2018.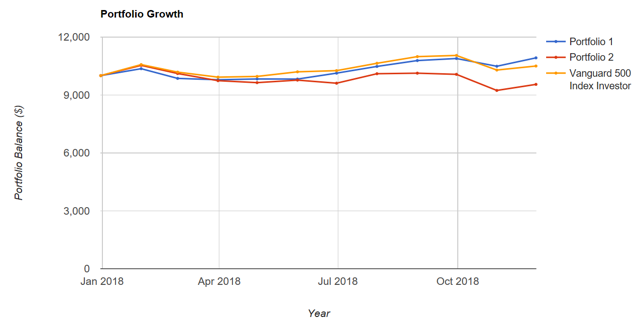 The trend of the worst performers through the last 2 recessions has also held up (or make that down as in market declines) in the minor corrections. The worst performance for the worst performers showed itself in 2011-2012.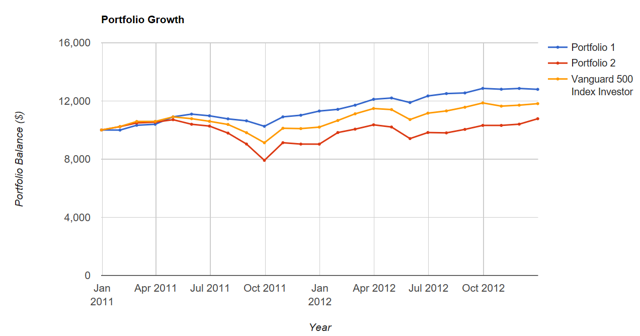 Yup, the market makers continue to flock to 'safety' whenever there is a sign of any trouble or volatility. Skittish investors are these very active market makers.
Now, of course, the above scenarios are with dividend reinvestment; the retiree would likely be spending those dividends and perhaps even harvesting some shares to create income depending on their spending needs. Let's have a look at a retirement funding scenario through the volatility of 2015 and 2016.
Here's a retiree scenario with $1,000,000 starting value; the retiree spends a generous $4,000 per month inflation adjusted. The period is January of 2011 to end of 2017.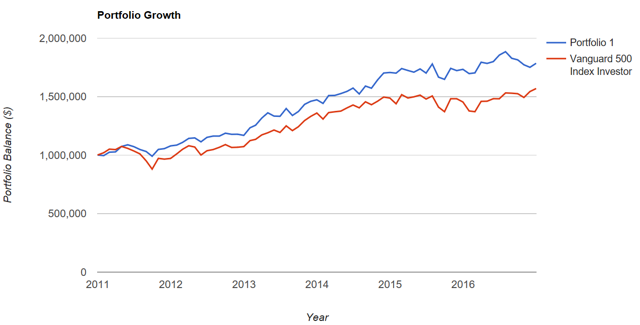 While there was little by way of serious market declines, we do see the benefit of that lower volatility portfolio for retirees. That lower volatility benefit is likely to be exaggerated in periods where and when we see a true market correction of 30%, 40%, 50% or more.
And of course, most retirees will add a fixed income component. Here's a Balanced 60% Fantastic 4 with 40% bonds by way of 7-10 year Treasuries (IEF) through the financial crisis.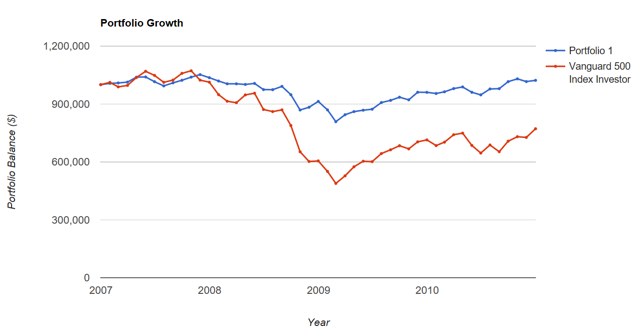 And if we check the Fantastic 4 against the Dividend Achievers (VIG) (an index known for its lower volatility) we see advantage lower volatility.
Fantastic 4 is still Portfolio 1. VIG is Portfolio 2.
The spending scenario is 4% annual - inflation adjusted.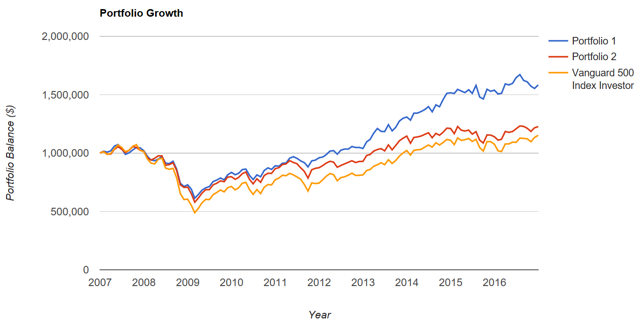 And while the income is not generous in either approach, we certainly see advantage Fantastic 4. The following is based on an initial $1,000,000 investment. The portfolio is rebalanced. The scenario below is without dividend reinvestment. This demonstrates the underlying and collective dividend growth of the assets.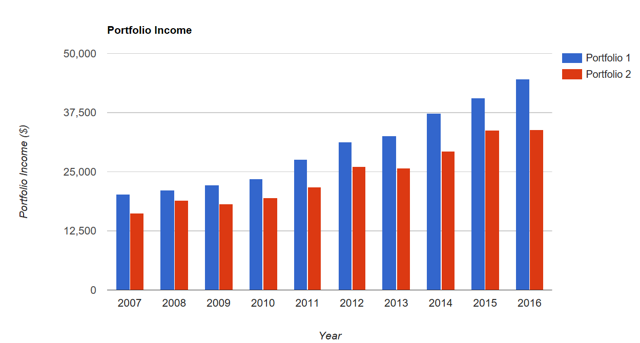 So what's a retiree to do with all of this?
If you are concerned about market volatility and sequence of returns risks, you might have a look at assets and overweight to the lower volatility sectors. A retiree might hold individual stocks and hence overweight to the baskets of stocks within these defensive sectors. For ease, one might simply overweight those consumer staples and consumer discretionary funds.
And once again, retirees might pay less attention to portfolio income and more attention to the importance of holding lower volatility assets to reduce that sequence of returns risk.
Once again, my retirement research leads to the conclusion (my own) that retirement funding success comes down to enough growth in a lower volatility manner. Generous income is great but that is not paramount. Retirees might find that balance between lower volatility and generous income (when dividend safety is key).
I might consider adding a lower volatility portfolio on my ETF Model Portfolio page.
Author's note: Thanks for reading. Please always know and invest within your risk tolerance level. Always know all tax implications and consequences. If you liked this article, please hit that "Like" button.
Disclosure: I am/we are long BNS, TD, RY, AAPL, NKE, BCE, TU, ENB, TRP, CVS, WBA, MSFT, MMM, CL, JNJ, QCOM, MDT, BRK.B, ABT, PEP, TXN, WMT, BLK. I wrote this article myself, and it expresses my own opinions. I am not receiving compensation for it (other than from Seeking Alpha). I have no business relationship with any company whose stock is mentioned in this article.