GW Pharmaceuticals (NASDAQ:GWPH) has seen its approval processes and financing targets met in a very successful 2018. Epidiolex was approved by the FDA and DEA. There is the promise of other drugs in the pipeline.
The company will finally have meaningful revenue in 2019 from epidiolex. This revenue may have been under-estimated by the market. Its off-label potential and overseas markets provide potential revenue upside.
Promise from the company's drugs pipeline is another indication that the stock may have been undervalued by the market.
Recent results show the company has the financial resources to capitalise on this promise. Everything went smoothly for the company in 2018 as regards testing and financing. 2019 will see how this translates into revenue.
Epidiolex for Childhood Epilepsy
The recent approval by the FDA and the DEA scheduling of Schedule 5 for epidiolex for Lennox-Gastaut syndrome and Dravet syndrome was a first for the company. It could be the first of many.
The drug's efficacy in treating Dravet syndrome was further reinforced by the results of the latest clinical trial in November. This was the fourth such pivotal Phase 3 trial. The stock price moved up on the positive trial data.
Analysts are generally bullish on the company's stock price. An average of all analysts' forecasts predicted a 47% uptick in price from the current level. The prediction of sales, however, encompasses a wide range of opinion.
Goldman Sachs has predicted epidiolex sales for these two childhood epilepsy conditions should ramp up to an annual value of US$2.2 billion. The lower end of analyst expectations puts annual sales at US$1 billion. Cowen & Co recently predicted sales of US$1.3 billion by 2022. The more bullish Goldman Sachs forecast seems over-optimistic on a pure numbers game basis. There are about 50,000 sufferers from the two conditions in the USA. A similar number exists in Europe. There may also be competition by 2020 if the ZX 008 treatment from Zogenix (ZGNX) makes it through approval.
Pharmaceutical companies have an average price to sales ratio of 4.5. Such a ratio might put GW Pharma at a far higher stock valuation once sales kick in. Its market cap is only US$3.3 billion at present. On a valuation basis, the upside potential looks better than the downside risk. Epidiolex's position is further strengthened by the orphan designation it has. This gives 7 years protection in the USA and 10 years in Europe.
Off-label indications could, in the long term, lead to far greater revenues. These are hard to assess accurately at this point. They could be the golden bonus, making the difference between a successful drug and a blockbuster drug.
At the time of the approval, FDA spokesman Michael Felberbaum clarified:
"From the FDA's perspective, with a few exceptions, health care professionals may choose to prescribe or use a legally marketed human drug for an unapproved use when they judge that the off-label use is medically appropriate for an individual patient."
As I pointed out in a previous article, there are only about 50,000 children in the USA with these two serious childhood epilepsies. There are however 2.2 million Americans who suffer from epilepsy. If epidiolex comes to be used by this adult population, then the additional revenues for GW Pharma could be substantial.
Additionally, revenues might not just be for epilepsy usage. Epidiolex is a Schedule 5 drug. That puts it on a par with cough medicine. CBD has seen a huge uptake in the largely unregulated supplements and "wellness" industries, worth probably billions of dollars. Neither the FDA nor Congress seem inclined to open up the market for CBD use though. In the past, government authorities have not made much effort to go after CBD supplements. This may change.
Cost of the treatment is set at US$32,500 per annum. This is roughly in line with other (unsatisfactory) treatments for the conditions currently on the market. Time will tell how well received this pricing is by insurers, physicians and patients. Those on Medicaid or with relevant private health insurance would pay a lot less. A sufferer taking cannabis oil would pay about US$600 per month. So, that option is far cheaper, but still quite an expense. There are, of course, uncertainties about the purity of any cannabis oil purchased and about its efficacy. Such products do not fall under the scope of Medicaid or health insurance.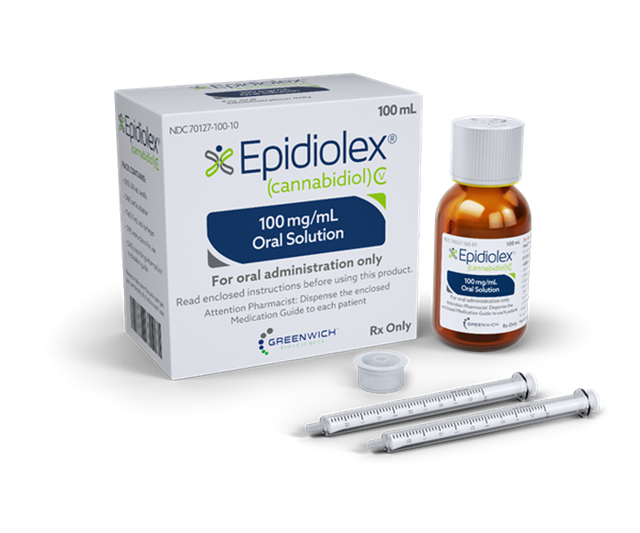 Source: Motley Fool
These factors seem to indicate a lot more upside than downside for the stock price. However, epidiolex for these two conditions is by no means the whole story as regards GW Pharma potential.
Epidiolex for Other Conditions
The slide below illustrates the current situation: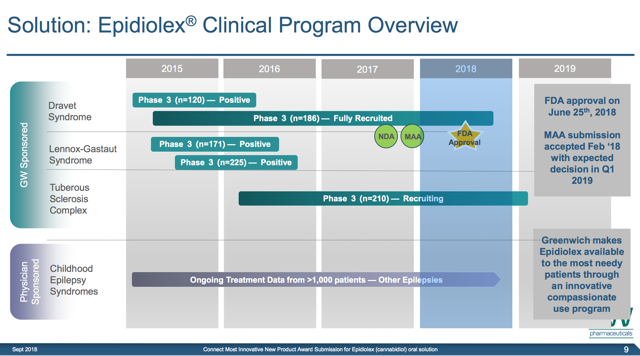 Source: GW Pharma
Treatment of tuberous sclerosis complex and other epilepsies should be next on the schedule for the drug. Tuberous sclerosis complex has many molecular similarities to other childhood epilepsies. So, the efficacy of the drug in its treatment can be viewed with some optimism. The path to approval might move quite rapidly next year. The previous delays with approval from the FDA and DEA would be less onerous. There are about 25,0000 tuberous sclerosis sufferers in the USA according to the company.
The Pipeline
It may be that epidiolex is just a one-off in its apparent efficacy in treating Lennox-Gastaut syndrome and Dravet syndrome. More likely, the beneficial effects of various cannabinoids in treating a host of conditions are real. There are over 100 cannabinoid molecules capable of targeting diseases across various therapeutic areas. GW Pharma has a significant patent programme concerning some of the most likely candidates.
No one is better placed to benefit from the promise of cannabinoids than GW Pharma. The company is well-financed and has more products in the pipeline than any of the other companies working on medical marijuana issues.
There have been arguments by some that increasing approval of medical marijuana would negatively impact GW Pharma. For instance, 32 states in the USA have legalised medical marijuana to some extent. However, approval by the Federal government still seems unlikely as long as the Republicans control the levers of power. Cannabis itself remains a Schedule 1 drug. Even were that to change, the advantages of a controlled CBD drug approved by the FDA are likely to outweigh any cost benefits of taking marijuana in its natural form. This is true in relation both to the efficacy of the product and its purity.
The Farm Bill recently approved by Congress legalises products made from hemp and CBD derivatives from the hemp plant. This is awaiting Presidential approval. The provisions specifically on hemp do not have any direct impact on GW Pharma. However, it is likely that it will help create a further positive air around the company's CBD drug.
The pipeline for GW Pharma is rich in promise as per the summary below: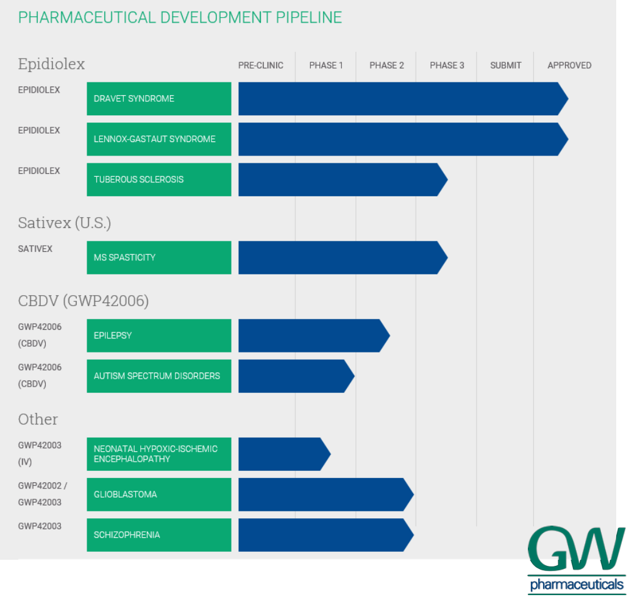 Source: GW Pharma
Sativex is already approved and sold in 28 countries around the world. GW Pharma has taken over the approval and marketing process in the USA from Otsuka of Japan. This oromucosal spray is approved for treatment of spasticity caused by multiple sclerosis. Its sales have been disappointing. At the results announcement, the company reported that there had been three positive Phase 3 trials completed in Europe. Company executives are meeting with the FDA this month to go through the regulatory path for approval in the USA.
Chief Medical Officer Dr Volker Knappertz stated at the analyst call:
"We have already completed over 10 placebo-controlled trials of sativex in other conditions, primarily in neuropathic pain syndromes."
For other drugs under development, the company seemed especially positive about medium-term indications on two fronts at the analyst call. Firstly, this is for the Phase 3 tuberous sclerosis data expected in the first half of 2019. Secondly, it is for the pivotal Rett Syndrome study expected at the same time.
As Dr Knappertz stated:
"On the clinical front we are focusing our efforts on tuberous sclerosis complex and on Rett syndrome."
Tuberous sclerosis is very similar to Lennox-Gastaut syndrome in its epilepsy phenomenology. This is one reason for the company's optimism on potential epidiolex efficacy for the condition. The second reason is the positive results from trials so far. The company is looking to treat both the seizures and the autism effects of this condition.
My article in October detailed some of the other strong revenue and health potentials of the pipeline as a whole.
The Overseas Market
U.S. analysts tend to be over-focused on the North American market. Sales forecasts can thus be under-rated. Epidiolex for Lennox-Gastaut syndrome and Dravet syndrome is undergoing the approval process with the EMA. It is very likely it will be approved in the first quarter of 2019.
That opens up a market of patients similar in number to that of the USA. Prices of the drug may have to be lower due to the different, mainly State-based prescription market in Europe. The company is well-advanced in its manufacturing and marketing plans for Europe. What they see as the five major markets in Europe have some differences in their regulations. In general, though, epidiolex will be exempt from controlled drug status there.
The Asian market potential is also never cited. Recent developments suggest it should be. For instance, South Korea recently became the first East Asian market to legalise medical marijuana in certain circumstances. This will only be for drugs based on CBD, as is epidiolex. Drugs based on THC, the psychoactive element of cannabis, will remain banned. Thailand and Malaysia are expected to follow a similar route. Even Singapore, which has the death penalty for traffickers of cannabis above a certain amount, is pursuing research into medicinal cannabinoids and their derivatives.
China would be a huge potential market. Of the world's 65 million epilepsy sufferers, 10 million are in China. The country has been taking steps to open up its market to FDA and EMA-approved drugs. However, it is a long and complex business. It is likely to be delayed significantly by the Trump Administration's hostility to China. The country produces over half of the world's industrial hemp, and in fact, cannabis has historically been used for many medical ailments.
Company Finances
The 8-K for the Q4 results can be read here.
The most important number is probably the cash and cash equivalents. These came to US$354.9 million. This compares to US$322.2 million a year ago.
The sales figure was US$12.7 million. This compares to US$8.6 million a year ago. That illustrates the somewhat muted sales figures for sativex.
How quickly epidiolex will translate into substantial revenues will, of course, affect whether future share dilution is likely or not. The company has changed reporting to a GAAP basis. This makes some direct comparisons difficult, but both research & development costs and Sales & Admin costs have increased. They are likely to continue to do so.
From the launch of epidiolex on 1st November, revenues will be muted in the 2 months remaining in the quarter. This is especially so as the initial prior authorisation programme takes time. Additionally, the last two months of the year coincide with the holiday season. The company is bullish, though.
President North America Julian Gangolli stated at the analyst call:
"We are pleasantly surprised that many of the commercial payers have already made coverage determination."
Essentially, though, it will be Q1 2019 before one can see real evidence of how sales are progressing.
All the sufferers of Lennox-Gastaut syndrome, Dravet syndrome, and tuberous sclerosis in the USA and Europe add up to about 150,000 individuals. If they all took epidiolex at US$32,500 a time that would produce revenue of almost US$4.9 billion. Of course, that is not going to happen. That is why Goldman Sachs's high number of US$2.2 billion looks over-optimistic.
That 30% of sufferers may use epidiolex seems reasonable. That would give a revenue figure of US$1.46 billion. Off-label use could greatly increase that figure. A rejuvenated sativex sales figure could add some icing to the cake. Sales elsewhere in the world will also add to the total.
Conclusion
In an article I wrote in December last year, I stated 2018 would be the pivotal year for the company. It has come to pass that just about everything has gone exactly as the company would have hoped.
Approvals and financing are in place. Now, in 2019, we will see how revenues proceed and if testing and approvals continue their successful course. The promise of revenues in coming years and the strong pipeline make GW Pharma a continuing good long-term bet.