Investing in monopolies is usually a good idea.
It's how Warren Buffett and Charlier Munger made their fortunes. Peter Thiel too.
Facebook (FB) pretty much has a monopoly on social media. Google (NASDAQ:GOOG) (GOOGL) tried to get a piece of the market with Google+ but failed miserably. Instagram is outmaneuvering Snapchat (SNAP). Twitter (TWTR) is still going strong, but it's a different product for a different kind of person.
Facebook is also part of a duopoly in digital advertising, alongside Google. Advertisers have few options if they want to reach consumers online, where they're increasingly spending their time.
Obviously, Facebook has had a tough year. The company has its share of problems, and these problems have been highlighted in the media. But the negative impact of the headlines on the company's stock price seems to have run its course. The market gyrations of the last month or so haven't hurt Facebook's stock price: it's risen steadily from about $125 to $145 since mid-November.
To me, this is a sign that the tide is turning. Investors are starting to discount the negative headlines and focus instead on the reality of the situation, which is that Facebook is a high-margin cash-generating machine with no debt and lots of cash in the bank.
And despite the headline, advertisers are ready to spend even more money on Facebook.
The incredible cash-generating opportunity of online advertising
Traditional media companies have, for the last several years, been optimizing their content for shareability on social media. They're competing for prominence on platforms like Facebook because that's where the users are.
Few people want to pay for a subscription when they can get content for free from social media.
Advertisers have few alternatives. They need to reach consumers, and Facebook offers them a platform with about 2 billion people.
And despite what you may have heard, there's still a lot of opportunity for growth in Facebook's advertising revenue. According to the 2018 Social Media Marketing Industry Report:
94% of marketers use Facebook (Instagram comes in second, used by 66% of marketers)
Two-thirds of marketers believe Facebook is their most important social platform
In terms of paid ads, 72% of marketer use them (and 31% now use Instagram ads)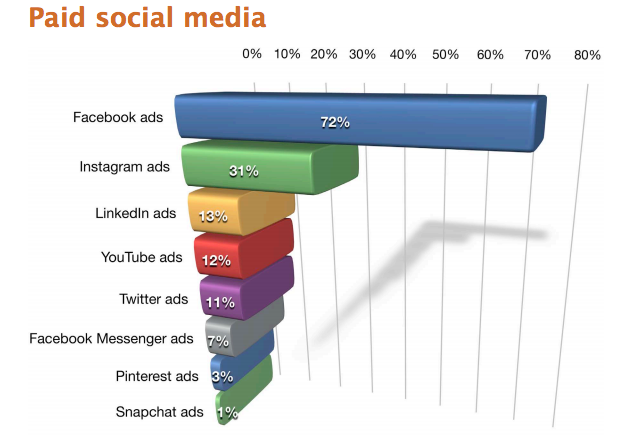 Source: 2018 Social Media Marketing Industry Report
So Facebook already dominates. But here's the most important statistic:
Almost half (49%) of all marketers increased their Facebook ad spending in the last year (pictured below), and 67% plan to increase their spending in the next 12 months.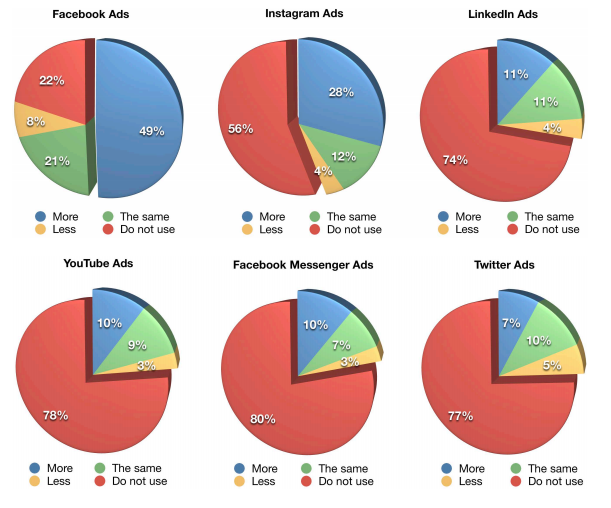 Source: 2018 Social Media Marketing Industry Report
So it looks as though Facebook (and to a lesser extent Instagram) will continue to dominate the social media advertising industry.
Now let's take a look at the bearish themes surrounding Facebook and see why they're likely exaggerated.
Bearish Theme #1. Facebook could suffer in the coming recession
Many commentators claim that Facebook will suffer dearly in the event of a recession due to a drop in advertising revenues. The reasoning is that companies tend to cut advertising budgets to reduce operating expenses.
That may have been true in the past, but we now have data that shows companies who continue to invest in advertising during a recession fare far better than companies that cut spending.
Here's an excerpt from a Harvard Business Review article summarizing research on business behavior before, during, and after recessions (emphasis my own):
According to our research, companies that master the delicate balance between cutting costs to survive today and investing to grow tomorrow do well after a recession. Within this group, a subset that deploys a specific combination of defensive and offensive moves has the highest probability—37%—of breaking away from the pack. These companies reduce costs selectively by focusing more on operational efficiency than their rivals do, even as they invest relatively comprehensively in the future by spending on marketing, R&D, and new assets.
This should be general knowledge by now for any competent business executive. The argument for continuing to spend money on advertising during a recession is clear. That's good news for Facebook.
More good news: Facebook is operationally efficient and is sitting on a mountain of cash (~$40B). The company is therefore well-positioned to acquire companies on the cheap in the depths of a recession.
Bearish Theme #2. MAU and DAU growth seems to have peaked
This was bound to happen eventually. But MAU and DAU are still growing at 10% and 9%, respectively, a year.
These are often considered the most important indicators for Facebook, but I disagree. Revenue and income growth are more important. And revenue has been consistently growing at a faster rate (33% in Q3) than the number of users. That means FB is squeezing more value out of its network.
We have to accept the fact that Facebook will one day reach full saturation. Twitter investors have already accepted this reality, and TWTR now trades at a higher P/E ratio than FB – despite the fact that FB has far more opportunities for growth.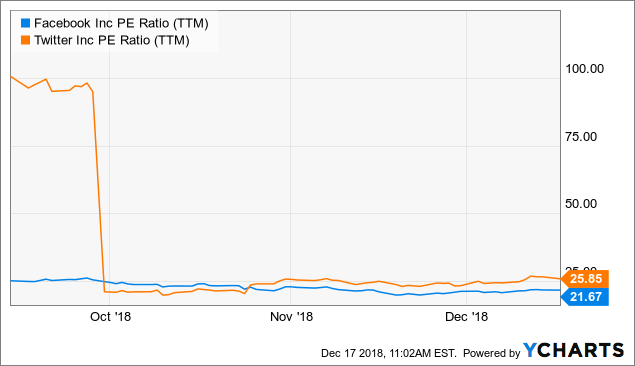 Don't forget that Instagram is growing faster than any other social network (about 5% per quarter, and accelerating):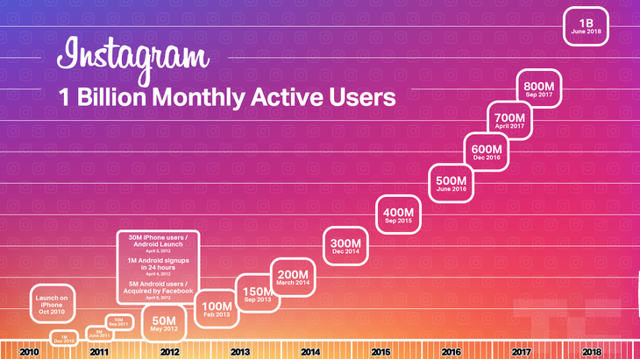 Source: Techcrunch
Bearish Theme #3. ARPU in Asia is too low to compensate for slow growth in North America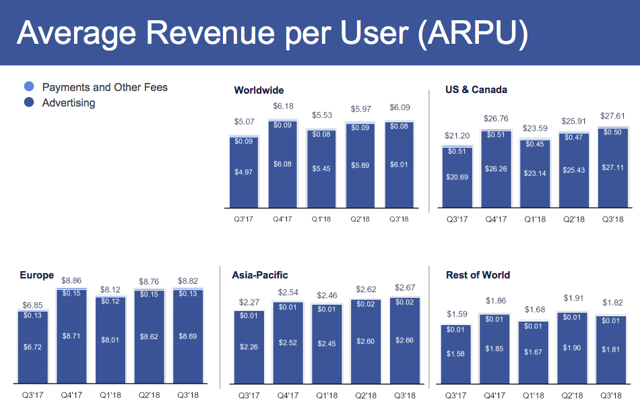 Source: Q4 Earnings Presentation
FB makes just $2.67 per user in Asia compared to $27.61 per user in North America. So analysts aren't impressed at charts like the one below, which shows that a majority of Facebook users are in Asia.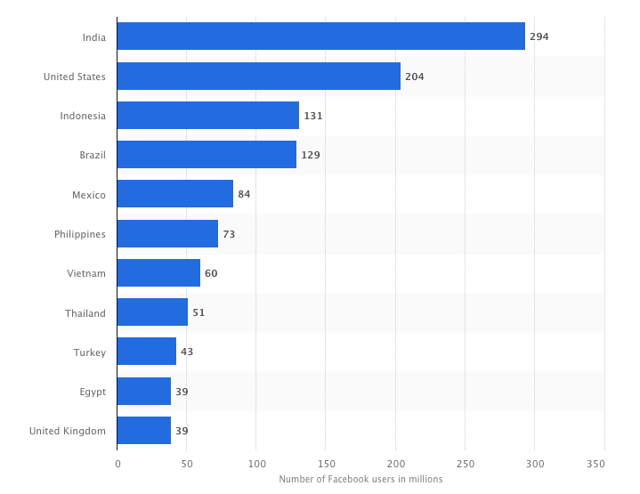 Source: Statista
But look at the big picture. In case you haven't noticed, Asia is taking over the world and growing like crazy.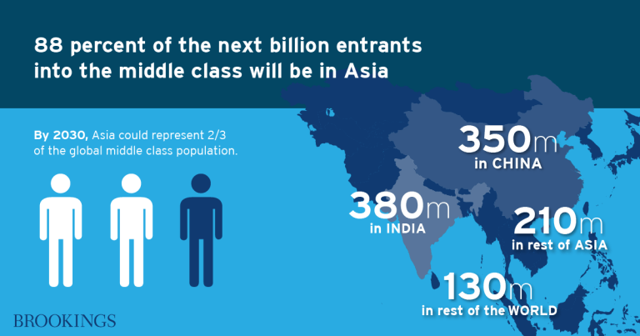 Source: Brookings
This growth in wealth will most likely translate into a growing ARPU in Asia.
Bearish Theme #4. (The best for last) Facebook could be decimated in an antitrust case
This is a major fear – probably the biggest fear affecting Facebook investors.
First of all, let me start by saying that nearly every industry, not just social media, is becoming increasingly monopolized.
And while the U.S. does have a history of breaking up monopolies, in the past it has done so to protect consumers. Monopolies use cartel-like behavior to gouge consumers and keep prices high. But digital monopolies (like Facebook, Google, and Amazon (NASDAQ:AMZN)) actually make things cheaper (or free) for consumers.
Nobody knows exactly how to fix the problems with Facebook. An antitrust case would be hard to win because the government would have to prove that Facebook harms consumers. And any law to somehow regulate content on Facebook would look suspiciously like hampering free speech. Nobody can agree on what form regulations should take, or even whether regulations should be applied in the first place.
Finally, breaking up Facebook could open the floodgates to more antitrust cases involving just about any network company, including the likes of Uber (UBER) and Airbnb (AIRB). The implications of a ruling against Facebook would be massive.
Conclusion
Facebook has grown to where it is today pretty much organically.
Entrepreneurs who think they can design a platform from scratch to dethrone Facebook are unlikely to succeed. And lawmakers are unlikely to come to an agreement about how to regulate Facebook. But who knows? Anything could happen.
Investing is always a risk. But today the risk/reward picture for Facebook looks very attractive. The stock is priced at a significant discount relative to its peers and its past. The tide seems to be turning.
Disclosure: I am/we are long FB. I wrote this article myself, and it expresses my own opinions. I am not receiving compensation for it (other than from Seeking Alpha). I have no business relationship with any company whose stock is mentioned in this article.