Investment Thesis
Home Depot (NYSE:HD) remains a financially stable company that is resistant to economic cycles. Their performance has been historically uncorrelated to housing starts and therefore, in my opinion, will continue to perform well despite what may happen with housing starts. Their current fixed income issuances pose an excellent investment opportunity, especially considering pricing relative to comparable bond issuers.
Company Overview
Founded about 40 years ago, Home Depot is a home improvement retailer based outside of Atlanta. Last year they managed to generate over $100bn throughout their over 2,000 locations spread across the United States, Canada, Mexico, and Puerto Rico. Their physical retail locations carry a large variety of building materials and home improvement products.
Although their primary business comes from the sale of their products they do own and operate a number of ancillary businesses. These brands produce a large number of product types, including flooring, tools, lighting, bath fixtures, carpet, and lawn care products.
Geographically they generate about 92% of their revenue domestically with the remaining 8% coming from international stores (86% of stores are domestic 14% are international). The company breaks their revenue down into quite a few different segments outlined below:
| | |
| --- | --- |
| Segment | % of Revenue |
| Indoor Garden | 9.6% |
| Appliances | 8.1% |
| Paint | 7.9% |
| Lumber | 7.7% |
| Tools | 7.3% |
| Kitchen and Bath | 7.3% |
| Plumbing | 7.3% |
| Building Materials | 7.3% |
| Flooring | 7.0% |
| Outdoor Garden | 7.0% |
| Hardware | 5.8% |
| Millwork | 5.3% |
| Electrical | 5.0% |
| Lighting | 4.4% |
| Decor | 3.0% |
Source: Bloomberg LP
Industry Analysis
Home Depot [and its closest competitor Lowe's (LOW)] both fall within the Home Improvement Retail Industry. The industry is comprised of the two major retailers Home Depot (27% market share) and Lowe's (14% market share), with the rest of the industry being fairly fragmented and mostly comprised of smaller competitors (i.e. Menards with a 3% market share) and stores that offer a group of products that only comprise one facet of the Home Improvement Retail Industry business (i.e. tools at a hardware store or paint from a store that exclusively sells paint and related products).
The smaller firms have much less pricing power than Home Depot or Lowe's retain which certainly bodes well for both companies. Additionally, the sheer size each of these corporations gives them a large competitive advantage over their peers. It would take massive amounts of capital to build out the same network of stores and infrastructure to compete with either of these firms. It would also take quite a while and a lot of advertising to build up a brand that was comparable. As a result of both of these factors, Home Depot and Lowe's largest concern is staying competitive with each other rather than what the smaller firms are doing.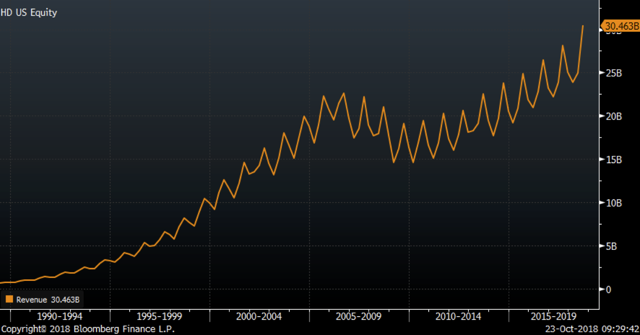 Source: Bloomberg LP
As shown in the chart above, Home Depot's sales have largely been untouched by the recessions in 1990/1991 and 2001. Their sales growth throughout both of those periods followed the same upward trend they were following prior to the recession. We do see a decline in sales throughout the 2007-2009 recession, however, this recession had direct ties to the housing market, was the longest recession since the Great Depression, and was one of the worst recessions (measured by peak to trough GDP decline) since 1945. Home Depot's ability to maintain stable revenue, revenue growth, and operating margins is a testament to the financial solidity of the industry they operate in. Similar trends can be observed across other companies (including Lowe's) within the Home Improvement Retail industry. This endurance throughout economic cycles is a very strong positive for credits within the Home Improvement Retail industry.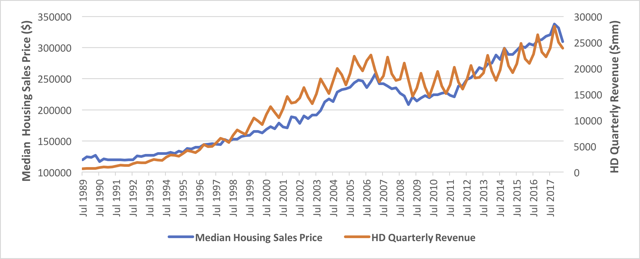 Source for Data: Federal Reserve Bank of St. Louis & Bloomberg LP
The chart above depicts the median housing sales price (given by the Federal Reserve Bank of St. Louis) and the relationship that shares with Home Depot's revenue. Studies of historical data have shown that companies within the home improvement space have had performance that has been historically not strongly correlated with new housing starts or other economic trends. However, there does appear to be a relationship between the price homes sell for and performance of not only Home Depot, but also companies within the industry. This is illustrated in the graph provided above.
Though housing sales price doesn't appear to be a leading indicator, we can still draw implications from current pressures on the sale prices of homes and the impact that may have on Home Improvement Retailers future performance. Currently we're seeing mortgage rates rise, the 30 year fixed rate mortgage is about 5.01%, up about 35bps from that same rate 3 months ago. As mortgage rates rise new housing starts slow and demand for existing homes rises, a simple supply and demand relationship. But that's not the only factor at play. There has recently been a shortage of skilled labor for home building. This is further suppressing new housing starts and again contributing to houses being sold at higher prices, boding well for the industry.
There's strong support for this industry in the near-term evidenced by housing fundamentals. They also should remain stable in the long-term evidenced by the companies' ability to withstand economic cycles and housing bubbles.
Financials
Debt/EBITDA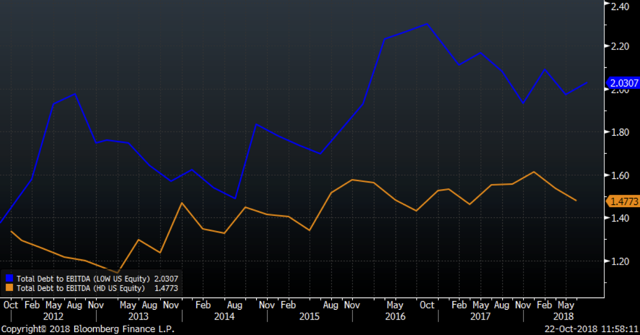 Source: Bloomberg LP
Both Home Depot and Lowe's have really good debt/EBITDA metrics. The <2.0x levels they're reporting currently are emblematic of companies that are very able to remain solvent and meet their debt obligations. Not only are these levels manageable but they're also better than the specialty retail industry as a whole. It should be noted that the difference between the debt metrics of the two companies are material, even though there's very little risk in the near-term for either of these companies.
Operating Margin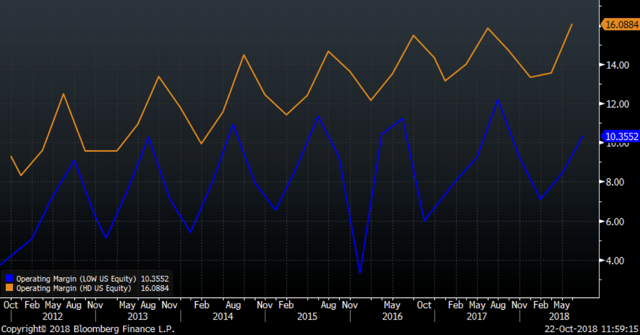 Source: Bloomberg LP
Factors impacting a company's operating margin, the current level of the operating margin, and variability within the operating margins are all important factors to consider for credit analysis.
Both of the companies have a slightly upward trending operating margin. This reflects the higher level of operational efficiency the companies have begun to establish, though Home Depot's has a slightly stronger upward trend. There is a stronger degree of variability within the operating margin of Lowe's than there is with Home Depot. Though the variability of each company's operating margin is due to cyclicality throughout the year a higher degree of variability could indicate a higher degree of risk. Finally, Home Depot's operating margin is significantly higher than Lowe's (and has been for some time). If the Home Improvement Retail industry experienced diminished consumer spending or we went into an economic downturn, Home Depot could survive compression of their operating margin while remaining profitable much longer than Lowe's.
Debt Distribution (Home Depot)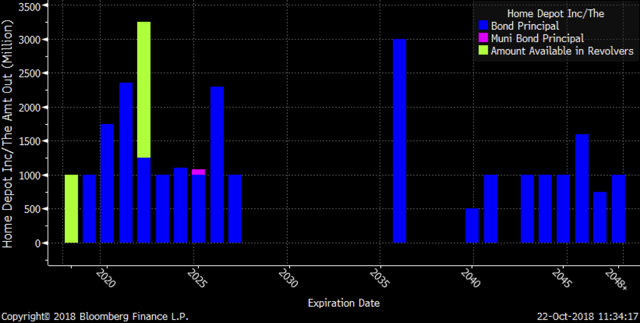 Source: Bloomberg LP
Debt Distribution (Lowe's)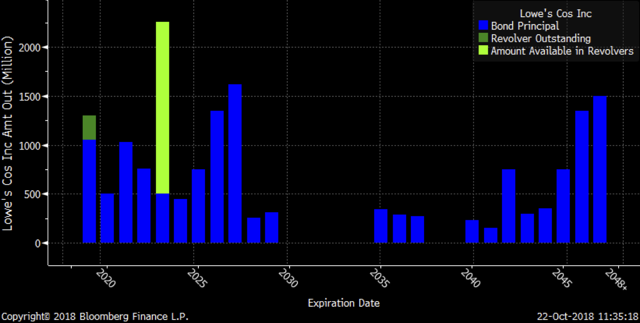 Source: Bloomberg LP
Both Home Depot and Lowe's have very well-laddered debt maturity schedules. Companies that have lumpier debt issuances with large amounts of debt expiring at one point in time may encounter troubles refinancing that debt, especially if something important changes about the company or the economy during that time. Given that both of these companies have well-distributed debt I see this as a benefit for both of them. However, since neither of them has a significantly better distribution of debt I don't think it necessarily makes one better than the other.
Revenue Growth
Revenue growth over the past several years has been mostly positive over the past several years with the exception of some outliers. Looking back over the historical data for both firms, the growth is trending flat. No recent trend in growth will tell us much about creditworthiness of either firm. However, it should be noted that Lowe's has a higher degree of variability in their revenue growth year-to-year (standard deviation of 3.9 for Lowe's vs 2.6 for Home Depot). This higher degree of variability in sales may indicate a higher degree of risk. It should also be noted that both Lowe's and Home Depot have experienced a higher level of sales growth than the retail industry in general.
Other Metrics
A few other financial metrics are, in my opinion, worth mentioning. Revenue and book value of assets can show disparities in size between two firms. In 2017 Home Depot's annual revenue was $101bn, this is larger than the $69bn reported by Lowe's during the same period. From the most recent quarterly financials a disparity between assets can also be seen ($46bn for Home Depot vs. $37bn reported by Lowe's). These differences are very relevant when evaluating risk between the two credits. Larger corporations, generally speaking, have a higher degree of access to the capital markets, a more stable brand and product base, and larger pools of liquidity to draw from. All of these factors mitigate risk and should lead to a lower yield.
Another factor to be considered is the firm's access to liquidity. If a time of crisis were to come, debt may have to be repaid, at least in part, by the company's liquidity pool as opposed to cash flows coming in. This pool is usually comprised of cash and revolving lines of credit. Between cash and undrawn revolvers Home Depot has $3.5bn in cash and another $3.0bn in revolving lines of credit for about $6.5bn in liquidity. Lowe's has about $2.3bn in cash and another $1.5 in net availability between lines of credit for a total of $3.8bn in total liquidity.
Spread Comps
Home Depot (A2/A): 10 Year T+61bps, 30 Year T+92bps Lowe's (A3/A-): 10 Year T+72bps, 30 Year T+112bps
There are a number of factors that contribute to the disparity in spreads between the two companies. I see the largest contributing factors being the difference in size between Home Depot and Lowe's and the difference in ratings. As previously mentioned, Home Depot has billions of dollars more in annual revenue and assets currently on their books. This gives them a number of advantages and reduces the amount of credit risk associated with the firm. The difference in the ratings between the issuances reflects the advantages Home Depot retains within their various financial metrics (i.e. debt/EBITDA, interest coverage, etc.) This is an important consideration as well and leads to credits trading wider/tighter.
A number of other factors discussed above also contribute to the Home Depot trading a bit tighter than Lowe's. Home Depot's superior operational efficiency (as evidenced by their operating margin), larger pool of liquidity, and interest coverage metric are considerations by investors when pricing their bonds.
Overall I would expect these two credits to trade a bit wider than they currently are, even considering Home Depot is only rated one notch above Lowe's. I think that the differences we observe in their availability in liquidity, current leverage, and relative size warrants a higher amount of yield than 11-20bps depending on where you are on the curve. However, in my opinion, they are both priced fairly for their fundamentals.
Conclusion
In addition to the strong performance and outlook for the Home Depot itself I also really like the industry they operate in. The Home Improvement Retail industry looks really strong, especially within the consumer discretionary space. Upward pressures on housing prices previously mentioned should provide strong support in the near-term, and the ability of the industry to withstand economic cycles should insure stable performance in the long-term. Pricing for the bonds are fair and solvency should be maintained through maturity even if housing begins to deteriorate or we see economic growth slow down significantly.
Given current pricing, industry fundamentals, Home Depot's financials and previous performance through economic cycles I believe their bonds (specifically in the 5-10 year maturity range) are excellent additions to a portfolio.