NGS's long-term growth story looks fine
Natural Gas Service Group (NGS) provides compression equipment to the natural gas industry operating primarily in the U.S. non-conventional shales. NGS has added to the compressor horsepower in the rental business in the past year. Natural gas price has recovered significantly in the past year. In the long run, opportunities presented by the natural gas production growth make NGS a decent investment option. In 2018 so far, Natural Gas Service's stock price has gone down 32% and outperformed the VanEck Vectors Oil Services ETF (OIH) which declined by nearly 40% during this period. OIH represents the oilfield equipment & services (or OFS) industry.
How fast is NGS adding to horsepower?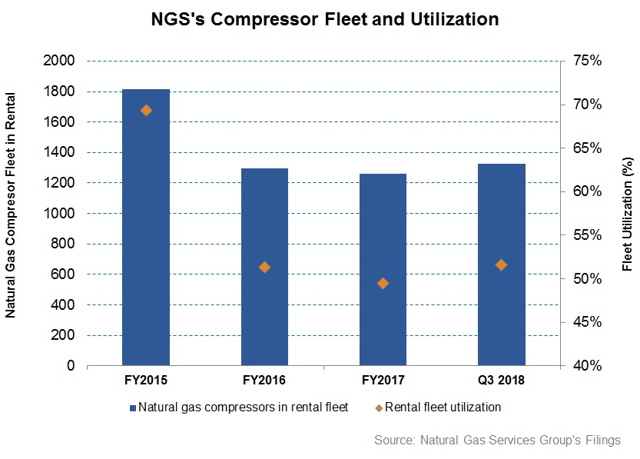 NGS entered the high horsepower market just over a year ago but looks to grow fast in that category. NGS's management believes opportunities are higher in the high horsepower market, and so, it continues to allocate capital to meet this increase in demand. For the past 12 months, NGS has added 34 new fleet units totaling 28,800 horsepower. Approximately, 90% of the new fleet is on a large horsepower category. This represents an increase of 8% in fleet horsepower. As of September 30, 2018, approximately 17% of NGS's utilized horsepower is classified as large.
NGS's natural gas compressors in rental fleet increased by 5% by the end of Q3 2018 compared to the beginning of FY2018. This translated to an overall horsepower increase of 18%. NGS's rig fleet utilization also increased by 4% during the same period.
What were NGS's drivers in Q3?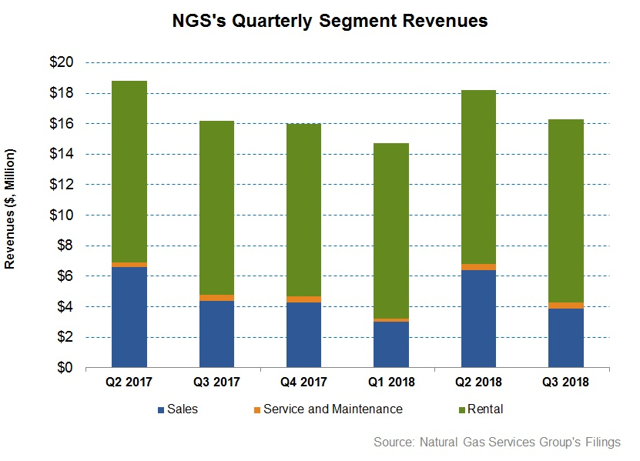 In Q3 2018, revenues from sales of equipment decreased by 11% versus a year ago. This resulted from fluctuations in the timing of industry activity related to capital projects in NGS's Tulsa and Midland operations. On the other hand, revenues from rental business increased 5% year-over-year in Q3 2018 as a result of higher rental fleet and higher utilization, as I discussed above. The improvement in utilization reflects increased demand for NGS's larger horsepower units.
The Gas Compressor Rental segment accounted for 74% of NGS's Q3 2018 revenues, while the Engineered Equipment Sales segment accounted for 24% of its Q3 revenues.
Why has NGS moved towards higher horsepower compressors?
Over the past few years, there has been a shift towards oil-associated gas production. In response, NGS has increased its rental and sales in the non-conventional oil shale plays which are more dependent on crude oil prices. Servicing the non-conventional production is driven by declining reservoir pressure in maturing natural gas producing fields and artificial lift applications. There has also been an economic move by NGS's customers towards centralized drilling and production facilities which have increased the market need for larger horsepower compressor packages. So, NGS has been shifting cash and fabrication resources towards designing, fabricating and renting gas compressor packages that range from 400 horsepower up to 1380 horsepower.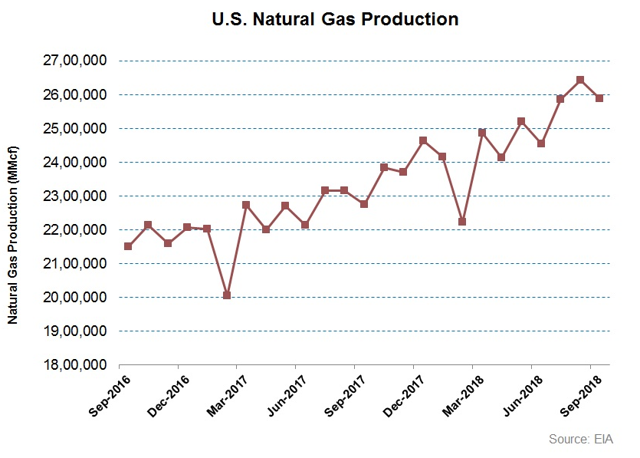 The 2014-16 crude oil price depression resulted in capital budget cuts for many energy companies in 2015 and 2016. These budget reductions translated to fewer well completions and a softening of near-term demand for compression. The energy market turned around in the second half of 2017 as crude oil prices and drilling activity increased. The U.S. natural gas production has risen nearly 14% in the past year until September 2018.
The WTI crude oil price has declined 10%, while the Henry Hub natural gas price has recovered 33% in the past year. Further recovery is natural gas price will boost natural gas production, which should benefit compressor makers and rental service providers like NGS. However, with increasing production coming from the liquids-rich basin, a crude oil fall can partially offset incentives for higher production and dampen NGS's recovery in the short run.
What are NGS's short-run drivers?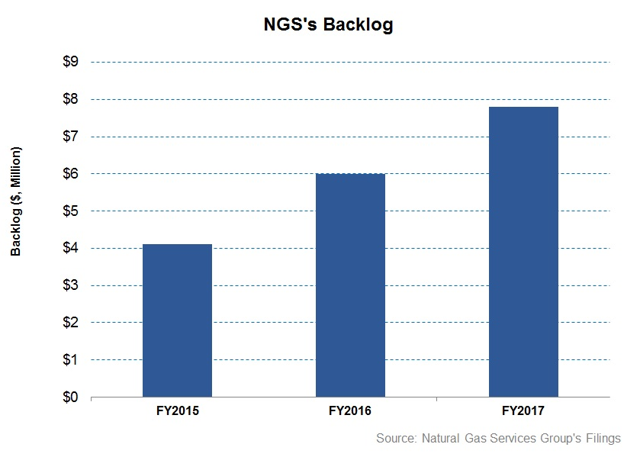 NGS's increasing backlog suggests that growth will likely continue through 2019. The need for compression and unconventional production, especially gas lift operations, will continue to grow in West Texas and other unconventional resource plays in particular. This takes us to one of the more discussed topics related to the Permian Basin production, which I will discuss in this article. At present, NGS is working on to deliver its largest horsepower equipment order, which can double its large horsepower fleet concentration. Once completed, the active large horsepower component of NGS's business will exceed 30% on horsepower basis. The order represents over $31 million in additional capital expenditure through Q1 2020. NGS secured the order at "market leading rates" in a long-term rental contract. Typically, NGS's rental contracts provide for initial terms of six to 24 months. Regarding the new order, NGS's management commented in the Q3 earnings conference call,
we've ordered the equipment already. We're seeing equipment deliveries of around six months on engines and compressions and coolers. And we will be deploying that equipment throughout 2019, essentially starting Q2 of 2019 through Q1 of 2020. So that's about the deployment schedule on that equipment.
In association with this order, NGS plans to build additional large horsepower rental units through 2019. The capital associated with this will be approximately $15 million.
The Permian case: The Permian issue presents both an opportunity and a concern for NGS. The takeaway capacity bottleneck in the Permian has led to reduced local crude oil pricing as compared to WTI and Brent-linked benchmarks. Compression is the key part of the solution to the transportation and infrastructure bottlenecks in West Texas. So, the lack of capacity can provide a catalyst for growth in the coming months. However, if the customers reduce their drilling and completion activities owing to the region's pipelines constraints, or shift production to other key shales, that can turn out to be counter-productive to NGS's growth. Overall, I think, the Permian will benefit infrastructure providers like NGS in the medium term.
NGS's long-run growth drivers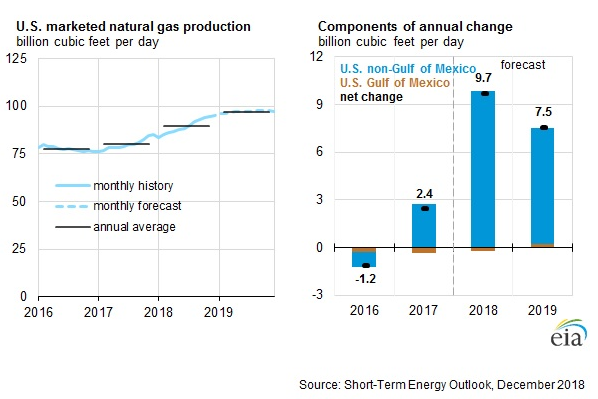 Natural gas production boost: NGS's operations are closely linked to natural gas production and demand. The natural gas compression essentially involves increasing the pressure of a given volume of natural gas to transport gas from one point to another. The compression takes place at the wellhead, in the gathering and distribution systems, into and out of processing and storage facilities, and along the pipelines. In other words, compression units are required both at the upstream and the midstream industries. Exterran Corporation (EXTN), which is involved in a similar business as NGS, is expected to benefit from the industry drivers. Read more EXTN's current state here.
According to the EIA, natural gas production is expected to account for nearly 40% of U.S. energy production by 2040. Natural gas trade is projected to be increasingly dominated by liquefied natural gas (or LNG) exports. Higher production will also require increased infrastructure needs to supply the gas. This will increase the need for natural gas compression, thereby increasing the requirement for gas compression and related products and services.
Upstream capex spend: In 2019 if the crude oil price holds steady, North America is expected to see a significant increase in industry spending while the international markets are anticipated to grow more modestly. The international natural gas processing projects are based on longer-term fundamentals, and not necessarily on the short-term price trends. So, higher upstream capex spend on energy production will increase the market for NGS's products and services.
What are NGS's concerns?
NGS's concerns are the recent decline in compressor sales, the higher depreciation load from larger horsepower equipment, costs related to preparing rental units for service, and increases in fuel services costs. NGS's rental segment earnings were the most affected in Q3. Its earnings before tax margin in the rental segment declined to 56% in Q3 2018 compared to 63% in Q3 2017.
Regarding pressure on pricing and rental segment operating margin decline, NGS's management commented in the Q3 call,
"It's just the fluctuation that you see and like I said some pressure and subdued margins right now as we go through a lot of this makeready expense. And then, so it means we have seen pressure from an operating standpoint on lubricants and gasoline and that sort of thing, but we – there shouldn't be – it's been fairly significant incremental this year. Yes, we're not seeing an increase in those going forward. So future comparison should be flat on that, but this year has seen fair amount of expense on that rental gross margin because of those expenses."
NGS's net debt is negative
In the past four quarters until Q3 2018, Natural Gas Services generated $26 million in cash flow from operations (or CFO). In 2018, NGS's cash flow was an improvement over the prior year, reflecting working capital improvement. NGS's cash and cash equivalents were $63 million on September 30, 2018. Because of an insignificant debt and a healthy cash balance, NGS's net debt is negative. NGS does not pay a dividend or have share repurchase programs. It had $29.5 million available from its revolving credit facility as of September 30.
With the available liquidity (cash balance and undrawn revolving credit facility) of approximately $89 million, NGS does not require additional external financing to meet its capex needs and near-term financial obligations. However, given the pressure on margin, its cash flow may decline in the short-term.
What does NGS's relative valuation say?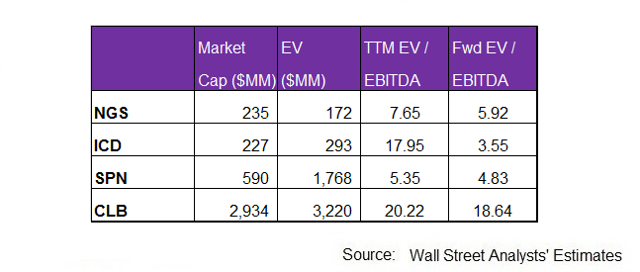 Natural Gas Services is currently trading at an EV-to-adjusted EBITDA multiple of 7.6x. According to sell-side analysts' estimates pulled from Thomson Reuters, NGS's forward EV/EBITDA multiple is 5.9x. From FY2012 to FY2017, NGS's average EV/EBITDA multiple was 7.8x. So, NGS is currently trading at a discount to its past six-year average.
Natural Gas Services' forward EV-to-EBITDA multiple contraction versus its adjusted trailing twelve months EV/EBITDA is less steep compared to the industry peers' average multiple compression. This is because NGS's EBITDA is expected to improve less sharply compared to the peers' average in the next four quarters. This would typically reflect in a lower current EV/EBITDA multiple compared to the peers' average. NGS's TTM EV/EBITDA multiple is lower than its peers' (ICD, SPN, and CLB) average of 14.5x.
Analysts' rating on NGS

According to data provided by Seeking Alpha, four analysts rated NGS a "buy" in December, while none recommended a "hold" or a "sell". The analysts' consensus target price for NGS is $26, which at NGS's current price yields ~43% returns.
What's the take on NGS?
Natural gas will increasingly occupy the majority of the world energy mix. This will increase the demand for natural gas processing and related services including midstream infrastructure. NGS has been adding to its compressor fleet to benefit from higher natural gas production. NGS is positioning itself from the tremendous growth in energy production in the unconventional shales. NGS has short-term pricing and operating margin concerns. The pressure should ease in the medium-to-long run once NGS's larger compressors become operational. Plus, NGS has no debt. On the whole, NGS can be a good investment once it goes past the growth impediments.
Disclosure: I/we have no positions in any stocks mentioned, and no plans to initiate any positions within the next 72 hours. I wrote this article myself, and it expresses my own opinions. I am not receiving compensation for it (other than from Seeking Alpha). I have no business relationship with any company whose stock is mentioned in this article.