This article continues the tradition of writing recap and outlook for the next year for the offshore drilling industry (look here for articles on 2017 and 2018). Just like the previous time, I'll start with reviewing my expectations for 2018 and how they played out and then proceed to my views on 2019.
2018
Recovery will continue across all segments. True. Recovery continued, although its pace has been uneven. The North Sea floater segment was the hottest sector of the market, with dayrates for top rigs rising up to $300,000. Contracting activity increased in both floaters and jack-ups in the second half of this year, although the pace of this increase has been put under question by the recent major move in oil prices, which took Brent oil (BNO) from $85 to $60.
De-facto rig supply will trend downwards. Mostly true. According to recent Bassoe Offshore reports, 38 jack-ups and 13 floaters were sold for recycling or conversion in 2018. That said, drillers do not hurry to cold stack their rigs. Out of 837 rigs in the world, 116 are cold stacked. Apparently, drillers are concerned that they will not be able to ever put rigs back to work if they cold stack them right now. Nevertheless, the trend of the supply is to the downside, pushed by retirements of older jack-ups that roll off contracts.
Many contracts will be for 2019. Mostly true. Oil producers indeed wanted to secure rigs at bottom dayrates for 2019 and sometimes beyond. However, this trend did not turn into an avalanche of new jobs.
Rig scrapping will continue at a slow pace. Mostly true. The number of jack-ups that left the market in 2018 (38) was higher than in 2017 (21), but only 13 floaters left the market compared to 35 in 2017. This does not mean that there are no more floaters to scrap. In my opinion, the problem is that additional scrapping will put more pressure on balance sheets, something that drillers will try to avoid after the recent oil price collapse.
Dayrates will rise from the bottom. True only for select asset classes. The very top floaters and jack-ups together with North Sea floaters saw increases. For the rest of the market, the situation remains highly challenging.
Further consolidation is possible but not a given. Wrong. For the second year in a row, I underestimated the drillers' willingness to make deals. Looking back, my mistake was in prioritizing economic sense of the deals vs drillers' desire to get bigger and be more aggressive. I continue to view Transocean's (RIG) purchase of Ocean Rig as highly dubious for Transocean and Ensco's (ESV) decision to merge with Rowan (RDC) as one-sided deal favoring Ensco.
2019
Here are my expectations for the coming year:
Continuation of recovery is postponed until the second half of 2019. I believe that the recent downturn in oil prices has dealt damage to near-term perspectives of the offshore drilling industry. Together with widespread worries about the health of the world economy and the upcoming recession (I do not share them), this will make oil companies act cautiously.
The market will be better for jack-ups than floaters. The fundamental situation for jack-ups (here) is looking better than for drillships (here) and semi-subs (here) in 2019. Theoretically, this means some support for companies with jack-up exposure like Ensco, Noble Corp. (NE), Rowan (RDC), Seadrill (SDRL), Borr Drilling (OTCPK:BDRLF) and more challenges for floater-oriented Diamond Offshore (DO), Transocean, Seadrill Partners (SDLP), Pacific Drilling (PACD), Awilco (OTCPK:AWLCF). However, due to various strategic moves, different balance sheet situation and different activity on the contracting front, I'd put more weight on individual companies' fundamentals.
Upside in dayrates should come closer to the end of 2019. My opinion is that shale alone will not be able to deal with both the increase of the global oil demand and the decline from legacy fields. I do not see electric vehicles or "alternative energy" as real threat for oil for the foreseeable future. The only source of alternative energy that could have been really competitive is nuclear energy, which is under material pressure due fears about a repeat of Chernobyl reinforced by the incident at Fukushima. As recent street action in France clearly showed, people will not bear the pain of push to alternative energy indefinitely. In my opinion, oil is here to stay for the foreseeable future. Oil companies will likely play the safe hand again and invest more in short cycle projects. However, chronic underinvestment in oil will soon bring next-decade supply shortages to the spotlight. I expect that healthy greed will push oil companies to allocate funds more aggressively for offshore work in 2020 as I don't see shale oil covering the whole supply deficit.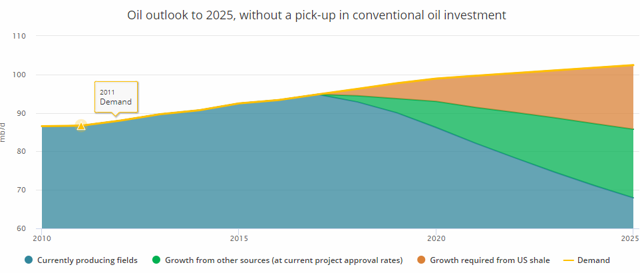 Source: IEA
Rig scrapping may slow down. I see several reasons for this. First, many obvious candidates have already been eliminated. Second, the recent oil price downside has already put material pressure on drillers' shares, and it's hard to envision them taking voluntary accounting hits by scrapping rigs who still have some value left on the books.
Asset prices may correct to the downside, I expect bigger valuation spread between working and idled rigs. Recent Bassoe Offshore data suggested continuous upside in asset valuation, especially on the floater side, as market participants were preparing themselves for recovery. However, outside of several major M&A deals and a few individual transactions, there was few hard data to back the significant increase in valuations. Sometimes this leads to curious valuations. Let's take Ensco's rigs of Samsung 10000 design as an example. Ensco DS-4 is drilling and is valued at $216 million - $239 million. Ensco DS-5 is cold stacked and is valued at $194 - $215 million. The rigs are almost identical (you can check their specs - DS-4, DS-5), yet the low end of the valuation for the drilling rig is equal to the high end of the valuation for cold stacked rig. Something is wrong here - either the drilling rig is undervalued, or the cold stacked rig is overvalued. My bet is that cold stacked valuations have gone too far and will correct in the future. In my opinion, especially on the floater side, valuations of cold stacked rigs are overstated. This means that the more cold stacked rigs a company has, the more prone it is for asset value correction.
Pacific Drilling may try to sell itself, but this may be problematic. At the risk of getting it wrong for the third time in a row, I still lay out my views on possible M&A. There is one obvious target in the market right now - Pacific Drilling and its modern drillships. However, it's hard to see a buyer. Seadrill has too much debt. Transocean is fully booked with plenty of Ocean Rig drillships to work with. Noble Corp. has too much debt and little cash. Rowan and Ensco are about to merge. Diamond Offshore is too conservative, and asset values have gone to the upside without a corresponding increase in fundamentals. In short, selling Pacific Drilling will not be an easy task.
Conclusion
The next year will be another hard year for the offshore drilling industry. Drillers' stocks will remain highly volatile, offering opportunities for traders and giving headache to buy and hold investors. I'll soon publish articles on individual names, so stay tuned.
Disclosure: I/we have no positions in any stocks mentioned, but may initiate a long position in DO, ESV, NE, RIG, RDC over the next 72 hours. I wrote this article myself, and it expresses my own opinions. I am not receiving compensation for it (other than from Seeking Alpha). I have no business relationship with any company whose stock is mentioned in this article.
Additional disclosure: I may trade any of the above-mentioned stocks.
Editor's Note: This article covers one or more microcap stocks. Please be aware of the risks associated with these stocks.