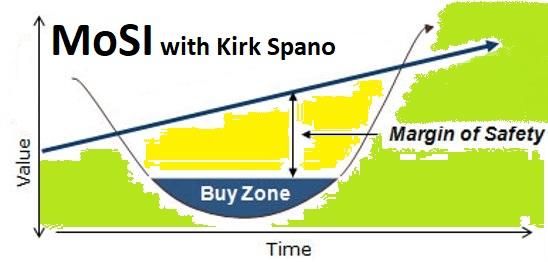 The "slow growth forever" global economy that I have been talking about for several years now has new challenges beyond the demographic issues that we all know about. Boomers and pensions are slow sellers of investments that will be a constant pressure not to disappear until Millennial investments exceed Boomer distributions.
The new challenges are those of Fed policy, trade wars, and hedge fund liquidations. Those headwinds, though, could be nearing a more neutral bias soon.
A scenario where headwinds move towards neutral, combined with typical first quarter retirement plan contributions and hedge funds (different than those liquidating now) investing into value priced assets, could spur a major first half rally in 2019.
I also discussed these ideas last week in my regular free Friday webinar:
Long-term Demographic Headwinds
Baby Boomers account for almost two-thirds of retirement plan assets. 2018 will be the third calendar year of a wave of Boomers entering their "RMD" years, or required minimum distributions.
RMDs are a big deal. Starting the year after a retirement plan investor turns 701/2 that person must start taking distributions of 3.7% of their plan balance from the prior year ending. The percentage of the plan balance subject to RMD rises over time.
After the recent correction, there is about $26 trillion in retirement plans, with about $17 trillion subject to RMDs. In 2019, about 10 million Boomers will be over age 701/2 and about 2/3 of them have retirement plan assets. The RMDs will likely exceed $120 billion in 2019. Little of that money gets reinvested.
On top of RMDs, institutions, largely represented by pensions have been in net distribution for several years now. That equation will never change unless young people start having defined benefit pensions again. Here's a chart from Dr. Yardeni: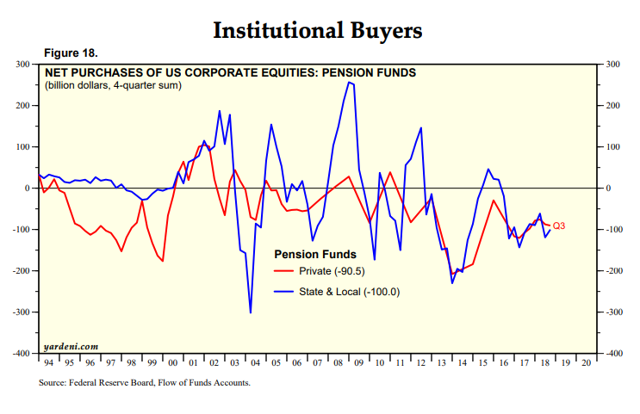 Source: Yardeni.com - US Flow of Funds: Equities
That's another roughly $100 billion of equity sales next year.
The Fed's QT
The focus on the Fed meeting this week will be on the interest rate decision. I have heard only a few talking heads mention the "quantitative tightening" going on.
Right now, the Fed is shrinking its balance sheet by $50 billion. Not per year, but per month. That's far more powerful than the demographic drain from the financial system (at the moment).
When the QT started, it was $10 billion per month. But it rose by $10 billion each quarter until it reached $50 billion in October.
According to Chairman Powell, the shrinkage of the balance sheet is a "normalization." You can find details here.
Here's my problem with the concept of "normalization." I don't think shrinking the Fed balance sheet is normalizing. The economy has changed dramatically, see exhibit "A" above, the demographics.
In short, the Fed ought to take into account, as Minneapolis Fed President Neel Kashkari does, that demographics are a major counterweight to growth, interest rates, and inflation. I talked about this in depth, in April, when I declared: The Fed Is Making 2 Huge Mistakes
It is a very involved argument, not for this space, but the Fed probably should not be regularly shrinking their balance sheet unless inflation runs hot, which is unlikely to happen often while the Boomers are filtering out of the workforce and into retirement.
For investors, this is the key headwind to watch. If the Fed does not make it very clear that it is pausing not only interest rates but is open to less QT in 2019, I am very concerned about a further breakdown in the markets and economy.
By now, everybody has seen the chart of the correlation of QE to the S&P 500 (SPY), but I will show it again updated: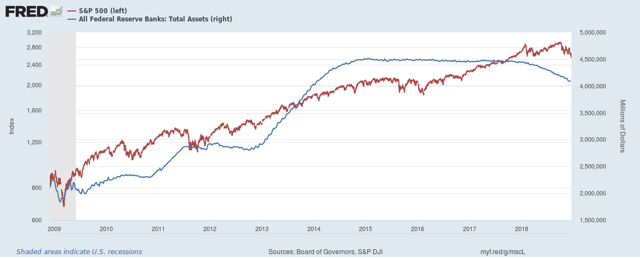 Source: FRED Economic Data | St. Louis FED
It is not hard to see on the Fed chart that the stock market became unstable as soon as the Fed started pulling money out of the financial system. Bonds have also seen increased volatility with an intermediate term yield curve already inverting (3yrUST/5yrUST).
At $600 billion scheduled to come off the Fed balance sheet next year, that represents nearly 3% of the U.S. economy. With global growth cooling, I believe the markets might be correctly pricing in a worst case scenario already.
I think it is vital that the Fed steps back from its nominal view of the balance sheet and takes into account the total picture. I believe that the markets need the Fed to discontinue or significantly cut QT, except in periods of inflation, or else the economy and markets will suffer.
I will be listening very carefully to the statement. If it does not reference QT, I think any rally on the interest rate pause, which markets are expecting, could be short-lived.
Will The Chinese Come Back?
The Chinese were among the marginal buyers of stocks and other assets in the U.S. for years. The drop-off since President Trump took office, however, has been precipitous.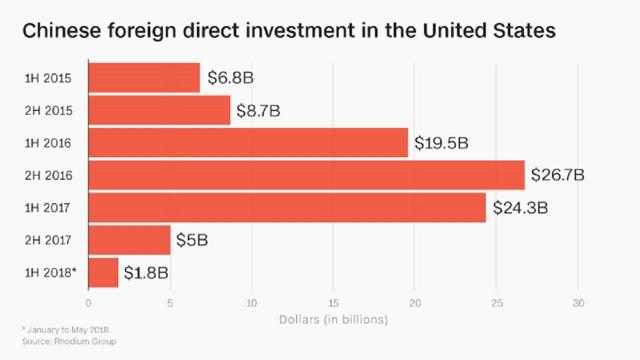 Source: CNN Business
This massive drop in FDI came at the same time that the Fed started QT. This is vitally important as the Chinese could have been an offset to the Fed tightening. In a thin market, losing Chinese investment, on top of rising distribution from retirement plans is a significant hurdle for markets.

Source: Citi Research via Business Insider
It is vital that President Trump cuts a trade deal with China that includes marginal improvements across the board but also encourages FDI from China to the U.S. The money flows disappearing between the two nations reduce efficiency and economic growth for essentially the entire planet.
Hedge Fund Liquidations
In the third quarter of this year, according to HFR, hedge fund liquidations outpaced starts for the first time in four quarters. The liquidations through nine months of 2018 ran at $11.1 billion.
In the fourth quarter of this year, the liquidations have ramped up. We will likely see outflows of at least the prior nine months $11.1 billion.
Here's the upside though. The industry seems to be getting healthier with the stronger players surviving and presumably will pick up some assets come Q1 or Q2 as value hunting kicks in.
The big news here might be that the hedge fund liquidations offer an answer as to why the stock market sell-off has been so orderly.
Hedge funds don't look at their account and panic because they might not get to retire in a few years. They use algos to sell off in an orderly fashion so as to pay investors as well as possible. You know, some of those guys might want to manage again someday.
Investment Thoughts
The most recent AAII Sentiment Survey recorded dramatically falling investor sentiment. That likely only means that DIY investors are on a buyers' strike. According to AAII, bullish investors fell from 37.9% to 20.9%, a 17% drop in one week. That's a huge drop.
Meanwhile, bearish investors jumped 18.4% to 48.9% with neutrals staying about the same. So, if there is such a big jump in bearishness, why then no capitulation in the stock market, much less even a furry little bear?
I think the answer is with the passive investors. They are barely watching this stock market. And, I don't think they will unless we get a recession causing them to start losing jobs and homes.
A recession is a long way off. At least 3 quarters by most indicators and probably over a year. See Jeff Miller's latest column, there is no recession in sight just yet: Weighing The Week Ahead: What Could Go Right?
I like that title by the way. It's the way I'm thinking. As an investor, I have to look at this total picture. While things might be bad now, they could get better in a hurry.
What if the Fed is dovish enough? What if China and the U.S. find some middle ground that helps global growth and FDI? What if hedge funds go back to being net investors again in a quarter or two? And, what if oil trends up giving the markets some confidence?
As I have said, the stock market is pricing in a very bad economic scenario for 2019. That means the bar is lowered to get over for picking the bull market back up for another leg up.
If the positive catalysts happen soon, beginning with the Fed tomorrow, buckle up, the market will scream higher for a while. We could even see that SPY 300 I forecast for 2019 in my futile forecast last December, much of which turned out largely, weirdly right.