Project Background
The DGI For The DIY portfolio was created in 2013 when I liquidated the mutual funds in my retirement account and began my journey as a dividend growth investor. I've been writing quarterly updates on the portfolio ever since, documenting the portfolio's progress and my lessons learned as a Do-It-Yourself investor.
I celebrated my 40th birthday recently, so I'm not sure if I still qualify as a "young" investor. However, as a married man with a working spouse and three children under the age of seven, I do my best to fit the part.
If you caught my last update, you'll recall that my family was working its way through my wife's overseas deployment. I'm quite happy to share that she returned to us safely in early November, and we enjoyed a long and busy Thanksgiving weekend catching up with family and friends.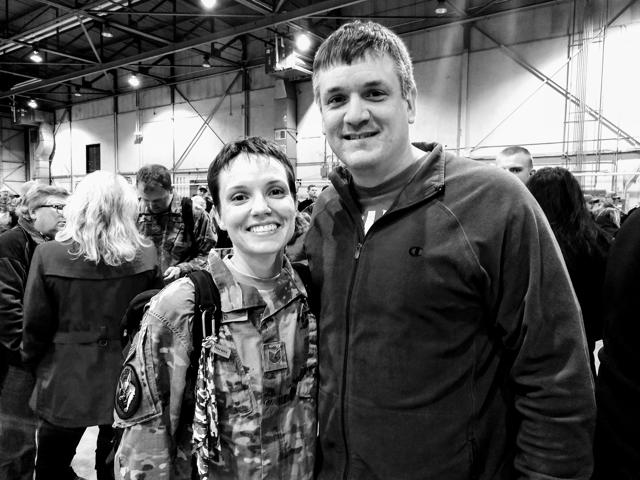 Family life is transitioning back towards normal, and I'm hopeful that my free time for writing will start to normalize as well. Maybe I'll actually get the end of year update out in a timely manner!
I share my personal stories to hopefully inspire others to take control of their own future retirement. I know it can seem like a daunting task to start investing from scratch, but this portfolio is proof that a successful portfolio can be built with limited initial knowledge and just a few hundred dollars a month in contributions.
If I can do it, so can you!
Portfolio Guidelines
The purpose of this portfolio is to fund a portion of my future retirement. Being a recently turned forty-year-old, I have another 25 years-plus to go until I reach that milestone.
As my investing approach has evolved I've established guidelines that help meet my goal of building a portfolio that produces a consistent and reliably increasing stream of dividend income.
Buy companies that consistently show positive growth in earnings and translate those earnings into increasing dividend payouts to shareholders.
Focus on companies that are investment grade, with S&P credit ratings of BBB or higher.
Maintain a diversified portfolio spread across multiple industries.
Reinvest all dividends back into the companies that pay them.
Consider for sale any company that cuts or freezes its dividend.
Last year I also established a goal of 10% annual income growth for the portfolio. This income growth will come from organic dividend growth and reinvestment of dividends, as there are no longer any cash contributions being made into this account.
I believe this is a sustainable long-term income growth goal. With an overall portfolio yield of 3.1% being reinvested, I will need just 7% in organic dividend increases to meet the 10% income growth threshold.
As the table below shows, if I can maintain 10% annual income growth with the portfolio, it will produce over $26,000 in annual dividend income when I am sixty-six and nearing retirement age.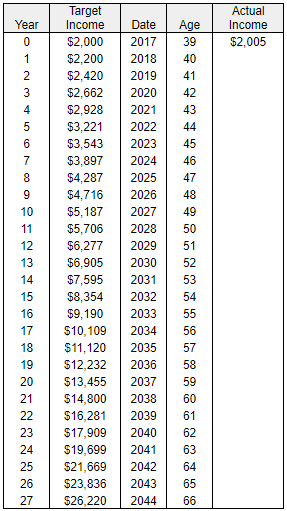 I'm aware that this alone won't be enough to retire on, so keep in mind that this will be just one piece of my retirement puzzle. My wife and I will also have a Roth IRA, a 401k plan, Social Security (hopefully), my wife's military retirement, and other investments.
Q3 Market Overview
It seems hard to believe considering the current market volatility, but Q3 was actually a tremendous quarter for the markets. All three major indices gained better than 7% during the period, and the market was near all-time highs as the quarter ended.
The portfolio performed similarly well during the quarter, as the overall value increased by 8.2% to $77,476. This marks a new all-time in value and is a better than 12% increase off the dip seen in Q1.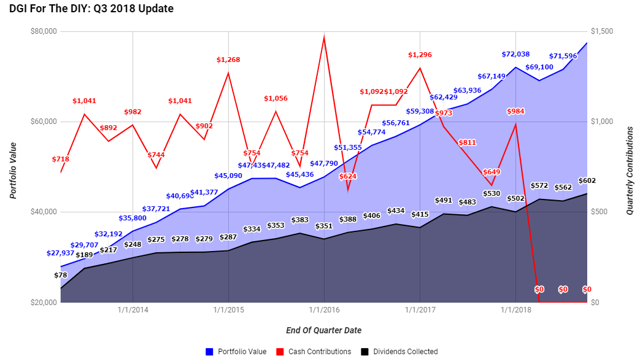 Dividends collected and portfolio value continue to head higher despite the fact that there are no cash contributions being made into this portfolio. This was due to change in employment that required me switching to a new 401k plan, which now receives my salary deferral and company match.
Dividend Income Progress
With cash contributions now ended, income growth in the portfolio is now driven entirely by organic growth and dividend reinvestment. Organic growth comes in the form of higher dividend payouts by the companies I own, while reinvestment of dividends increase income through a growing share count.
These two forces act to continuously drive my dividend income higher and higher.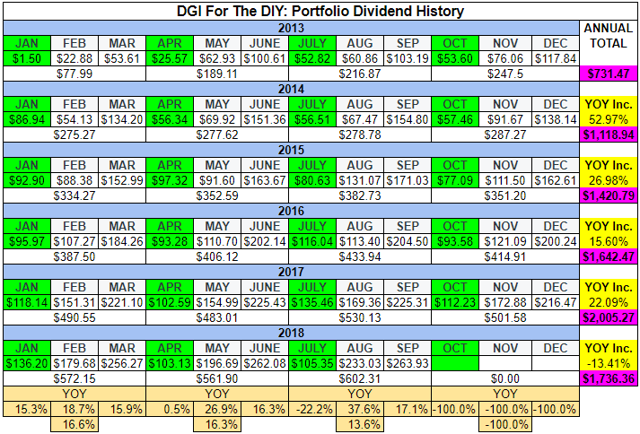 The portfolio is well on its way to meeting my 10% annual income growth goal, as Q3 saw 13.6% income growth over 2017's total. This was a bit lower than the 16.6% growth in Q1, and 16.3% in Q2, but is a number I'm still quite happy with.
It was also an excellent quarter for dividend increase announcements, as there were ten new dividend raises during the period.
| | | | | | | | | | |
| --- | --- | --- | --- | --- | --- | --- | --- | --- | --- |
| Announce Date | Company | Ticker | Previous Payout Rate | New Payout Rate | Sequential Increase | Year Ago Payout Rate | YoY Increase | Dividend Yield | Link |
| 7/10/2018 | Cummins Inc. | (CMI) | $1.0800 | $1.1400 | 5.56% | $1.0800 | 5.56% | 3.12% | LINK |
| 7/12/2018 | Occidental Petroleum Corporation | (OXY) | $0.7700 | $0.7800 | 1.30% | $0.7700 | 1.30% | 4.48% | LINK |
| 7/26/2018 | Union Pacific Corporation | (UNP) | $0.7300 | $0.8000 | 9.59% | $0.6050 | 32.23% | 2.09% | LINK |
| 7/27/2018 | Norfolk Southern Corp. | (NSC) | $0.7200 | $0.8000 | 11.11% | $0.6100 | 31.15% | 1.93% | LINK |
| 8/2/2018 | EOG Resources Inc | (EOG) | $0.1850 | $0.2200 | 18.92% | $0.1675 | 31.34% | 0.85% | LINK |
| 8/2/2018 | Altria Group Inc | (MO) | $0.7000 | $0.8000 | 14.29% | $0.6600 | 21.21% | 5.88% | LINK |
| 9/18/2018 | Microsoft Corporation | (MSFT) | $0.4200 | $0.4600 | 9.52% | $0.4200 | 9.52% | 1.70% | LINK |
| 9/18/2018 | Realty Income Corp | (O) | $0.2200 | $0.2205 | 0.23% | $0.2120 | 4.01% | 4.13% | LINK |
| 9/20/2018 | Mcdonald's Corp | (MCD) | $1.0100 | $1.1600 | 14.85% | $1.0100 | 14.85% | 2.51% | LINK |
| 9/27/2018 | Lockheed Martin Corporation | (LMT) | $2.0000 | $2.2000 | 10.00% | $2.0000 | 10.00% | 3.07% | LINK |
| | | | | Average: | 9.54% | | 16.12% | 2.97% | |
The average sequential increase was 9.54%, but when taking into account the multiple raises made by the likes of Union Pacific, Norfolk Southern, EOG Resources, Altria Group, and Realty Income, the year over year average increase jumps to 16.12%.
Couple that organic growth with the dividend reinvestment effect of a ~3% yield, and my income growth should be in the high-teens next year.
However, a big driver of the larger increases came was a lowered corporate income tax rate, which means the big increases are likely a one-time deal. I expect that with many of these companies, dividend growth will more closely follow normal EPS growth going forward.
Portfolio Holdings
Here is the portfolio's composition as of the end of Q3.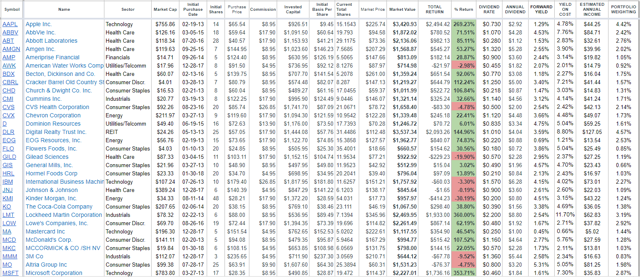 The portfolio hit a new all-time high of $77,476, which was a nearly $6,000 increase over Q2. The technology sector was a big driver for those gains, as Apple, Microsoft, Visa, and Mastercard were all trading near 52-week highs at the end of the quarter.
The consumer discretionary and health care sectors were also strong, as Lowe's, Nike, Target, Abbot Labs, Amgen, and Becton, Dickinson and Co. were also trading near 52-week highs.
My projected income also continues to rise, as new dividend increases and dividend reinvestment pushed projected income to $2,357.24, which is a $64.11 increase (2.8%) from last quarter's projection.
Portfolio Weightings
Here are the updated portfolio weightings at quarter's end:

Overall I think the portfolio is pretty well balanced, especially when looking at the value of positions. I'm a bit heavy on consumer discretionary and technology stocks, but I'm okay with that as I'm looking to those companies for higher growth. The numbers are also a bit distorted due to the recent out-performance from those positions.
Meanwhile, the income side is a bit heavy coming from REITs due to the higher yields of those positions. The REIT sector has a 12.6% valuation weighting yet produces 21.8% of the portfolio's income. This is noticeable when comparing it to the technology sector, as that sector makes up a higher 14.3% of the portfolio value while it produces just 9.0% of the income.
Portfolio Transactions
The 21.8% of projected income from REITs is actually a drop from last quarter's 24.2%, as I made one move during the quarter in an attempt to shift funds toward more predictable and safer growth.
This was done in September when I liquidated my position in Chatham Lodging Trust (CLDT) and used the proceeds to add to my position in Altria Group (MO).


I did give up a bit of current with the move, as Altria yielded about 5.1% at time of purchase, while Chatham Lodging had a yield of around 6.2% at time of sale.
However, the move was made with the future in mind, and I have much more confidence in Altria's future dividend growth than I do in Chatham's.
Altria raised the dividend twice in 2018, and continues to guide for a targeted payout ratio of 80% of earnings going forward. Analysts are forecasting annual EPS growth of over 8% over the next five years, and the dividend growth should follow.
On the other hand, Chatham Lodging has paid the same monthly dividend of $0.11 for the last thirty-two months in a row, and has seen FFO/share drop from $2.30 to $1.91 during that same period. This has increased the payout ratio to 69%, which is well above the 50% target originally set by management.
I see the lodging sector as being much more sensitive to a future weak economy than the tobacco sector, and with Chatham already struggling for growth, I decided to make the switch. The move hasn't paid off yet, but I think in the long term it will both in the way of higher income and total returns for the portfolio.
On The Radar
With the ongoing market correction, there are a multitude of attractive opportunities for income investors. And while I have limited opportunities to make new purchases in this portfolio, I do still keep an eye on the market to look for potential deals.
The first two I have been considering come from the tech sector: Broadcom Inc. (AVGO) and Texas Instruments Inc. (TXN). Semiconductor stocks have been hit particularly hard in this market correction, and with both of these companies recently raising dividends, their dividend yields have become quite attractive.
Broadcom has fared better than some chip stocks, as share price is just 7% from 52-week highs. However, its valuation is still attractive at just 12.2 times 2018 earnings, and following the recent 51% dividend boost its dividend yield is at 4.1%, one of the highest in the sector.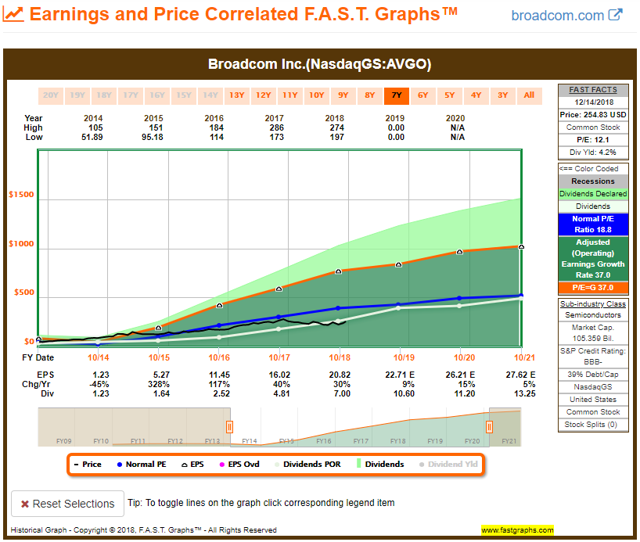 Broadcom's lackluster BBB- credit rating reflects its acquisitive nature, but the company is rapidly growing both earnings and cash flows, and even after the out-sized dividend increase, the payout ratio sits at a reasonable 50% of earnings.
Analysts are forecasting double-digit growth going forward, which makes the current 4% yield even more attractive.
Texas Instruments has a much longer track record as a dividend paying company, as it owns a fifteen year streak of dividend growth. The dividend growth is impressive as well, at 21.6% annualized over the last decade.
Texas Instruments is trading nearly 24% off its 52-week highs, and is now sporting a 3.35% yield, which appears to be about the highest ever seen in the stock.
Shares are finally trading below historical valuations after the correction, as the PE of 16.2 on 2018 estimates is below the 17.6 normal PE seen over the last decade. Analysts are expecting the double-digit EPS growth seen over the last decade to continue, as they are currently forecasting 11.9% annual EPS growth over the next five years.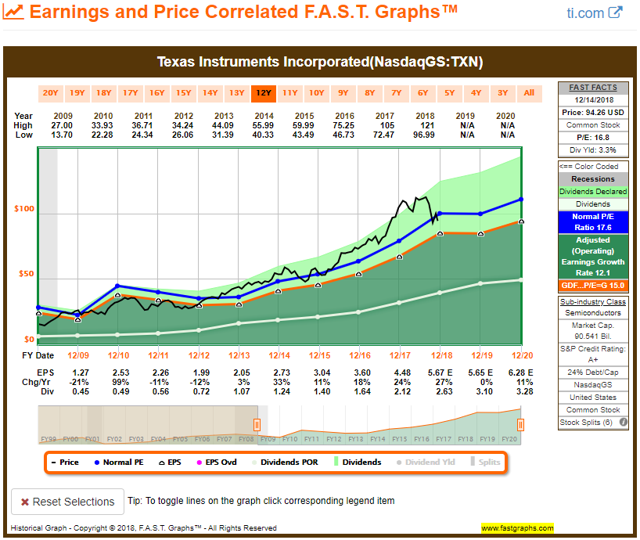 I don't see this as quite the same value as Broadcom, but this does look like an attractive entry point in the stock. A 3.3%+ yield with double-digit growth always has a home in my portfolio.
The last stock I've been eyeing is United Parcel Service (UPS), which is another that's followed the market lower. UPS is trading 29% below its 52-week high, which has resulted in its yield shooting up to 3.7%.
The valuation is also becoming compelling, as the PE on 2018 estimates is now down to 13.4, compared with a normal PE of 19.7. Fears of competition from Amazon continues to dog the company, but despite those concerns, analysts are still projecting 20% EPS growth for 2018 and near double-digit growth going forward.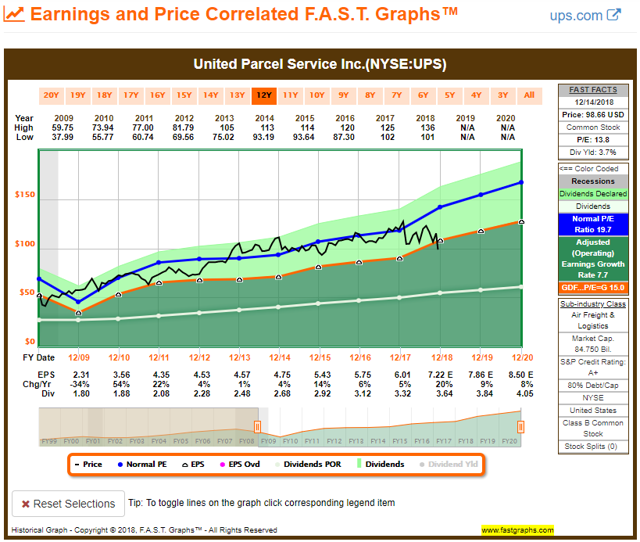 This valuation hasn't been seen since 2008, and the 3.7% yield is expected to move higher soon, as the company typically announces dividend increases in February. I think the increase will again be in the high single-digit range, which should push the yield on cost over the 4% mark.
Closing Thoughts
The market seems to be falling on a daily basis lately, and while it's not fun seeing my portfolio value decline, it is comforting to know that my income continues to rise despite it.
Even better, my income is now rising even faster, as lower share prices are boosting the portfolio yield, making dividend reinvestment even more productive.
The end of Q4 will mark the six-year anniversary of the portfolio, which is hard for me to believe. It seems like such a short time ago that I was asking my wife if she minded me sharing it with the public. Since then we've added a few children to the family, bought a new house, and enjoyed many other milestones. Meanwhile, dividend income in the portfolio has tripled, and I'm confident that it will continue meeting my 10% income growth goals going forward.
We have much to be thankful for, best wishes to all for a safe and happy holiday season!
Disclosure: I am/we are long AAPL, ABBV, ABT, AMGN, AMP, AWK, BDX, CBRL, CHD, CMI, CVS, CVX, D, DLR, EOG, FLO, GILD, GIS, HRL, IBM, JNJ, KMI, KO, LMT, LOW, MA, MCD, MKC, MMM, MO, MSFT, NEE, NKE, NSC, O, OHI, OXY, PII, PM, QCOM, ROST, SBUX, SKT, STAG, T, TGT, THO, UNP, V, WBA, WEC, WFC, WSO, XOM. I wrote this article myself, and it expresses my own opinions. I am not receiving compensation for it (other than from Seeking Alpha). I have no business relationship with any company whose stock is mentioned in this article.
Additional disclosure: I am an engineer by trade and am not a professional investment adviser or financial analyst. This article is not an endorsement for the stocks mentioned. Please perform your own due diligence before you decide to trade any securities or other products.