The Specter Of Deflation Makes For A Dovish Fed
Includes:
BBRE, BIL, CLAW, DDM, DFVL, DFVS, DIA, DLBS, DOG, DRA, DRN, DRV, DTUL, DTUS, DTYL, DTYS, DXD, EDV, EEH, EGF, EPS, EQL, FEX, FIBR, FREL, FRI, FWDD, GBIL, GOVT, GSY, HOML, HUSV, HYDD, IARAX, ICF, IEF, IEI, ITB, IVV, IWL, IWM, IYR, JHML, JKD, JRS, KBWY, LRET, NAIL, NRO, OTPIX, PKB, PLW, PPTY, PSQ, PSR, PST, QID, QLD, QQEW, QQQ, QQQE, QQXT, REK, RFI, RIF, RISE, RIT, RNP, RORE, RQI, RSP, RWM, RWR, RYARX, RYRSX, SCHH, SCHO, SCHR, SCHX, SDOW, SDS, SFLA, SH, SHV, SHY, SMLL, SPDN, SPLX, SPTI, SPUU, SPXE, SPXL, SPXN, SPXS, SPXT, SPXU, SPXV, SPY, SQQQ, SRS, SRTY, SSO, SYE, TAPR, TBF, TBT, TBX, TLH, TLT, TMF, TMV, TNA, TQQQ, TTT, TUZ, TWM, TYBS, TYD, TYNS, TYO, TZA, UBT, UDN, UDOW, UDPIX, UPRO, URE, URTY, USDU, USRT, UST, UUP, UWM, VFINX, VGIT, VGLT, VGSH, VNQ, VOO, VTWO, VUSTX, VV, WREI, XHB, XLRE, ZROZ
by: David Goldman
This article first appeared in Asia Times.
Policymakers can't ignore the combination of collapsing stock, weak home and plunging oil prices
The S&P 500 Index closed marginally higher after a day of wild swings. The most important price action was not in US equities, which failed to find direction after declines of more than 2% on both Friday and Monday, but in oil, which fell to a 14-month low of $47 a barrel for West Texas Intermediate.
The bond market's estimate of future inflation, the difference between the yield on nominal Treasuries and inflation-protected Treasuries, has fallen even more sharply than the oil price.
That raises the question of whether the world economy is at risk of deflation. This question will have the Federal Reserve's undivided attention at tomorrow's meeting of the Federal Open Market Committee.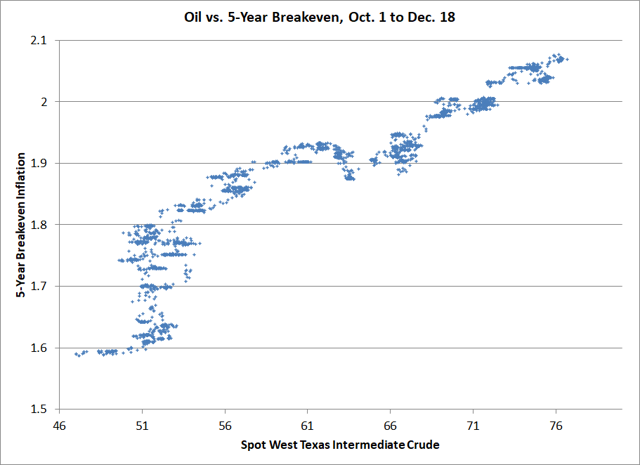 The same pattern applies to German and French breakeven inflation, which excludes the possibility that unusual technicals in the Treasury market are responsible for the extra 20 basis points of decline in US breakevens.
A sharp slowing of global economic activity has contributed to the oil price collapse, in addition to supply factors. Japan is in its second quarter of negative growth. So is Germany, judging by the disappointing reading for the country's widely-followed IFO economic survey. The expectations component fell to 97, the lowest level since October 2012.
World trade contracted in September, the last month for which volume data are available. As we argued November 30, the decline in trade appears to be the result of a pullback in capital investment, probably in response to questions about the future of global supply chains in industries affected by the US-China trade war.
There are also signs of price softening in key US markets. That translates into good reasons for the Fed to be dovish.
Most important is the negative year-on-year change in rents nationwide according to an index published by the rental website Zillow.
The Bureau of Labor Statistics' measure of housing inflation, so-called Owner Equivalent Rent, still shows a year-on-year change of over 3%. Owner-equivalent rent, as well as ordinary rental payments together, comprise 40% of the American Consumer Price Index.
The government data lag the private Zillow index by about a year, and the Zillow data point to a sharp decline in housing inflation over the next year. By my calculation, Owner Equivalent Rent should fall from about 3.4% year on year to 2.4% year on year during 2019, taking more than 0.3% off the Consumer Price Index, and driving inflation below the Fed's target.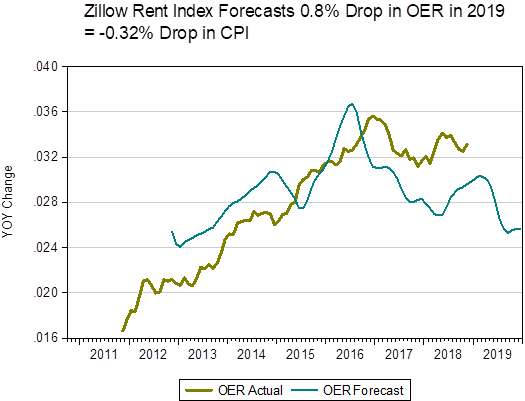 Of course, that isn't a forecast, just a back-of-the-envelope sensitivity analysis. If the Trump Administration follows through with the full array of tariffs it has threatened against Chinese imports, Goldman Sachs economists calculated, the overall US price level will rise by a bit over 0.3%. That's roughly the margin of decline in the CPI indicated by the home rental market.
Of course, an increase in prices due to a tax increase (tariffs are a tax) isn't good for the economy.
The combination of collapsing stock prices, squishy home prices, and a free-fall in oil prices will figure prominently in the Fed's calculations. Fed Chairman Jerome Powell is neither an ideologue nor a hero. The prudent course of action is for the Fed to wait and see. That is what a chorus of voices, starting with President Trump, have told the Fed. Chances are the Fed will listen.
The question is whether the market will respond to a dovish Fed by asking what the Fed knows that it doesn't know. The Fed put in the equity market is less effective than it has been in the past. I expect the Fed to postpone the 25 basis points increase in the federal funds rate widely expected by the market. That should make for a modest but temporary bounce in equity prices. Investors who haven't lightened their equity exposure should look for an opportunity to do so.