Visa Inc. (V) has been in business for over 60 years and has been a publicly traded company for 10 years now. Since their IPO in 2008, the business has performed wonderfully and the returns have followed suit. In March 2008, shares traded for a split-adjusted $14.88 per share and closed trading on Tuesday at $132.66. Over the last 10 years, Visa has also paid out $4.13 per share in dividends. That puts the total value of shares purchased at the IPO at $136.79 or an 819% return.
It's been nearly 2 years since I've done a deep dive into Visa and now seemed like a prudent time given the 11%+ decline since late September and the overall turmoil in the markets.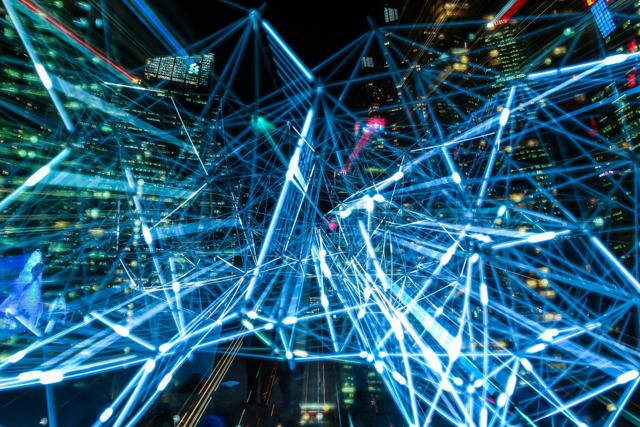 The power of Visa is in its network with over 54 M businesses/merchants worldwide on the network and over $8 T in payments volume for 2018. Visa's scale is hard to compete against and is a big reason why they continue to expand their market share.
Dividend History
As a dividend growth investor, I prefer to treat the companies that I choose to purchase as if I was an owner of the business. That means that one thing I want to gain from my ownership stake is cold, hard cash in the form of dividends.
The majority of the companies that I own have dividend growth streaks that are multi-decades long; however, that doesn't mean those are the only companies that I own. For every company that reached a 20-year history, they at one point in time only had a 10-year history.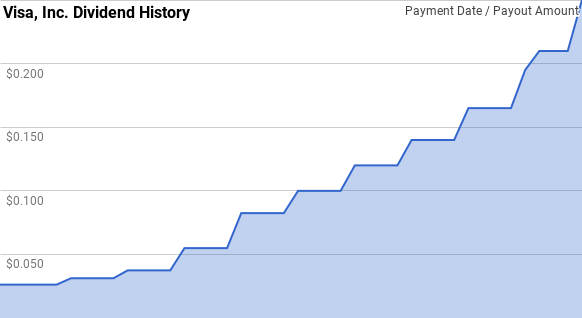 Image by author; data sourced from Visa's Investor Relations. A full screen version of this chart is available here.
Visa's dividend growth streak might not be all that long at just 11 years, giving them the title of Dividend Contender; however, the dividend growth has been fantastic. The "worst" year over year dividend increase since initiating a dividend in 2008 has been 17.0% as can be seen in the following table.
| | | | | | |
| --- | --- | --- | --- | --- | --- |
| Year | Annual Dividend | 1-Year | 3-Year | 5-Year | 10-Year |
| 2008 | $0.05 | | | | |
| 2009 | $0.11 | 109.51% | | | |
| 2010 | $0.13 | 19.24% | | | |
| 2011 | $0.17 | 27.47% | 47.12% | | |
| 2012 | $0.25 | 47.76% | 30.96% | | |
| 2013 | $0.35 | 40.40% | 38.29% | 45.88% | |
| 2014 | $0.42 | 20.86% | 35.86% | 30.68% | |
| 2015 | $0.50 | 19.05% | 26.41% | 30.64% | |
| 2016 | $0.59 | 17.00% | 18.96% | 28.42% | |
| 2017 | $0.69 | 17.95% | 18.00% | 22.76% | |
| 2018 | $0.88 | 27.54% | 20.74% | 20.42% | 32.54% |
*Dividends and growth rates are based on calendar year payouts.
Table by author; data sourced from Visa Investor Relations. A full screen version of this chart is available here.
While I want to see the companies I own pay and grow their dividends, the safety of the dividend is what gives the company the ability to grow the dividends in the future or hold dividends steady when an unexpected event happens, as they are wont to do.
Despite the rapid dividend growth, the payout ratio has been remarkably steady over the last 11 years. From 2008 through 2018, the payout ratio based off net income has averaged 18.4%. Over the same time frame, the free cash flow payout ratio has averaged 29.5%. Excluding the outlier in 2008 for the free cash flow payout ratio lowers the average to 18.8%.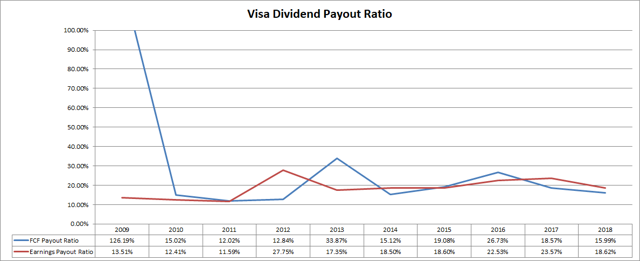 Image by author; data sourced from Visa SEC filings
How Does Visa Make Money?
Visa is a payments technology company that operates globally. In essence, the company acts as a facilitator of purchases between consumers, merchants and financial institutions and takes a fee for processing the transactions on their network. Visa, like Mastercard (MA), doesn't take on any credit risk, unlike American Express (AXP) or Discover Financial Services (DFS).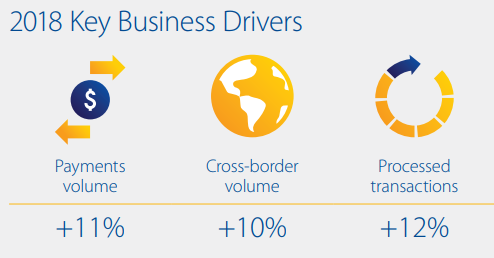 Source: Visa's 2018 Annual Report
Visa continues to deliver excellent growth with total payment volume and number of transactions both growing over 10% compared to 2017.
Visa is THE leader in the transaction processing space. Visa's network is incredibly huge with 15,900 financial institutions and more than 3.3 B cards in circulation that can be used at nearly 54 M businesses/merchants. All told FY 2018 saw Visa's payments volume grow to $8.1 T over 154.3 B transactions. Visa estimates approximately $17 T of untapped annual payments that are still done via cash and checks.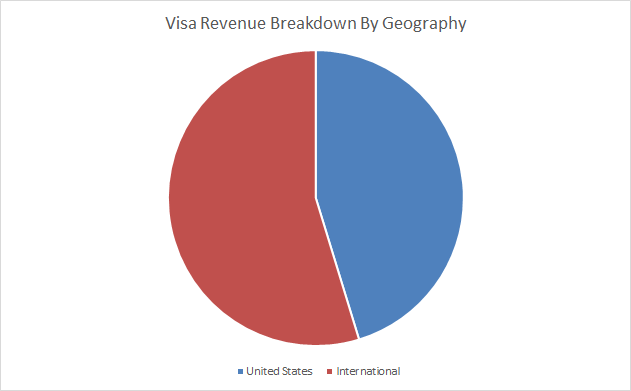 Source: Visa 2018 Annual Report
For FY 2018, Visa generated ~45% of revenues from the United States and ~55% from international.
Quantitative Quality
Excellent companies with solid business models will show it through their numbers. I prefer to examine companies primarily through their cash flows since it gives a clearer picture of the actual cash moving in and out of the business.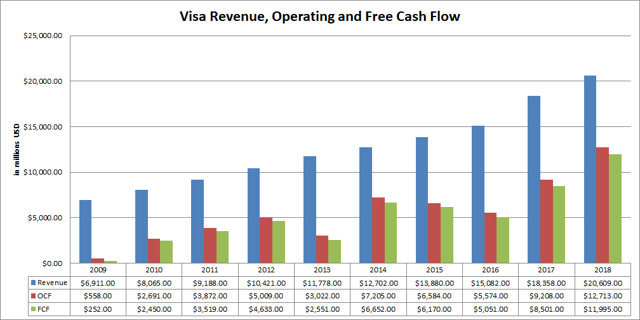 Image by author; data sourced from Visa SEC filings
From the end of FY 2009 through the end of FY 2018, revenue has increased from $6.9 B to $20.6 B. That's a huge 12.9% compound annual growth rate in revenues.
The rapid revenue growth has trickled down to operating cash flow too. Over the same time period, operating cash flow grew from $0.6 B to $12.7 B, which is good for a 41.5% annual growth rate. For 2018 compared to 2017, operating cash flow jumped a whopping 38%.
Free cash flow has also grown tremendously from just $0.2 B in 2008 to $12.0 B in 2018. That's good for a 53.6% annual growth rate in free cash flow. For 2018 compared to 2017, free cash flow grew by 41%.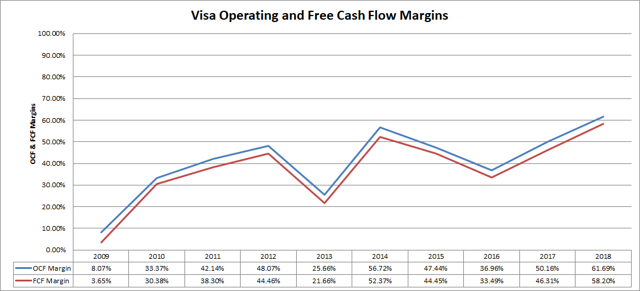 Image by author; data sourced from Visa SEC filings
Operating and free cash flow growth have outpaced revenue growth which has led to Visa improving on its already stellar cash flow margins. I consider the 10% threshold to be a sign of a business with strong cash flow generation and Visa is well above that level for both metrics.
From 2009 through 2018, operating cash flow margins have averaged 41.0% and from 2014 through 2018 that jumps to 50.6%. Likewise, free cash flow margins have averaged 37.3% for the last 10 years and 47.0% for the last 5.
While the absolute levels of both cash flow margins is impressive in its own right, Visa's free cash flow conversion (the amount of operating cash flow converted to free cash flow) is outstanding. Visa's 10-year average free cash flow conversion has been 86.7% and its 5-year average is 92.7%. For the recently ended FY 2018 it was 94.4%. This goes to show that the marginal cost of running another transaction through Visa's network is, for all intents and purposes, negligible.
Another way that I like to look at profitability is the free cash flow return on equity and invested capital. The FCF ROE and ROIC is the excess cash that a company generates above and beyond what is needed to maintain and grow the business for every dollar that's been invested in the business. It's also the amount of cash that one could theoretically receive if one owned the entire business outright. I want to see both of these over 10% and the higher the better.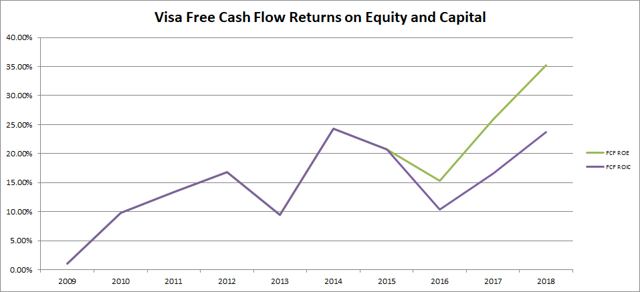 Image by author; data sourced from Visa SEC filings
Since FY 2010, Visa's free cash flow returns have been solid and above the 10% threshold more often than not. Through 2015, Visa didn't carry any debt on their balance sheet; however, with the purchase of Visa Europe management did bring debt into the picture. Thus far, it's been a net positive for Visa as FCF ROE and ROIC have both climbed since the acquisition completed.
From 2009 through 2018, Visa's FCF ROE has averaged 17.2% and from 2014 through 2018, it has averaged 24.3%. Over the same periods, the averages for FCF ROIC are 14.6% and 19.1%, respectively.
Free cash flow is the excess cash that a company generates above and beyond the capital expenses needed for the business. Free cash flow is what gives a company the ability to search out new lines of business, reduce debt, or return cash to shareholders via share repurchases or dividends. In order to understand how Visa uses its free cash flow, I like to examine 3 variations of the metric.
Free Cash Flow (FCF): The traditional calculation for free cash flow of operating cash flow less capital expenditures.
Free Cash Flow after Dividend (FCFaD): FCF less total cash dividend payments.
Free Cash Flow after Dividend and Buyback (FCFaDB): FCFaD less cash used to repurchase shares.
These 3 variations allow me to see if Visa generates enough cash through the business to fund the entire capital allocation/return process organically. Ideal investment candidates should maintain a positive FCFaDB since the business would be generating more cash than is needed.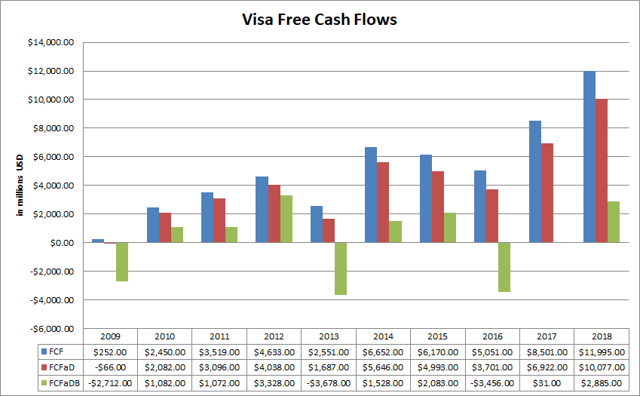 Image by author; data sourced from Visa SEC filings
As we saw above, the trend is for higher free cash flow as Visa continues to dominate the growing payment processing space. As such, free cash flow has been positive every year since FY 2009.
FCFaD has been positive every year except for FY 2009 and for FY 2018 had grown to $10.1 B. That positive FCFaD is what has allowed Visa to grow their dividends at such a rapid pace while maintaining a relatively constant payout ratio and move towards share repurchases as a secondary means to reward shareholders.
FCFaDB has been positive in all but 3 of the last 10 years. There's not much reason for concern here though as Visa continues to grow its business and the share repurchases are just the cherry on top of the sundae. Despite the 3 negative years of FCFaDB, Visa has still been able to organically produce enough cash to produce positive FCFaDB for the last 10 years generating a total of $2.2 B positive FCFaDB.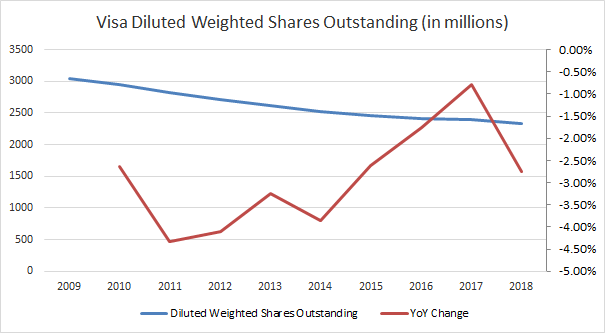 Image by author; data sourced from Visa SEC filings
Over the last 10 years, Visa has reduced its diluted weighted shares outstanding by over 23%. That's good for approximately 2.9% annual reductions. As a shareholder, I like the share repurchases; however, it might not be the most prudent use of capital given Visa's consistently high valuation.
Valuation
Historically, Visa has been an excellent business and one of the simplest business models to understand. Visa generates huge amounts of free cash flow with operating cash flows being converted into free cash flow at nearly a 95% rate. On top of that, Visa has shown to be very shareholder-friendly by returning over $49.6 B in the form of dividends and buybacks over the last decade.
That being said, the valuation still has to make sense in order to justify purchasing shares. One method that I like to use to assess whether it's a fair price is the minimum acceptable rate of return, "MARR," analysis. A MARR analysis entails estimating future earnings and dividends for a company, applying a reasonable future valuation on those earnings and determining if the return meets your minimum threshold for investment.
The average analyst estimate is for Visa to earn $5.31 per share for FY 2019, $6.12 for FY 2020 and to grow earnings at 18.9% per year for the next 5 years in total. I then assumed that earnings growth would slow to 8.0% per year for the following 5 years. Annual dividend growth is assumed to track earnings growth in order to maintain a constant payout ratio at 20%.
The last bit of information that we need is to determine a reasonable valuation that shares will trade at in the future. Over the last 10 years, Visa has traded in the markets at a TTM P/E ratio between ~16x-35x. Currently, the TTM P/E ratio is sitting around 30.4x. For the MARR analysis, I'll examine P/E ratios ranging from 15x to 30x.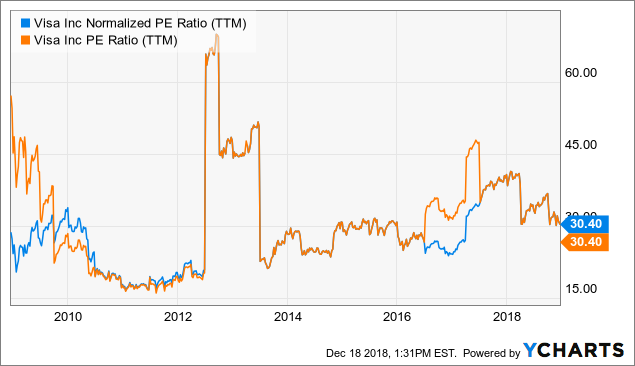 The following table shows the potential internal rates of return that Visa would generate with a purchase price of $134, near the intra-day trading on December 18th. The returns include estimate dividend payments using the above criteria and are run through the end of calendar year 2023 and calendar year 2028.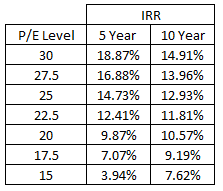 Assuming Visa's earnings and dividend growth come close to that assumed in the MARR analysis then investors could expect solid returns. At the current price level near $134 investors could expect 10%+ annualized returns down to a 20x future P/E valuation. Considering that includes nearly a 1/3 drag on returns due to valuation compression that's pretty remarkable.
Alternatively, I wanted to provide target purchase prices assuming a 15% discount rate based on the various future P/E ratios. A purchase at these prices should generate ~15% annualized returns for the respective time periods.

Conclusion
Based on the numbers, Visa is a fantastic company and one that I want to own for the long term. The trend in financial transactions is still a further move towards a cashless society which will continue to push Visa's future growth. Visa should also be fairly recession-resistant from any slowdown as they make money on the transactions processed on their network. As the global population continues to move to credit/debit cards, the overall transaction volumes are still likely to grow for Visa as less cash is used and people push more of their transactions onto Visa's network.
While the current valuation is high, it doesn't appear to be overly excessive at the moment. Assuming that growth plays out as forecast here Visa is still likely to generate 10%+ annualized returns which is solid. Although investors must be willing to potentially give up some of those returns in the future due to valuation compression that will inevitably come. However, the wonderful thing about a company like Visa is that given enough time its growth can fix a purchase at a slightly elevated valuation.
Due to Visa's current yield around 0.75%, it's likely more suited for younger investors that have decades of compounding ahead of them to truly take advantage of the dividend growth potential that Visa has.
If I didn't already have a position in Visa, I'd be tempted to initiate one around the current price of $134. However, since I've already got some exposure to Visa's growth, I'm willing to be more selective for opportunities to increase my stake and am eyeing a purchase around $120 or less.
I am not a financial professional. Please consult an investment advisor and do your own due diligence prior to investing. Investing involves risks. All thoughts/ideas presented in this article are the opinions of the author and should not be taken as investment advice.
Disclosure: I am/we are long V. I wrote this article myself, and it expresses my own opinions. I am not receiving compensation for it (other than from Seeking Alpha). I have no business relationship with any company whose stock is mentioned in this article.