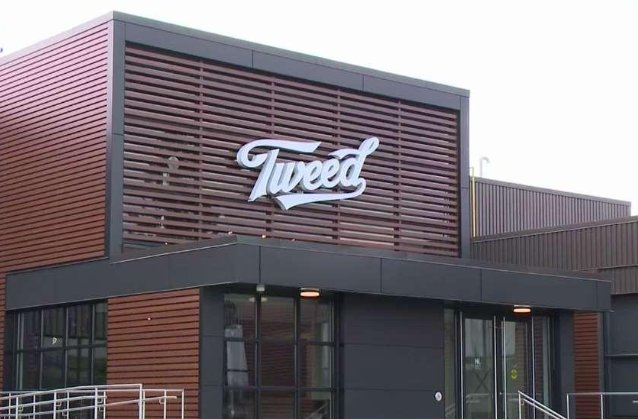 Summary
Newfoundland released results from its first six weeks of legalized recreational cannabis. Those results are great - they would extrapolate to a ~45% market share for legal, recreational cannabis and would result in 421,000 kilograms/year of sales worth $3.7 billion retail.
That said, extrapolating Newfoundland's results nationally would be a mistake. Newfoundland has had a great roll-out of cannabis. Newfoundland has ~500,000 residents, but has more retail stores than Ontario, Quebec, and British Columbia, combined. Those three provinces are home to ~27.4 million Canadians but were only home to 13 cannabis stores on October 17th, compared to 22 cannabis stores in Newfoundland on the same day.
Consumers prefer retail cannabis sales over online sales - retail sales were 15x higher than online sales in Prince Edward Island. Because of slow roll-outs in other provinces (especially Ontario), it will take time for other Canadian provinces to match Newfoundland's market share and revenue.
Overall, the biggest winner from Newfoundland's roll-out is Canopy Growth (CGC). Canopy Growth has the biggest supply deal with Newfoundland - 8,000 kilograms/year for the first two years - and also operates five Tweed-branded retail stores in the province. That strong foothold will give Canopy Growth the best shot at great market share from Newfoundland's booming legal cannabis market.
The Numbers
According to CBC, people in Newfoundland and Labrador (herein "Newfoundland") have readily adopted the legal, Canadian recreational cannabis market:
"Newfoundlanders and Labradorians are collectively spending more than one million dollars on cannabis every week, according to sales figures released by Cannabis NL.

The grand total, up to the last week of November, is $6,061,300.44 in retail sales from licensed producers.

That's 698.44 kilograms, enough for every person in the province to roll at least a couple of joints each."
Given that ~528,817 people live in Newfoundland and ~80.4% are 20 and over, this suggests that the average adult in Newfoundland purchased 1.6 grams of cannabis for $14.25.
However, most adults would not have purchased cannabis and those that did purchase cannabis would spend more than $14.25 on average. For example, a GMP Securities survey found that the average cannabis purchase was $80 to $90, but with substantial regional variation. Notably, Eastern Canada residents tended to spend between $60 to $70 (and Newfoundland is an island on the Atlantic coast).
If we assume, for example, that the average purchase in Newfoundland was $65 and that each cannabis-consuming Newfie made 1.5 purchases in the first six weeks of legalization, this would imply that 140,000 Newfies purchased cannabis during the first six weeks of legalization - or about one-third of adult residents of the province.
Extrapolating Nationally
It is easy to take figures like those in Newfoundland and to extrapolate them nationally.
For example, Newfoundland's figures were for a six-week period. We can annualize those figures and arrive at annual sales in Newfoundland of $52.7 million and 6,070 kilograms of cannabis.
Similarly, we can take Newfoundland's cannabis sales figures and extrapolate those nationally. Newfoundland contains 1.44% of the residents of Canada. If their retail sales would total $52.7 million in a year with 6,070 kilograms of cannabis sold, this implies national cannabis sales of $3.66 billion with 421,000 kilograms of cannabis sold.
For scale, Health Canada has previously suggested that national cannabis demand in Canada - including medical, recreational, and illicit cannabis - is 926,000 kg/year. That suggests that Newfoundland, nearly instantly upon legalization, already has legal, recreational market share of ~45%. Frankly, those are terrific results - adoption is much faster than has been seen in Colorado and Washington as in my analysis of both states in "American Cannabis: A Potential $90+ Billion Market".
But this is not a reliable extrapolation and will not be a good estimate of Canadian cannabis sales in their first year of legalization (running from Oct 17, 2018 to Oct 16, 2019). In addition to Newfoundland's stellar roll-out (discussed below), there are also several other factors that make this a poor extrapolation:
These sales potentially include product that is still in inventory in stores - it isn't clear what is includes. This would make the NFLD estimate too high.
Initial sales may include a lot of curiosity purchases from people who will not turn into regular customers. This would make the NFLD estimate too high.
Initial sales may include customers stocking up on legal cannabis but using it slowly over time. This would make the NFLD estimate too high.
Stores in Newfoundland - as noted in the article - are having supply issues and running out of popular products. This would make the NFLD estimate too low.
Edibles and vape cartridges, among other products, are not yet available and sales will increase once those products are legalized next year. This would make the NFLD estimate too low.
Newfoundland continues to open stores - they began at 22 and now have 25 - which will lead to rising sales. This would make the NFLD estimate too low.
Cannabis prices were likely the highest they'll ever be during the first six weeks and will decline in the future. This would make the NFLD estimate too low.
This list is far from exhaustive, but overall, I expect Canadian sales to be lower than Newfoundland's extrapolated totals. However, I expect Newfoundland sales to be higher that an extrapolation of their first-six-week sales.
Newfoundland's Strong Roll-Out
Extrapolating Newfoundland's figures nationally is primarily incorrect because Newfoundland has had a much better roll-out of cannabis than Canada's largest provinces. Based on my prior analysis of US legalization, three large problems that can affect the quality of a cannabis roll-out are:
Lack of available outlets to purchase cannabis,
Prices that are too high, and
Shortages of cannabis.
Newfoundland is doing better than peer provinces on at least two of these metrics if not all three. Because of that, Newfoundland's cannabis sales run-rate is likely to be much higher than Canada's national average. Here, I will focus on Canada's three most populous provinces (Ontario, Quebec, and British Columbia), as those three provinces are the three most important provinces for national cannabis sales.
Price between all provinces are ~the same, but each of Ontario, Quebec, and British Columbia has far fewer stores than Newfoundland. In addition, Quebec has had trouble with supply shortages.
Newfoundland has far better access to cannabis stores than any of its large-province peers. News of the botched roll-out in Ontario has been overblown - roll-outs in Washington state and Colorado were also rough, and both states are doing well today. That said, the roll-out in Newfoundland was better than in any of Canada's three largest provinces.
Let's compare the number of stores open on Oct. 17th, both on an absolute level, and per capita: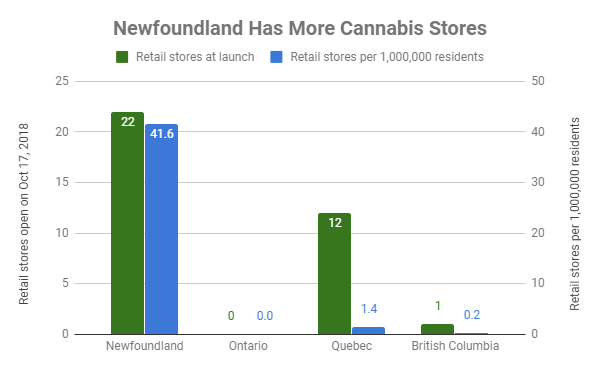 (Author based on various sources)
Ontario is Canada's most populous province and 39% of Canadians live in Ontario. On Oct 17th, Ontario had zero retail stores selling legal recreational cannabis. Today, Ontario still has zero retail stores selling legal recreational cannabis. By all indications, they will maintain their zero store count until April 1st, when they might open 25 stores - which would still place them in 3rd place for cannabis stores/resident.
As with all the other provinces here, legal recreational cannabis is available online in Ontario - through Ontario Cannabis Store - but if you want to buy it in a store, you'll have to wait at least three-and-a-half months or leave the province.
British Columbia, for their part, launched online cannabis with a single retail store in Kamloops - the seventh-largest population center in British Columbia and far away from all other population centers. As with Ontario, it is very easy to be critical of British Columbia's cannabis launch.
Quebec, for their part, had a better launch than British Columbia or Ontario, with 12 stores open at launch. That is still, however, only 1.4 stores per million Quebecers. Given the large size of Quebec, this leaves Quebec with an insufficient number of stores. That problem has been exacerbated by Quebec's supply shortage - leading to stores being closed three days/week. That supply shortage was predictable - and I suggested Quebec might not have ordered enough cannabis as far back as February:
"Quebec's initial cannabis order may prove much too small. On a per capita basis, Quebec's cannabis order is smaller than other provinces which have signed MOUs. Because of this, [Hexo] and the other suppliers may see their Quebec sales grow substantially, possibly even in the first year of availability."

Cannabis Winners And Losers In Manitoba And Quebec, Feb. 17, 2018
Quebec may have beaten Ontario and British Columbia in store count, but that scarcely matters if those storefronts don't have cannabis to sell.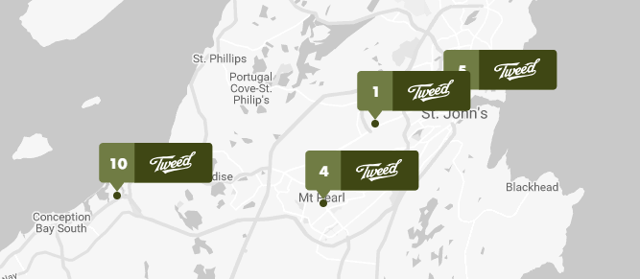 (Locations of four Tweed stores around St. John's, Newfoundland)
Newfoundland has had a much better cannabis launch. On launch day, Newfoundland had 22 cannabis stores, or 42 stores per million Newfoundlanders. Today, there are 25 cannabis stores open, or 47 stores per million people. These stores include:
Ten C-Shop stores - a Loblaws (OTCPK:LBLCF) (L.TO) brand.
Five Tweed stores - a Canopy Growth brand - including four near St. John's, Newfoundland.
Unlike in other provinces, Newfoundland has a reasonable quantity of cannabis stores - although there's likely still room for growth.
And retail stores are extremely important for driving sales. Most consumers would prefer to shop online, and in locations with both retail stores and online locations - most customers pick the retail stores.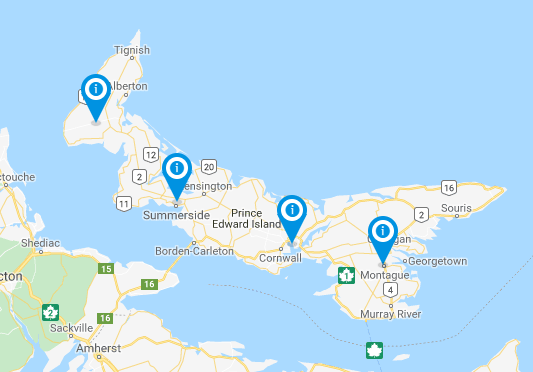 (PEI Cannabis locations from Blaze Buddy)
Consider the launch of cannabis in Prince Edward Island. PEI is a small island, about 225 km long and 2 to 65 km wide. Today, PEI Cannabis operates four stores that are spread relatively evenly throughout the province. Three of these stores were open on launch day - O'Leary, PEI wasn't ready.
Per capital, PEI had ~half the stores Newfoundland does - 20 per capita (at three stores on launch day). Despite having fewer stores than Newfoundland, PEI's retail sales crushed their online cannabis sales:
"P.E.I.'s three brick and mortar retail stores accounted for $481,443, while online sales tallied $32,000."
Despite having only half as many stores per capita as Newfoundland, PEI's retail sales were fifteen times higher than online sales. Consumers have a strong preference for purchase cannabis in person.
Takeaways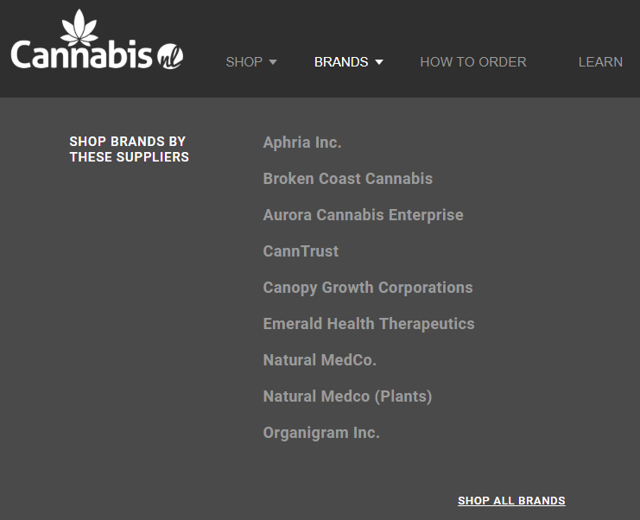 (Cannabis NL listing of brands)
Newfoundland has had great cannabis sales in the first six weeks. Legal, recreational cannabis may already have ~45% market share at launch, which is a great result.
This will benefit all the companies that have supply deals in Newfoundland:
Canopy Growth
Eve & Co - listed as Natural MedCo above.
Of these companies, Canopy Growth will benefit the most from the strength in Newfoundland. The reasons for this are two-fold.
First, Canopy Growth has the only supply deal in Newfoundland that sets out a quantity of cannabis sold to the province: 8,000 kilograms/year for two years. Notably, that is more cannabis that Newfoundland is even expecting to sell - the extrapolation above was only 6,070 kg/year. I expect Newfoundland's sales, especially as expressed in weight rather than dollars (since price will decline), to rise through the year as more cannabis stores open, the black market is marginalized, and new products are legalized. Thus, Canopy Growth's supply deal might not be as crazy as it seems at first.
Second, Canopy Growth is the only company listed about that operates its own stores in the province. Notably, Canopy Growth's stores do not only sell Canopy Growth products - Organigram products are available in Tweed stores, for example. However, Canopy Growth is still likely to sell an outsized proportion of Canopy Growth products in their Tweed stores. I strongly suspect that sales of the Tweed brand itself would be especially strong in a Tweed-branded store.
Newfoundland - and PEI - provide great models for the rest of Canada. Their strong sales also serve as an example for other provinces that current cannabis pricing and products can earn significant market share when marketed correctly. Other provinces - especially those with extremely slow roll-outs of stores - could look to these results and realize the tax dollars they are missing out on by failing to open a sufficient quantity of cannabis stores.
Ontario, for example, would need to open 671 stores to match the current level of retail availability in Newfoundland. Frankly, 25 retail licenses is not nearly enough. I do not expect larger provinces to open sufficient stores overnight - but over the next several years, it will happen. This market will continue growing despite these initial bumps.
Canadians would prefer to purchase legal cannabis. Deloitte suggests that Canadians are willing to pay 10% more for legal cannabis. It is up to the provinces to give Canadians that option by opening more retail outlets.
Progress here will not be instantaneous. Market maturity has taken ~four years in Colorado and Washington State. That process appears to be happening much more quickly in Newfoundland, at least so far.
Happy investing!
Editor's Note: This article discusses one or more securities that do not trade on a major U.S. exchange. Please be aware of the risks associated with these stocks.