In my last article on Bitcoin in October, when it was at $7,200 USD, I provided our price target of $2,488 - $4,175 that could conclude prior to the end of this year. Like clockwork, it's hit this target. In this article I'll reiterate the upside targets and a long term trading plan for how to approach Bitcoin for handsome profits.
Cryptocurrencies represent the proverbial "raw nerve" of crowd sentiment, and as I previously discussed, there is no better measure of crowd sentiment than applying long term logarithmic Fibonacci extensions to the underlying wave patterns to volatile instruments like those of digital currencies. Macro fundamentals are no doubt relevant in understanding how digital currencies and block chain technology fit into how commerce will be conducted in the future. However, in practical terms of where to enter long positions, or where to exit and stand on the sidelines, a discussion of the macro fundamental merits of Bitcoin or other cryptocurrencies belongs with a glass of brandy and a comfortable chair next to a nice warm fireplace.
For our purposes, we see some great long term swing trade opportunities setting up in Bitcoin. For those willing to participate in two key trades in the coming years there's an opportunity to amass significant profits. This is an extremely volatile sector, so when you do invest, hold your nose during the huge value swings that will occur. The simplest way to ensure you stay the course is to right size your exposure. It doesn't take a lot of capital to make a lot of return, so don't feel as though you need massive exposure to cryptos, and in fact for most I would advise against anything more than a very small portion of your capital.
Bitcoin Weekly Chart (compliments of timepriceanalysis.com)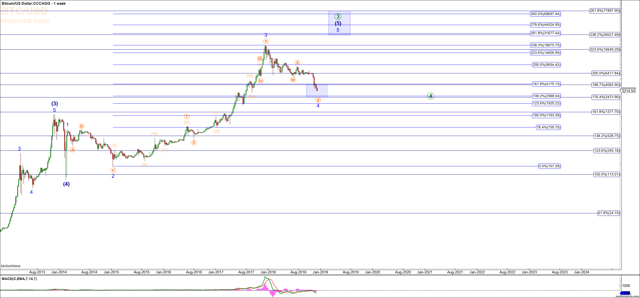 So, let's look at a simple long term plan on how to make extraordinary profits from Bitcoin, with 4 simple steps: 1. Bitcoin is in the buy zone now, so buy Bitcoin now, or between current levels and $2,600. Upside targets are $30,027 at the 2.382, or more likely $77,897 at the 2.618 extension. This would represent the completion of Primary Degree Wave (3). 2. Go to cash and wait for the consolidation back to this same price area in Primary Degree Wave (4) in the $2,600 region. 3. Buy again in this same price area in Primary Degree Wave (4) at the $2,600 USD level. 4. Sell at $153,000 at the Primary Degree wave (5).
So, let's do the math.
Step 1: Buy 1 Bitcoin at $2,700
Step 2: Sell 1 Bitcoin for $75,000
Step 3: Buy 27 Bitcoin at $2,700 ($75,000/$2,700 = 27)
Step 4: Sell 27 Bitcoin at $150,000 each = $4M
Bitcoin Monthly Chart (compliments of timepriceanalysis.com)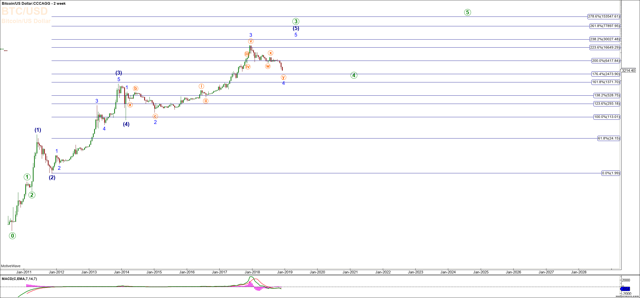 Practically speaking, most would exit Bitcoin at Step 2 and not reinvest the entirety of their proceeds back into BTC at Step 3, and especially after a drop of the magnitude I've described, myself included. Also, this pattern could take some years to play out, and so a lot can sway investor's mindsets during the interim phases.
However, if you're not unwilling to put a very small amount of capital at risk, this is what's possible. In truth, much can happen to change both the larger wave pattern and the fundamentals of this sector. Is this gambling? Perhaps, but with the use of Fibonacci extensions to guide the path, I prefer to think of those that follow this analysis as the house vs. the player. If you're methodical in managing your position, you'll be able to raise your stop out level on the move up to protect profits at the first sign of pattern invalidation.
Visions of grandeur aside, this approach to this sector is perfectly reasonable. Asking questions like – what is Bitcoin, and why does it have value are as irrelevant to investors now as it was to those who bought BTC at .15 per coin in 2010. These types of questions will be equally irrelevant to those buying now and selling at $75,000. Like PC's were in the late 1980's, it'll take years for the masses to understand how digital currencies and block chain technology provides practical applications to how we live our lives. In the meantime with such a clear Elliott Wave structure, one may as well take advantage of accumulating some profits.