Teladoc Health's (NYSE:TDOC) stock has faced significant downward pressure as the broader market pulled back over the last few months but, more recently, the high-level personnel issue (i.e., the COO/CFO resignation) added fuel to the fire.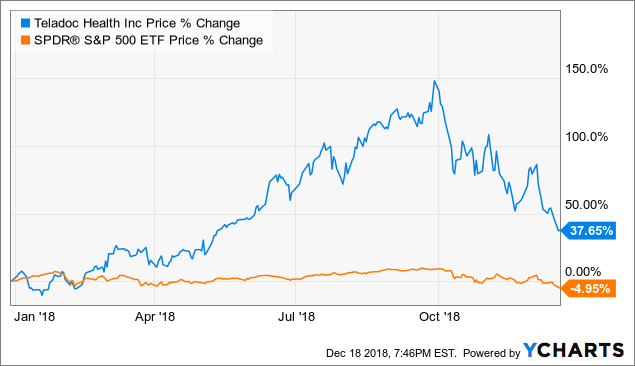 The stock has actually performed well so far in 2018, even after factoring the recent dip, so some shareholders may still be sitting on a nice gain for the year. So, the question is: does the personnel issue make the stock a sell? In short, no. However, I do believe that Mr. Mark Hirschhorn's, Chief Operating Officer ("COO") and Chief Financial Officer ("CFO"), resignation adds risk to the story.
Is The Personnel "Issue" A Reason To Sell?
It was only a few days ago that Teladoc refuted SIRF's, or Southern Investigative Reporting Foundation, report that Mr. Hirschhorn had a relationship with a former Teladoc employee. Even more damaging, SIRF reported that Mr. Hirschhorn and the former employee traded TDOC shares together (a topic that has not garnered much attention yet).
While the company did admit to disciplining Mr. Hirschhorn for violating workplace policies, the thought that management turned a blind eye to these violations was refuted.
On December 17, 2018, Teladoc announced that Mr. Hirschhorn resigned from the role of EVP, COO and CFO, effective January 1, 2019. The company already began the search to fill the COO and CFO roles, while internal candidates fill in on an interim basis, but let's not act like Mr. Hirschhorn will be an easy act to follow. Mr. Hirschhorn has played a significant role at Teladoc over the years and, from a financial standpoint, he is a major reason why the company is where it is today.
I say all of this to say Teladoc will need to find some very capable people to fill in two positions that are mission critical, which is obviously not going to be an easy task. However, it is important to remember that the rest of the management team is still intact, including the well-respected CEO, Jason Gorevic. So, while the stock may see a great deal of volatility until the new COO and/or CFO prove themselves to the Street, I believe that Mr. Hirschhorn leaving the company is not a legitimate reason to sell the stock.
Teladoc Still Has A Story To Tell (Even Without Its Current COO/CFO)
In the same press release that disclosed Hirschhorn's resignation, management reaffirmed their Q4 and full year 2018 guidance:

Source: Press Release
There is a lot to like about the forward guidance, but, in my mind, there are two key metrics that stand out the most - that is, revenue and visits.
| | | | |
| --- | --- | --- | --- |
| | 2017 | 2018 (low-end) | Projected Growth |
| Revenue ($ - mil) | $233.3 | $414.0 | 77% |
| Visits | 1.46M | 2.5M | 71% |
Source: Data from press release (above) and Q4 2017 report; table created by author
Yes, acquisitions are coming into play but what makes these figures even more impressive is the growth that was reported last year (revenue and visits grew by 89% and 54%, respectively, in fiscal 2017). Plus, as I recently described, Teladoc has a real market opportunity so the strong growth should continue for the foreseeable future.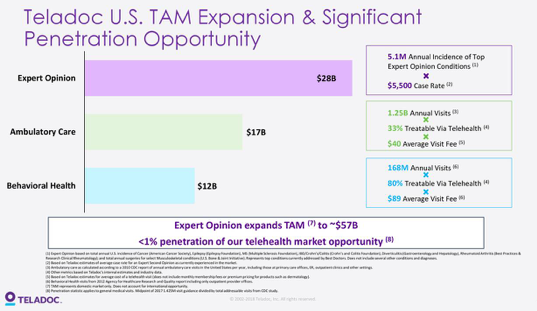 Source: William Blair 38th Annual Growth Stock Conference, June 2018
It is hard denying the fact that the future for Teladoc Health appears to be bright. Moreover, the reaffirmed guidance tells a good story - that is, this company is firing on all cylinders and customers (and potential customers) are starting to see the value-added benefit of utilizing Teladoc's products/services.
Valuation
I would not get too caught up on valuation, as Teladoc is still early in its growth stage, but I believe that shares are definitely trading at more attractive levels now than they have been over the last two years.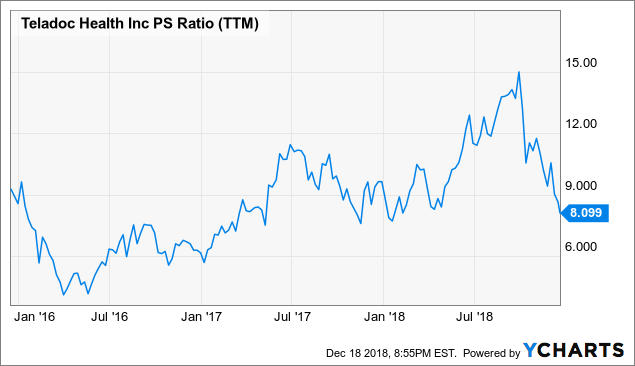 On a price-to-sales basis, TDOC shares are getting back to what I would consider more reasonable levels based on historical metrics. The stock is not "cheap" by any means but I also do not believe that the potential near-term growth is baked into the stock price either. The COO/CFO resignation is concerning but, again, the personnel issue is not a game-changer, at least in my mind.
Risk
Investing in small-cap companies comes with many risks, but the major risk for Teladoc is related to the company being outspent by larger competitors. Additionally, the company relies heavily on its partnerships to expand its business so deteriorating relationships in the industry could have a material impact on Teladoc's business.
In addition, integration risk needs to be considered given the numerous acquisitions that have been made over the last few years. And most importantly, regulatory changes have the potential to greatly impact Teladoc's business. Please also refer to Teladoc's 2017 10-K for additional risk factors that should be considered before investing in the company.
Lastly, as described above, the COO/CFO departure definitely adds risk to the story.
Bottom Line
The COO/CFO departure comes at a tough time. From an operational standpoint, Teladoc has been firing on all cylinders and the market was starting to buy in on the company's long-term story. Filling in two key roles will create noise through early 2019 but, in my opinion, Teladoc is well-positioned to benefit from an improving backdrop. The Hirschhorn news adds risk to the story but it is not a reason to sell a company that has a strong bull case.
In my mind, Teladoc will either grow into a significant disruptive company in the healthcare industry or it will get acquired by a larger player. Either way, it is a win-win situation for investors. TDOC shares will likely not shoot up in a straight line but, in my opinion, the risk is to the upside if you are in it for the long haul.
Disclaimer: This article is not a recommendation to buy or sell any stock mentioned. These are only my personal opinions. Every investor must do his/her own due diligence before making any investment decision.
Author's Note: I hold a small [but growing] Teladoc position in the R.I.P. portfolio. I started the position when shares were in the lower $30 range but I recently added more TDOC shares in the $55 range. To hear more about Teladoc, or any of the other small-cap companies that I cover, consider signing up for the Going Long With W.G. Marketplace service.