Soybeans: Glut Or Glut?
Includes:
SOYB
by: Ganalytics
Summary
US soybean exports are well behind pace for the current marketing year.
With record production anticipated out of the US and Brazil, China is unlikely to purchase enough US beans to avoid a record domestic glut.
Prices ultimately remaining in the current range between 825¢ and 930¢ on the January contract looks most likely (add 13¢ for the March contract).
Short-squeeze risk is nevertheless in play with speculative sentiment quite bearish and extreme headline risk out of China.
Incredibly strong Chinese imports might send prices to 975¢-1090¢, while underwhelming purchases could send prices down to test the year's lows just above 800¢.
Editor's note: Seeking Alpha is proud to welcome Ganalytics as a new contributor. It's easy to become a Seeking Alpha contributor and earn money for your best investment ideas. Active contributors also get free access to the SA PRO archive. Click here to find out more »
Asset: CBOT January Soybeans | SF9
Current Price: 906.75 ¢/Bu
My View
-NEUTRAL- Given the record projected US soybean production and reduced exports due to the China tariffs, the soybean glut is most likely here to stay. While I don't rule out a temporary sentiment-driven breakout, I believe it would be short-lived, and under most scenarios, I would expect prices to return to the 825-930¢ range that January soybeans have maintained since early June of this year.
The USDA is pegging 2018/2019 US soybean exports at 1.9 billion bushels (51.7 million metric tonnes) and left its export forecast unchanged in the latest WASDE report released last week. This projection is in spite of US exports being substantially behind pace for the current marketing year thus far. By my math, we are roughly 13-14 million tonnes behind schedule, though this figure is obscured by the changing mix of importers which the USDA states will "result in a larger share of US exports in the second half of the marketing year". Nevertheless, most analysts agree there is still a significant amount of Chinese imports built into the figures and a lot of ground to make up.
Since June, the USDA has dropped its US export estimate by 10.6 million tonnes, primarily due to reduced imports from China. Of the reduction, about 6.8 million tonnes were directly attributed to the Chinese tariffs (per the July WASDE), with the rest citing reduced Chinese protein demand. Let's assume the US can somehow recover that entire 6.8 million tonnes in exports (unlikely given the late stage of the already behind-pace export season and deteriorating Chinese demand). That would peg US ending stocks at about 19.2 million metric tonnes, still a massive glut. Thus, in my view, even in that quite rosy export scenario, the glut does not allow much room for soybeans to rally from here.
Introduction to Ganalytics
Throughout my analysis, I will utilize indicators, charts, and features from an extensive, data-driven analytics platform I developed, the "Reduction Reports". Instead of just providing vague fundamental analysis and relevant context, I will quantify everything I discuss through the Reports' analytics. Rather than simply describing something as "bearish" or "bullish" and leaving it at that, I will tell you how bearish or how bullish on a simple scale of 0 (most bearish) to 10 (most bullish). I won't just tell you I think the price is "cheap" or "rich"; I'll provide 0-10 indicators and actual prices to back that up through a variety of fair value models, ranging from complex multi-factor models derived from many price-driving variables to simpler models like a P/E ratio for an equity index or relative value for a commodity. Of course, markets are not concrete mathematical equations; they are the results of the actions and decisions of the billions of people on our planet and innumerable factors that are out of our control. However, having a rigorous, quantified analysis presented through an easily interpreted framework makes it a lot easier to wrap our heads around them.
Lastly, I break down the markets and express my views through five core concepts, which I define as follows:
Fair Value: What's the "right" price?
Factors: What explains the price?
Drivers: What's the market paying attention to?
Risk: What could happen to the price?
Technical Analysis: What's the market telling you?
Context
Soybeans have been caught squarely in the center of the Trump/China tariff melee, with China imposing a 25% tariff on US beans in June of this year. The United States typically exports about 43% of its soybean production, with China importing about 60% ($12-$13 billion) of those exports. Further, China is by far the world's leading importer of soybeans at 64% of global imports, making its import demand difficult to impossible to fully replace. Since Trump declared a "truce" with China at the G20 and tweeted that China intended to "start purchasing agricultural product immediately", the market has been paying careful attention for any signs of follow-through. A Bloomberg report early last week suggested China would purchase 5-8 million tonnes of beans. On Wednesday, we saw the first concrete evidence of any such progress with the US Soybean Export Council stating 1.5-2 million tonnes were purchased by Chinese importers. The official USDA export figures last week confirmed 1.13 million of these.
Besides the recent headlines, the market is weighing the following:
Thanks to depressed grain prices, US farmers increased soybean acreage from 83 million acres to about 90 million over the past couple of years. The result is record production and record stocks of beans in storage.
China reduced government guidelines on required protein content in pig feed by 1.5%. This may result in a 14 million tonne drop in soybean consumption according to the Chinese government.
The reduction in Chinese demand may be further compounded by the outbreak of the African Swine Fever (ASF) afflicting China's hog herd. The market is not currently considering this to be a significant factor, but reliable impact estimates out of China are unavailable, so more risk remains on the table.
Brazil is producing record amounts of beans and shipping them to China, doing its part to fill the void left by the US. Argentina production has also recovered from last year's drought-reduced totals.
The Reduction Indicator: All Things Considered

The Reduction Indicator (RI) is my data-driven, "all things considered" indicator of bearishness/bullishness. It accounts for fundamentals, technicals, and other considerations and reports its reading on a scale of 0 (most bearish) to 10 (most bullish). The current reading of 4.8 is neutral.
Factor: Inventories/Production Balance
In my models, I defer to the WASDE export estimate, which is currently painting a more favorable picture for soybeans than is implied by the actual exports accumulated thus far. In spite of that optimistic forecast, the Inventories/Production Balance factor (which includes the USDA's ending stocks and export estimates) is sitting at all-time lows because of the record US production and conservative Chinese import reductions. This is glaringly obvious from the factor chart's plummet below, and soybeans have dropped in sympathy.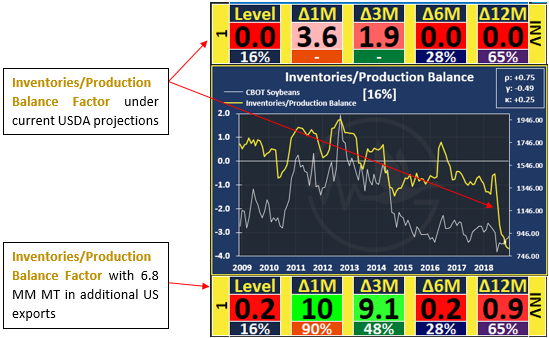 Source: Ganalytics
For simplicity, all factors are designed so that higher values are positive for the soybean price. So a low "I/PB" factor represents large inventories/high production, as this is bearish for the soybean price. The panels above and below the chart include the factor's "Level" (how high/low it is) and "Momentums" (its directional strength) over the designated time frames from 1 month through 12 months.
Fair Value: What's the Right Price?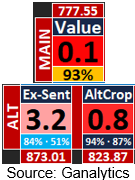 Let's talk price and fair value. In this analysis, I will focus on three "factor-based" models. These models assign a "fair" soybean price based on a wide variety of underlying price-driving variables such as supply/demand statistics and macroeconomic factors. The main model (top indicator) pegs a fair price for soybeans at about 777¢ (fun number!) and an alternate model at 824¢ (bottom right indicator). This is about 200¢ below its modeled valuations of just six months ago. The drop was driven primarily by the anticipated glut thanks to the China tariffs and record US production, but a deterioration in sentiment has weighed as well.
My "Ex-Sent" model (bottom left indicator above) reports the anticipated valuation if sentiment were to return to neutral. In other words, if the speculators reverted to a neutral stance, what would the model expect the price to be? This is particularly useful to consider when sentiment is at extremes, as speculators can shift positions quickly or may be forced out through a short-squeeze. It currently pegs fair value at about 873¢. This is still below the current market price of 907¢ and right in the middle of the range held since June. Each of the model valuations indicates that even under the USDA's current export forecast (which many analysts view with quite a bit of skepticism), soybeans are already trading at pretty rich levels.
Risk: What If Exports Recover to Pre-Tariff Levels?

To measure the impact of the highly optimistic scenario in which the US recovers the entire 6.8 million metric tonnes of exports lost due to China's tariffs, I shocked my model for that entire 6.8 million. This shock sends the I/PB factor up to a level of 0.2 (see Level in lower I/PB panel above). While this is marginally better for the bean price than the 0.0 under the current WASDE forecast (see Level in upper I/PB panel above), it is just a dent in the overall fundamental backdrop. From a price standpoint, this increase of 6.8 million tonnes to the USDA forecast would send my Ex-Sent model's price (which is the highest of the three models discussed) up by about 68¢. This brings its price to 941¢, not far above current levels. In other words, it seems soybeans are already nearly priced for perfection.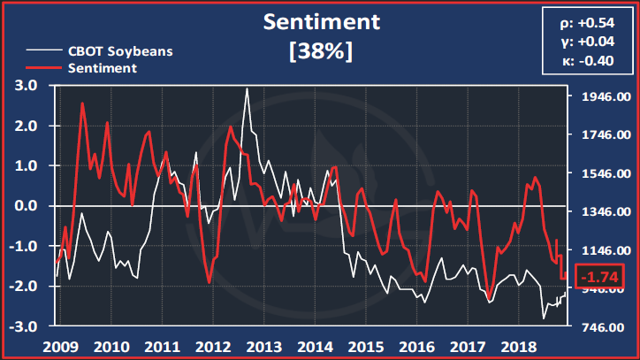 Source: Ganalytics
The Sentiment factor includes variables that represent speculative and investor sentiment. You can clearly see the bearish pressure the market has placed on soybeans over the past 6 months. The factor is sitting close to all-time lows.
Risk: What If There Is a Short-Squeeze?
Now, earlier I mentioned that I'm not ruling out a short-squeeze or other sentiment-driven breakout. To estimate where I think that rally might send soybeans, recall that the spread between my main model and the Ex-Sent model was about $1 (873¢ vs. 777¢). We can use that as an estimate of the upside risk of a sentiment-driven price spike, perhaps set-off by some bullish China tariff news. In that scenario, I wouldn't be surprised to see soybeans make a run at the 1000¢ level (which acted as technical support from February to early June). Given the already optimistic USDA projections, the perceived bullish news might well turn out to be a dud, as we still have a lot of catching up to do just to achieve the USDA's current export targets. Unless China came in to buy extremely aggressively (discussed below), I would expect beans to be rejected around that 1000¢ level and ultimately settle back down somewhere in the current range. The ultimate price level would depend on the impact to the USDA's exports and ending stocks figures.
Risk: What If China "Makes a Splash"?
At the end of an analysis by Ted Seifried (Zaner's Chief Ag Market Strategist), he presents an alternative scenario where "China makes a splash", buying an additional 20-30 million tonnes of soybeans for state reserves. This would be an extremely optimistic outcome, perhaps resulting from an effort by China to give Trump a political victory in exchange for some US tariff reductions. If I'm correctly interpreting his analysis, that scenario would send my Ex-Sent model's fair value to somewhere between 975¢ (for 10 million this year) to 1090¢ (for 20 million this year). That's right in the range held from February through the beginning of June of this year. So should things really start looking up from the China import standpoint, that 975¢ to 1090¢ range is something to keep in mind.
Risk: What If China Disappoints?
Given that most of the analysis here hinges on somewhat to extremely optimistic export scenarios, the outlook for soybeans could be significantly more bearish than I've presented thus far. Recall that my current models place fair value between 777¢ and 873¢ with USDA's current export projections. If exports do not pick up, and the USDA starts lowering its forecasts, I would not be surprised to see beans retest the year's lows and perhaps even breach the 800¢ mark.
Putting It All Together
Where we stand, my view on soybeans remains neutral. China would have to seriously exceed US import expectations to make a significant dent in the USDA's already optimistic ending stocks figures. Further, my models believe fair valuations are already stretched, and even if we see US export projections rise to pre-tariff levels, they would price beans between 845¢ and 941¢. That's just about the range we've maintained for the past 6 months, so buying in the face of the seemingly inevitable glut is simply not an option.
While that view may seem to present a selling opportunity, I'm not comfortable shorting beans for the following reasons. First, prices gapped above prior resistance after the G20, providing a measure of technical support in that gap between 887¢ and 897¢. Without that gap filling, I can't rule out a technical move higher. Second, sentiment is heavily bearish (see Sentiment factor chart above), so the risk of existing short positions exiting and sending prices upward is present. Third, China headline risk is extreme, which combined with the bearish sentiment makes the short-squeeze risk is even more real.
Given all of these considerations, I'm simply on hold for now and would look for an opportunity to sell after a short-squeeze plays out or reassess after other developments materialize.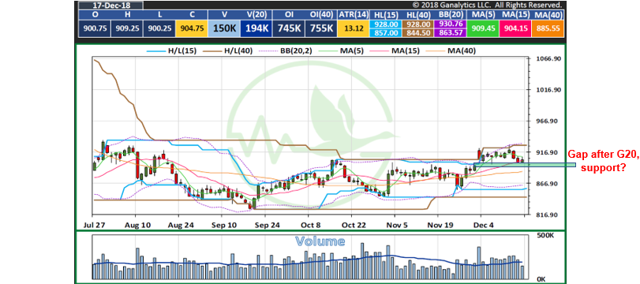 Source: Ganalytics
Disclosure: I/we have no positions in any stocks mentioned, and no plans to initiate any positions within the next 72 hours. I wrote this article myself, and it expresses my own opinions. I am not receiving compensation for it. I have no business relationship with any company whose stock is mentioned in this article.