Investment Thesis
After seeing two quarterly reports as a public company and closely reading the transcripts to the conference calls, I think it is getting more and more obvious that Zscaler (ZS) is a company that is in the process of accelerating growth – a circumstance that Wall Street typically loves.
Strong business momentum should drive shares for two reasons: In the short term, estimated numbers will have to be revised to the upside regularly. For example, while the company is currently guiding for $272 million in full-year 2019 revenues and analysts (according to Yahoo! finance) expect $282 million at the high end, I expect them to get to or even surpass $300 million in revenues for 2019. At the same time, the company has major long-term tailwinds from their disruptive approach to cybersecurity and their competitive advantage as first mover and market leader, giving them a very long runway of growth.
What could keep stock appreciation in check at the moment is Zscaler's steep valuation, which has been a "problem" since the IPO. Investors have to be aware that – besides execution risks – shares are exposed to investor behavior changes and multiple compression. At the same time, I believe explosive growth of the business – if maintained – reduces the downside risk of shares considerably.
I think Zcaler is a company that should definitely find its way into the portfolios of innovation focused investors, even if only at a small portion of their overall portfolio. I expect Zscaler shares to generate significant alpha in the years to come.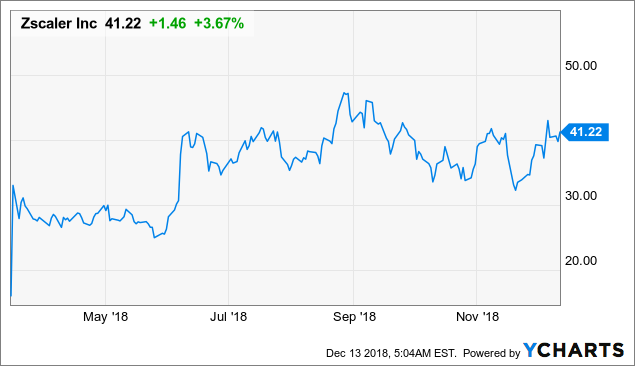 Another Disruptor?
Since Clayton Christensen famously published The Innovator's Dilemma in the late 90s, "disruption" is easily one of the most overused words in investing and business. Of course, everyone wants to disrupt, and investors have been trained to an almost pavlovian proportion to expect huge stock gains, whenever the word disruption is used. Let's just say that in real life the word disruption is way more used in writing than it actually happens in the business world. Having said that, you have probably already guessed what I will write next:
Zscaler is about to completely disrupt cybersecurity.
To understand what Zscaler does on a high level, you must be aware of two basic trends that are happening right now: First, company applications and data are migrating from company networks to the cloud. And second, employees are becoming more mobile and need secure access to company resources from any location and device.
The problem with the current IT security paradigm is that it is, by design, not very well suited for this changing environment.
The most used metaphor to explain legacy network security to non-technologists (like me) is to imagine a company network like a castle and a moat. The castle representing the companies IT network with all their applications and data, and the moat representing an insurmountable obstacle to the castle. To enter the castle, organizations created internet gateways (protected by firewalls) that provide a drawbridge across the moat. These gateways separated the internet from users, data and applications.
Furthermore, companies typically build their networks as hub-and-spoke architectures. This means having large, central network headquarter (HQ), through which every IT-traffic has to flow. No matter from where or from which device an employee or third party wants to access company apps and data, he has to get access to the companies network first through the HQ. The network HQ can be pictured as the center of gravity of all IT in the company. Even if not all company applications are located in the HQ (but for example in the cloud instead), it is always involved.
You can hopefully already sense some inefficiencies from this picture. One of the biggest problems with this model is that you create huge traffic through the network HQ. Handling this traffic is very complex, expensive and still often produces bad user experiences. It is a classic example of a bottleneck and makes a wonderful target for bad actors trying to do harm (single point of failure). Until now, companies have responded to security threats by adding complexity, trying to make it harder for hackers to infiltrate their systems. But this hasn't stopped them from hacking. On the contrary, this dynamic has created a rat race, as increasingly complex security threats called for ever more complex and expensive network security solutions.
Zscaler's products are supposed to break this cycle. They are currently selling two products that deliver on this vision: Zscaler Internet Access (ZIA), which is a secure cloud platform where customers can use security applications in the cloud, moving security close to the user and granting a fast and secure experience regardless of location. The other product, Zscaler Private Access (ZPA), is an easier to deploy, more cost-effective, and more secure alternative to VPNs.
If this last part was a bit too technical for your liking let me rewind a bit again: The challenge of today's cybersecurity is that employees are increasingly embracing the opportunities to work from outside the office, while applications and data that used to live in the network HQ are slowly moving into the cloud. And here lies the paradigm change in a nutshell: While the center of gravity for the companies' IT moves from the companies' HQ to the cloud, the internet becomes the new corporate network. Zscaler is in the pole position to secure the new corporate network based on the internet.
A Heck Of A Sales Pitch
When a ZScaler sales representative comes up to an IT department of a customer nowadays they will promise the following:
Your applications will be more secure.
We will help with your migration to the cloud and make it easier.
Your apps will be more accessible to users (employees).
You will save money (potentially millions of dollars per year).
More security, more user-friendliness, fewer costs and you will help me migrate to the cloud? That's a heck of a sales pitch.
Let's look at a short real-life example of how this has actually worked out for a Zscaler customer. General Electric (GE) had a very challenging problem: Over their 125-year company history, they have grown into over 180 countries, over 4,000 locations with more than 425,000 users. At the same time, their IT-network has been growing – a lot – and with that, complexity was increasing constantly. According to Chris Drumgoole, CTO of GE, in such an environment "the drawing of the network never gets simpler and the performance never gets better and the cost never goes down." Since GE saw that they can't really secure their network, they can't afford their network and they can't scale their network, it started to dawn on them that they actually can't trust their network, which made it necessary to rethink basically everything. Long story short, they went ahead to remodel their legacy IT network, and Zscaler was an important partner in that process. What was the end result? GE had saved $30 million annually, increased capacity by 35% and improved latency by 80%.
Outstanding Financials Underline Huge Opportunity
No wonder that this company is growing like gangbusters: In the most recent quarter (Q1 2019) they grew revenues at 59%. That is up from last quarters 54% growth and Q4 2018 growth of 49%. Their TTM revenue is currently at $214 million and should get close to $300 million by the end of the fiscal year. Why do I think that?
In Q4 2018 Zscaler guided for $260 million full-year 2019 revenue. That was obviously a lowball estimate. In the conference call back then, management mentioned that their total backlog was standing at $398 million at the end of 2018 and after a further inquiry from an analyst they said that 53% of that will be revenue next year. If you calculate correctly, that's $211 million revenue (or 81% of guidance) that they already made for 2019 in 2018.
Fast forward to Q1 2019, and they already guided for $272 million – that's a guidance increase of 4.6%. Will they continue to raise guidance during the year? I believe so. In today's beat and raise game of quarterly earnings reports, it seems almost mandatory to upgrade full-year guidance regularly during the year. With that said, and assuming they will continue to raise their full-year revenue guidance from the high end of their forecast by roughly 4.6% every quarter, they would guide for roughly $284 million in Q2, $298 million in Q3 and would eventually come in at $311 million in Q4. If they achieve $311 million revenues in 2019 that would be almost 64% growth year-on-year (yoy); in 2018 they grew "only" 51%. That sounds like a lot and is probably a bit too optimistic, although not impossible. At $300 million, yoy-growth would be 58%, which sounds more reasonable given the companies growth rate in the most recent quarter.
Next to revenue, also billings (up 55%) and deferred revenue (up 68%) grew very nicely in Q1 2019. One key metric to follow is the Dollar-Based Net Retention Rate. The rate compares the recurring revenue from a set of customers against the same metric for the prior 12-month period on a trailing basis. The net retention rate was stable at 115% in 2016 and 2017, increased briefly to 122% in 2018 and now stands at 118%. According to management that is still very healthy since they recently started to sell bigger deals up front and achieved faster up-sells within a year, which can reduce the net retention rate. Nevertheless, they managed to keep their retention rate relatively stable despite this fact, which I would interpret as a very positive sign.
Gross margins were at almost 82% last quarter. The company doesn't expect this number to improve in the immediate future but judging from managements comments in their first two earnings conference calls, it seems probable that they will be able to increase gross margins in the long term. As a side note, the company was profitable on a NON-GAAP basis for the first time in Q1 2019. While Zscaler is not in a stage where they try to maximize profitability, but rather focus all their energy on expanding the top line (which they should), it is certainly not a bad sign to see the company become profitable ahead of schedule. To give a quick picture of the operating leverage they are achieving, let me recite their operating margin from Q1 2017 until now: -15.3%, -10.5%, -14.9%, -19.7%, -18.6%, -6%, -5.9%, -4.3%, 1.9%. Also worth mentioning are their operating and free cash flow, which have both been positive since Q3 2018. Another plus is their balance sheet: They carry no debt and have $314 million of cash in their war chest.
Competition Is Crowded But Zscaler Should Do Well Regardless
Cybersecurity has been a big trend for years and has attracted a long list of viable competitors. However, it seems to me that Zscaler doesn't have too much to worry about in this regard at the moment. Recently, Zscaler was named a leader in the Gartner Magic Quadrant for Secure Web Gateways for the 8th consecutive year in 2018.
Judging from this report, Symantec (SYMC) (through their Bluecoat acquisition) and iboss appear to be the biggest direct competitive threats for Zscaler at the moment (in terms of directly comparable technology). However, Symantec is going through big operational struggles at the moment, which most likely will limit their ability to stay on par with Zscaler, and iboss currently lacks the scale to really hurt Zscaler.
Obviously, you shouldn't disregard big players in the cybersecurity space like Checkpoint (CHKP), Palo Alto Networks (PANW) or Cisco (CSCO) either. It was rumored that Cisco actually tried to take out Zscaler for $2 billion before the IPO, although these rumors were not confirmed. It is safe to say that these companies are aware of the disruptive nature of Zscalers products and will be tough competitors going forward.
Will competitors be able to fend of Zscaler and maintain their market share in the cybersecurity space? It is hard for me to make any predictions in this regard, but that is not a necessity to make a good investment case for Zscaler. In my view, Zscaler should do well regardless of the competition as the cybersecurity space is large enough for many players to do well and should only increase in importance going forward.
What also speaks for Zscaler is that they are solely focused on their disruptive cloud-security products and also have a head-start to everyone else. Not to mention various patents that protect their technology (although some are currently challenged by competitor Symantec) and their global cloud, comprised of more than 100 global data centers on six continents.
Are Shares Grossly Overpriced?
Basically, almost every investor I've read from so far agrees that Zscaler's shares are very richly priced. While I don't like to hassle too much on price with small disruptive companies, I have to admit to the fact that multiple expansion is one of the key ingredients of outstanding stock returns, and that Zscaler doesn't have a lot of room to expand in that regard.
At a projected 134.5 million shares outstanding at the end of FY 2019 and a share price of 41.22, Zscalers market capitalization stands at $5.54 billion. If you take my optimistic revenue projection for the full FY 2019 of $300 million, we arrive at a forward PS ratio of 18.46. If you back out cash of $314 million from the market cap the forward EV/S is 17.42. That's not cheap.
To make sense of Zscalers valuation I find it helpful to look at historical examples of similar cases. One that comes immediately to mind to me is Palo Alto Networks (PANW). The company went public – similar to Zscaler with much fanfare – in 2012. Back then, Palo Alto Networks was slated to be the "Next Generation Firewall" and, like Zscaler, was about to disrupt network security. Their market value was around $3 billion at the time of the IPO, which computes to around 12 times FY 2012 sales of $255 million. Interestingly, the company's IPO came on the heels of what many considered a botched Facebook (NASDAQ:FB) IPO, so a successful IPO was not a given. On the other hand, Facebook traded around 26 times sales at their IPO price, giving a very recent precedent to attaching lofty valuation multiples at the time. Anyways, even at a PS ratio of 12, Palo Alto's shares were not considered cheap, as the industry average for its competitors at the time was 5.7 times sales.
Palo Alto is a great comparison to Zscaler because they managed to execute very nicely since the IPO – a fact that buyers of Zscaler shares are also banking on today. Palo Alto managed to increase revenues almost ten-fold from around $255 million in 2012 to $2.4 billion today. As of this writing, Palo Alto has an $18 billion market cap, which is a six-fold increase in about 6 years. However, if you look at the share price appreciation from $53 (from the close of the IPO day) to $190 today, that's "only" around +260% or a 3.6 bagger. That's still a good return but reminds us that share dilution is definitely something to consider.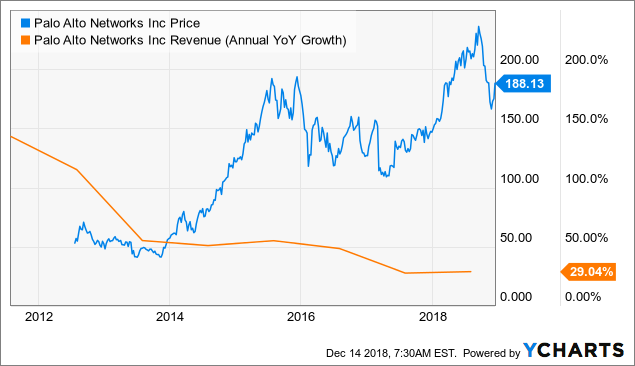 As already mentioned, these returns were achieved from an initial TTM PS ratio of 12. If we pretend to have known FY 2013 results at that time (revenue growth of 55% to $396.1 million), we could assume a forward PS ratio of 7.6 at the time of the IPO.
Consequently, Zscalers shares – at a forward PS of 18.5 (based on very bullish revenue assumptions) – are trading at a 2.4 times higher multiple than Palo Alto. Compare that to the 3.6 times share price appreciation of Palo Alto over their 6-year public existence, and you can justifiably start to get worried.
Making sense of Zscalers premium valuation
Did my bullish thesis on Zscaler shares hit a dead end because of these valuation concerns? I wouldn't want to go that far just yet. While a comparative analysis can give investors some insights into what might happen, it is not the be-all and end-all of valuation discussion. There are many factors that come to mind that would support the thesis that Zscaler shares should trade at a certain premium valuation to Palo Alto:
Their product, other than Palo Alto's, is really disruptive. While Palo Alto basically improved the way firewalls work, Zscaler is totally reinventing the cybersecurity space by ultimately rendering the companies IT-network and traditional firewalls useless.
Their total addressable market seems to be bigger. While Zscaler estimated their TAM at $17.7 billion in their S-1 Statement, they expect that number to "increase substantially" due to the opportunities to deliver additional services and expand their platform to smart and connected IoT devices. It's hard to put a definitive number on the TAM, especially if one considers the impact of 5G adoption on mobility trends. But I assume it will be big enough to maintain high growth for years. According to Palo Alto's S-1 Statement, their TAM was estimated at $10.2 billion in 2011 and expected to be $13.4 billion by 2015.
Zscaler has mostly recurring revenue. At the time of their IPO, Palo Alto mainly sold software and hardware products without recurring revenues streams. Services revenue (which also included subscription revenues) was only 29% of total revenue in 2011. Advantages of a recurring revenue model (SaaS) are that clients are more locked in, it is typically easier to upsell (evidenced by retention rates well above 100%), it increases the long-term value of customers and should have less operational costs. Thus, recurring revenue should always be considered more valuable than "normal" revenue.
Zscaler's deferred revenues of $165 million were 77% of TTM revenue of $214 million in Q1 2019. Compare that to Palo Alto's $136 million deferred revenues and TTM revenues of $255 million in Q4 2012 (53%).
At the end of 2012, Palo Alto had 9,000 customers. Zscaler doesn't break out its customer count every quarter but at their IPO they had around 2,800 customers. That means that Zscaler today has approximately the same amount of revenue as Palo Alto had in 2012 but only one-third of its customer base.
Their gross margins, at 81.7% last quarter, are approximately 10% higher than Palo Alto's (around 72%). And they are not even trying to maximize that yet. It's quite possible that they will have even higher gross margins as a more mature company in the future.
Zscalers revenue growth looks to be accelerating. Palo Alto had over 100% revenue growth in FY 2012 but dropped to 55% in 2013. If you look back at the graph above you can see that Palo Alto achieved their very respectable returns with a mostly flat or falling revenue growth rate. Wall Street typically loves accelerating growth and so should we as individual investors.
Zscaler is founder-led and has considerable inside ownership. Founder and CEO Jay Chaudhry holds more than half of the companies shares directly and through trusts. Palo Alto's co-founder Nir Zuk "only" held 4.7% of shares at the IPO. Chaudhry has a lot of skin in the game and judging from his comments he wants to build something meaningful and transformational.
At the moment it is hard to evaluate how much share dilution will affect Zscaler due to its very recent IPO and limited history. Because of high inside ownership, I would assume that share dilution will be within reasonable limits. It is definitely something to keep a close eye on.
If you look at EV/S ratios of other best-in-class enterprise software companies (all have mostly recurring revenue, growing above 50%) you can see that Zscaler has the most premium valuation of the pack. But it can also hardly be seen as an outlier.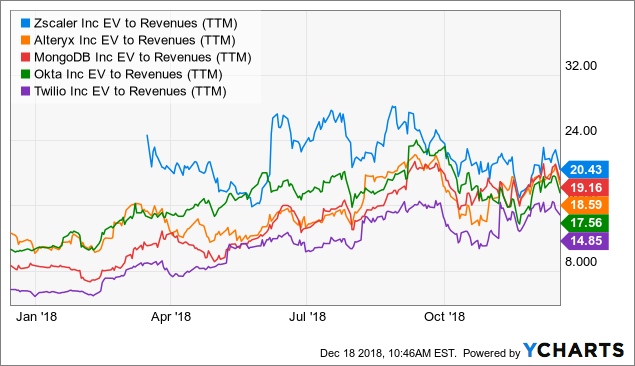 Another way to try to justify Zscaler's valuation is this: Remember, that Zscaler was trading around 18.5 forward sales. If we imagine a 25% net margin for a more mature Zscaler – which is realistic for a company running on +80% gross margins – we would get a hypothetical forward PE in the low 70s. That is still expensive. However, if we consider the current growth rate of approximately 60% we get to a PEG ratio of around 1.2 – which many investors would consider fairly valued, if not cheap.
I admit running number games like this is an exercise that is dependent on many what and ifs, especially for a company that hasn't achieved profitability on a full year basis yet. More conservative investors might call me crazy for that thinking – and maybe they are right.
Closing Thoughts
At the end, I can't ignore the fact that ZS is a truly disruptive company with tremendous long-term growth and a great profitability outlook. Cathie Wood, founder, and CEO of ARK Investment Management, recently said that disruptive innovation companies remain one of the most inefficiently priced assets of the public market. I would definitely agree with that statement, although it seems that, if you look at Zscalers premium valuation, the market is trying pretty hard to remove that inefficiency.
I would also add that we investors (and most humans for that matter) typically struggle to wrap our heads around exponential growth. That is even more so the case when dealing with high growth rates. Think about it: If a company can increase their revenues by 50% for 3 straight years they have more than tripled their initial revenue base. If they can add another year of such growth the multiple will increase to a fivefold, add one more year and you have an over 7.5x multiplier, and after yet another year, revenues will be almost 11 times higher than where they started six years ago. Am I secretly suggesting that Zscaler will be a $3.4 billion revenue company by 2025? There is no way of telling that. All I'm saying is that compounded high-growth can really work wonders. Investors should keep that in mind when they think of evaluating high-growth businesses.
If you are afraid to lose capital permanently because of high valuation and "the late business cycle", consider this: If Zscaler can maintain the explosive growth of their business, valuation multiples will naturally contract at a very fast pace (assuming an unchanged share price). Now imagine a share price pull back on top of this "natural" multiple compression from growth. Shares would become a lot cheaper very quickly. However, if the business thesis remains intact, shares would probably rebound very quickly as well, because investors are aware of the value (and value potential) of the company. We have seen this play out very recently in the October/November sell-off and the quick recovery following a blow-out quarterly report (compare that to the almost non-existent recovery of most S&P 500 companies). Ironically, a small "overvalued" hyper-growth company like Zscaler seemed to have more downside protection than mature and established companies in a turbulent down market.
Having said that, I can't deny the fact that companies trading at high valuation multiples are probably more susceptible to investor behavior changes than more conservatively priced companies. Also, if the company would see operational struggles or slowing growth, shares could suffer immensely. Thus, Zscaler's shares are definitely not a buy-hold-and-forget investment. Operational performance has to be followed very closely.
So where does that leave us?
As a rule of thumb, I think it's better to get in early into a disruptive growth story (even if only at a small portfolio position initially), rather than wait until the price drops – maybe it will never drop to your preferred level and you made yourself miss a huge opportunity. There are a couple of other advantages of going in early: First of all, this should make you follow the stock closer and make you more familiar with the business. Second, with your added knowledge about the company, you will be more aware of buying opportunities as they come along.
If you are a fan of disruptive, founder-led companies Zscaler is definitely one to add to your Christmas shopping list.
Disclosure: I am/we are long ZS. I wrote this article myself, and it expresses my own opinions. I am not receiving compensation for it (other than from Seeking Alpha). I have no business relationship with any company whose stock is mentioned in this article.